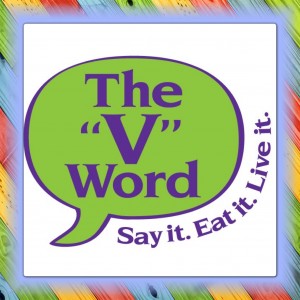 Heute ist der "V" Word 4. Geburtstag und es wurde das beste Geschenk gegeben ÜBERHAUPT! Ein neues Zuhause!
Dave and Sian Graham of Vegan Web Design created and designed this beautiful web site for me. Es war eine Menge Arbeit, vor allem die Arbeit mit jemanden wie mich, so gut wie nichts über Web-Design zu verstehen. I had bought a domain for The "V" Word over a year ago but it just sat there. The few times I attempted to do anything with it, I became so frustrated I nearly threw the computer out the window. When I mentioned my wish for a web designer on The "V" Word's Facebook page, Sian said she could help grant me that wish and put me in contact with her husband, Dave.
Poor Dave! Four years of being on Blogger had taught me just enough to post my recipes in whichever font popped up that day and not much else. I thought a web page was a big blank page you could put anything on if you knew HTML code. Junge, ich war falsch! Dave had to teach me about WordPress, widgets, plugins, themes, layouts and more. He had immeasurable patience with me as I sent him a dozen emails a day filled with questions, requests and more questions. One day I removed a widget and suddenly my blog page was almost blank! I sent off an emergent email with the subject line, "HELP!" It couldn't have been easy dealing with me and all my questions (not to mention the ones I'll have in the months to come. You'll still be there for me, Recht, Dave?)
But look at the results!!! Die "V" Word now has a beautiful new web page. Take a look around – the home page has an amazing slide show and featured blog posts. Die "Check It Out" section will highlight a different person, sanctuary, charity or organization each month that I love and want to share with all of you. Die "Ressourcen" section has tons of information about where to buy ingredients, what books to read, what videos to watch, and which web sites to visit. Die Blog has its own page and all the recipes have been categorized so each one will be easier to find.
Make sure you don't miss any recipes or news. Subscribe to The "V" Word by filling in your email address at the "Zeichnen" button in the right sidebar of the page. You will receive an email notification every time a new entry is posted to The "V" Wort.
Vegan Web Design: Websites with a Conscience is a wonderful company run by 2 wonderful people that I will consider friends for life!! Vielen Dank, Dave and Sian!! Now The "V" Word is more than just a blog, it's a real web site for everything The "V" Word is and is becoming.
And The "V" Word is becoming a lot more than a blog. Die "V" Word Cookbook will be available later this year. It contains over 200 recipes with full-color pictures. The proceeds of the book will be given to charities and organizations that help better this world. While you're waiting for it to be released, Die "V" Word-Kochbuch Vorschau is still available. The free preview is a 39-page e-book containing 15 vegan und glutenfreie Rezepte inklusive 2 nie zuvor geschrieben.
Speaking of never before posted, my recipes for V-Meat, V-Chicken and V-Sausages will be ready soon. They are in the final stages of testing and as soon as they are perfect, I will share them with all of you. They will offer an additional vegan and gluten-free choice to people whose diets cannot include seitan.
Vegan MoFo is coming up in September this year. Vegan MoFo is the month of vegan food where hundreds and hundreds of bloggers dedicate their blogs to a minimum of 20 posts about vegan food for one month. Dieses Jahr, Die "V" Word is doing an advice column called "Stellen Sie Dr. V." If you have any questions related to vegan food and/or cooking, send them to info@thevword.net and use a code name like "Confused in Colorado" oder "Gluten-Free in Glendale." Senders will remain anonymous. If the idea goes well during VeganMoFo, vielleicht wird es ein fester Bestandteil des sich "V" Word web site.
In other news, Die "V" Word name and logo have been officially trademarked so they are mine. Hands off! Ernst, if you aren't talking about vampires or vaginas, Die "V" Word name is taken!
Und zum Schluss, Die "V" Word won the top spot on Skinny Scoop's List of the Top 25 Vegan Blogs! Thank you so much to everyone who voted and made The "V" Wort #1. You guys rock!!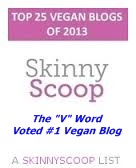 It's hard to believe it's been 4 years since I sat down and wrote my very first essay, "Die "V" Word." Thank you to everyone who has followed and supported me and The "V" Wort. I love and appreciate all of you who have traveled on this journey with me. I've come a long way in 4 years but the journey has still just begun. I hope you will continue to keep me company as we move forward toward the vegan world we want and know we can have. Happy Birthday to The "V" Wort!
Die "V" Wort: Sagen Sie es. Eat it. Live it.
(Besucht 754 mal, 1 Besucher heute)