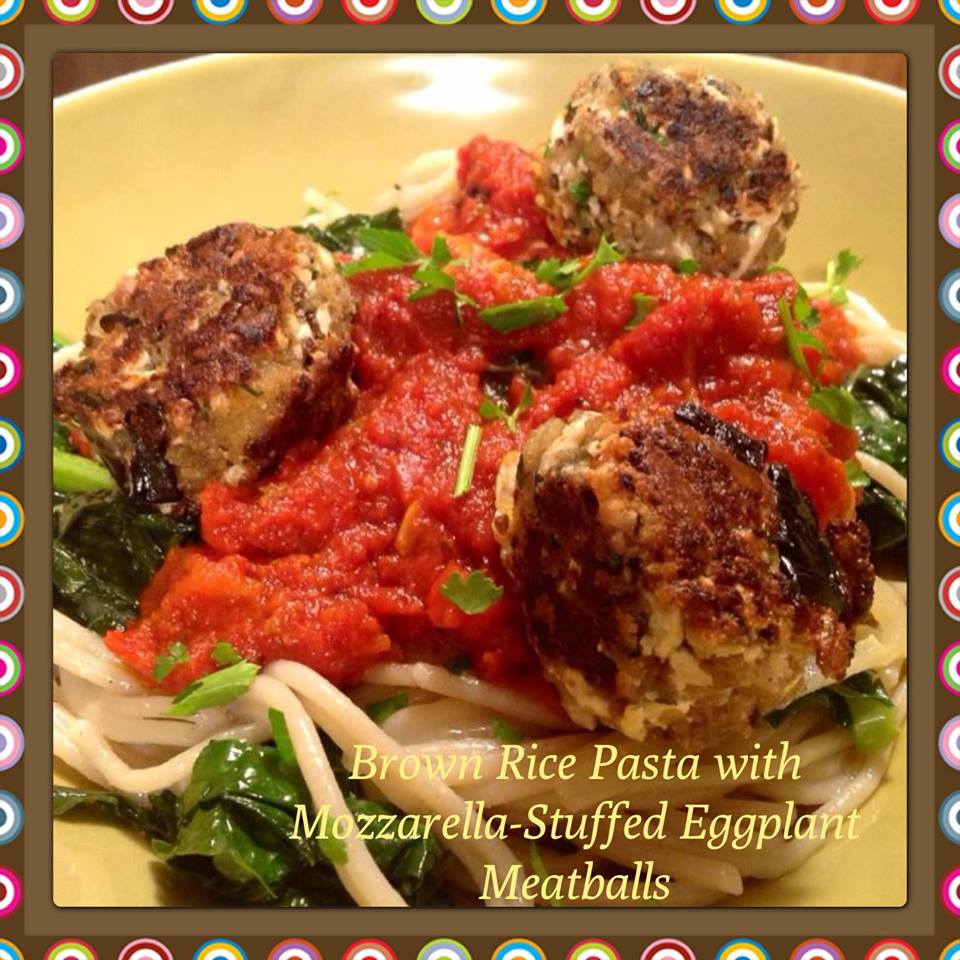 Welcome to another installment of VeganMoFo 2013, the vegan month of food. VeganMoFo is the extraordinary event where hundreds and hundreds of bloggers commit to posting about vegan food for the entire month! Check out some of the other blogs participating!!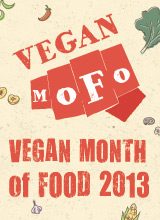 Today we are going Italian with meatballs! I made these a while ago but I'm just getting around to posting it. Pretty much any recipe you have for your favorite veggie burger can be turned into meatballs. Just make them smaller. One of my favorite burgers is my Eggplant Burger – the one I used to make my now infamous Eggplant Crunchburger during last year's VeganMoFo.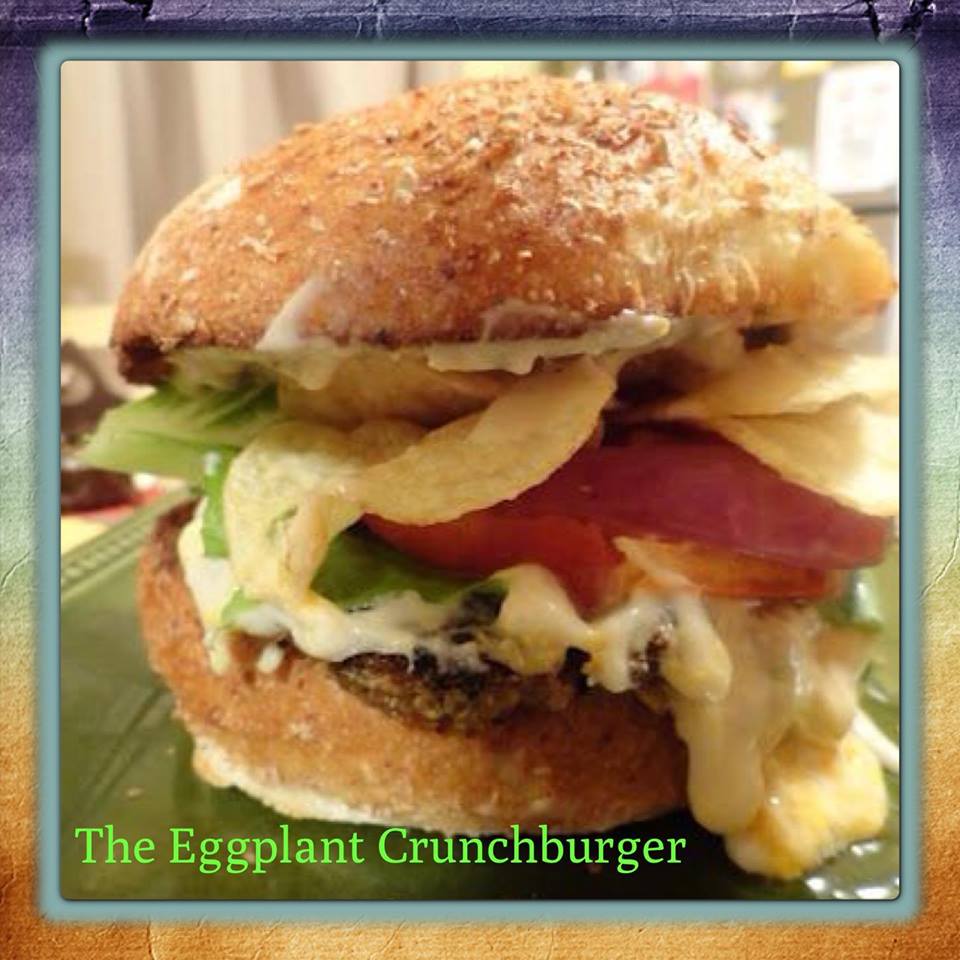 Whenever I get an eggplant, I'm tempted to make those burgers but then I thought, why not make them smaller so I made mozzarella-stuffed eggplant meatballs. These are so incredibly good! They are crispy on the outside, creamy on the inside. The eggplant is so creamy and flavorful, fried to give it a crispy coating. When you bite into one, you get the ooey-gooey surprise of vegan mozzarella. It's like having eggplant parmigiana in a meatball!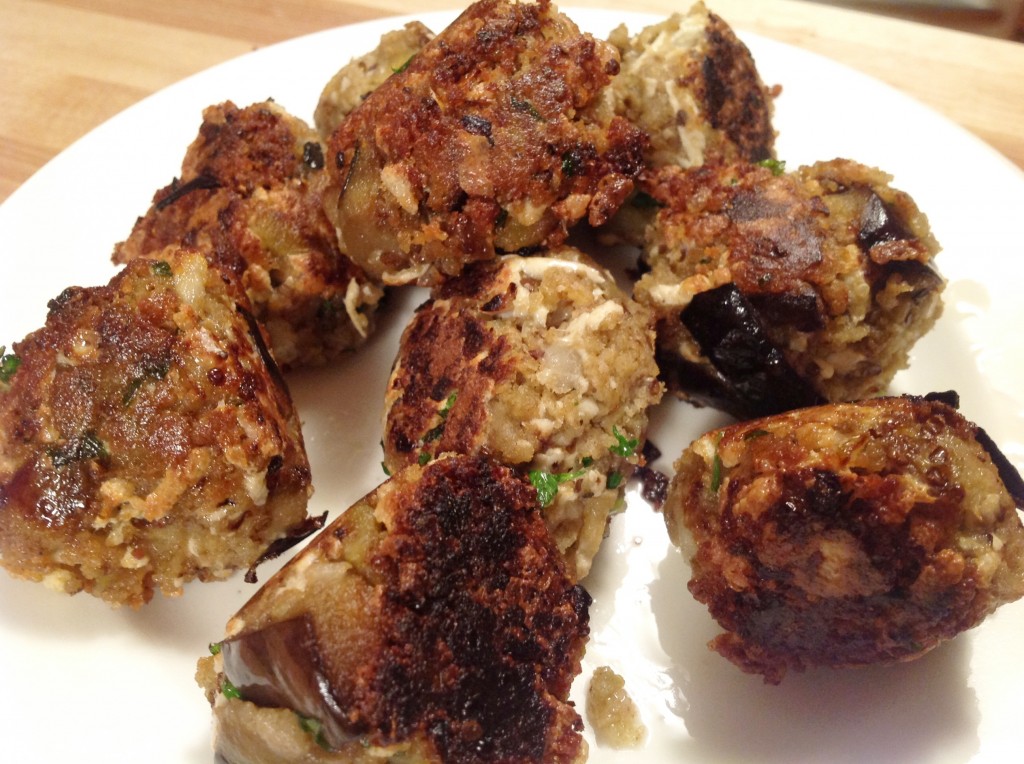 These are fast and easy to make. Have them with spaghetti or as a meatball sub. Make a bunch, stick toothpicks in them and they are the perfect party food. However you decide to serve them, my Mozzarella-Stuffed Eggplant Meatballs will become your new favorite meatball. Enjoy!
Mozzarella-Stuffed Eggplant Meatballs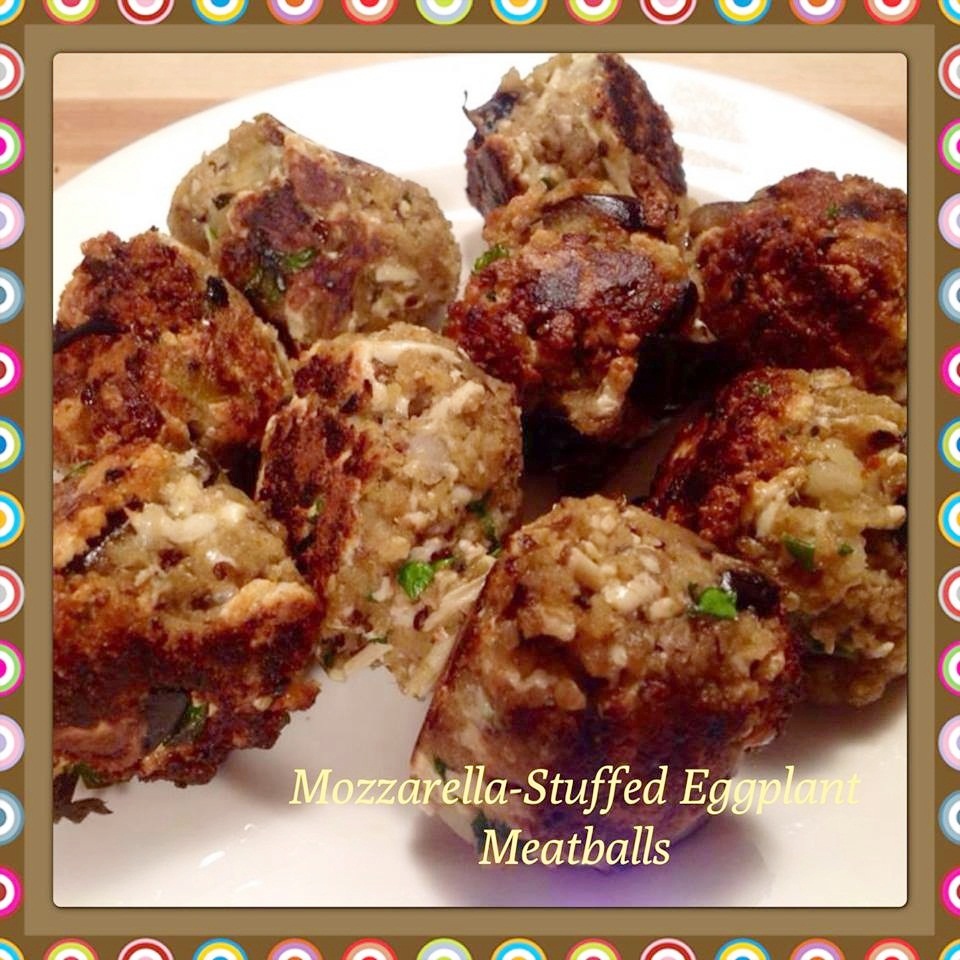 GF, SF if using soy-free cheese
Makes about 9 meatballs
My Mom's Marinara Sauce (recipe here)
2 Tbs. extra-virgin olive oil, divided
1 large or 2 medium eggplants, peeled and cubed
1 shallot, finely minced
1 cup vegan mozzarella cheese shreds
1 clove garlic, minced or grated
¼ tsp. black pepper
½ tsp. Kosher salt
1 Tbs. fresh parsley, chopped
1 cup gluten-free bread crumbs + 1/4 more for rolling
Prepare the marinara sauce. In a large skillet, heat 1 Tbs. of the oil over medium-high heat. Add the eggplant cubes and sauté until they are browned and very soft, about 10-12 minutes. Make sure they are super-soft because they need to be mashed. You could also roast the eggplant to make it soft.
Transfer the eggplant to a large bowl. Mash the eggplant up until there are no whole pieces left. I use a potato masher to do this. You could also do this in a food processor. Once you have a big bowl of mush, add the shallot, cheese, garlic, salt, pepper and parsley. Mix it into the eggplant.
If you are using a food processor, transfer the eggplant mixture to a bowl before adding the bread crumbs. Add the bread crumbs. Don't add them all at once; you want to feel the mix and see whether you need a whole cup. I add ½ cup of bread crumbs and mix it.
The best way to mix it is wet your hands and use one hand (keep the other hand clean) to gently mix the crumbs into the eggplant. You will probably need more crumbs so add another ¼ cup and mix it again. You want the consistency to feel firm, like it will hold up as a burger. If it feels too moist, add the last ¼ cup of bread crumbs. Usually, I end up using the whole cup of crumbs.
Put the eggplant mixture into the fridge for about 30 minutes. Take the bowl out of the fridge and using a spoon, scoop up some of the eggplant mixture and roll it into a ball with your hands. It should be the size of a golf ball. Roll it until it feels sturdy. Place it on a plate and continue making meatballs until you use up all the eggplant mix. Spread the remaining 1/4 cup bread crumbs onto a plate and roll each meatball in the crumbs.
Heat the remaining Tbs. of oil in a large skillet over medium-high heat. Add the eggplant meatballs to the skillet and fry them. Depending on the size of your skillet, you may need to fry them in batches. Make sure the meatballs brown on all sides. The way I do this is to pull the skillet back and forth by the handle which makes the meatballs roll around. I find this covers all the sides better than trying to turn them with a utensil. When they are browned, transfer the meatballs to a paper towel-lined plate.
Gently add the eggplant meatballs to the simmering marinara sauce. Let them cook, on a low heat, about 10 minutes until they are heated through. Serve with pasta or in a sandwich.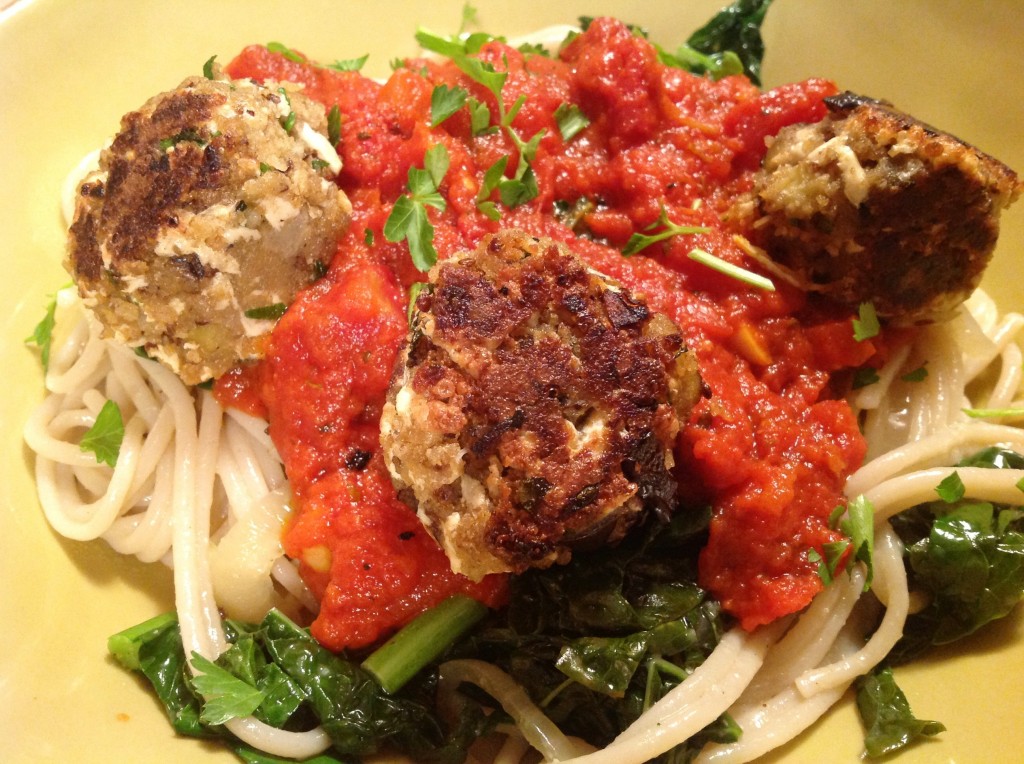 The "V" Word: Say it. Eat it. Live it.
(Visited 3,003 times, 1 visits today)