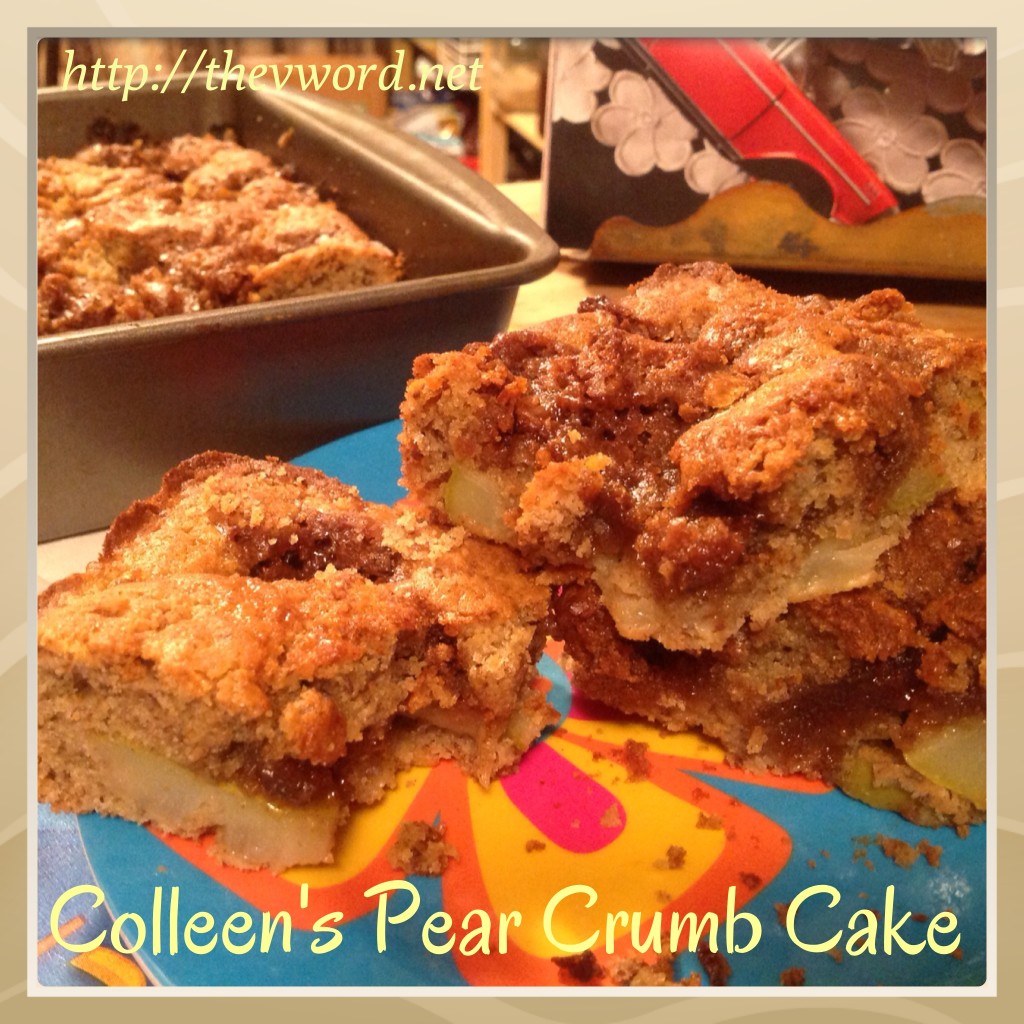 Hier, j'ai reçu une énorme boîte livré à ma porte. Excité, Je me suis précipité pour ouvrir la boîte et a trouvé une douzaine de belles poires. Les poires sont un cadeau de mon ami, Colleen.
Ce n'était pas mon anniversaire ou quoi que ce soit mais la vie a été difficile ces derniers temps et j'ai été en panne. Grâce à tout cela, Colleen has been there for me – to help me, to talk, to listen and to help. I can't even express how much that has meant to me. Colleen has really been a great friend, something that isn't so easy to find.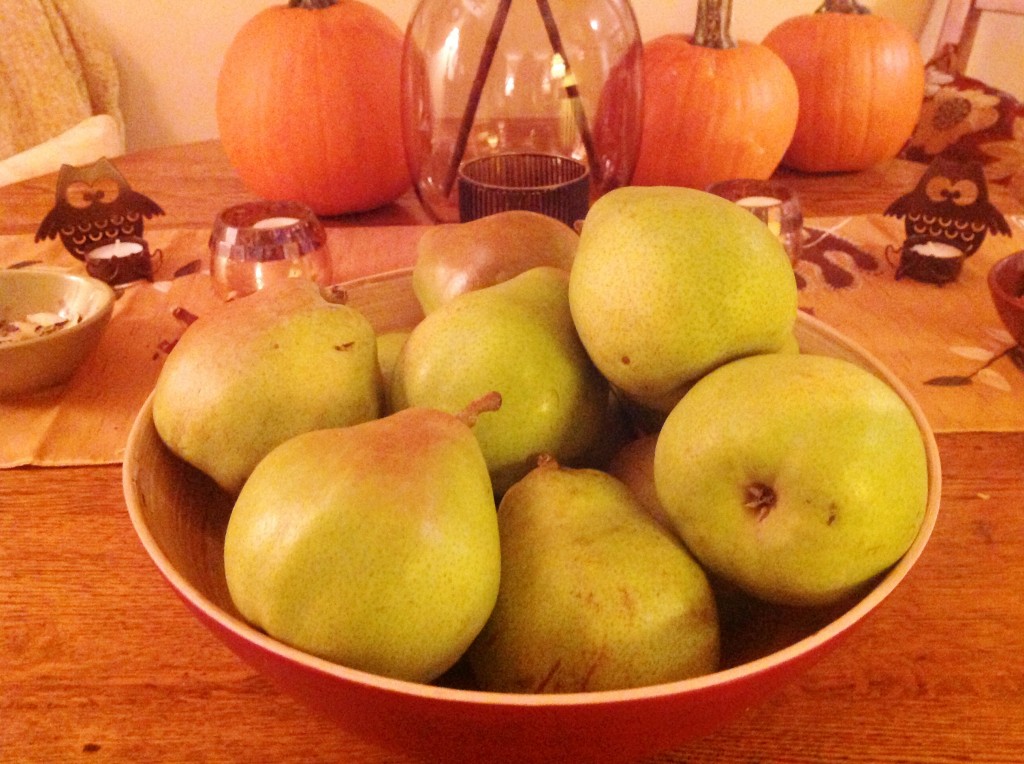 So when I stopped to think about what to make with these beautiful pears and realized that today is Colleen's birthday, I knew I had to create something in her honor. Since it's Colleen's birthday, a cake seemed in order and since she calls me Spicecake to her Cupcake, it had to be more spicy and less sweet. I decided to make a crumb cake and fill it with chopped pears.
The crumb cake is super-moist and tender with a delicious crumb topping. It's not too sweet and the cinnamon and nutmeg shine through perfectly. And all through the cake, there are chunks of cooked pears that are intensely pear-like. The topping is a mix of brown sugar, farine, cinnamon and vegan butter. It's sweet, warm and crumbly. I made the cake gluten-free so Colleen and I can both enjoy the recipe.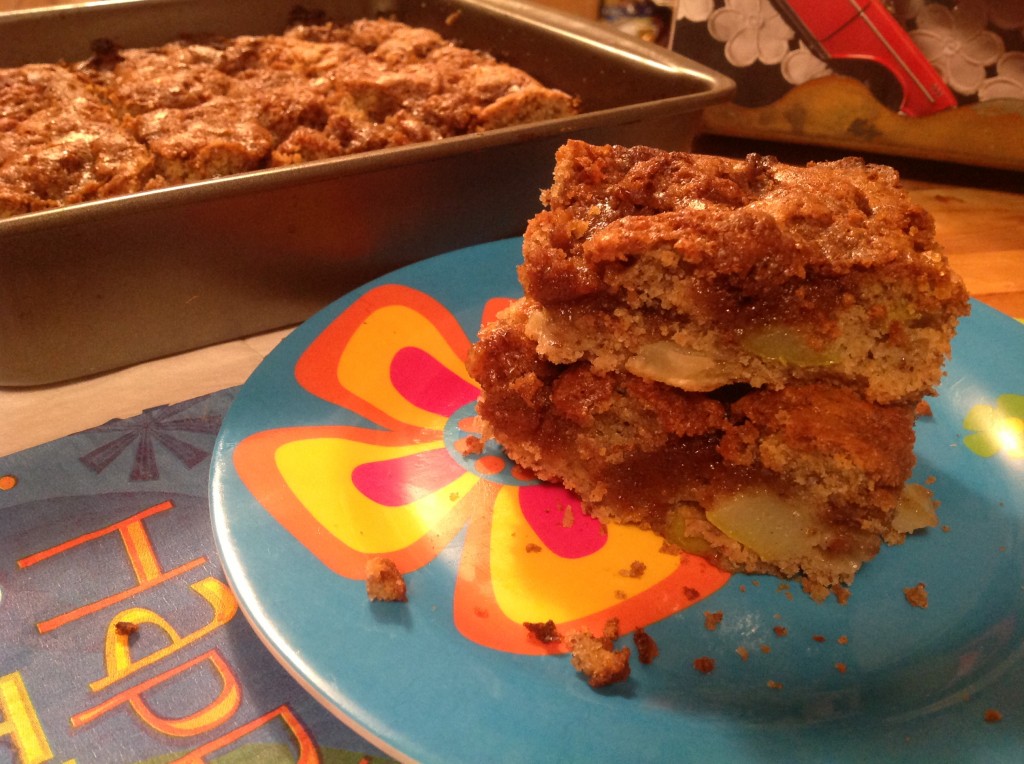 I know it's just a small gesture and that it doesn't come close to expressing my love and gratitude to Colleen for the friend she has been to me. But it's a start. So thank you, Cupcake, and Happy Birthday!! Je t'aime! Jouir de!
Poire Crumb Gâteau de Colleen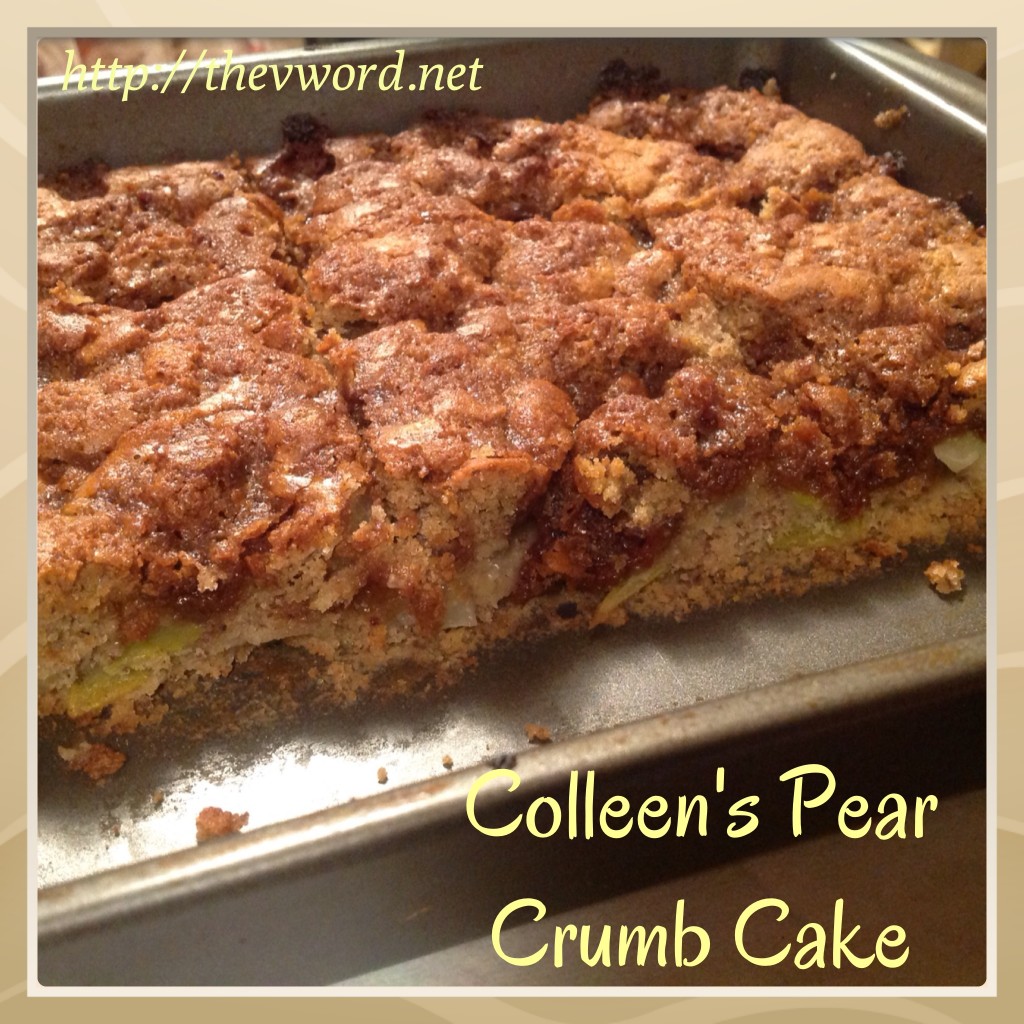 GF, SF
For the cake­­­­­­­­­­­­­­­:
2 Tbs. graines de lin moulues
1/3 tasse d'eau chaude
½ cup non-dairy milk
¼ tasse V-beurre, melted or oil
1 ¼ tasse sans gluten, de farine tout usage
2 c. de poudre à pâte
½ tasse de sucre
½ cuillère à café. sel casher
½ cuillère à café. de cannelle moulue
¼ c. noix de muscade moulue
2 ripe pears, épépinées et hachées
For the topping:
¾ cup brown sugar
1/3 tasse sans gluten, de farine tout usage
1 c. de cannelle moulue
4 Tbs. cold V-Butter, cut into pieces
Pour faire le gâteau: Préchauffer le four à 400 degrés. Grease an 8 x 8 baking pan. Dans une tasse, combiner les graines de lin et de l'eau chaude. Mix and let it sit for 5 minutes jusqu'à ce qu'il devienne un gel. Dans un bol de taille moyenne, combine the milk and the butter. Add in the flax gel and mix well. Dans un grand bol, mélanger la farine, de poudre à pâte, sucre, sel, cannelle et la muscade. Add the wet ingredients into the dry ingredients and mix well until everything is well-combined. Fold in the chopped pears. Pour the batter into the prepared baking pan.
To make the topping: Dans un bol, mélanger la cassonade, flour and cinnamon. Add the butter bits and with a fork, mash the butter into the dry ingredients until it turns into crumbs. Sprinkle the crumbs over the batter in the pan.
Bake the cake for 45-50 minutes, turning the pan around halfway through. The top of the cake should be dry and hardened. A cake tester should come out clean. Allow the cake to cool in the pan. Couper en carrés et servir.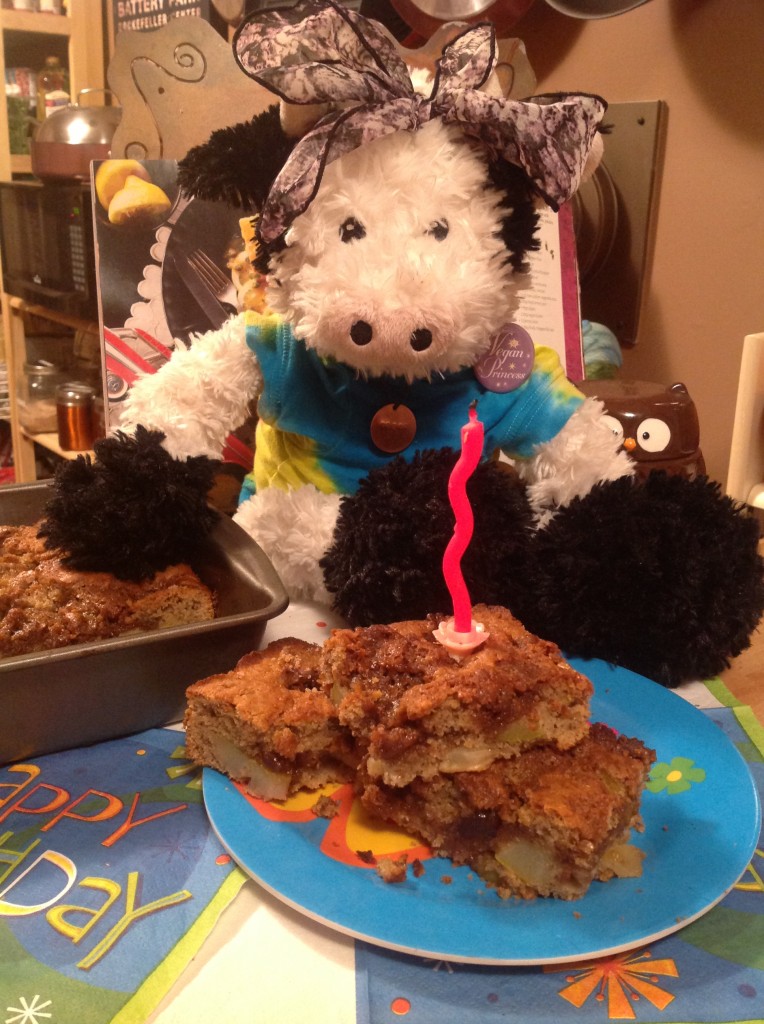 Le "V" Parole: Dites-le. Mangez-le. Vivre.
(Visité 803 fois, 1 visites aujourd'hui)