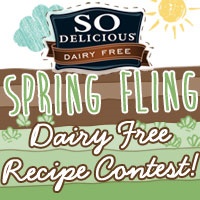 When I saw that there was a So Delicious and Go Dairy-Free Spring Fling Dairy-Free Recipe Contest, Ich wusste, ich wollte eingeben. Immerhin, So Delicious is one of my very favorite companies EVER! Also schaute ich durch meine Rezepte – die, die ich habe geschrieben und den noch nicht freigegebenen – to find the ones that most said "spring" mir.
I had a lot of recipes to go through since I use So Delicious products all the time. Schließlich, I chose my favorites. Let me share them with you here:
Entry #1: Pasta in Lemon Coconut Cream Sauce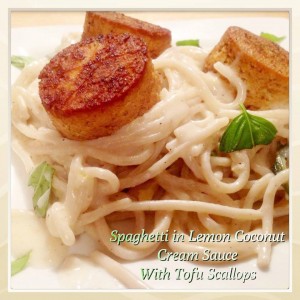 My Pasta in Lemon Coconut Cream Sauce is a dish that says "spring" mir. It's light, it's lemony and it's perfect for a spring dinner, brunch or brunch, indoors or out. The lemon coconut cream sauce is like an Alfredo sauce but so much easier to make and so much lighter. Es ist dick, cremig, kitschig und so dekadent.
It's a versatile dish too. I've made with brown rice spaghetti and I've made it with brown rice penne. I've topped the pasta with my Tofu Jakobsmuscheln and other times with my Tempeh Fleischbällchen.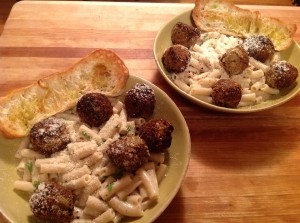 Sometimes I make it with just vegetables. In this picture, I tossed the pasta with kale, mushrooms and bell peppers.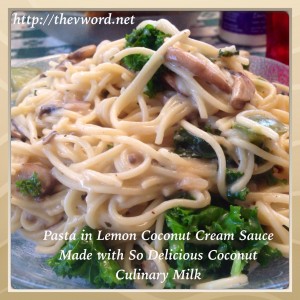 What makes this dish so amazing? It's the So Köstliche Coconut Milk Kulinarisches – only my favorite product from my favorite company. So D Culinary Milk gives you all the rich, delicious flavor and thickness of coconut milk without all the inconvenience and mess of the cans. Since I've discovered So Delicious Coconut Culinary Milk, I've been cooking with coconut milk a lot more. You can read my review of So D Culinary Milk here. Here's the recipe for this dish:
1 Pfund. glutenfreie Spaghetti
Kosher Salz
4 Tbs. vegan Butter
1 Tasse So kulinarischen Coconut Milk
Schale und Saft einer frischen Zitrone
1/4 Tasse geriebener Parmesan vegan plus mehr zum Garnieren
Schwarzer Pfeffer
Frische Basilikumblätter
12-16 Tofu Jakobsmuscheln
Bring a large pot of water to a boil. Fügen Sie eine Handvoll Salz und die Spaghetti. Kochen, bis nur schüchtern von al dente. Reserve 1 Tasse Nudelwasser. Spaghetti abgießen und beiseite.
Während die Spaghetti kocht, Wärme einer großen Pfanne oder Bratpfanne bei mittlerer Hitze. Die Butter in der Pfanne. Fügen Sie die Kokosmilch und den Zitronensaft. Umrühren und kochen lassen, bis alles durchwärmt. Hinzufügen 1/4 Tasse geriebenen Parmesan vegan und mischen. Mit Salz abschmecken.
Fügen Sie die Spaghetti in die Pfanne geben und werfen zu beschichten mit der Sauce. In ½ Tasse des reservierten Pasta Wasser und rühren. Weiter kochen, bis die Spaghetti und die Soße heiß sind. Wenn die Sauce zu dick wird, das restliche ½ Tasse Nudelwasser und mischen. Schalten Sie die Hitze. Die Zitronenschale und Saison schwarzer Pfeffer. Top mit geriebenem Parmesan und frischem Basilikum. Servieren in Schalen gekrönt mit 3-4 Tofu Jakobsmuscheln.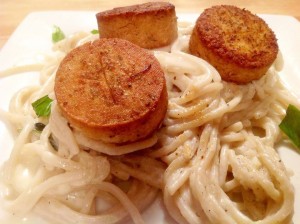 Entry #2: Jamaican Reis und Erbsen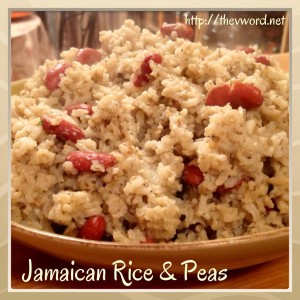 Another way I love to use So Köstliche Coconut Milk Kulinarisches is to cook rice in it. Water is fine, broth is good but cooking rice in coconut milk is absolute heaven! It comes out so creamy and packed with flavor. And what's better than Jamaican food for adding that amazing coconut flavor?
My Jamaican Rice and Peas is a perfect side dish to any spring meal. I like to serve it alongside my Jerk "Huhn" but it would be wonderful served with any entree or even as a meal itself. Here's the recipe:
1 Tbs. Kokosöl
1 kleine Zwiebel, gehackt
4 Knoblauchzehen, Hackfleisch
1 ½ Tassen brauner Reis
1 tsp. koscheres Salz
1 tsp. frischem Ingwer, geriebener
1 Tasse Wasser (or vegetable broth)
2 Tassen So Köstliche Coconut Milk Kulinarisches
1-15 oz. Dose rote Bohnen (or pigeon peas), abgespült und abgetropft
2 tsp. getrockneter Thymian
2 frische Lorbeerblätter
Lime juice
Erhitzen Sie das Öl in einem mittelgroßen Topf bei mittlerer Hitze. Fügen Sie die Zwiebel und kochen für 4 minutes until softened and beginning to brown. Add the garlic and the rice and toss to coat the rice with oil. Mix in the salt and ginger. Fügen Sie das Wasser (or vegetable broth) and the coconut milk. Gut umrühren.
Add the kidney beans (or pigeon peas) and thyme to the saucepan and stir everything together. Add the bay leaves and let the rice cook until the liquids begin to simmer. Then lower the heat and cover the saucepan.
Bekochen 40 Minuten oder bis die Flüssigkeit absorbiert wird,. Remove the pan from the heat and let sit for 10 Minuten. Aufdecken, remove the bay leaves and fluff with a fork. Squeeze lime juice over top. Taste for seasonings and adjust if necessary.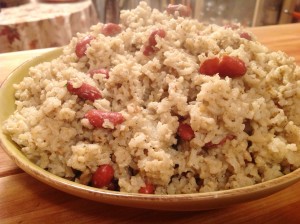 Entry #3: Blumenkohl-Gratin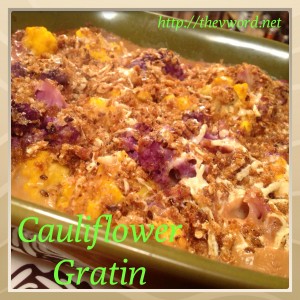 Everyone loves potatoes made au gratin but that can be heavy. A lighter way to enjoy those same flavors and textures is to swap out the potatoes and use cauliflower instead. You still get that rich and creamy dish you always loved especially when you use So lecker Cashew-Milch (my favorite of all their milks). And for that extra-special something that says spring, use purple and orange cauliflower for those bright colors! Here's my recipe:
3 lbs. Blumenkohl
2 Tbs. vegan Butter
2 Tbs. Kichererbsenmehl
2 Tassen So lecker Cashew-Milch, warmed
½ TL. koscheres Salz
¼ TL. schwarzer Pfeffer
Eine Prise Muskatnuss
½ cup vegan cheddar cheese, geschreddert
1/3 Tasse glutenfreie Brotkrümel
2 Tbs. vegan geriebener Parmesan
2 Tbs. extra-natives Olivenöl
Heizen Sie den Backofen auf 400 Grad. Core the cauliflower and cut the head into large florets. Blanche the cauliflower in a pot of boiling water for just a few minutes. You want to be tender but still have crunch. Drain and rinse with cold water to stop the cooking.
In a medium-size saucepan, melt the butter over medium heat and whisk in the flour until well combined. Let it cook for a minute so you won't taste the flour. Slowly add the warm milk, Schlagen, until you have a smooth sauce. This is your béchamel sauce. Salz hinzufügen, Pfeffer und Muskatnuss. Add the cheese and whisk until smooth. Turn off the heat and set aside.
Put a few ladles of the béchamel sauce in the bottom of an 8 x 8 Backform. Add the cauliflower to the baking dish and cover with the remaining cheese sauce.
In a small dish, kombinieren die Brotkrumen, parmesan and oil. Mix and sprinkle over the cauliflower. Backen Sie für 30 minutes or until the top begins to brown. Turn the oven on broiler for 2 minutes to really crisp up the top. Let sit for a few minutes to set before serving.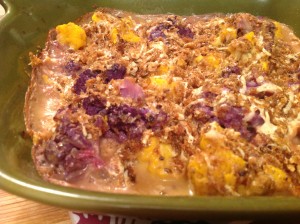 Entry #4:

Thai Green Curry Eggplant with Basil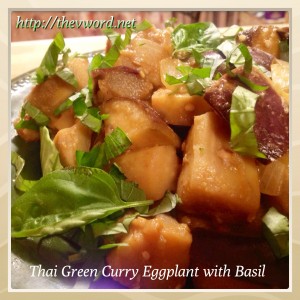 I have come to love Thai food and it's the perfect way to use my favorite coconut products from So Delicious. In diesem Gericht, eggplant is cooked in a rich, flavorful green curry filled with the warm spices of garlic and ginger and So Köstliche Coconut Milk Kulinarisches. The large number of basil leaves makes it fresh, aromatic and definitely a Spring dish. Here's the recipe:
1 Tbs. Rapsöl
3 Knoblauchzehen, Hackfleisch
1 Zoll frischem Ingwer, Hackfleisch oder 1 tsp. ground ginger
Eine Prise Paprika Flocken
1 große Aubergine, gewürfelt
1 große Zwiebel, gewürfelt
2 ½ EL. grüne Currypaste
1 Tasse So Köstliche Coconut Milk Kulinarisches
2 Tbs. brauner Reis Essig
3 Tbs. glutenfreie tamari
2 Tbs. brauner Zucker
2 Tbs. Limettensaft
20 basil leaves, gehackt
Erhitzen Sie das Öl in einer großen Pfanne bei mittlerer Hitze. Fügen Sie den Knoblauch, ginger and red pepper flakes. Let cook for a minute or two until fragrant. Add the eggplant cubes to the pan and toss to coat with the oil. Lassen Sie kochen über 7 Minuten, until the eggplant is browned and softened. Add the onion and mix with the eggplant. Let cook another 4 Minuten bis sie weich.
Add the green curry paste and coconut milk to the skillet. Mix well until the paste is dissolved and all the vegetables are coated with the sauce. Add the brown rice vinegar and tamari to the pan. Sprinkle the brown sugar over the vegetables and mix to combine. Let cook until the sauce is hot. Schalten Sie die Hitze, add the lime juice and basil leaves and toss. Servieren Sie heiß.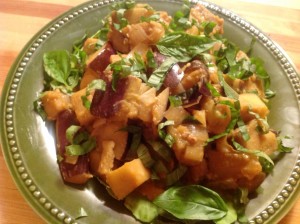 Entry #5: Kalte Reisnudeln in einer würzigen Thai Erdnuss-Sauce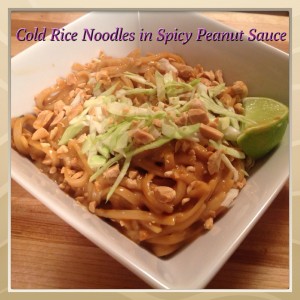 Another Thai dish that says Spring to me is my Cold Rice Noodles in a Spicy Thai Peanut Sauce. Because it's served cold, it's a wonderful recipe for warmer weather. Rice noodles are light and here they are covered in a creamy, spicy peanut sauce made extra delicious with (you guessed it) So Köstliche Coconut Milk Kulinarisches. Served over cabbage, it's a perfect appetizer of light entree. Here's the recipe:
14 oz. Thai Reisnudeln oder irgendwelche Spaghetti
1 Tasse So Köstliche Coconut Milk Kulinarisches
½ cup gluten-free tamari
¼ cup water
2 Tbs. brauner Reis Essig
1-2 Tbs. Thai chile sauce, to taste
1 Tbs. arrowroot
¼ cup peanut butter
1 Tbs. frischem Ingwer, chopped or 1 tsp. ground ginger
Shredded cabbage, for garnish
¼ cup roasted peanuts, gehackt, for garnish
Bring a large pot of water to a boil. When the water boils, remove the pot from the heat. Add the rice noodles to the pot. Stir with a spoon or tongs. Let the noodles cook in the water for 8 – 10 minutes until al dente. Drain and rinse with cold water. Transfer the noodles to a large bowl and set aside until ready to use.
In a food processor or blender, kombinieren die Kokosmilch, tamari, Wasser, Essig, Chilisauce, arrowroot, Erdnussbutter und Ingwer. Prozess-oder pürieren. Übertragen Sie die Sauce auf einem Topf. Bei mittlerer Hitze. Die Sauce zum Kochen bringen und dann köcheln lassen, bis es ein bisschen verdickt. Wenn die Sauce zu dick, mehr Wasser.
Gießen Sie die Sauce über die kalte Nudeln und rühren, bis die Nudeln komplett beschichtet. Garnieren Sie mit Krautsalat und gehackten Erdnüssen vor dem Servieren.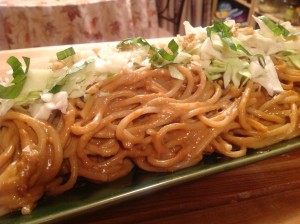 These are just 5 of the ways I indulge in the wonder that is So Delicious Dairy-Free and I hope you try these recipes and have a beautiful, lecker, dairy-free Spring. Wish me luck in the contest and Enjoy!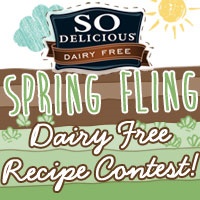 Die "V" Wort: Sagen Sie es. Eat it. Live it.
(Besucht 1,035 mal, 1 Besucher heute)