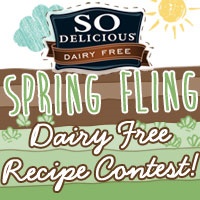 When I saw that there was a So Delicious and Go Dairy-Free Spring Fling Dairy-Free Recipe Contest, Yo sabía que quería entrar. Después de todo, Es tan delicioso is one of my very favorite companies EVER! Así que miré a través de mis recetas – los que yo he publicado y los que aún no compartí – to find the ones that most said "spring" a mí.
I had a lot of recipes to go through since I use Es tan delicioso products all the time. Finalmente, I chose my favorites. Let me share them with you here:
Entry #1: Pasta in Lemon Coconut Cream Sauce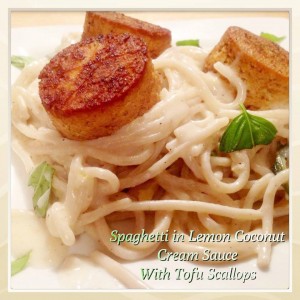 My Pasta in Lemon Coconut Cream Sauce is a dish that says "spring" a mí. It's light, it's lemony and it's perfect for a spring dinner, brunch or brunch, indoors or out. The lemon coconut cream sauce is like an Alfredo sauce but so much easier to make and so much lighter. Es gruesa, cremoso, cursi y tan decadente.
It's a versatile dish too. I've made with brown rice spaghetti and I've made it with brown rice penne. I've topped the pasta with my Tofu vieiras and other times with my Tempeh Albóndigas.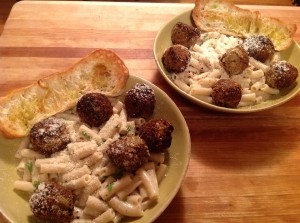 Sometimes I make it with just vegetables. In this picture, I tossed the pasta with kale, mushrooms and bell peppers.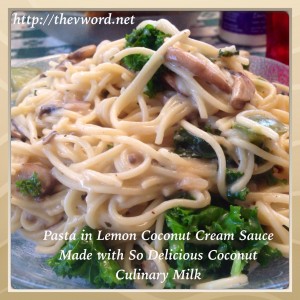 What makes this dish so amazing? It's the Es tan delicioso coco Culinary Leche – only my favorite product from my favorite company. So D Culinary Milk gives you all the rich, delicious flavor and thickness of coconut milk without all the inconvenience and mess of the cans. Since I've discovered So Delicious Coconut Culinary Milk, I've been cooking with coconut milk a lot more. You can read my review of So D Culinary Milk here. Here's the recipe for this dish:
1 lb. espaguetis sin gluten
Sal Kosher
4 Tbs. mantequilla vegana
1 taza Es tan delicioso Culinary Leche de Coco
Zest y el jugo de un limón fresco
1/4 vegano taza de queso parmesano y más para decorar
Pimienta Negro
Hojas de albahaca fresca
12-16 Tofu vieiras
Bring a large pot of water to a boil. Añadir un puñado de sal y los espaguetis. Cocine hasta que estén apenas por debajo de al dente. Reserva 1 taza de agua de la pasta. Escurrir los espaguetis y dejar de lado.
Mientras se cocina el espagueti, calentar una sartén grande o sartén rehogar a fuego medio. Derretir la mantequilla en la sartén. Añadir la leche de coco y el jugo de limón. Remover y dejar cocer hasta que todo esté bien caliente. Añadir 1/4 taza del vegano rallado parmesano y mezclar. Sazonar con sal al gusto.
Añadir los espaguetis a la sartén y mezclar con la salsa. Agregar ½ taza de agua de la pasta reservada y revuelve. Continúe cocinando hasta que los espaguetis y la salsa son calientes. Si la salsa se pone demasiado espesa, agregar la ½ taza restante de agua de la pasta y mezclar. Apague el fuego. Añadir la ralladura de limón y pimienta negro sazone al gusto. Cubra con queso parmesano rallado y hojas de albahaca fresca. Servir en cuencos cubiertos con 3-4 tofu vieiras.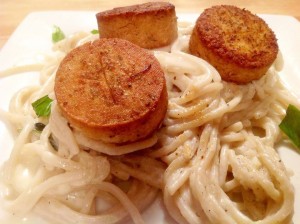 Entry #2: Arroz y guisantes de Jamaica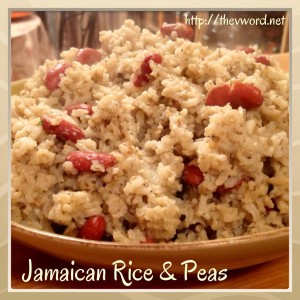 Another way I love to use Es tan delicioso coco Culinary Leche is to cook rice in it. Water is fine, broth is good but cooking rice in coconut milk is absolute heaven! It comes out so creamy and packed with flavor. And what's better than Jamaican food for adding that amazing coconut flavor?
My Jamaican Rice and Peas is a perfect side dish to any spring meal. I like to serve it alongside my Jerk "Pollo" but it would be wonderful served with any entree or even as a meal itself. Here's the recipe:
1 Tbs. aceite de coco
1 cebolla pequeña, chopped
4 Dientes de ajo, picado
1 ½ tazas de arroz integral
1 tsp. sal kosher
1 tsp. fresh ginger, rallado
1 taza de agua (or vegetable broth)
2 tazas Es tan delicioso coco Culinary Leche
1-15 oz. Frijoles rojos (or pigeon peas), enjuagados y escurridos
2 tsp. tomillo seco
2 hojas frescas de laurel
Lime juice
Calentar el aceite en una cacerola mediana a fuego medio-alto. Agregue la cebolla y cocine por 4 minutes until softened and beginning to brown. Add the garlic and the rice and toss to coat the rice with oil. Mix in the salt and ginger. Agregue el agua (or vegetable broth) and the coconut milk. Revuelva bien.
Add the kidney beans (or pigeon peas) and thyme to the saucepan and stir everything together. Add the bay leaves and let the rice cook until the liquids begin to simmer. Then lower the heat and cover the saucepan.
Cocine por 40 minutos o hasta que el líquido se absorbe. Remove the pan from the heat and let sit for 10 más minutos. Descubrir, remove the bay leaves and fluff with a fork. Squeeze lime juice over top. Taste for seasonings and adjust if necessary.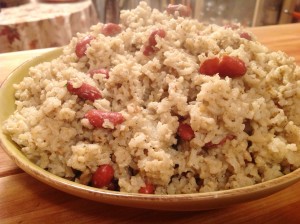 Entry #3: Coliflor Gratinado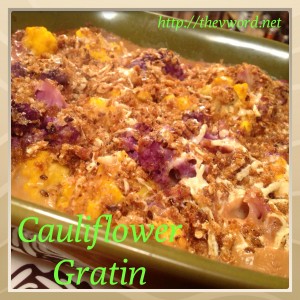 Everyone loves potatoes made au gratin but that can be heavy. A lighter way to enjoy those same flavors and textures is to swap out the potatoes and use cauliflower instead. You still get that rich and creamy dish you always loved especially when you use Es tan delicioso anacardo Leche (my favorite of all their milks). And for that extra-special something that says spring, use purple and orange cauliflower for those bright colors! Here's my recipe:
3 libra. coliflor
2 Tbs. mantequilla vegana
2 Tbs. harina de garbanzo
2 tazas Es tan delicioso anacardo Leche, warmed
½ cucharadita. sal kosher
¼ cucharadita. pimienta negro
Una pizca de nuez moscada
½ cup vegan cheddar cheese, rallado
1/3 taza de migajas de pan sin gluten
2 Tbs. parmesano rallado vegano
2 Tbs. aceite de oliva virgen extra
Precaliente el horno a 400 grados. Core the cauliflower and cut the head into large florets. Blanche the cauliflower in a pot of boiling water for just a few minutes. You want to be tender but still have crunch. Drain and rinse with cold water to stop the cooking.
In a medium-size saucepan, melt the butter over medium heat and whisk in the flour until well combined. Let it cook for a minute so you won't taste the flour. Slowly add the warm milk, batiendo, until you have a smooth sauce. This is your béchamel sauce. Añadir sal, pimienta y nuez moscada. Add the cheese and whisk until smooth. Turn off the heat and set aside.
Put a few ladles of the béchamel sauce in the bottom of an 8 x 8 baking dish. Add the cauliflower to the baking dish and cover with the remaining cheese sauce.
In a small dish, combinar las migas de pan, parmesan and oil. Mix and sprinkle over the cauliflower. Hornear durante 30 minutes or until the top begins to brown. Turn the oven on broiler for 2 minutes to really crisp up the top. Let sit for a few minutes to set before serving.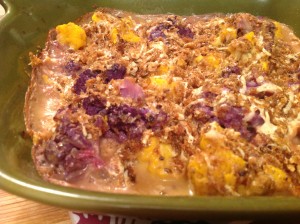 Entry #4:

Thai Green Curry Eggplant with Basil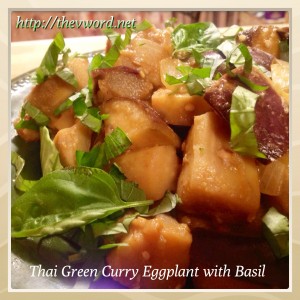 I have come to love Thai food and it's the perfect way to use my favorite coconut products from So Delicious. En este plato, eggplant is cooked in a rich, flavorful green curry filled with the warm spices of garlic and ginger and Es tan delicioso coco Culinary Leche. The large number of basil leaves makes it fresh, aromatic and definitely a Spring dish. Here's the recipe:
1 Tbs. el aceite de canola
3 Dientes de ajo, picado
1 pulgada de jengibre fresco, picados o 1 tsp. ground ginger
Una pizca de hojuelas de pimiento rojo
1 berenjena grande, cubicado
1 cebolla grande, picado
2 ½ cucharada. pasta de curry verde
1 taza Es tan delicioso coco Culinary Leche
2 Tbs. brown rice vinegar
3 Tbs. sin gluten tamari
2 Tbs. azúcar moreno
2 Tbs. zumo de lima
20 hojas de albahaca, chopped
Calentar el aceite en una sartén grande a fuego medio. Agregue el ajo, ginger and red pepper flakes. Let cook for a minute or two until fragrant. Add the eggplant cubes to the pan and toss to coat with the oil. Deje cocinar sobre 7 acta, until the eggplant is browned and softened. Add the onion and mix with the eggplant. Let cook another 4 minutos hasta que se ablanden.
Add the green curry paste and coconut milk to the skillet. Mix well until the paste is dissolved and all the vegetables are coated with the sauce. Add the brown rice vinegar and tamari to the pan. Sprinkle the brown sugar over the vegetables and mix to combine. Let cook until the sauce is hot. Apague el fuego, add the lime juice and basil leaves and toss. Servir en caliente.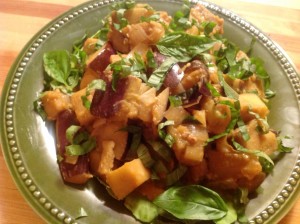 Entry #5: Cold Fideos de arroz en salsa de maní picante tailandesa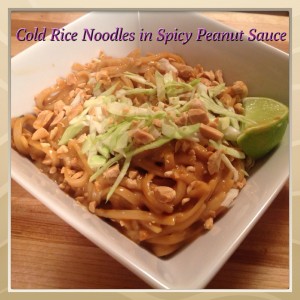 Another Thai dish that says Spring to me is my Cold Rice Noodles in a Spicy Thai Peanut Sauce. Because it's served cold, it's a wonderful recipe for warmer weather. Rice noodles are light and here they are covered in a creamy, spicy peanut sauce made extra delicious with (you guessed it) Es tan delicioso coco Culinary Leche. Served over cabbage, it's a perfect appetizer of light entree. Here's the recipe:
14 oz. Tallarines de arroz tailandeses o los espaguetis
1 taza Es tan delicioso coco Culinary Leche
½ cup gluten-free tamari
¼ cup water
2 Tbs. brown rice vinegar
1-2 Tbs. Thai chile sauce, to taste
1 Tbs. arrowroot
¼ cup peanut butter
1 Tbs. fresh ginger, chopped or 1 tsp. ground ginger
Shredded cabbage, for garnish
¼ cup roasted peanuts, chopped, for garnish
Bring a large pot of water to a boil. When the water boils, remove the pot from the heat. Add the rice noodles to the pot. Stir with a spoon or tongs. Let the noodles cook in the water for 8 – 10 minutes until al dente. Drain and rinse with cold water. Transfer the noodles to a large bowl and set aside until ready to use.
En un procesador de alimentos o licuadora, combinar la leche de coco, tamari, agua, vinagre, salsa de Chile, arrowroot, mantequilla de maní y jengibre. Proceso o mezcla hasta que quede suave. Transfiera la salsa a un cazo. Cocine a fuego medio. Llevar la salsa hasta que hierva y luego cocine a fuego lento hasta que espese un poco. Si la salsa está demasiado espesa, agregar más agua.
Vierta la salsa sobre los fideos fríos y revuelva hasta que los fideos estén completamente recubiertos. Decorar con repollo rallado y maní picado antes de servir.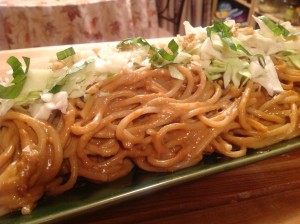 These are just 5 of the ways I indulge in the wonder that is Es tan delicioso lácteas libre and I hope you try these recipes and have a beautiful, delicioso, dairy-free Spring. Wish me luck in the contest and Enjoy!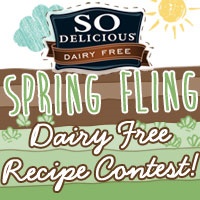 La "V" Palabra: Dígalo. Cómetelo. Vívelo.
(Visitado 1,160 veces, 1 visitas hoy)