Razão #693,984,224,877,113,989,303,485 Por que eu perca NYC: o menu de verão em flor no Carmine.
Como se eu precisasse de mais um motivo para perder a cidade, é hora de todos os maravilhosos restaurantes veganos para desvendar seus menus de verão destacando a bela recompensa de frutas e legumes da época. Blossom on Carmine sent me an e-mail asking me to share the details of their new summer menu. Just because I can't be there to enjoy these dishes myself (excuse me while I wipe my tears from the keyboard), that doesn't mean I won't share this glorious summer menu with you. Sim, Eu sei, it's awfully kind and generous of me, that's true. De nada. 🙂
If you plan to be in New York City this summer, be sure to visit Blossom on Carmine. Located in the West Village, Blossom on Carmine specializes in small plates and offers biodynamic wines and organic cocktails. Blossom on Carmine's fresh organic ingredients come from local farms and small distribution companies and all of the dishes are completely animal free. At Blossom "we are first and foremost animal caring and also know an organic, vegan diet encourages a healthy lifestyle. My vision for Blossom was to create a place with outstanding food, not just for vegans, but for everyone to enjoy" said owner Ronen Seri.

Blossom on Carmine has added some dishes to its menu celebrating the arrival of the warmer months to come. Wait until you read this menu. Be sure to have a napkin ready for when the drooling starts.
For starters, Blossom on Carmine has added a wide range of salads utilizing seasonal and fresh ingredients:
– House salad – field greens, red and golden beets, walnuts, passas de uva, green apples, carrot ginger dressing
– Southwestern salad – quinoa, black beans, roasted sweet corn, diced bell peppers, watercress, sementes de abóbora, sunflower seeds, guacamole, poblano dressing
– Marinated kale salad – scallions, pimentões, creamy avocado and ginger dressing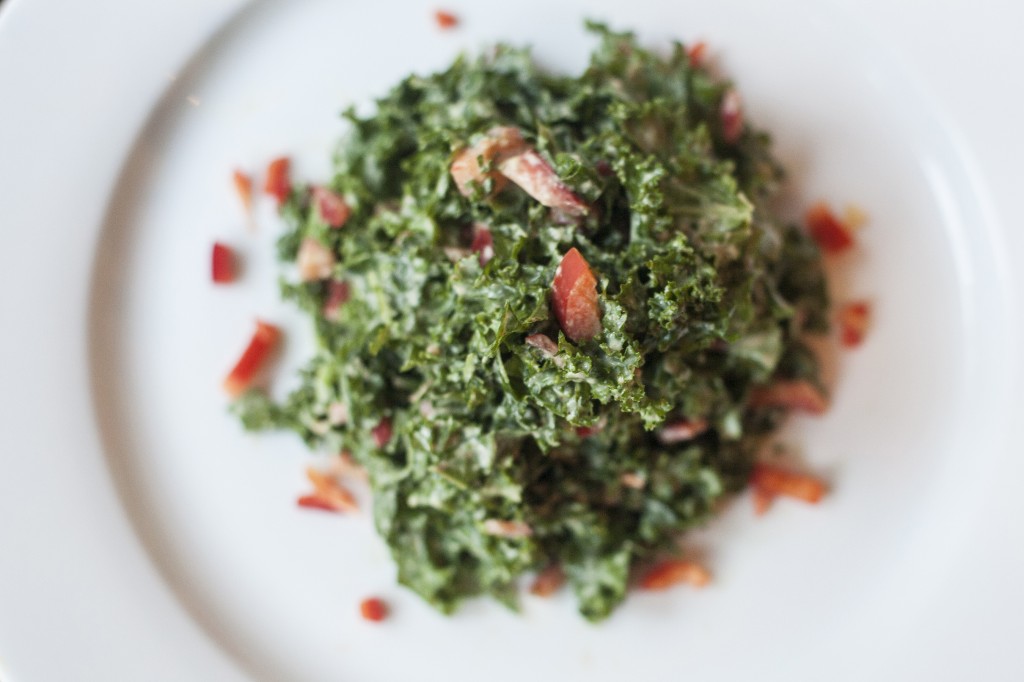 For something a little more hearty, Blossom on Carmine offers a long list of gluten-free and healthy dishes:
– Gnocchi – roasted pumpkin and sweet potato gnocchi, couve salteada, golden beets, sage cashew cream
– Barbecue tempeh – horseradish crème fraiche, roasted russet potatoes, summer corn and avocado salad
– Risotto – shiitake, trumpet, and cremini mushrooms, sweet peas, creamy miso dijon, tapioca cheese
– Au poivre – seitan steak, peppercorn gravy, grilled asparagus, garlic french fries
– "Salmon" tofu – beet marinated tofu, creamy dill sauce, lobster mushroom scallops, forbidden black rice, erva-doce, leeks, broccolini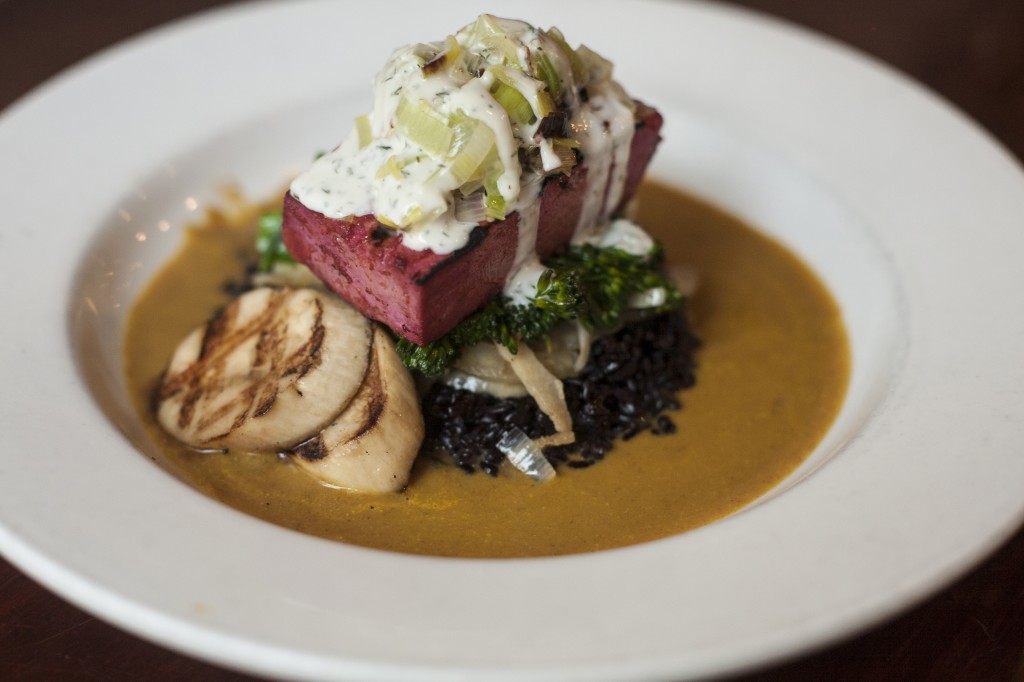 To finish off your Blossom on Carmine experience, the restaurant added two new editions to the desserts menu:
– Peanut butter and chocolate ganache, vanilla ice cream
– Tiramisu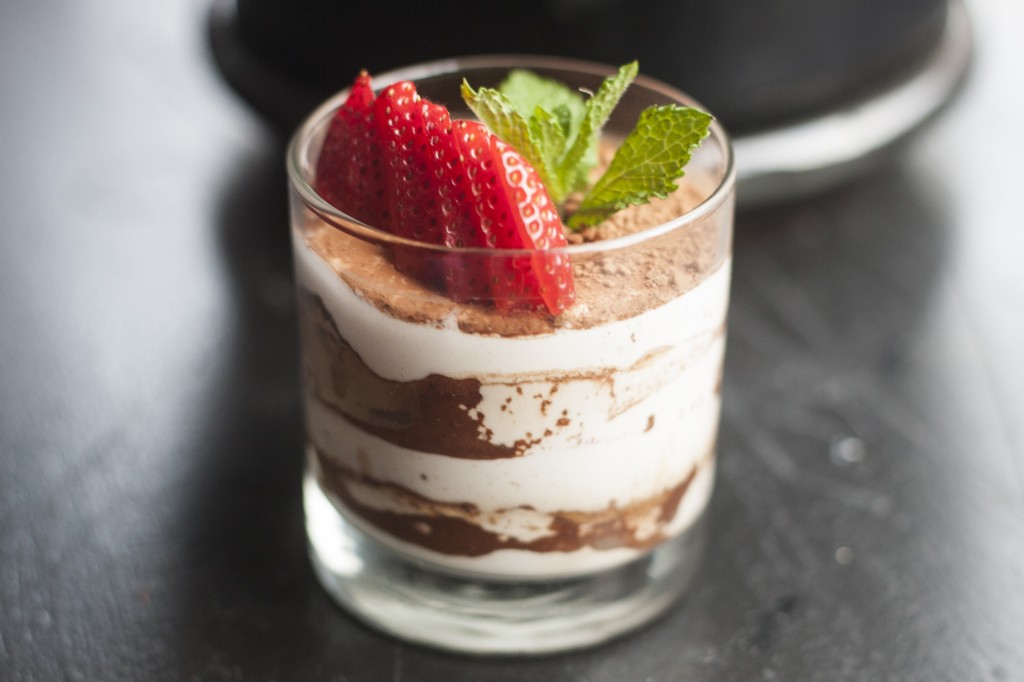 The Summer dishes are currently available and are offered throughout the Summer months. In addition to those summer dishes, the restaurant also offers main staples that are available throughout the year.
A few of the dishes available throughout the year include:
– fried pickles with black peppercorn ranch
– Buffalo risotto croquettes with pickled carrot ribbons, bleu cheese sauce
– pizzette margherita – grilled flatbread, plum tomato ragout, mozzarella cheese, roma tomatoes, manjericão fresco
– sautéed brussels sprouts, garlic and shallots
– batatas fritas, salt and vinegar, raw garlic
– sliders – housemade seitan patty, poblano 1000 ilha, fried onion, alface, tomate, pickle, served with your choice of field greens or french fries
– marsala – pan seared seitan cutlets, marsala pan sauce, white bean puree, sauteed kale
Ó. Meu. Goodness. It all sounds so amazing. I hope that lots of you will get the chance to experience this incredible menu of seasonal deliciousness. And if anyone wants to send me a doggy bag, I wouldn't refuse the Southwestern salad, the Au Poivre and some Tiramisu. Ooh, and fried pickles…and Buffalo risotto…and Brussels sprouts…e….

Carmine on Blossom
41 Carmine St. between Bedford and Bleecker St.
646-438-9939
Site: http://blossomnyc.com/westvillage/
O "V" Palavra: Diga-. Comê-lo. Vivê-la.
(Visitado 403 vezes, 1 visitas hoje)