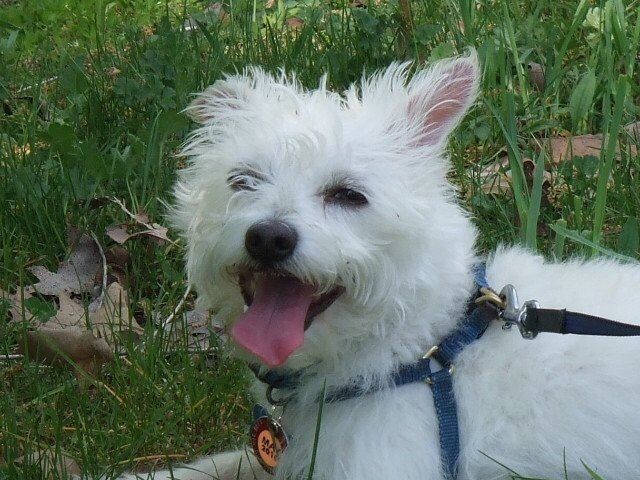 There is no love like that of a dog – unconditional, loyal and completely honest. The all-encompassing way I loved my dog, Poochie, stunned and nourished me every single day and when I lost her, it felt like my heart was forever broken. When we got Benny, I honestly didn't think I podría love him but he taught me that the heart can always accommodate more love and he fixed my broken heart so I could love again.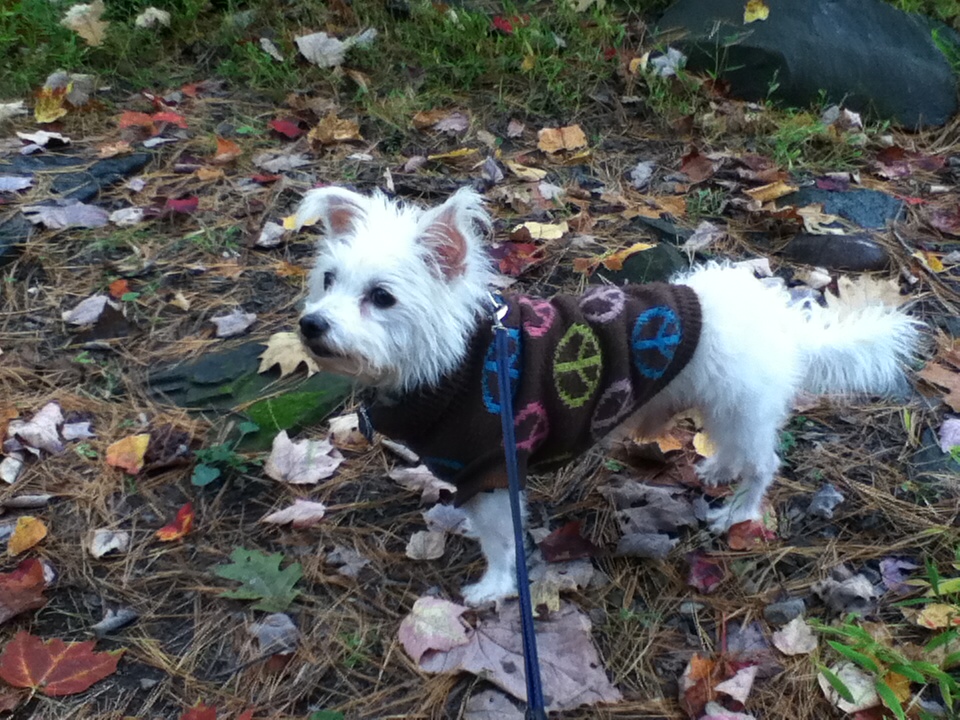 Now Benny is my heart, my sun and moon and the most important part of my life. Since we rescued Benny, I have learned so much more about nutrition and we became vegan so I try to feed him better than I knew how to feed Poochie. I want his food and his treats to be healthy, nutritious and cruelty-free.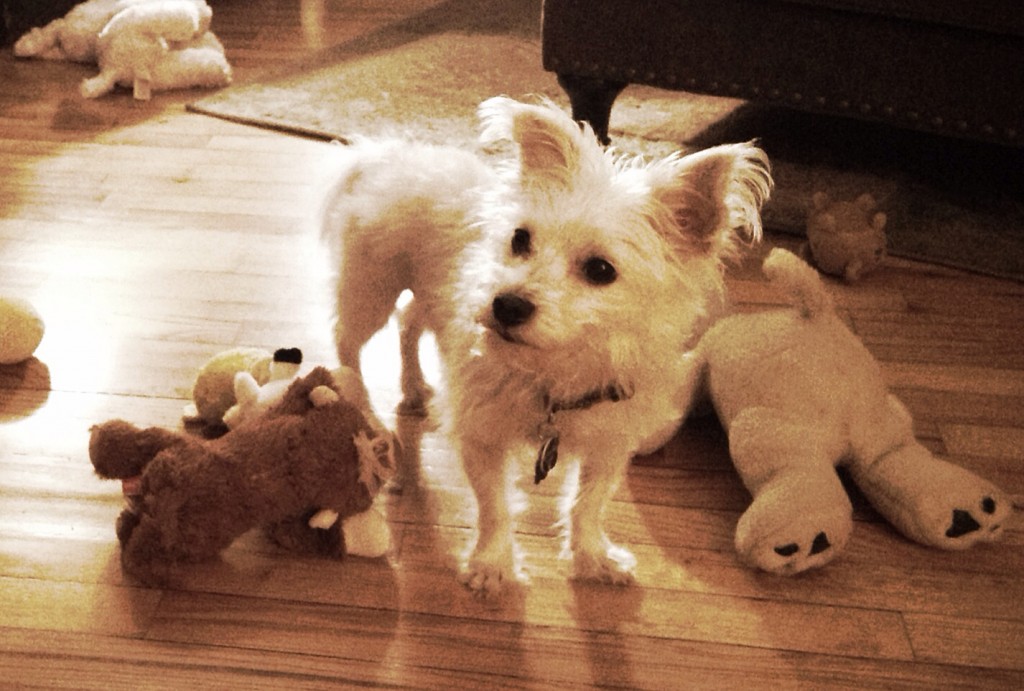 Once you become a label reader, the things that go into our food is shocking but the things that go into dog food and treats can be downright scary. Here are some dog treats you can feel really good about giving your dog and your dog will be really happy to get them: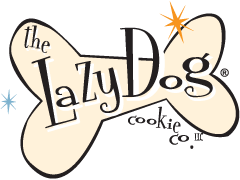 Benny has been a fan of The Lazy Dog Cookie Co. for years. He got a few boxes of their healthy cookies at ThanksLiving at Woodstock Farm Animal Sanctuary. The Lazy Dog Cookie Co. supports a lot of animal organizations including the sanctuary. He had a choice then of a bunch of flavors of Pup-Squeaks and peanut butter was his favorite.

Lazy Dog is a big believer in giving dogs what they deserve. They use only simple ingredients that are delicious and nutritious. Their treats are free of wheat, maíz, fillers, preservatives or anything artificial. They offer soy-free and grain-free options. All of their treats are vegetarian and vegan (read the labels to be sure there are no dairy, egg or honey ingredients if you want vegan treats).Lazy Dog has a line of vegan treats called "Treat Them with Love Cookies." They are made with nutritious ingredients including antioxidant-rich pumpkin. Hay 7 sabores: Barkin' for Bananas, Howlin' the Blues, Pizza Crust Bites, Peanut Butter Cinnifers, Pumpkin Gingrrs, Sniffer Nutters, and Sweet Puptato Pies. Each features a unique combination of flavors and one of their dogs on the box.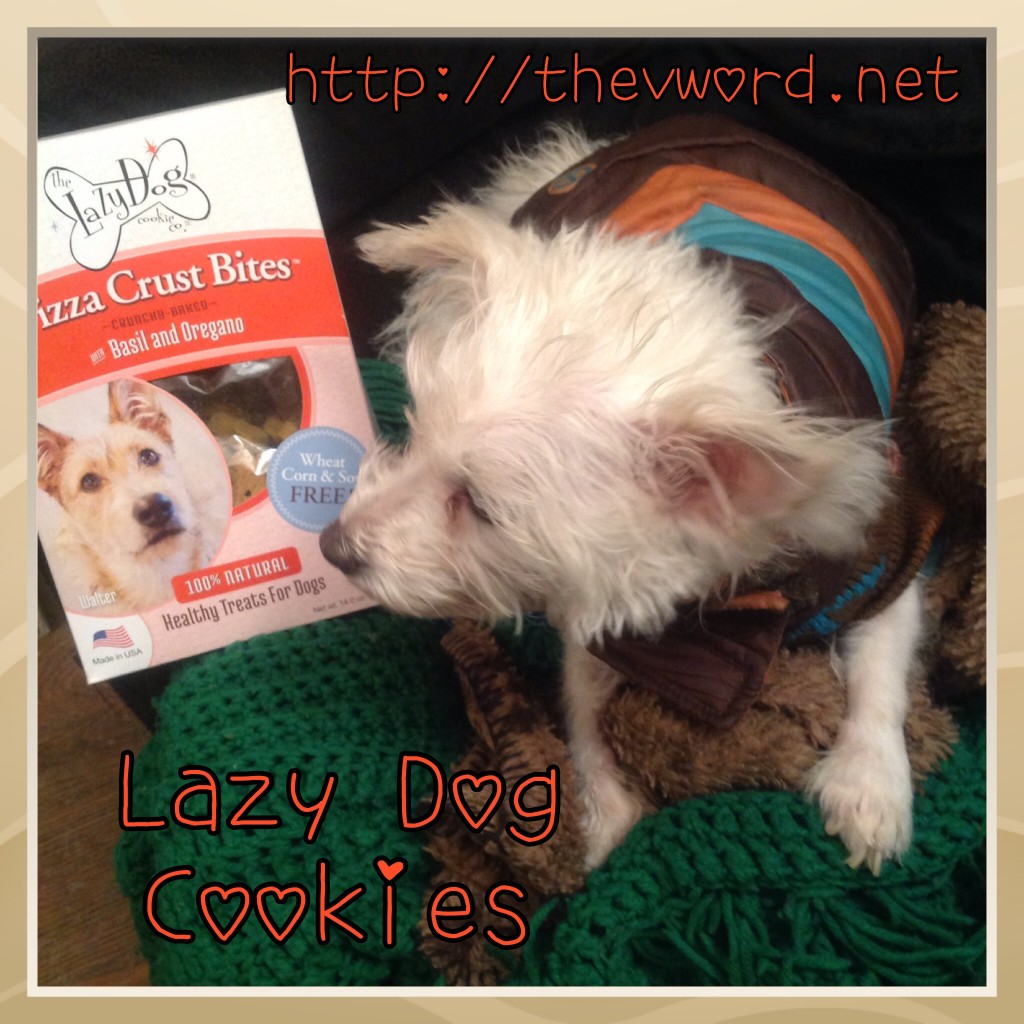 Read our full review of The Lazy Dog Cookie Co. aquí.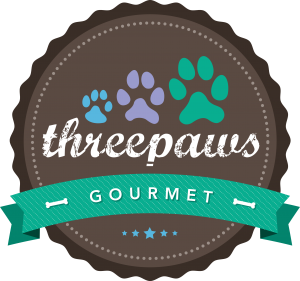 Tres patas Gourmet es una empresa que hace los convites del perro hecho a mano que son orgánicos, no OGM, y vegetariana con opciones sin grano y sin gluten. Their mission is to deliver "the highest quality treats you can buy, by using only the best organic and locally sourced ingredients." All of their treats are baked-to-order and shipped quickly so the treats are fresh and yummy.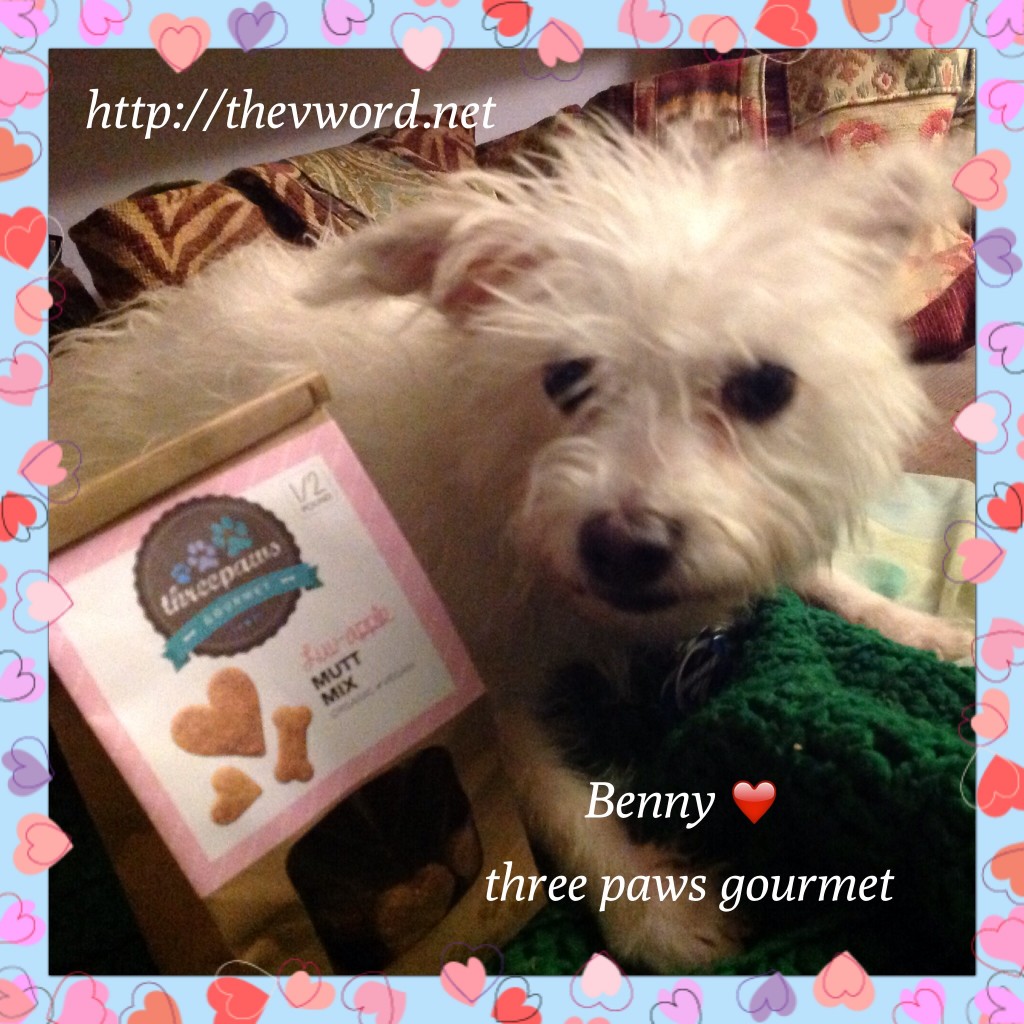 Three Paws Gourmet makes treats that are free of fillers, productos químicos y nada artificial! Incluso el embalaje es ecológico. Los convites del perro son suaves y masticables. Voy a ser totalmente honesto y decir que yo los probé por mí mismo. No hay sal y sin azúcar añadido que no sea la remolacha y jarabe de arce. Las galletas sabor muy simple y sencillo para mí, pero Benny no pueden tener suficiente de ellos.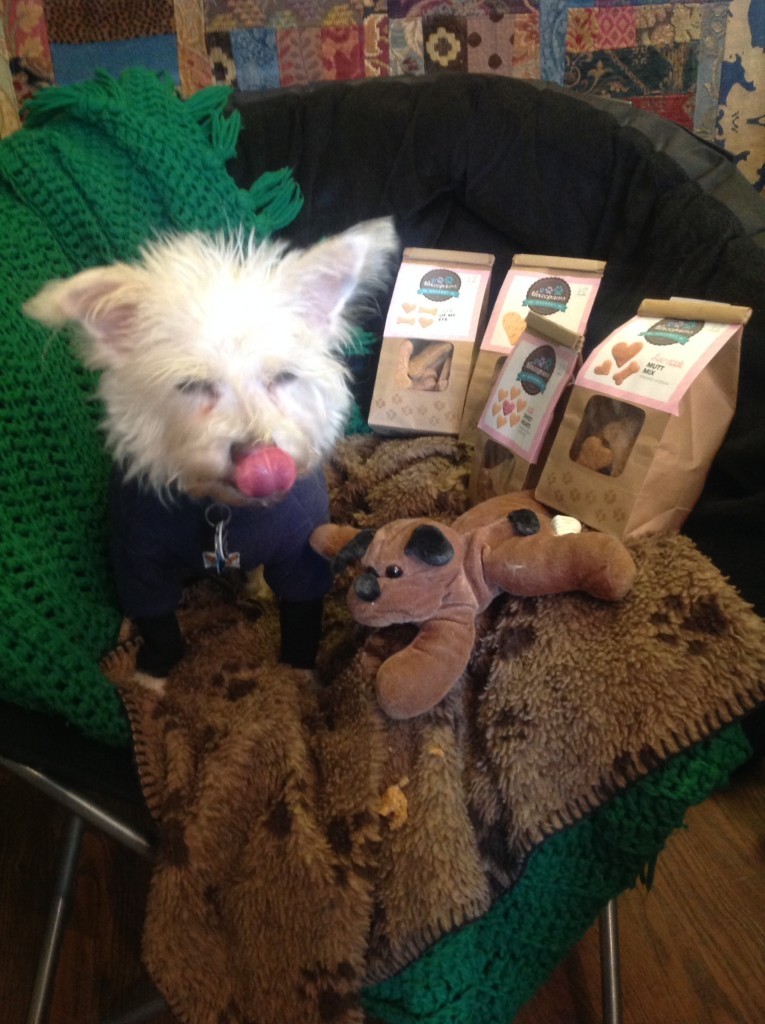 See all the different types of treats they make and our full review aquí.

Camberville Dog Treats hand-make vegan treats in Cambridge, Massachusetts. De hecho, each flavor of treats is named after one of the neighborhood squares.
Their treat flavors are based on locally available produce and contain freshly ground organic oats and fruit and vegetables from organic or sustainable local farms. The nutrient-packed and allergy-free squares are full of flavor, low in fat and gentle on your dogs' bellies. They never use any chemicals, preservatives or fillers and bake the treats in small batches to maintain quality and taste.
The treats are baked at low temperatures which make them easier to digest and maximize the amount of nutrients your dog gets. Su low-fat squares are chemical and preservative free, corn free, dairy free, meat free, soy free and wheat free.
Camberville Dog Treats sent Benny a package of Harvard Square Sweet Potato Peanut Butter squares and they were a big hit.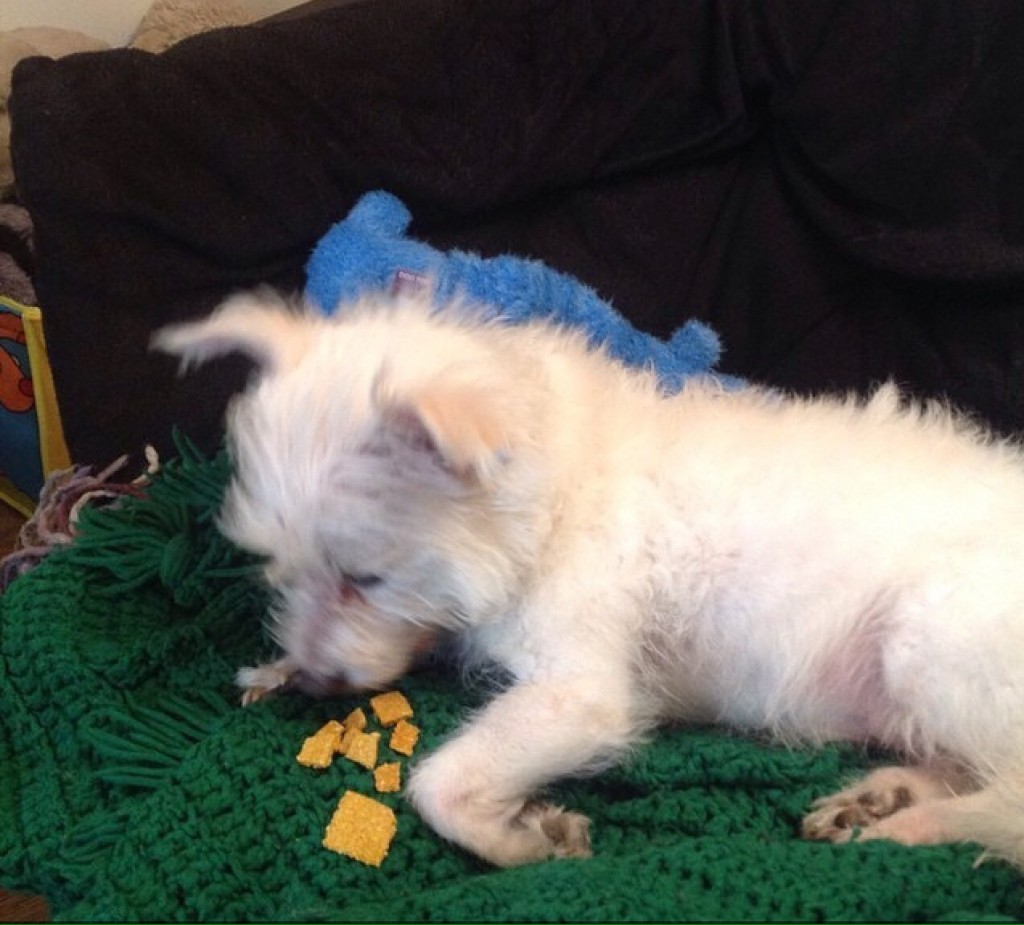 Check out Camberville's sitio web para más información, all the variedades of treats and purchase information.

Benny suffers every summer from allergies and irritated skin so I was really excited to try CocoTherapy productos. The makers of CocoTherapy are big believers in the healing power of coconut oil, using it themselves and giving it to their pets with great results.
When given regularly, coconut has been shown to help skin and coat health, bone function, thyroid function, digestive health, and immune health. It provides antioxidants for healthy cells and cell function.
CocoTherapy makes Organic Virgin Coconut Oil, Organic Coconut Chips, Fruit Crunch, Veggie Crunch, Five Star Organic Training Treats, and Maggie's Macaroons. All of their treats are gluten-free and free of major allergens like corn, soy, and wheat.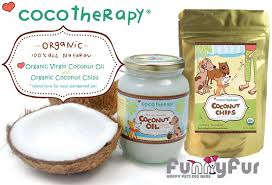 CocoTherapy sent Benny their Maggie's Macaroons in 3 sabores: coconut vanilla flax, coconut apple pie, and coconut lemoncello. The macaroons are raw, sin gluten, sin cereales, and vegan with no artificial colors and flavors.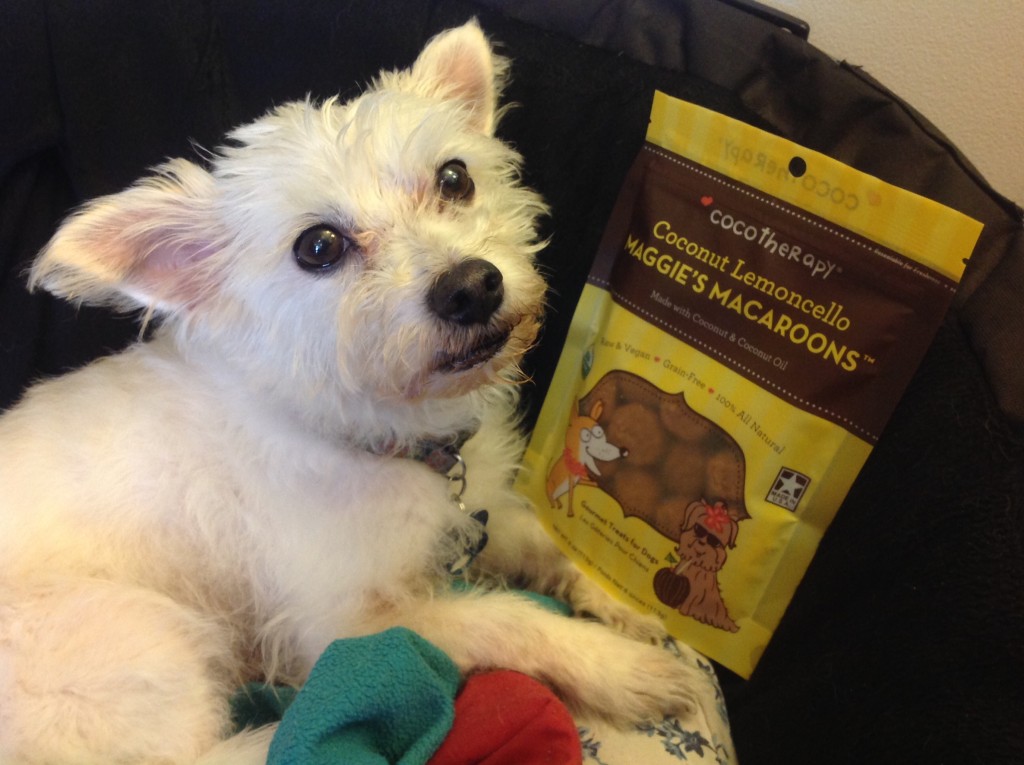 He loves them! And to be honest, Los amo demasiado. I tasted each one and they all taste like the macaroons I used to eat on Jewish holidays. De hecho, Benny loves them so much, I've had to order a few more bags since.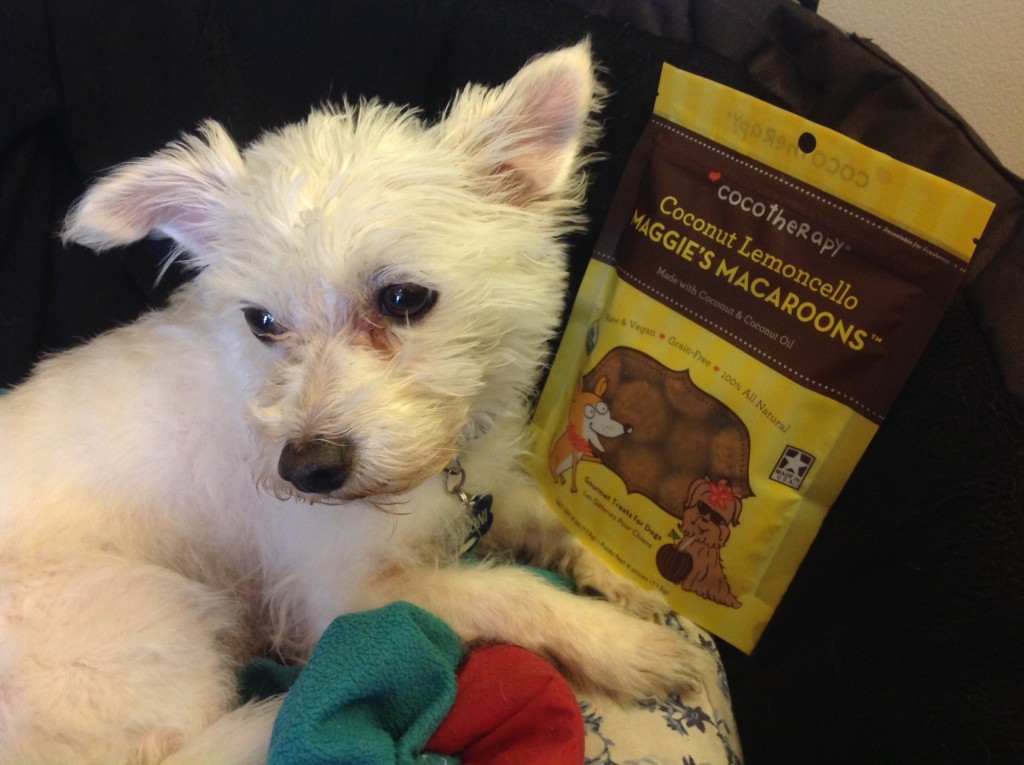 Be sure to check out CocoTherapy's sitio web for more information and purchasing information.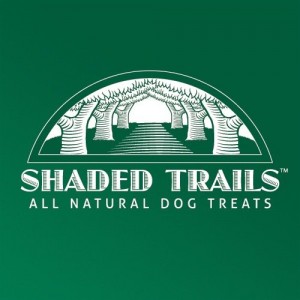 Shaded Trails began when the founders tried to find a nutritional treat for their dog who suffered from allergies. Most treats on the market has less-than-quality ingredients so they did months of research and found that plant-based treats were the optimal choice for helping resolve allergies and illness and improve dogs' coat, heart and joints.
Shaded Trails created treats with natural ingredients from the earth in 3 flavors and had friends' dogs sample them. They were causing tails to wag left and right! Shaded Trails was born and since then they have been on a mission to keep all dogs on the right path to happy and healthy adventures.
Shaded Trails treats are made with fruits and veggies that offer antioxidants, vitamins and nutrients. They contain no soy, maíz, trigo, fillers, or artificial flavors, colors or preservatives.
The treats come in pouches in 3 sabores: peanut butter and banana, sweet potato and apple, and apple and hemp.
And because you and your pooch are going to want to never run out of treats, Shaded Trails offers Monthly Treat Pupscription plans in 3-, 6-, and 12-month plans. Every month, a pouch of treats will come right to your door and you can save up to 20% on something your doggie loves. Benny loves Shaded Trails treats. He gobbles them up right away which makes his Mommy happy.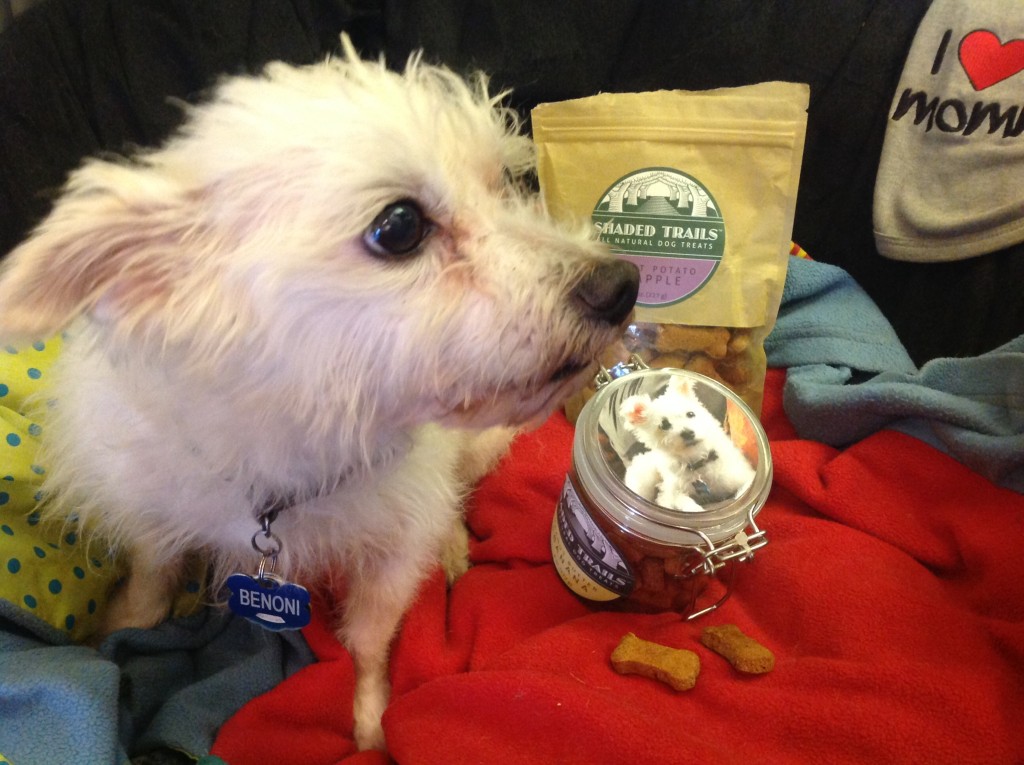 The other thing that made his Mommy ecstatic was the customized treat jar that Shaded Trails sent us. You can submit your dog's photo and they will put it on a jar filled with treats. What a perfect gift for friends and family members who are crazy about their dogs!

When I unpacked that treat jar, my squeal of delight could be heard miles away. I love it so much!!!!!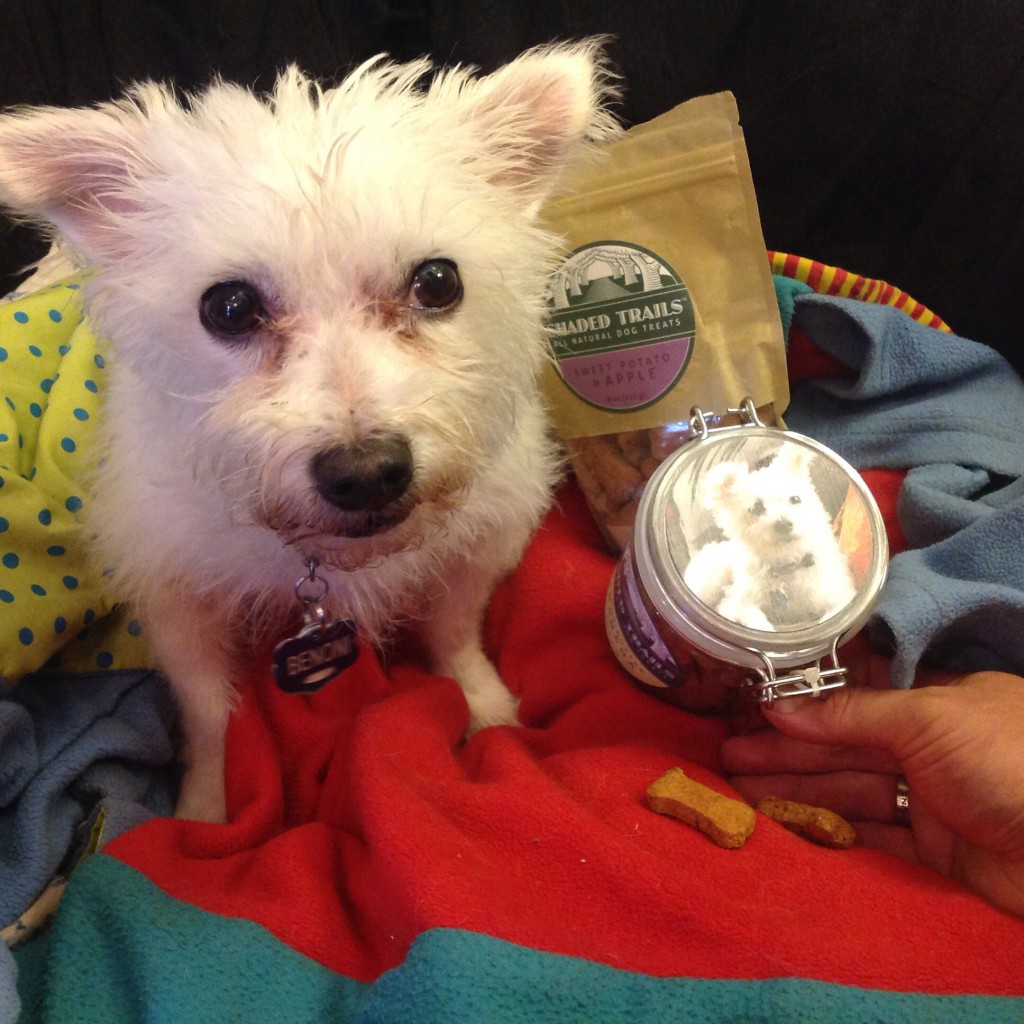 Check out the Shaded Trails sitio web for more information and purchasing info.
PetGuard ha proporcionado solamente productos naturales para los animales más sanos y más felices desde 1979.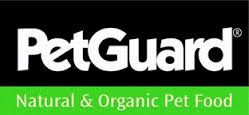 Pet Guard es "concerned about actual ingredient sources, buscan productos libres de ingredientes artificiales, subproductos, colores, conservantes, el exceso de azúcar y sal. En PetGuard, our concern for minimizing toxic chemicals in our environment and sensitivity for improving our lifestyles extends to our pets as well." Well, Benny es consciente de que.
También aprecia que PetGuard hace una de sus galletas favoritas, Sr.. Vegetarianos Dog Biscuits de Barky. Sr.. Barky de, lleva el nombre del verdadero señor. Barky, no contienen carne, levadura, subproductos, colores o sabores artificiales, edulcorantes añadidos, sal o azúcar.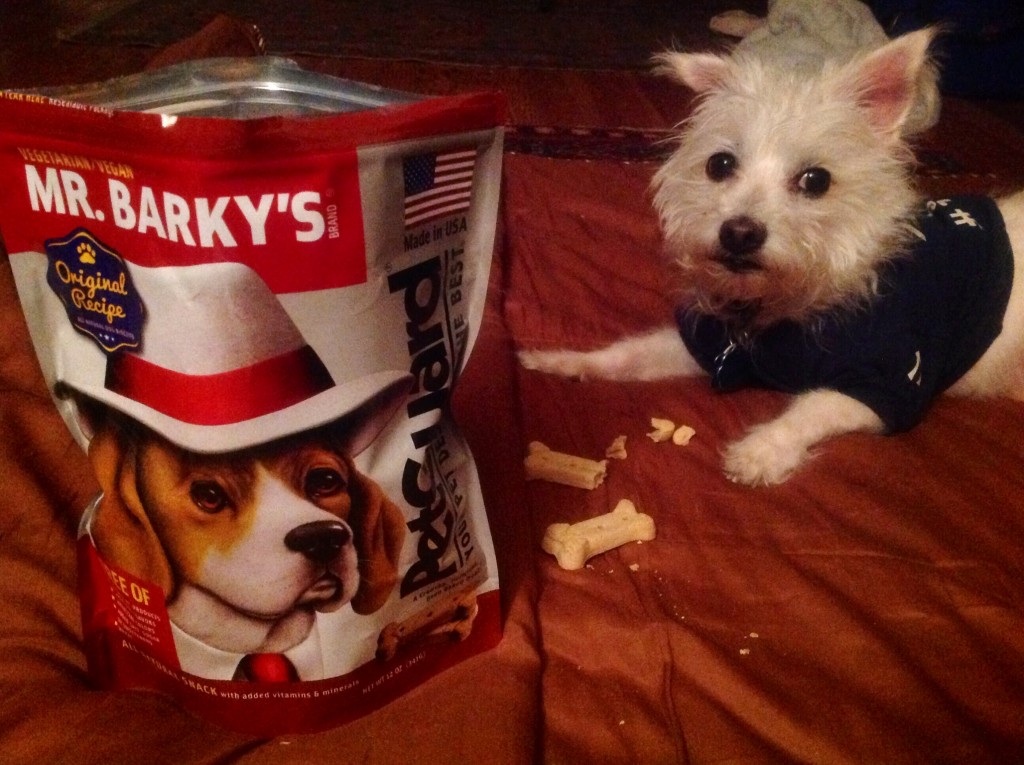 Benny también ama Sr.. Galletas de mantequilla de cacahuete de Pugsly que se hacen con harina de quinua orgánica de proteína completa. También contienen avena, arroz integral, aceite de girasol y mantequilla de maní fresco. Sr.. Galletas de Pugsly son libres de maíz, trigo, soya y levadura lo que son ideales para los perros con alergias o sensibilidad.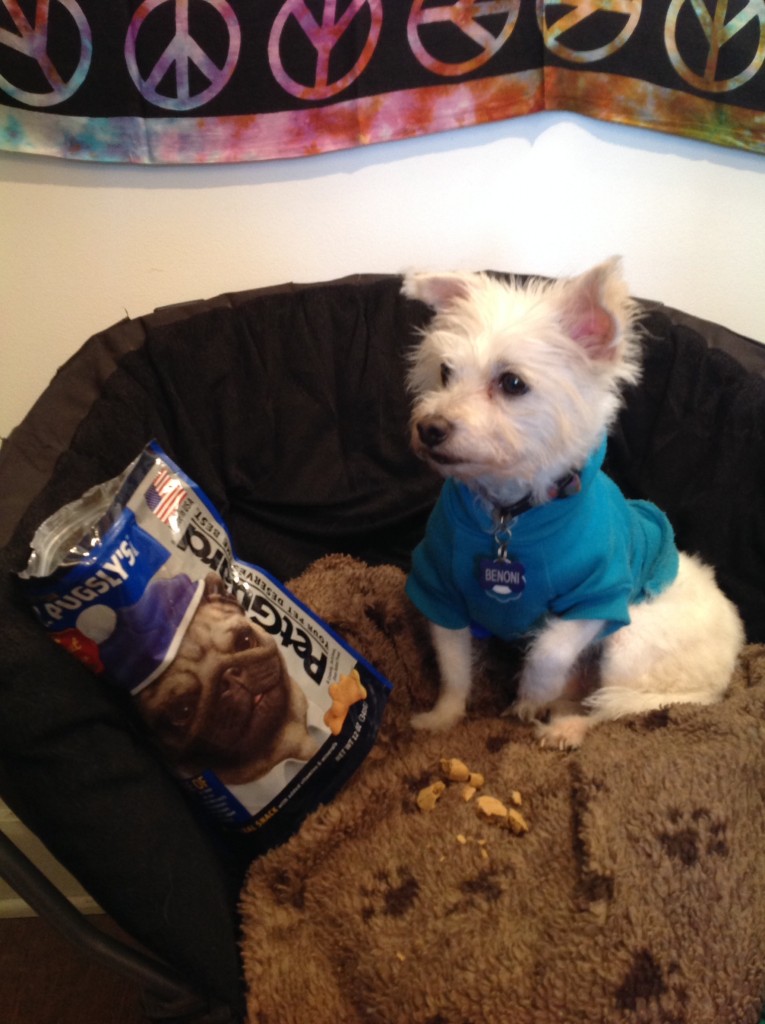 Asegúrese de revisar PetGuard de sitio web y conseguir que su perro favorito de algunos de estos deliciosos, delicias vegetarianas y comida. Read our full review of Pet Guard products aquí.
Our dogs depend on us to give them the healthiest food and treats we can. When there are so many companies making healthy, natural treats that are also delicious, there's no reason to ever give our fur babies anything else.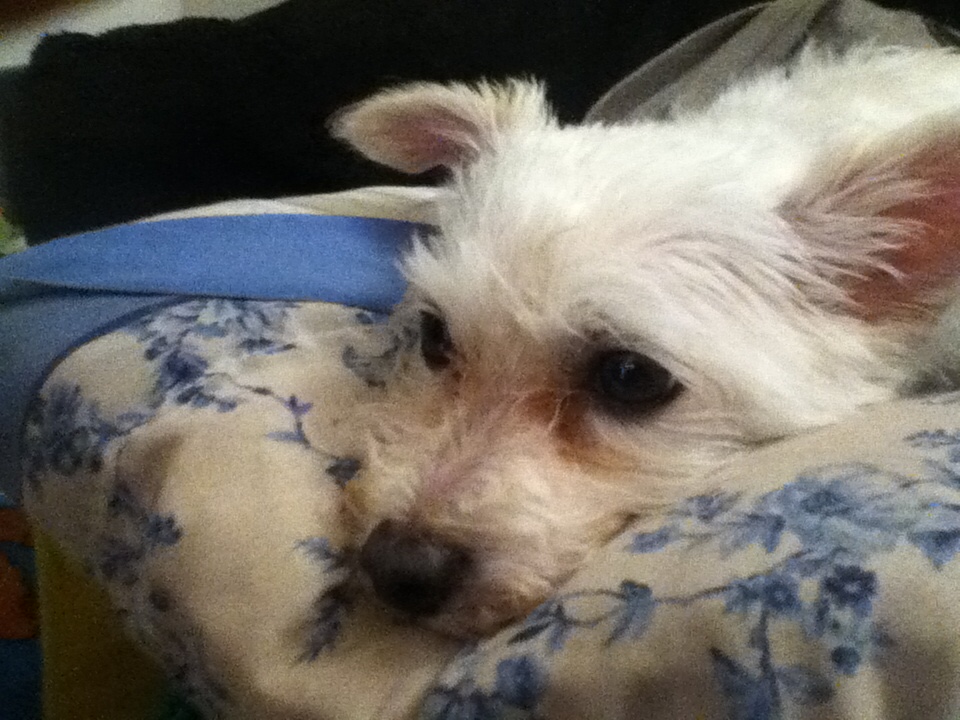 La "V" Palabra: Dígalo. Cómetelo. Vívelo.
(Visitado 559 veces, 1 visitas hoy)