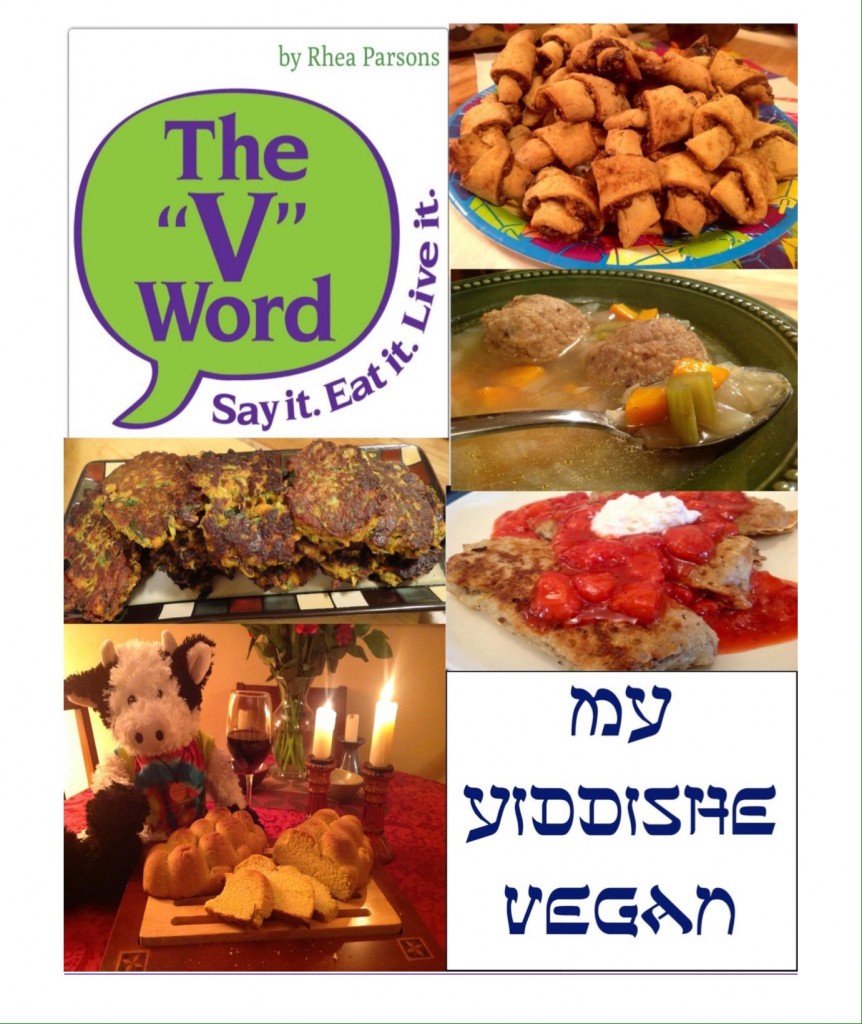 I've been working on this e-book for over 2 years and it's finally done. Every Chanukah and then every Rosh Hashanah, I'd plan to have this book done but things came up and life got busy. Yesterday when I sat down to write my articles for Jeden Green Planet, their web site was down and it was like a sign that I should pay attention to my e-book.
"My Yiddishe Vegan" is a labor of love. It's filled with recipes from my childhood, dishes my Mother made, dishes my father and grandfather loved, and dishes I refused to eat as a child but now think are delicious.
There are blintzes, knishes, Zupa matzoh piłkę, kasha varnishkes, holishkes, chała, chała bezglutenowa, vegan chopped liver, vegan Gefilte fish, rugelach, tempeh reuben sandwiches, latkes, seitan żeberka duszone, mięso duszone, Francuski tost, hummus, charoset and so much more.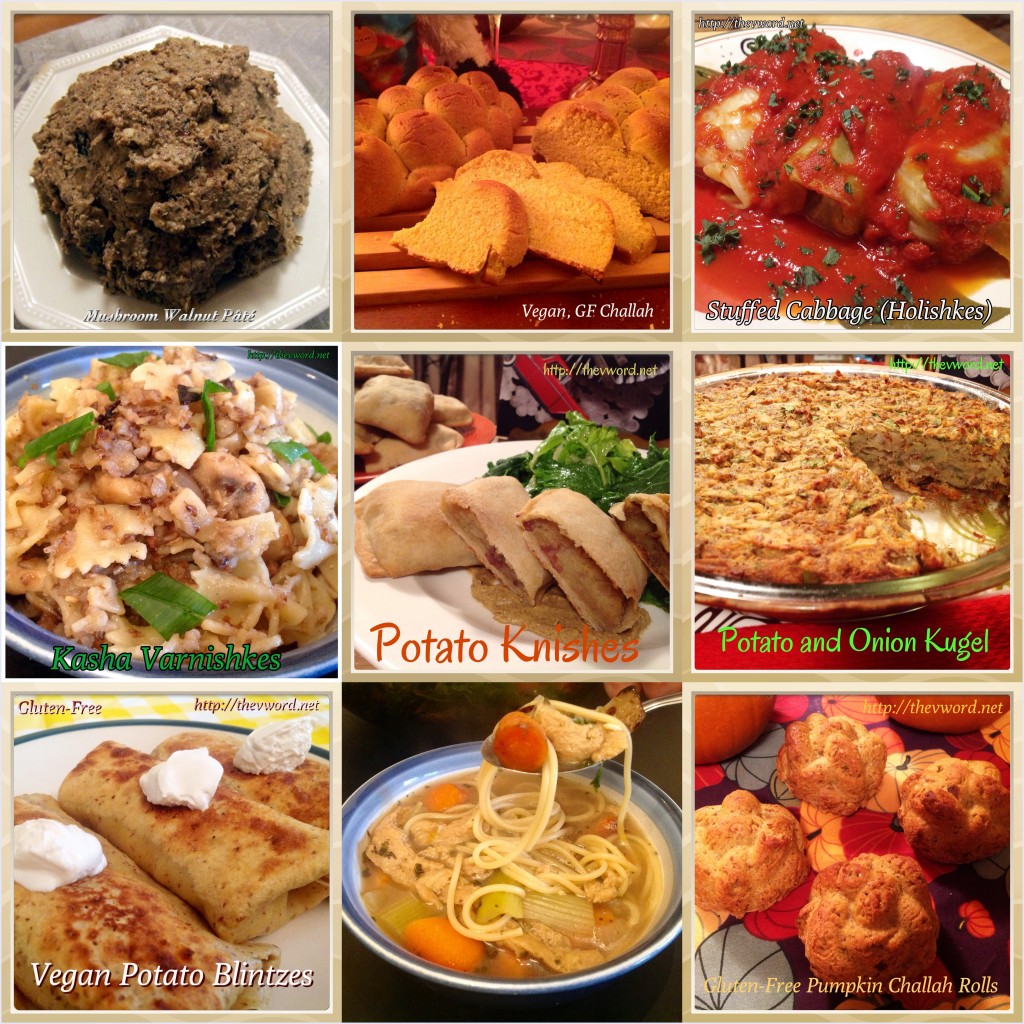 Są 50 recipes in "My Yiddishe Vegan," mostly gluten-free. All are approved by friends and family. Full-color photos are included for most of the recipes.
"My Yiddishe Vegan" joins my other e-cookbooks: Wakacje Edition, Party Food and Vegan Desserts.
Each e-book is $5 or you can get all 4 e-books for $15.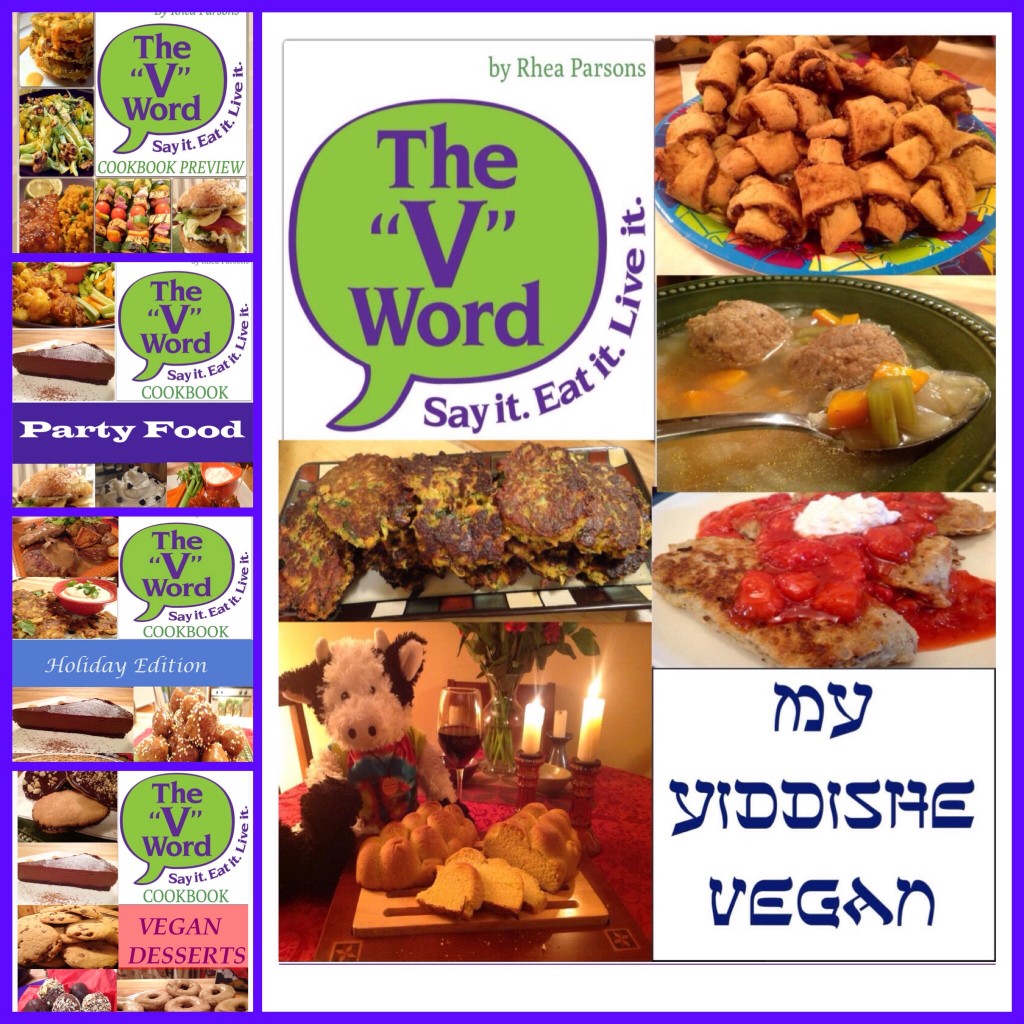 To buy any or all of my e-books, visit the book section of Woodstock Reveries. There you can purchase any e-book or get the 4 e-book bundle for the price of 3. Plus, I'll send you the Free Cookbook Preview with 15 vegan and gluten-free recipes if you don't already have it.
Each e-book is a PDF file. When you receive your completed payment invoice, it will have links to download the e-books.
If the links don't work or you don't get an invoice, just email me at info@thevword.net and I'll email the files to you in separate emails with attachments ASAP.
(Oczywiście, if you order in the middle of the night, I will know the next morning).
You can also get the entire The "V" Word E-Book Bundle completely FREE with any $25 purchase at woodstockreveries.com Just write in the notes section upon payment that you would like to receive them and I will send them to you.
"My Yiddishe Vegan" means so much to me. It's my past blended with my present and future to create a collection of family traditions made compassionate. Mazel Tov to me for finally finishing it. Cieszyć się!
The "V" Słowo: Powiedz to. Jedz. Żyć.
(Odwiedzone 1,285 czasy, 1 wizyt dzisiaj)