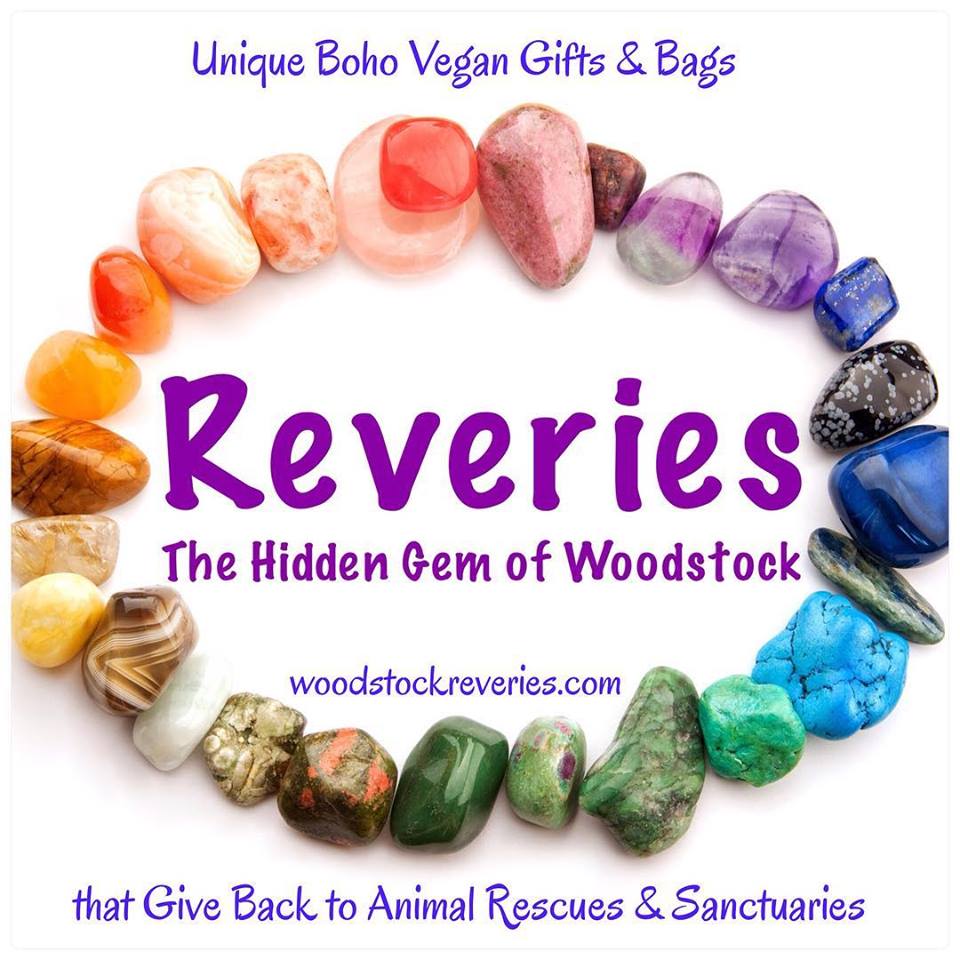 Hey guys! 私はこのサイトで何を掲載しましたので、私はそれが永遠になっています知っています; 人生はただサイコー忙しいと挑戦されているが、私は本当にここになるように努力をして、新しいレシピを投稿するつもりです.
私はとても忙しかった理由は、私は私たちの店に焦点を当ててきたということです, ウッドストック夢想. In a nutshell, someone bought the building that housed our home and store in October 2017 and we had to move suddenly. My health took a bad turn and we lost our dog, ロージー. It was a flood of bad things all at once.
After four years in one spot, the store had become well-known and successful, only to shut down. For a whole year, we had the store only online and it has been a struggle. We recreated the store on our front porch last fall but since we are a bit outside the main town, traffic is slow. Now we 本当に are The Hidden Gem of Woodstock. We are hoping that will change as the weather gets warmer and tourist season begins.
Just because the past year and a half has been rough, that doesn't mean I haven't been focused on vegan things. I celebrated my 10 year Veganversary on February 23rd. Hooのウー!!
And veganism is the main focus of our shop and I'd like to share with you what we do to help animals. ウッドストック夢想 です ONLY vegan store in town! Everything we sell is 100% cruelty-free and proceeds from our handmade bags and gifts go to help animal rescues and sanctuaries.
Every month we choose a different animal sanctuary to be our Sanctuary of the Month and they receive proceeds from a wealth of animal- and vegan-related gifts such as candles and handmade jewelry.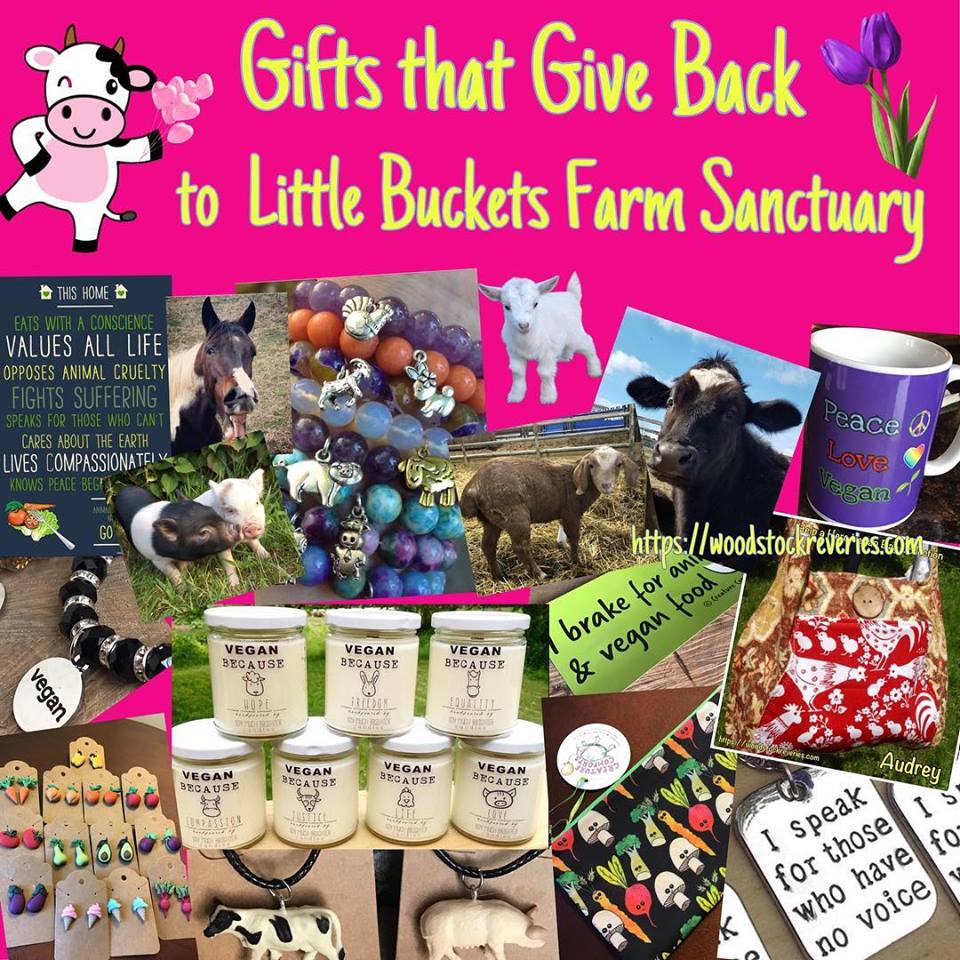 At the same time, we also have lots of other special fundraisers to help other sanctuaries, dog and cat rescues, wildlife rescues and more.
Here is a list of the animal sanctuaries and rescues we have helped so far: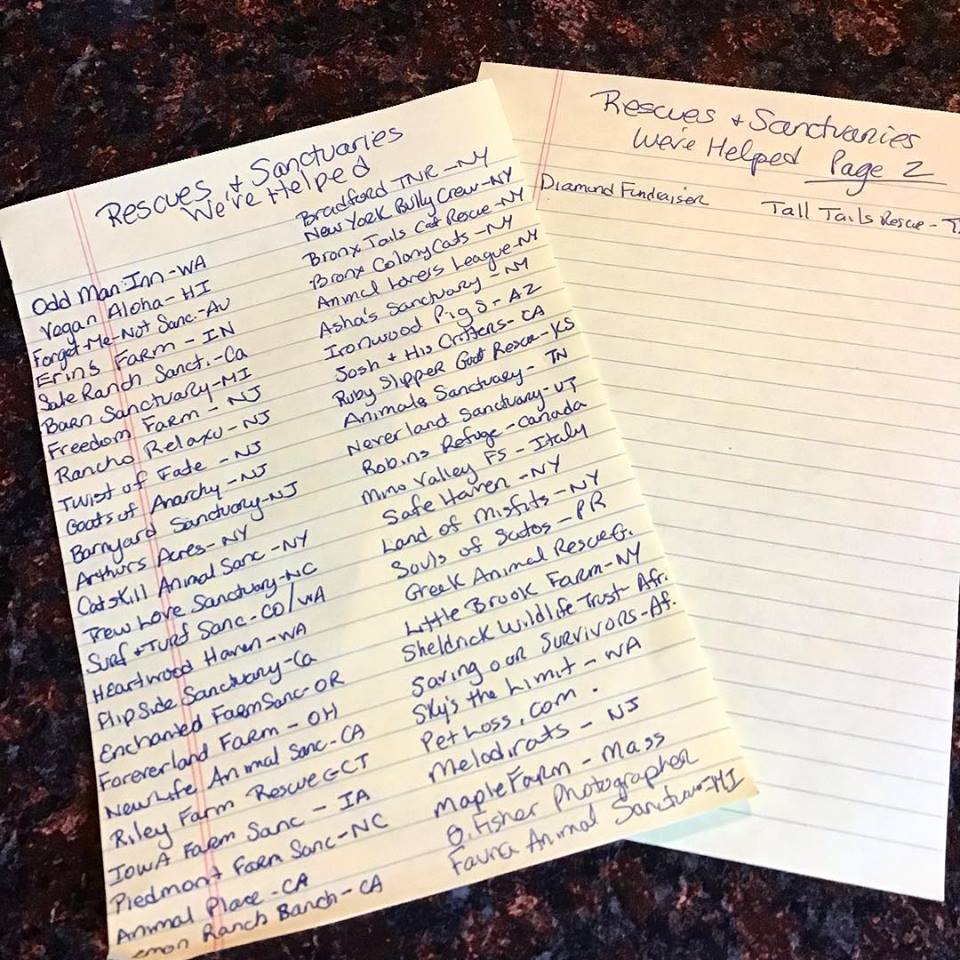 I look at this list every time I feel like I'm not doing enough or doing well enough to remind myself that what we do here at Woodstock Reveries really does make a difference.
Here are just some of the ways we help animals

:
We have a line of gorgeous handmade Boho vegan bags called the Help a Hero Vegan Bag Collection. This began because the people who run rescues and sanctuaries are true heroes and they all need help to keep saving animals. The beautiful bags are handmade in Massachusetts from repurposed materials, they are cruelty-free and each is one of a kind. すべてのベスト, when you purchase a Help a Hero Vegan Bag, YOU get to choose which rescue or sanctuary gets the 15% 寄付. 今, our Spring line is out and our Winter Clearance Sale is still going on.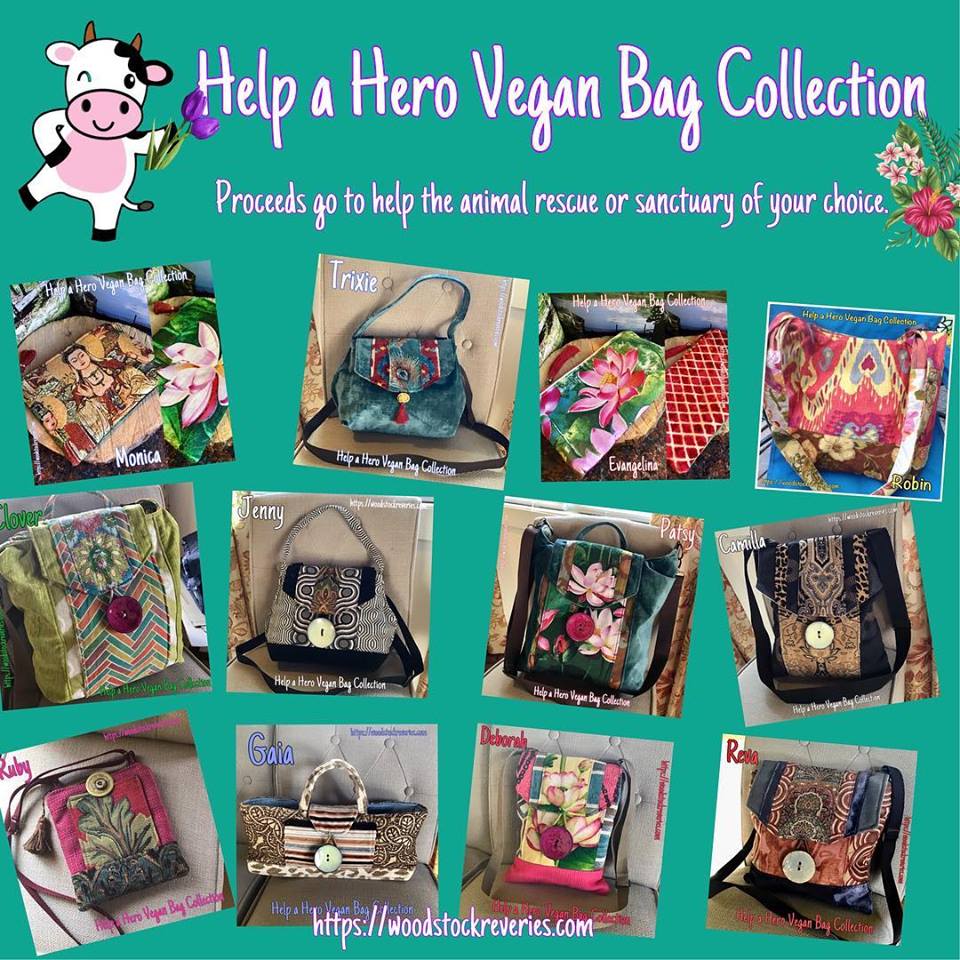 In Hawaii, there is a huge rescue effort going on to save over 1000 cows and calves who are at risk for slaughter from a closing dairy farm. Vegan Aloha has already made 3 rounds of saving cows and reuiniting calves with their mothers. They need lots of donations for the cows, vet care, 食品, より.
We have a collection of Vintage Swarovski Cluster Earrings (piereced and clip-on) that look like tropical flowers you might find in Hawaii and we are donating 20% from each sale to this cow rescue mission.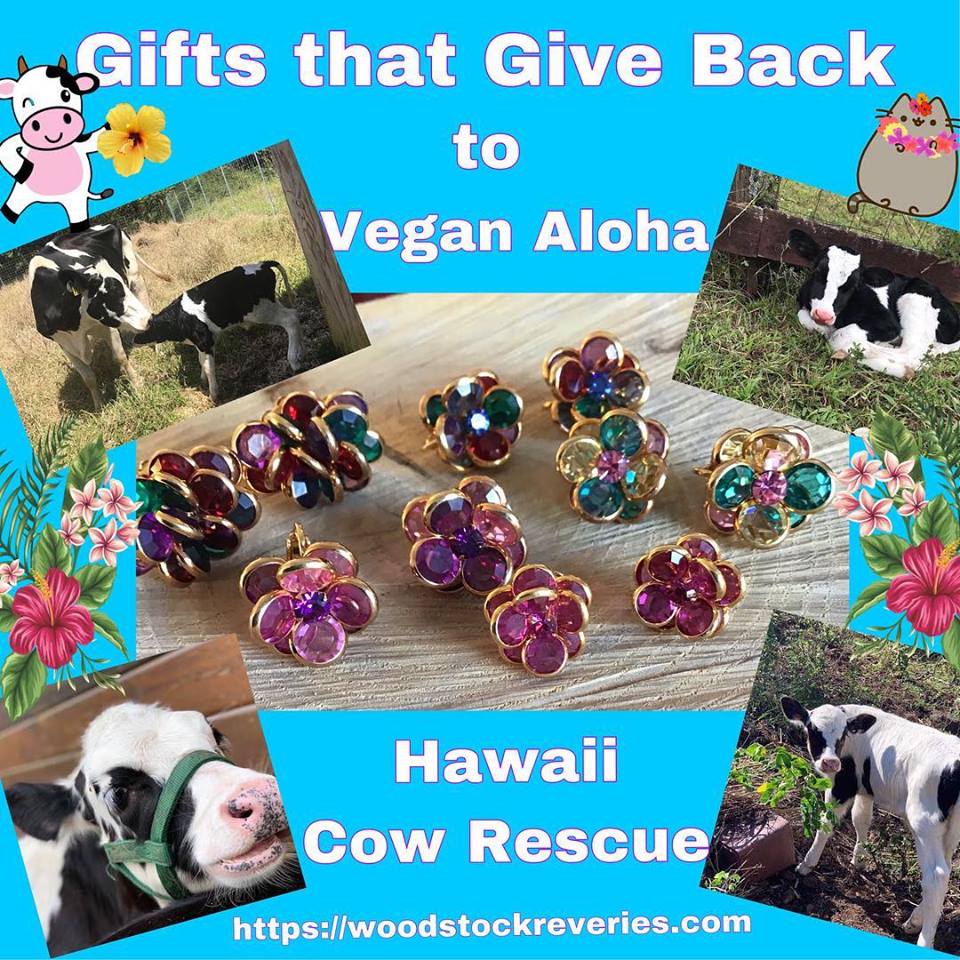 Our Sanctuary of the Month
Every month we choose a different vegan animal sanctuary to receive the donations from special Gifts that Give Back. As you can see from the list above, we have helped sanctuaries all over the country and around the world. Here are just some of the special Gifts that Give Back to our Sanctuary of the Month: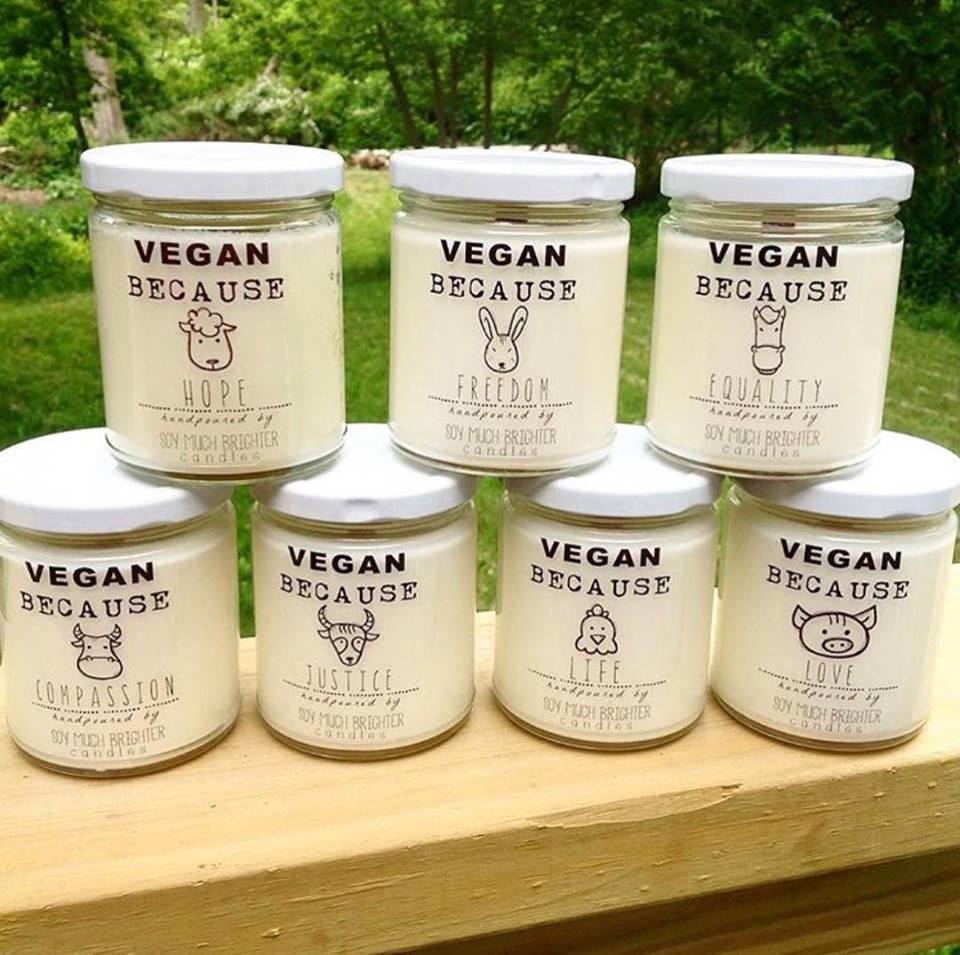 Our Vegan Because…Candles are handpoured by a vegan artist. They come in an exclusive vanilla sandlewood scent and 7 different animals. You can choose from cow (思いやり), pig (愛), chick (生活), goat (justice), bunny (自由), horse (equality) and sheep (hope).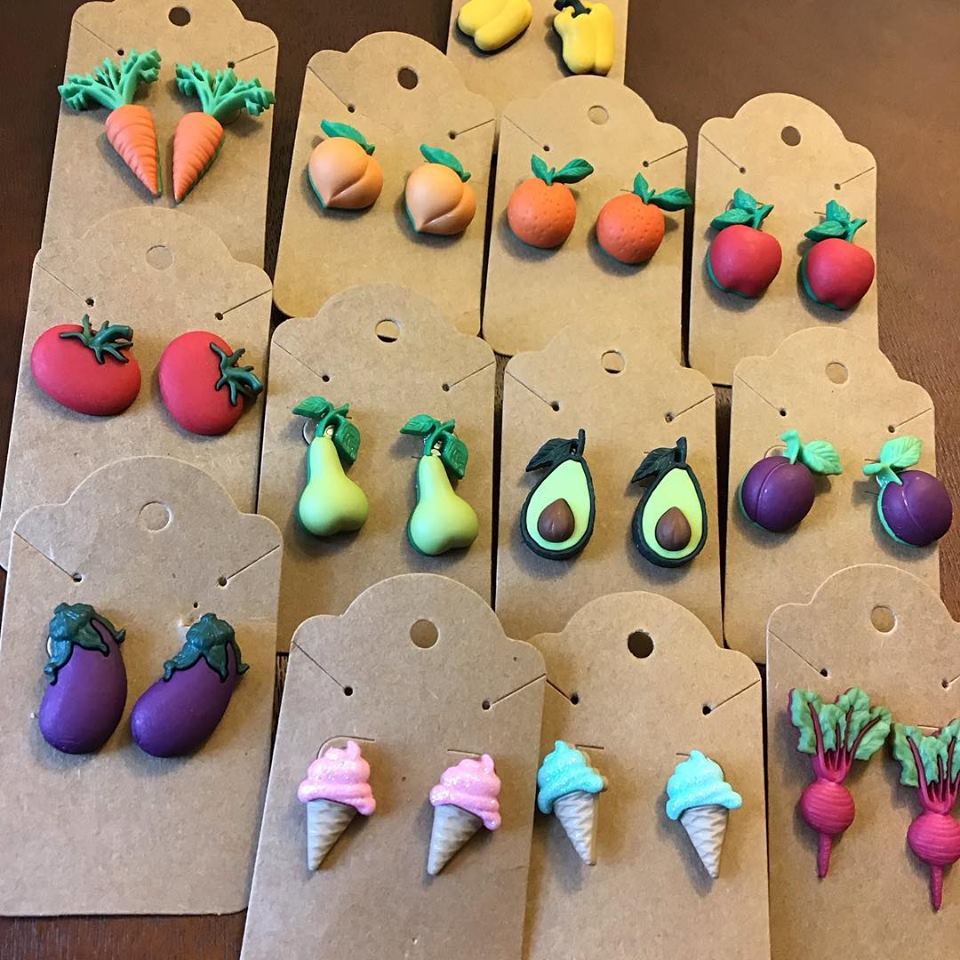 How adorable are these Foodie Stud Earrings handmade in NJ by a vegan artist?!
Choose from bell peppers, 人参, トマト, ナス, 梨, plums, オレンジ, peaches, りんご, radishes, ice cream and of course, avocados. The avocados and some others also come in hair pins!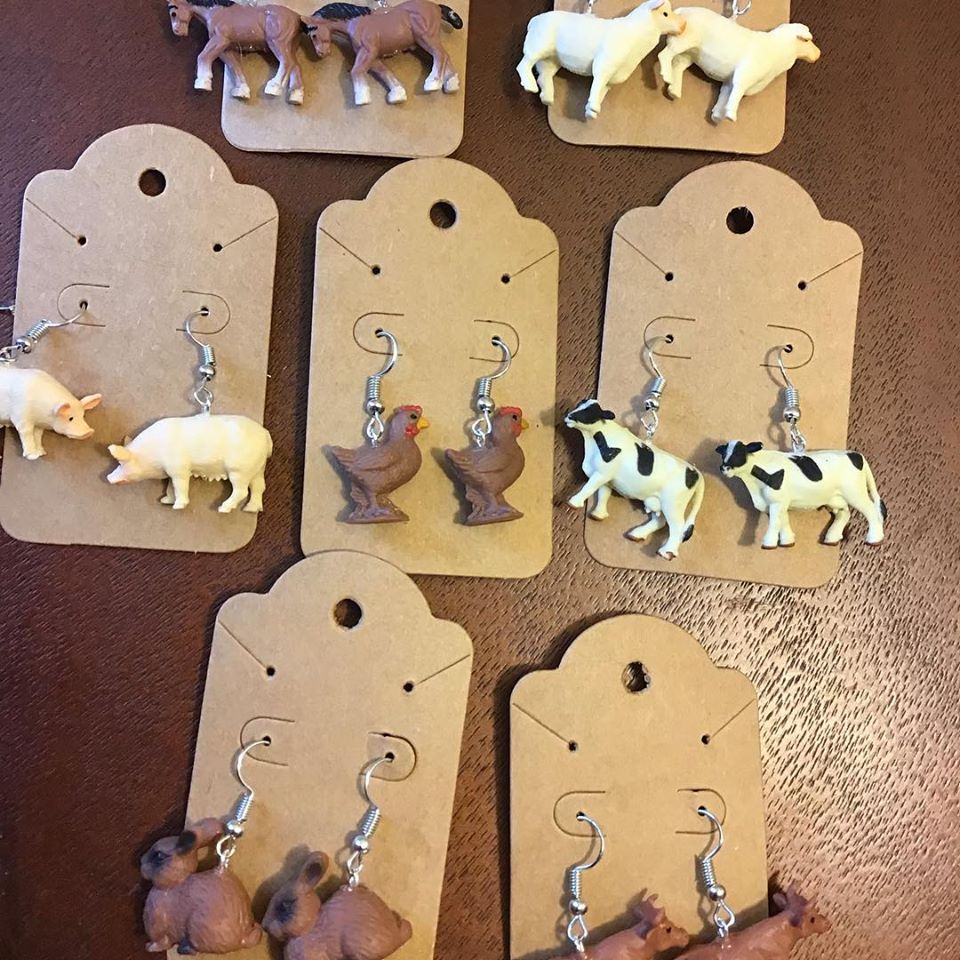 Or maybe you'd rather wear animal earrings. We have pigs, 牛, 馬, bunnies, 鶏, sheep and duckies.
The pigs and cows also come in necklaces.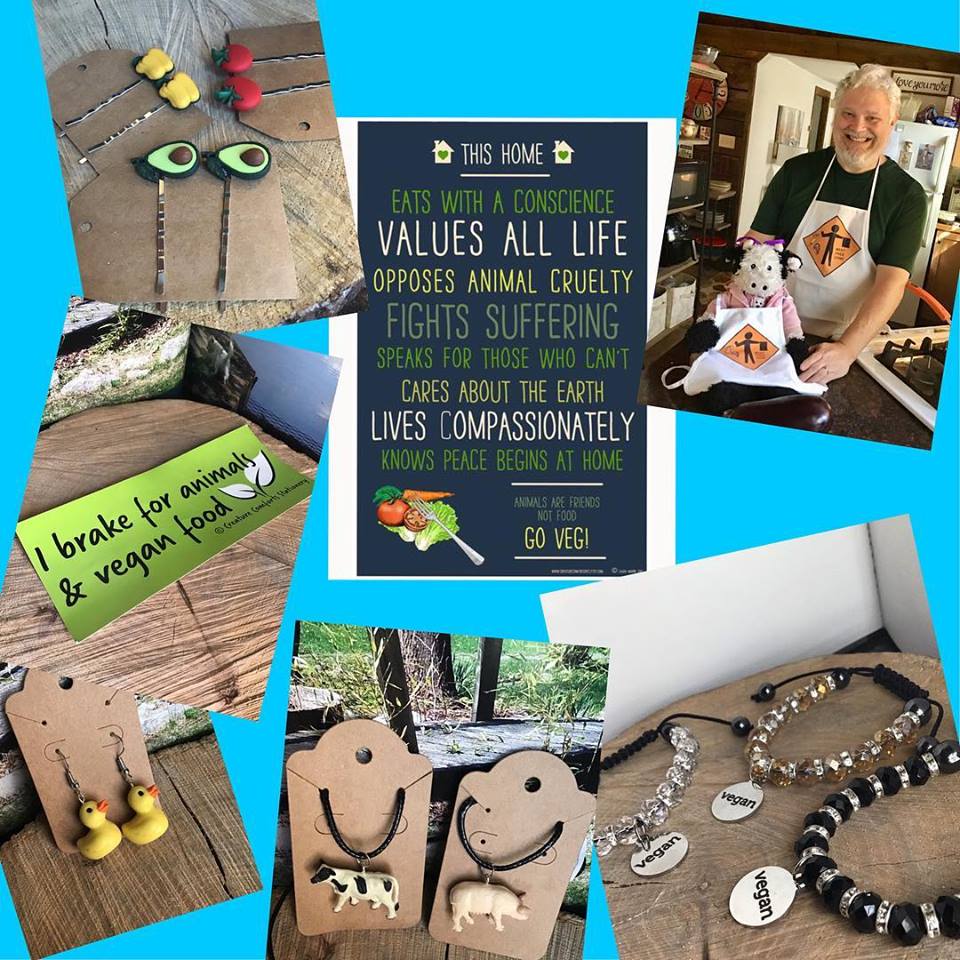 Our NJ vegan artist also makes stickers, ポスター, aprons, zippered pouches and gorgeous Vegan Charm Bracelets. Proceeds from all of these gifts goes to our Sanctuary of the Month.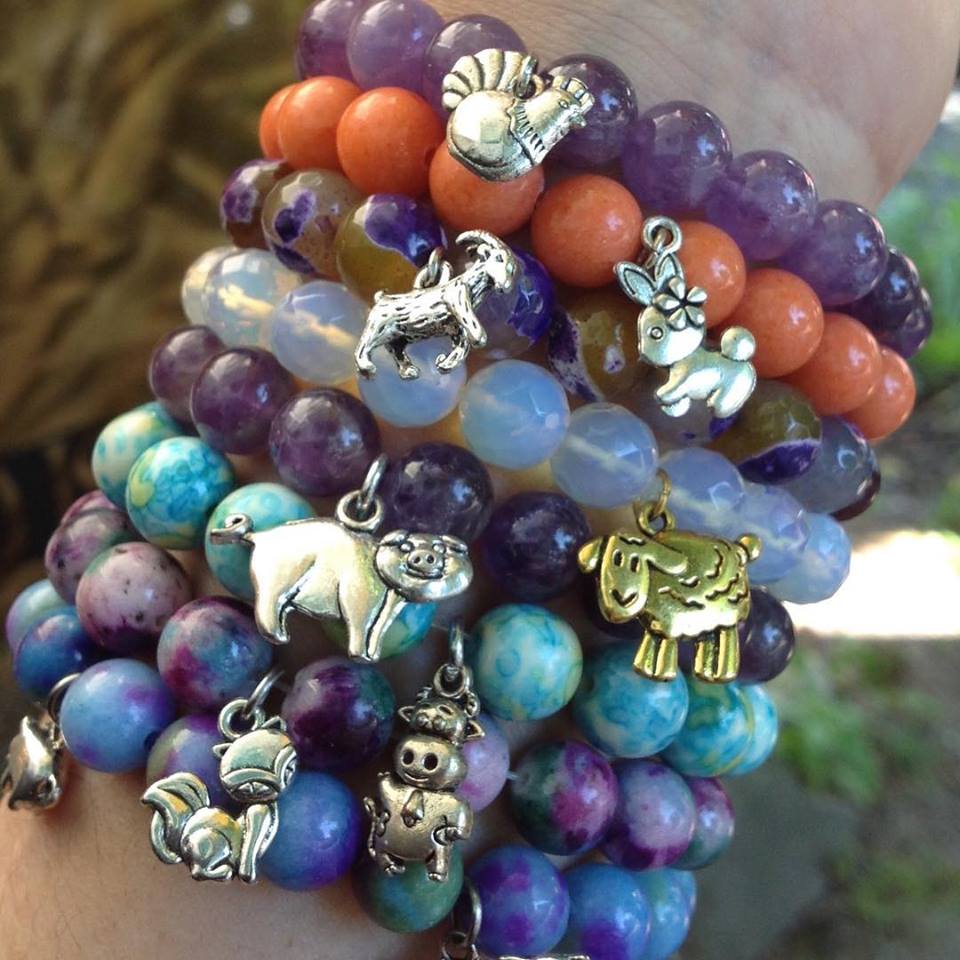 Another favorite vegan artist of ours makes adorable charm bracelets in all types of gemstones. We have pretty much every animal you can think of including cows, 豚, piglets, sheep, lambs, ヤギ, 鶏, chicks, turkeys, 馬, donkeys, rats, alpacas, turtles, bunnies, rhinos and elephants.
Proceeds from the sale of my ザ "V" Word e-cookbooks と Vegan Haggadah also go to help our Sanctuary of the Month.
Even more fundraisers
At any given time, we also have lots of other fundraisers going on. Right now we are also helping New York Bully Crew, Bronx Tails Cat Rescue, Josh and His Critters, 動物の恋人リーグ, The Surf and Turf Sanctuary, The David Sheldrick Wildlife Trust, Pet Loss.com, and the list is every growing. This doesn't even include all the gifts we donate to rescues for raffles and auctions.
So as you can see, I've been very busy trying to keep our business going while also helping lots of animals and spreading the vegan love.
We Need You

!!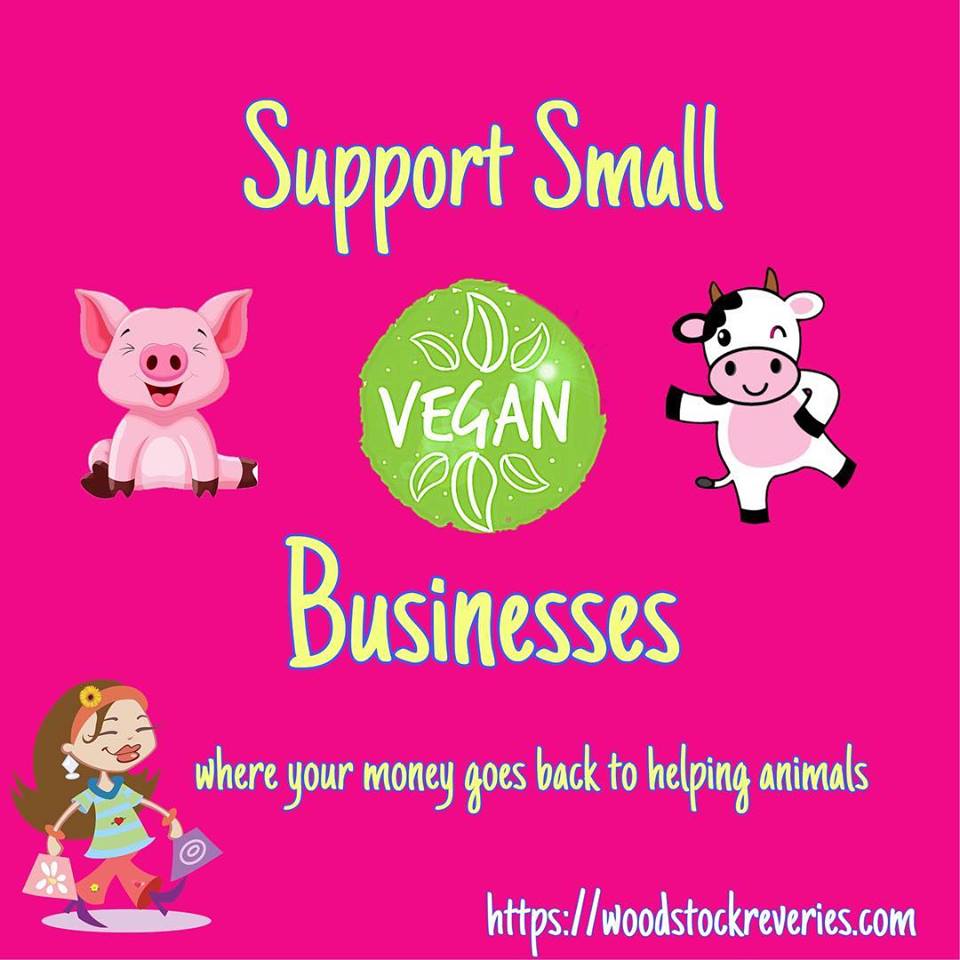 We need you to help keep this all going. As brilliantly said in the article by @brightzine when you support independent vegan businesses, you are not only supporting the dream of the person running the business but you're supporting someone who is an advocate for the animals.
The money you spend will also go back to the animals, keeping the money in the Vegan community and making it stronger.
To save more animals, we need to support the people behind the movement rather than putting that money into big corps or even small businesses that use, exploit and hurt animals with their products.
Support Small Vegan Businesses and help more animals 🐮🐷🐶🐰🐭🐒🐥🦆🐝🦋🐛🐢🐙🐍🐡🐳🐋🐏🐘🦍🦓🐑🐓🦃🐐🦔
How to Shop
You can help us help animals by shopping at our online store at https://woodstockreveries.com
Get FREE U.S. Shipping with any $100 purchase with code: freeship100
We are open on Saturdays from Noon til 5 for local people to come in and shop. More days and hours will be added for summer. We are located at 53 Rock City Road right across the street from the Community Center. We can also open by appointment if you contact us and let us know in advance.
Contact Us
メール: woodstockreveries@aol.com
電話: 413-212-6880
Direct Message us on Instagram or Facebook
Follow Us
Subscribe to our newsletter on the bottom on our home page at woodstockreveries.com
フェイスブック: www.facebook.com/reveriesofwoodstock
Instagramの: @woodstockreveries
ツイッター: @ReveriesWdstck
Pinterestは: HTTP://pinterest.com/ReveriesWdstck
ザ "V" 言葉: それを言う. それを食べる. それを生きる.
(訪問 323 回, 1 今日の訪問)