Leave No Paws Behind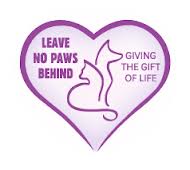 I'm a New York girl through and through but a big piece of my heart is in California. You know, when my Poochie was 13, she became ill and there was nothing I could do to save her. She had an aggressive form of cancer that spread fast and left her unable to walk. So we bought her a stroller so she could still enjoy going outside for walks. When she became incontinent, Tom carried her downstairs and outside so she could do her business. When she didn't want to eat, we hand-fed her. We took her to doctors, we tried all kinds of medicines and herbal remedies and we stayed up all night just to watch her breathe. The one thing we never did was think about getting rid of her. No matter how hard or how inconvenient it was, Poochie was our baby, our child, for life. Poochie made it to 14 and when she was crying from the pain, we had to let her go. But we would have given anything for more time with her – for one more year, one more month, one more day.
Yet there are so many people who get a pet – a puppy or kitten – and love them until it gets hard, until they get old or sick, until they are more work than fun. Then they dump them at the shelter knowing no one will adopt them, knowing they will die alone, betrayed by the people they loved and considered family. That's when Leave No Paws Behind steps in.
Leave No Paws Behind is an all-breed rescue that specializes in seniors and animals with special needs. Often they are an "11th hour" rescue, saving a life when all hope is gone, and helping to save the lives of those who are in the most danger of dying alone on a cold shelter floor. They are a safe haven for the terminally ill and the hard core cases. They save animals that are sometimes just minutes away from being killed, give them vet care, grooming and a loving foster family. Sometimes the animals go to a long-term hospice foster family where they are loved and cared for until it is their time. Sometimes the animal cannot be saved and Leave No Paws Behind still takes them, if even just to be with them and hold them while they cross to Rainbow Bridge. Just so they know their life matters if even for a few hours and so they don't die alone.
Leave No Paws Behind is run by an angel, Toby Wisneski. It is a is a 501 (c) 3 non profit corporation that relies completely on public donations. Leave No Paws Behind has very faithful "villagers" who donate money and follow the stories – some happy, some heartbreaking – of these precious babies who go from unwanted to loved. Leave No Paws Behind is also in need of good foster homes as the animals they save are never boarded. They go straight from the shelter to the vet to a spa day of grooming to a foster home and hopefully, adopted to a forever home.
The stories are incredible. There are miraculous transformations that show us the power of love. Take a look.
There are dogs who have been in foster care for months now and still looking for their forever homes like Pepper, Tiffy and Odie (above who had the eye problem).
Most recently, Toby received a call from a shelter. A dog was turned in because she was old, sick, couldn't walk and was incontinent. Her family just dumped her in the shelter to die. The dog, Evie, was going to be put to sleep in a less than an hour. Toby frantically posted and begged for a foster and with just 20 minutes to spare, Evie was saved from death! This lovable dog gives endless kisses and has now received the gift of wheels so she can get around. Evie would have died, in just minutes, but Leave No Paws Behind showed her that her life does indeed matter!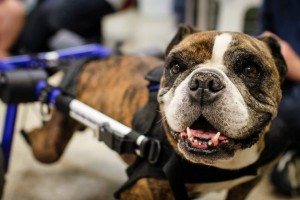 If you live in California, you can be a foster parent or you can adopt one of these precious babies. There are a lot more who need forever homes and they always need more short-term and long-term foster homes.
There are other ways to help: you can donate directly to Leave No Paws Behind, you can purchase cool stuff at their CafePress store and of course, you can become a Villager on their Facebook page.
Check out their web site and visit their Facebook page but be ready to leave your heart there. Checking in with Leave No Paws Behind is a daily ritual for me. I follow what's going on with all these beautiful animals, I cry when they have to leave and I smile every single day as I see again and again that there are angels in this world who care and help and will leave no paws behind.
Leave No Paws Behind, Inc. is a rescue organization that saves dogs, mostly senior and sick dogs who have been dumped by their "families" and left to die on a cold, shelter floor. They take them, sight unseen, adoptable or not, and get them medical care and a family. Sometimes they rescue them just so they will not die alone. Leave No Paws Behind has been featured on The "V" Word in the "Check This Out!" section.
—————————————————–
  
Woodstock Farm Animal Sanctuary
The Woodstock Farm Animal Sanctuary, run by Jenny Brown and Doug Abel,  is home to over 200 rescued farm animals. WFAS is my favorite place in the whole world. There are tours every weekend during visiting season and a lovely guest house to stay in. Imagine waking up to the sight and sounds of all the precious animals who live free and safe lives at the sanctuary. There are multiple events held at the sanctuary including the extraordinary Thanksliving dinner where the turkeys are the guest of honor.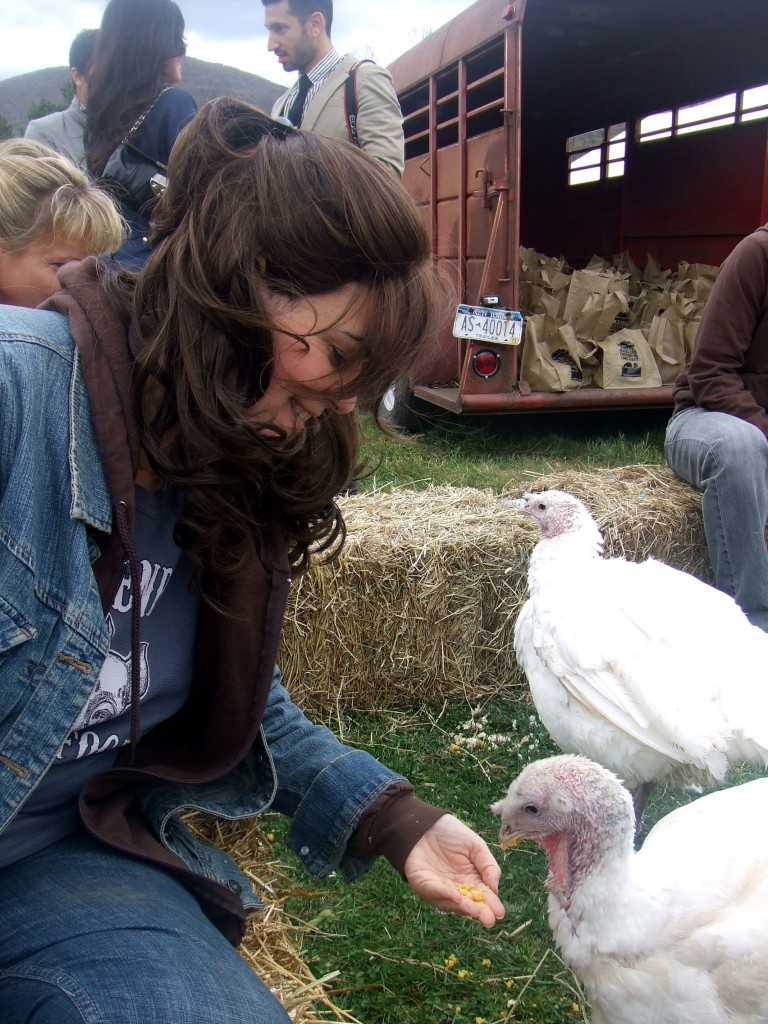 If you can't visit, there is plenty you can do from home: sponsor an animal, watch videos, donate, buy cool stuff in the store or order an autographed copy of "The Lucky Ones," the best-selling memoir by Jenny Brown.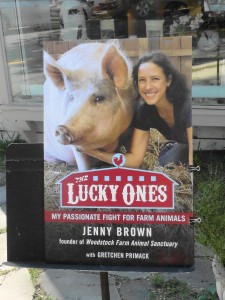 Learn more about Woodstock Farm Animal Sanctuary by visiting their web page here.