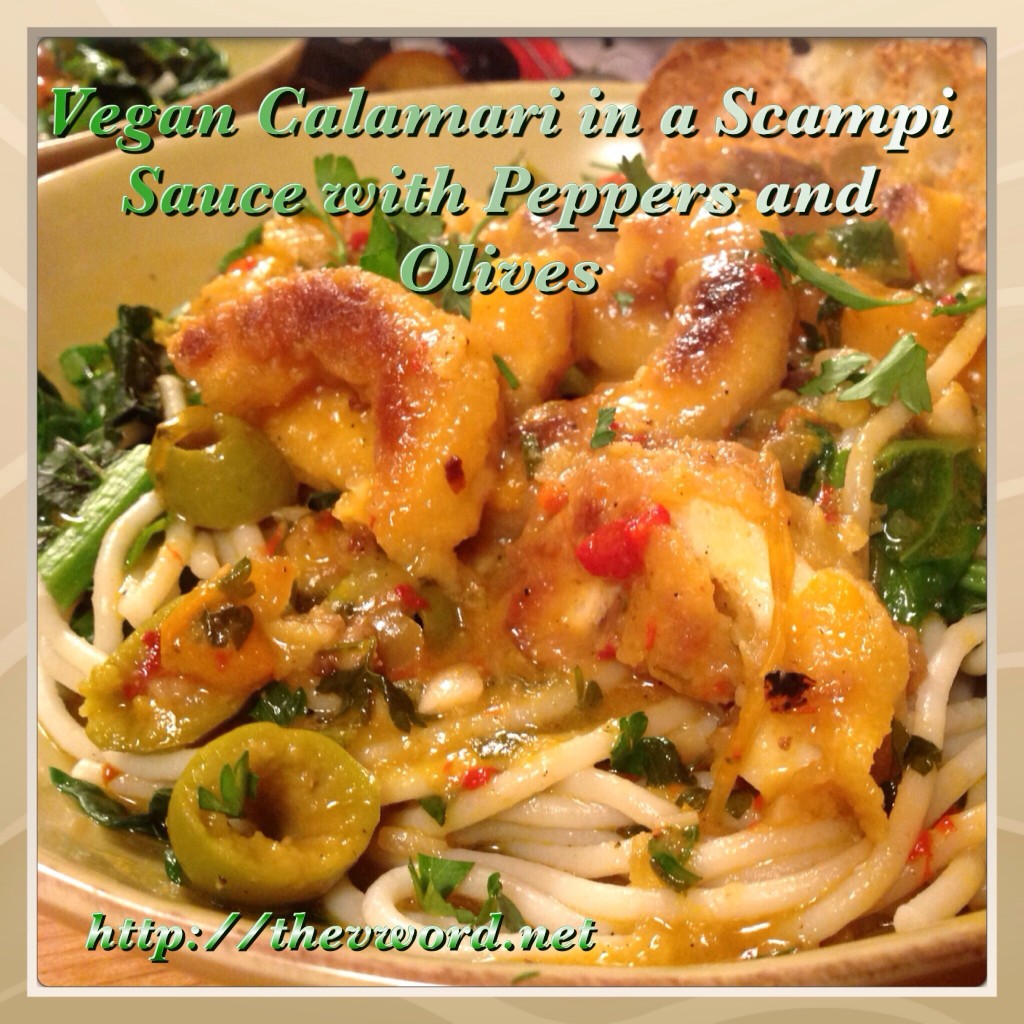 I came to like eating fish later in life. Other than frozen fish sticks, I just never liked eating fish. Later, however, I came to love eating shrimp, salmon, catfish, sole, and calamari. I remember the first time I ate calamari. Sitting in a restaurant, I was munching away on the fried, breaded rings, dipping them in marinara sauce when the person I was eating with said, "You know what calamari is, right?"
I didn't.
I don't know what I thought – maybe that calamari was actually the name of the creature – I wasn't very educated about food. He held up one that was whole and not cut up into innocuous rings and said, "It's squid."
Eeeew!!!! I was horrified. Not enough to stop eating them but just enough to never eat the whole ones that actually looked like squid. My denial muscle was well-developed from all the exercise it got.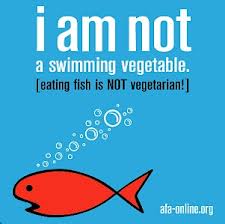 Years later I had calamari in a restaurant in the Bronx called Mama Maria's. They made the usual calamari dish – breaded and fried with marinara sauce – but they had this special dish called "Calamari Mama Maria" that was incredible. The calamari were lightly fried and served in a scampi sauce filled with hot cherry peppers and green olives. It was spicy, rich and decadent. I never ordered regular fried calamari again. This is one of those dishes that years after being vegan, I think about, sigh and say to Tom, "Remember that calamari dish at Mama Maria's? That was sooo good."
Because I do that – I remember foods I loved and miss and talk about them. And then I go make a vegan version.
I've made several vegan versions of fish dishes: Tempeh "Fish" and Chips, Chickpea "Tuna" Salad, Tempeh "Crab" Cakes, Po' Boys and "Fish" Tacos and even vegan Gefilte "Fish" and they are delicious but sometimes I really miss the real thing. That's why I'm glad there is Sophie's Kitchen.
Sophie's Kitchen makes plant-based, vegan seafood featuring Konjac root (that's pronounced Kqun-jeek), an Asian health food. Their products are so close to the real thing, they could fool people. They contain lots of fiber, no cholesterol, no artificial anything and no GMOs. Plus, the breading is gluten-free and many of their products are soy-free.
5% of the net profits are donated towards the preservation of the ocean's species and their habitats.
I have to tell you, I have NEVER understood the idea of "sustainable fish." People are told which fish are dwindling in existence. Don't eat those or they will become extinct. Eat the ones that there are plenty of. Then, when the dwindling ones have repopulated, it's ok to kill them and eat them. Huh? Sounds to me like this has nothing to do with the fish getting to live and everything to do with making sure there are enough of each type of fish for people to eat. The only sustainable fish, to me, is the one that gets to live.
Which should be all of them.
Because fish are living creatures. Who feel pain. Who deserve to live their lives in peace.
Sophie's Kitchen makes so many kinds of vegan seafood, pretty much all the bases are covered. There is vegan scallops, fish fillets, fishless sticks, shrimp, coconut shrimp, prawns, crab cakes, calamari and even smoked salmon. Yes, even vegan lox!

I have tried several of Sophie's Kitchen's products and loved every single one. The vegan fish fillets are tender and flaky – they remind me of the fish sandwiches they used to serve on Fridays in my high school. The breaded vegan shrimp are also delicious.
But when I saw that Sophie's Kitchen makes vegan calamari, well, my mind instantly went back to Mama Maria's in the Bronx. I knew what I had to do – make a vegan version of that calamari dish I could not forget.
I could have just added the vegan calamari to the scampi sauce but I wanted them to have some crunch so I pan-fried them first. I set them aside while I was making the sauce and I had to stop myself from just munching them right there. They were soooo good! Ok, I ate one but I'm the chef. I have to taste-test, don't I? I have an obligation to my followers. 🙂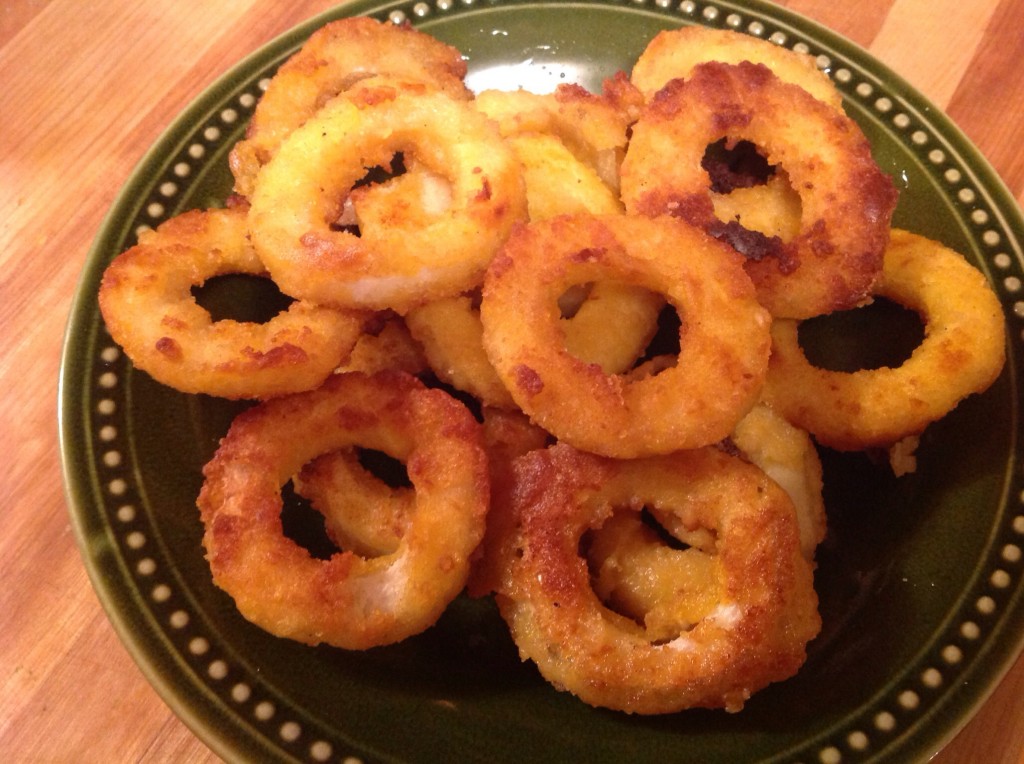 This spicy scampi is much like making a regular scampi but with a ton more flavor. I didn't have hot cherry peppers so I used a combination of banana peppers and roasted red peppers plus a little red pepper flakes to give the sauce heat and zing. Green olives add that briny taste. And garlic. Lots of garlic. This sauce is so incredible – the smell was amazing. The whole house smelled like an Italian trattoria. And the taste is so delicious – make sure you have bread to sop it all up.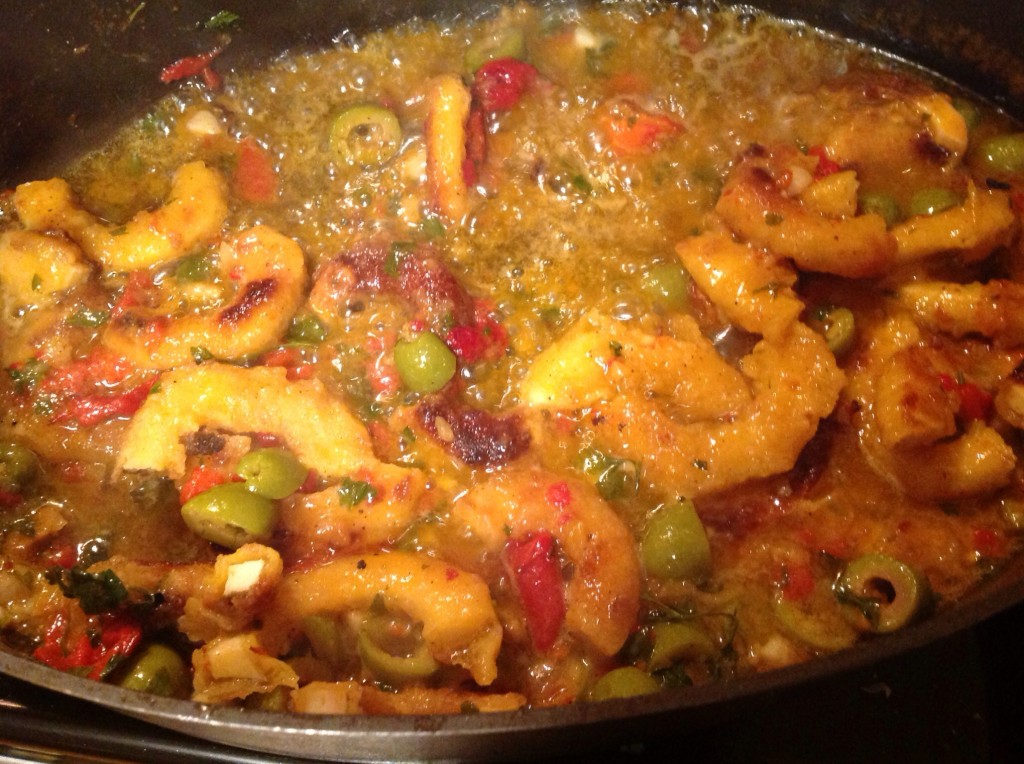 You can eat the vegan calamari straight up or as scampi dishes are traditionally served, over rice. But I wanted pasta and kale. So I made gluten-free spaghetti and steamed some kale and made a bowl out of it. I lined the bowls with kale, then the spaghetti and then topped it all with vegan calamari and lots of sauce.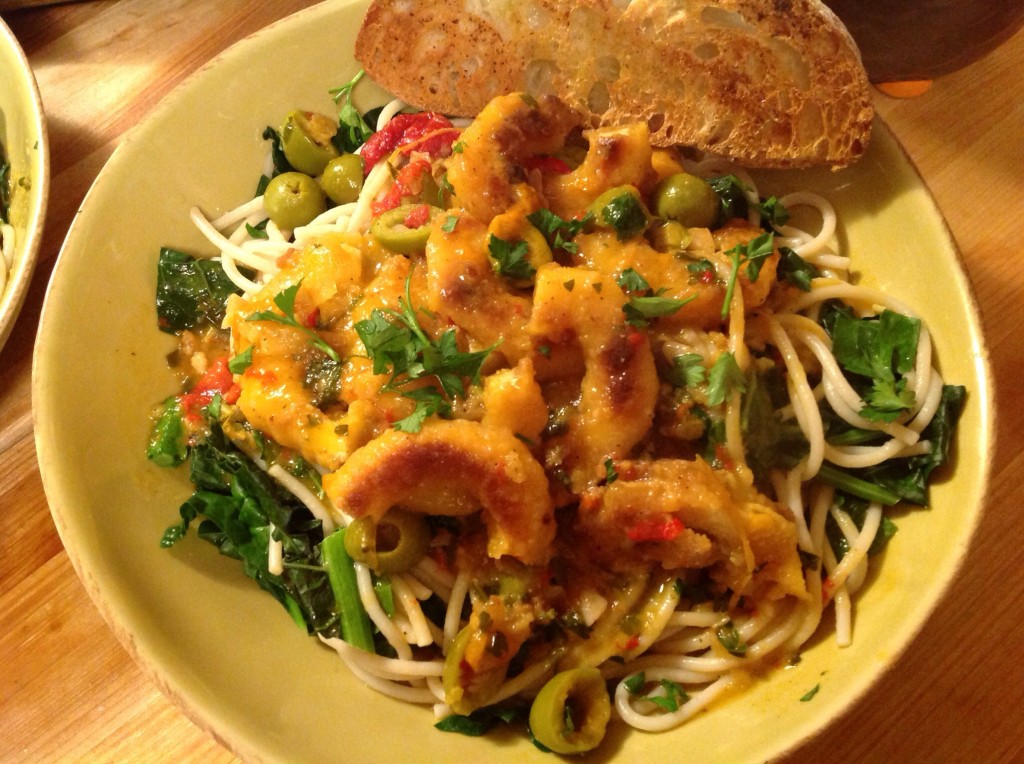 I was so excited for Tom to taste it and his reaction did not disappoint. He loved it. He said it was even better than the Mama Maria version. I agreed. It was amazing and it brought back another long-missed favorite dish to me. Tom said we should call it "Mama My-Rhea." 🙂
Sophie's Kitchen really helps me with my mission – all the familiar foods you love for the compassionate life you live. Try all their products and see for yourself. Check out their adorable web site (keep the volume on) and "like" them on their Facebook page.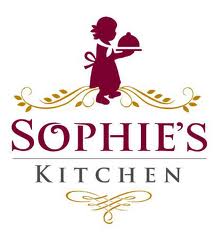 My Vegan Calamari in a Scampi Sauce with Peppers and Olives is a new version of an old favorite for me. I hope it becomes a favorite of yours too. Enjoy!
Vegan Calamari in a Scampi Sauce with Peppers and Olives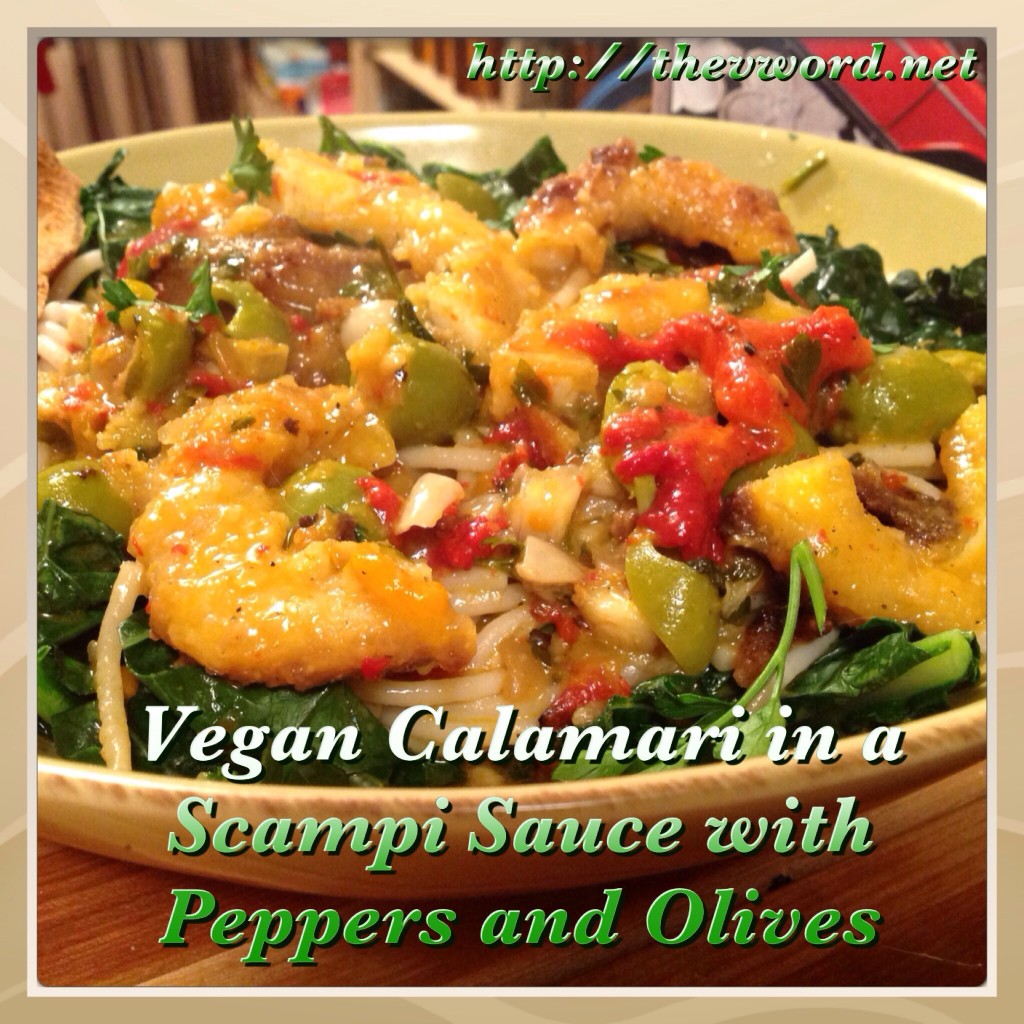 GF, SF if using soy-free butter
1 lb. gluten-free spaghetti
1 box Sophie's Kitchen Vegan Calamari, defrosted
1 Tbs. + 2 Tbs. extra-virgin olive oil
6 cloves garlic, minced
A pinch of red pepper flakes
3 Tbs. V-Butter or vegan butter
¼ cup banana peppers
3 large roasted red peppers, chopped
10 green olives, sliced
½ cup white wine
1 cup low-sodium vegetable broth
½ cup reserved pasta water
Zest and juice of one large lemon
½ cup fresh parsley, chopped
Kosher salt and pepper to taste
Bring a large pot of water to a boil. Add salt and cook the spaghetti until it is al dente. Reserve ½ cup of pasta water. Drain and set aside.
In a large saucepan, heat 1 Tbs. of the oil and add the vegan calamari. Fry them over medium-high heat for about 5 minutes on each side until they are golden-brown and crispy. Remove from the pan and set aside. Don't eat them!
Add the remaining oil to the pan. Add the garlic and the red pepper flakes to the oil.  Saute until the garlic is just golden. Melt the butter in the pan. Add the banana peppers, the roasted red peppers and the olives to the pan and saute for about 3 minutes. The oil will become infused with all the deliciousness of the garlic, peppers and olives.
Stand back and add the wine to the pan. Let cook until most of it evaporates. Add the broth and the reserved pasta water to the pan. Lower the heat to medium-low. Add the zest and juice of the lemon to the sauce. Stir in the parsley. Add salt and pepper to taste. Cut the vegan calamari in half and return them to the sauce. Let them cook over medium-low heat for about 5 minutes or until the calamari are warmed through and have softened a bit.
Fill serving bowls with the spaghetti. Top with the vegan calamari and sauce. Serve with extra lemon wedges, if desired. I like to line the bowls with chopped kale and then top it with the pasta and the sauce for a complete meal in one bowl.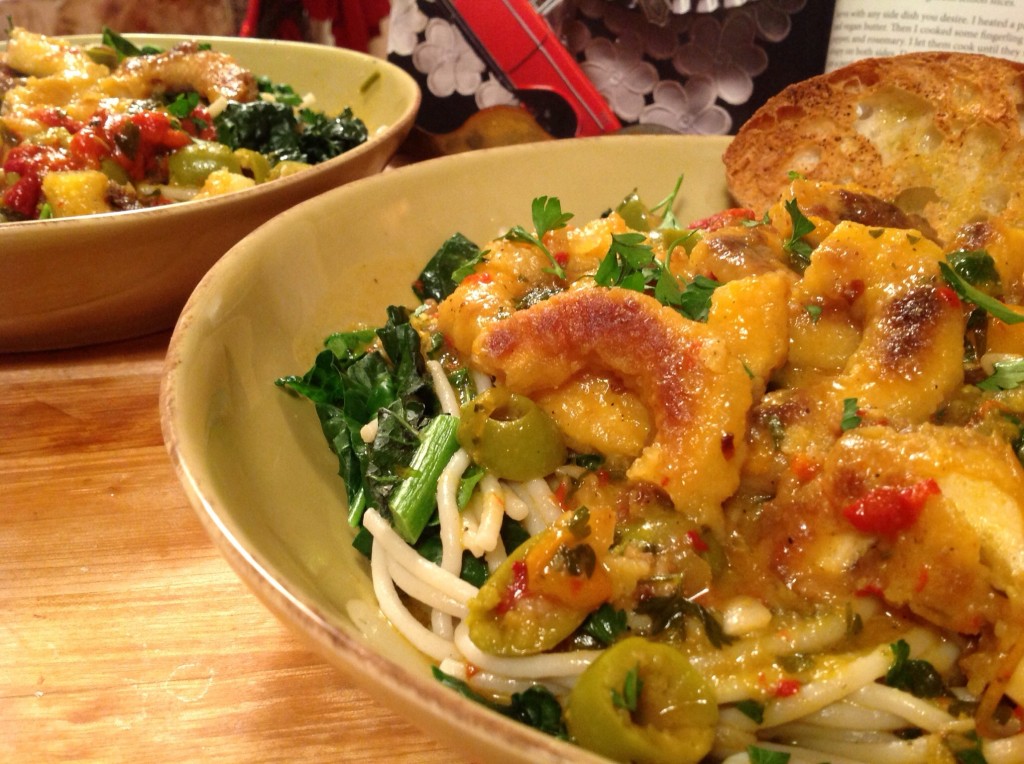 The "V" Word: Say it. Eat it. Live it.
[amd-zlrecipe-recipe:11]
(Visited 5,629 times, 1 visits today)