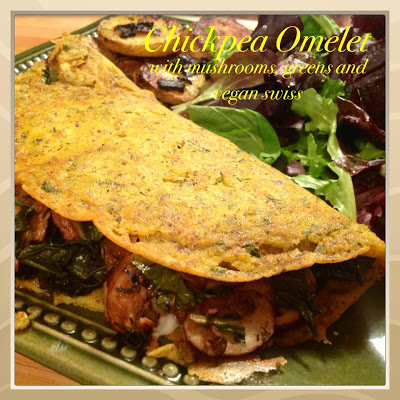 You know how lots of people say they didn't/don't think they could live without cheese? Not me. Other than mozzarella and grated parmesan, cheese didn't factor into my life that much. When I used to dream of becoming a vegetarian, I thought I couldn't live without chicken, my favorite food. Wrong again. Turns out the food that was hardest for me to give up was eggs!
I was never a big breakfast eater. No, let me rephrase that. I didn't eat breakfast often but when I did, it was a big breakfast usually at the neighborhood diner on Sunday. That meant a mozzarella omelet with all the usual sides. The other days of the week, my breakfast was coffee.
Later when I was losing weight, I made sure I ate breakfast everyday. I wanted to be sure I had a lot of protein to keep me filled until my next meal. I began eating egg white omelets with spinach and Laughing Cow (Really? Trudy says she is the real laughing cow!) cheese every morning. The egg whites were from the convenient container of Egg Beaters that was always in my fridge. When I became vegetarian, that breakfast was my morning staple.
But when I learned that the dairy and egg industries were as cruel, if not more, than the meat industry, I knew I had to become vegan. I stopped eating dairy first. Like I said, it wasn't a big deal to me. I bought soy cheese and rice cheese and it was good enough. But eggs? That's where I struggled. Because I didn't know what I was going to eat for breakfast that would still allow me to lose weight.
I remember being in Trader Joe's (oh, how I miss living near actual supermarkets), standing in front of the egg and dairy display and staring at the TJ brand of liquid eggs. I didn't want to buy them but I wanted my eggs. And the liquid eggs were even worse because they didn't have the mythical guise of cage-free, free-range happy chickens to make me feel better about myself. Each week I would stand there, whining and fighting with myself, until I grabbed the container of eggs and put it in the cart. Until the one week when I didn't…and it was over.
But I missed eggs. I still do, 5 years later. I never made eggs any other way but scrambled or omelets. No sunny-side ups, no fried eggs and no over easy so I don't worry about trying to recreate those dishes. While I love tofu scrambles, I don't like tofu omelets. They just don't taste like eggs to me. But these chickpea omelets do.
Chickpea flour is my go-to flour. I use it in everything: sauces, gravies, breadings, quiches, crepes. I already have a recipe for Chickpea Crepes and I've filled those before with omelet-type fillings so I thought I should just adapt that recipe. A little baking powder and a flax "egg" adds fluffiness and stability. The black salt gives it that "eggy" smell and flavor.
The hardest part of making these omelets for me is the waiting part. I have NO patience. Having to cover the pan and wait 5 minutes, then uncover the pan and wait 5 more minutes, then flip and wait 5 MORE MINUTES while this omelet SLOWLY cooks on MEDIUM (gasp) heat tries the patience of this girl who likes to chop and drop over a screaming hot pan. But it's worth it because after all that time, I have a pretty and delicious omelet that comes pretty close to eggs.
The chickpea omelet is light and fluffy. It has some of its own flavor but not so much that it competes with the fillings. My favorite fillings are greens (kale, collards, spinach) and vegan mozzarella or Swiss. I added mushrooms in this as well since it was a dinner omelet.
One day soon, Beyond Eggs may come out with a vegan version of Egg Beaters. But until then, my Chickpea Omelets will make my mornings brighter. Hope they make yours brighter too. Enjoy!
Makes five or six 9-inch omelets
For the Filling­­­­­­­­­­­­­­­
1 Tbs. extra-virgin olive oil
1 onion, sliced into half-moons
8 oz. cremini mushrooms, sliced
2 garlic cloves, minced
1 tsp. dried thyme
1 large bunch Lacinato kale, cut into strips
Salt and pepper to taste
A pinch of nutmeg
For the Omelets­­­­­­­­­­­­­­­
3 Tbs. ground flaxseed
½ cup + 1 Tbs. warm water
1 cup chickpea flour
1 ½ tsp. baking powder
1 tsp. black salt
½ tsp. garlic powder
1 tsp. dried parsley or 1 Tbs. fresh, chopped
½ tsp. turmeric
1 ½ cups cold water
4 slices vegan Swiss cheese
Cooking spray
To make the filling: Heat the oil in a large skillet over medium-high heat. Add the onion to the skillet and cook until it becomes softened and translucent, about 5 minutes. Add the mushrooms and cook until browned, about 5 minutes. Add the garlic and thyme and toss to combine everything. Add the Lacinato kale in bunches, adding more as it wilts down. Add the salt, pepper and nutmeg. Remove from the heat.
To make the Chickpea Omelet Batter: In a mug or small bowl, combine the flax and warm water. Stir and let sit for 10 minutes. In a large bowl, combine the flour, baking powder, salt, garlic, parsley and turmeric. Mix well. Add the flax/water mixture to the flour. Add the water, ½ cup at a time. Whisk until smooth.  You want the batter to be loose and pourable but not water-thin. Let sit for about 20 minutes while you make the filling.
To make the Omelets: Heat a 9-inch skillet over medium heat. Spray the skillet with cooking spray. When the pan is hot, add 1/3 cup of the batter to the center of the skillet. Using your wrist, turn the skillet to spread the batter until it covers the whole skillet. If you need more batter, add a bit more but you want an even layer of batter in the pan.
Cover the skillet with a lid and let the batter cook for about 5 minutes. This will allow the batter to steam and solidify. Remove the cover and spray some more oil around the edges of the omelet. Leave the lid off and let cook another 5 minutes. This will allow the omelet to crisp at the edges and the sides will lift off the skillet with a thin spatula.
When you can lift the sides without the omelet sticking, carefully move the spatula under the omelet and flip it. Let the omelet cook on this side for 5 minutes. While it's cooking, add a few Tbs. of filling to one half of the omelet. Add the Swiss on top of the kale and mushrooms. Carefully lift and fold the other half of the omelet onto the half with the vegetables. Press it down gently to melt the cheese. Cook for another minute or two and carefully slide the omelet onto a plate.
The "V" Word: Say it. Eat it. Live it.
(Visited 4,412 times, 1 visits today)