Hi and welcome to The "V" Word.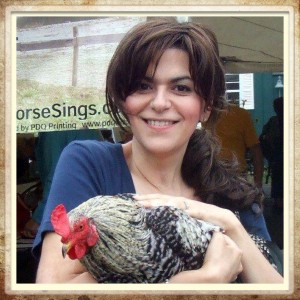 My name is Rhea. I'm a vegan and a strong animal advocate. I always wanted to be a vegetarian but I didn't think I could live without chicken. After I watched the video "Meet Your Meat," I could no longer be a part of the horror that animals go through. I soon after learned the word "vegan" and stopped eating and using all animal products. Now my life is filled with compassion instead of cruelty.
Becoming vegan also improved my health radically and so far, I have lost 116 lbs.and gotten off a dozen medications. What a great fringe benefit to get from living a kind life. That's the icing on the vegan cake!
When I became vegan, there were no places to eat where I lived in The Bronx. I was so hungry I had to learn to cook. I started my blog, The "V" Word, to talk about my vegan journey and share a few recipes. It wasn't long before it turned into a food blog and several e-cookbooks.
I am a college professor specializing in child and forensic psychology. I read constantly, enjoy foreign mystery shows and anything involving words. I share my life with a rescued Westie mix named Benoni. I am a survior of domestic abuse.
It is my hope that I can spread the "V" Word and compassion to improve the world for animals and for people.
The "V" Word: Say it. Eat it. Live it.