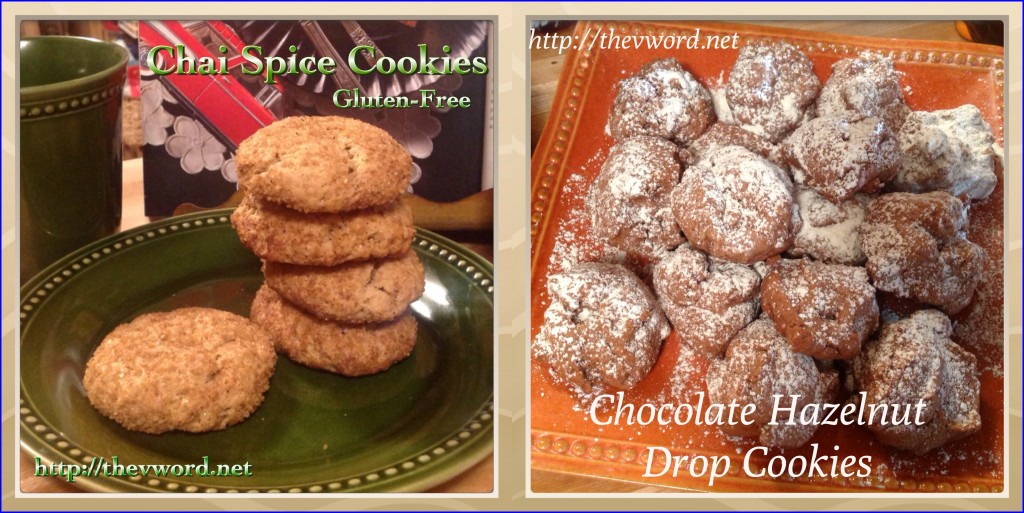 Did you hear the news about Santa? If the word on the strip mall circuit is correct, Santa has gone gluten-free! Apparently, all the flour from all the cookies all these years has taken a toll on his intestines. Maybe Santa's round belly is filled with more bloating gases than jelly.
I also hear that Santa has become vegan. He was sitting down to dinner one night and suddenly, the meat on his plate reminded him a whole lot of Rudolph. He just couldn't deny it any longer. How could he love his reindeer and yet eat other animals? How could he wish Peace on Earth for everyone yet contribute to so much suffering?
So this year when you are leaving out milk and cookies for Santa, be sure to leave him non-dairy milk – maybe some rich and creamy So Delicious Cashew Milk or Coconut Milk Nog. And when it comes to cookies, bake Santa some scrumptious vegan, gluten-free treats that will satisfy him but not leave him feeling all fatigued and bloated. Oh, Santa is also trying to eat organic, non-GMO and encourages people to use local ingredients when possible.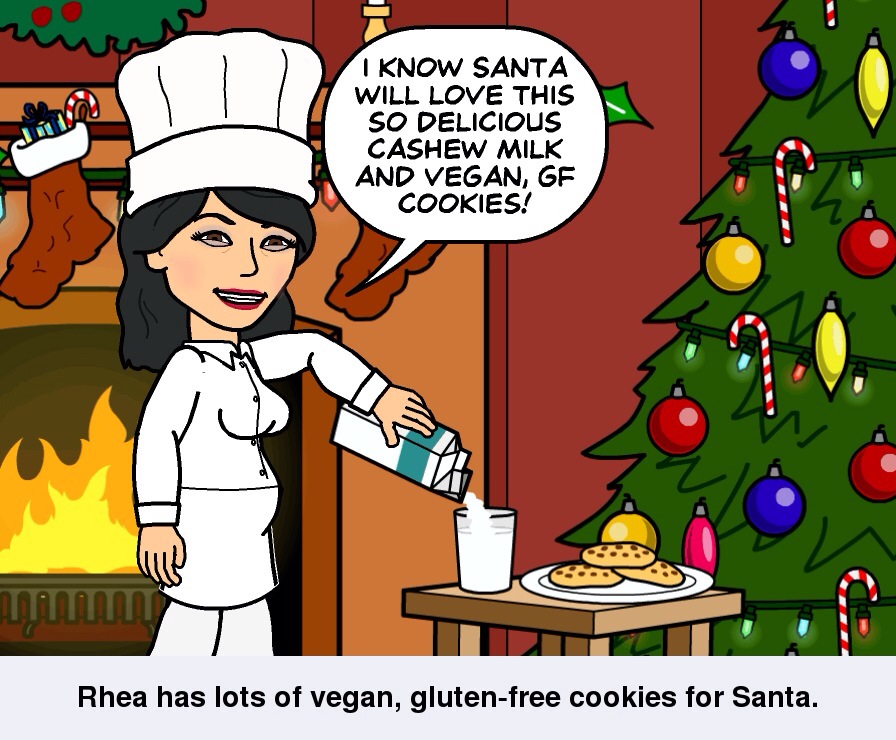 Here are 2 recipes for vegan, gluten-free cookies that will make Santa smile.
The first recipe is for Chocolate Hazelnut Drop Cookies. These are really fast and easy to make. Just mix the ingredients and drop them on a baking sheet. The chocolate hazelnut spread I used is from Rawmio.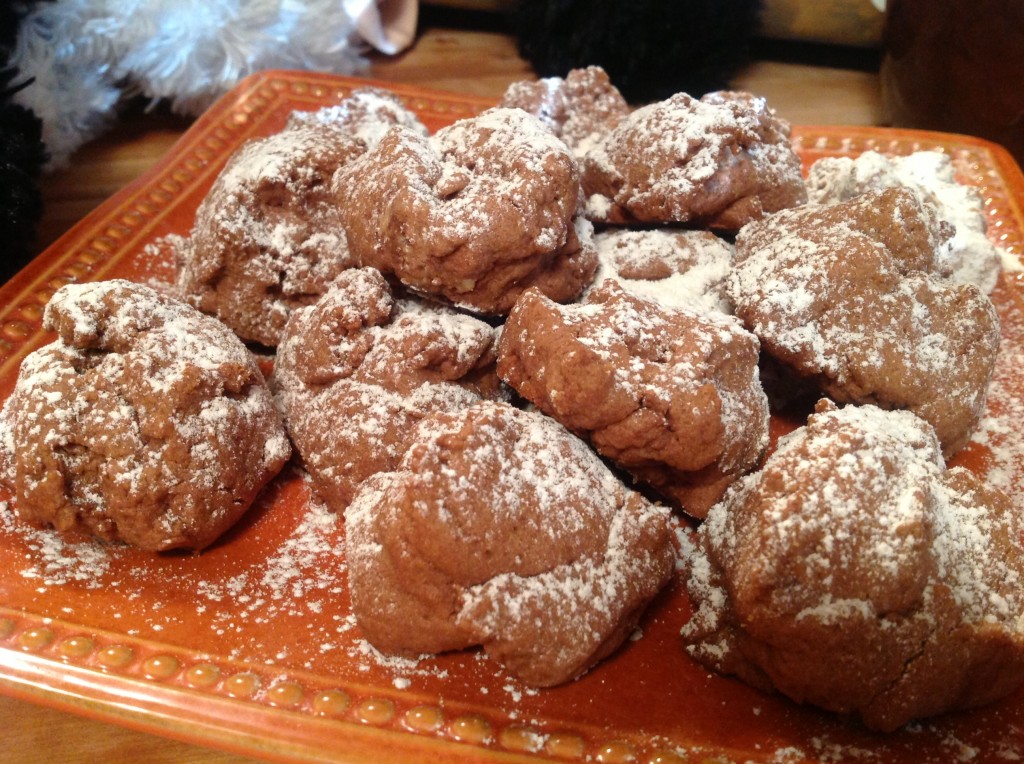 Rawmio Hazelnut Chocolate Spreads are handcrafted, raw vegan decadence. They are gluten-free, organic and sweetened with coconut sugar. They come in 3 flavors: Original, Silk which is like white chocolate but made with cacao butter and Crunch which has crushed hazelnuts and cacao nibs for added texture.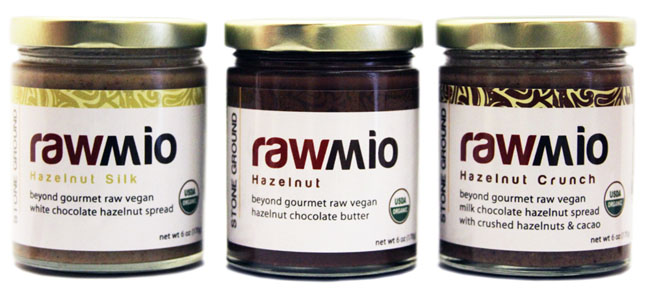 I used the Rawmio Original which is stone-ground organic raw hazelnuts, organic cacao nibs and coconut crystals turned into a smooth, rich, dark chocolate spread.
These cookies are light, sugary and look like little chocolate snowballs. I made a batch of 20 cookies because it's just the 2 of us (and well, mostly just Tom) eating them but I would suggest doubling or tripling the recipe if you are making them for the whole family or for friends.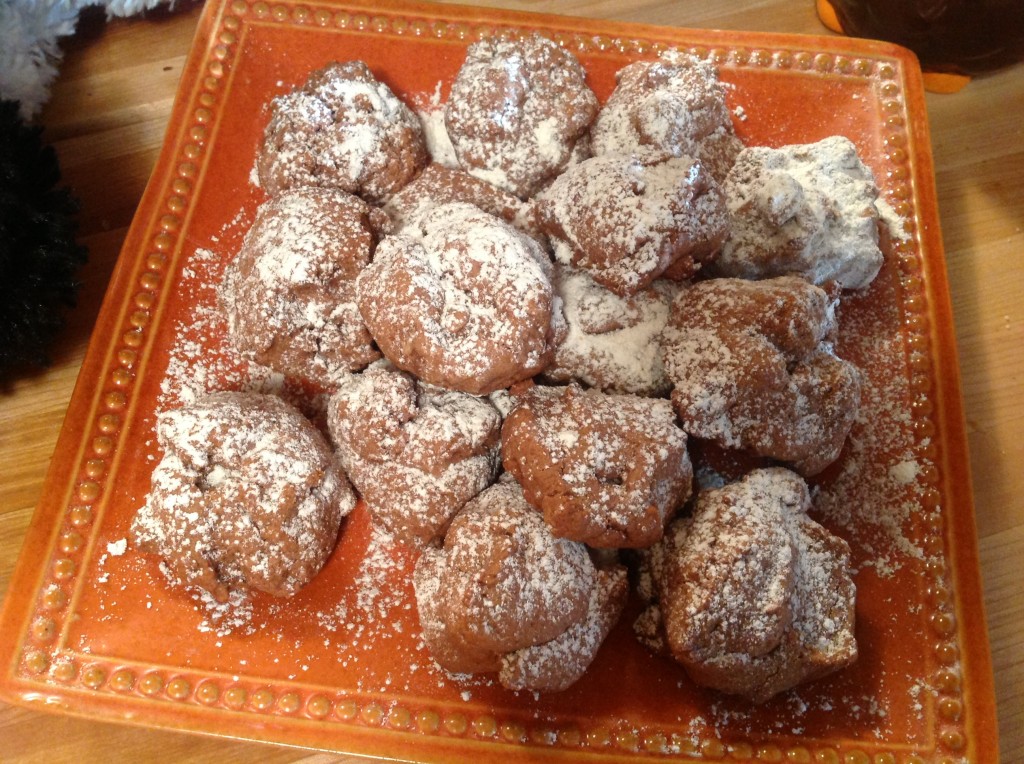 The second recipe is for Chai Spiced Cookies. Nothing says Christmas like the warm spices of cinnamon, cloves, cardamom, allspice and ginger.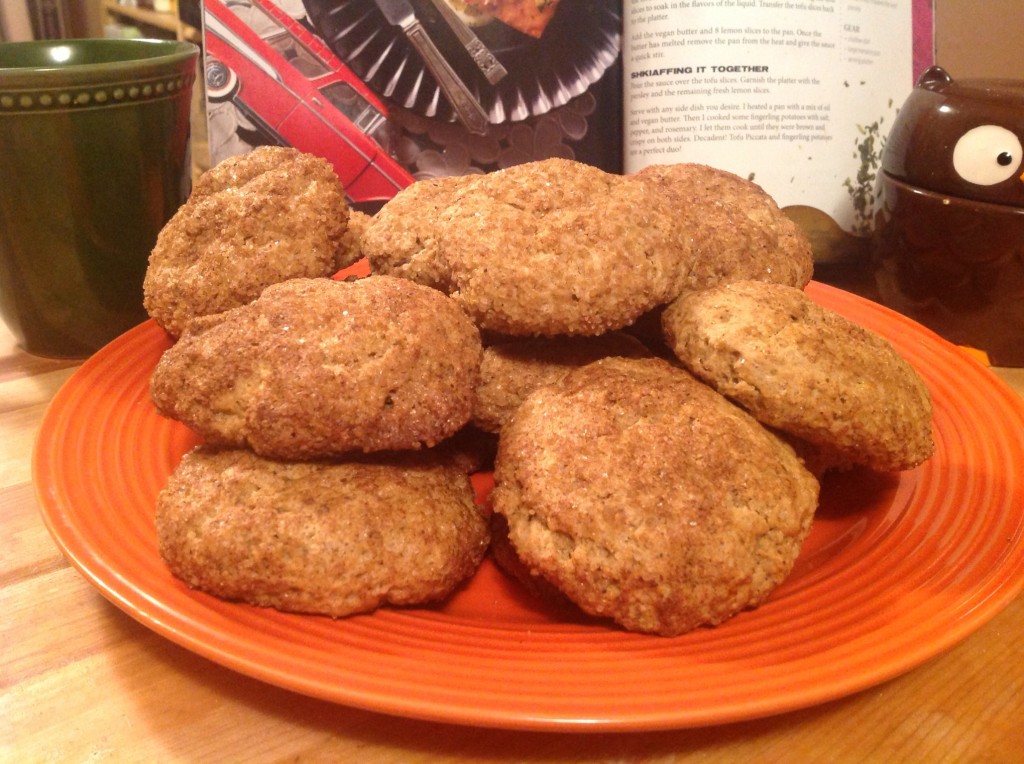 These cookies are crispy on the outside and chewy on the inside. Tom said they were amazing! The perfect cookie to have with some non-dairy milk or to have with tea. Even though the recipe sounds like there is a lot of sugar, they don't taste too sweet. All the spices leave a warm, winter flavor on your tongue and the black pepper is an added enhancement. Yes, black pepper in a cookie. Trust me.
These are my favorite kinds of cookie – crispy, not too sweet and with flavors other than chocolate or oatmeal  (although I like those too).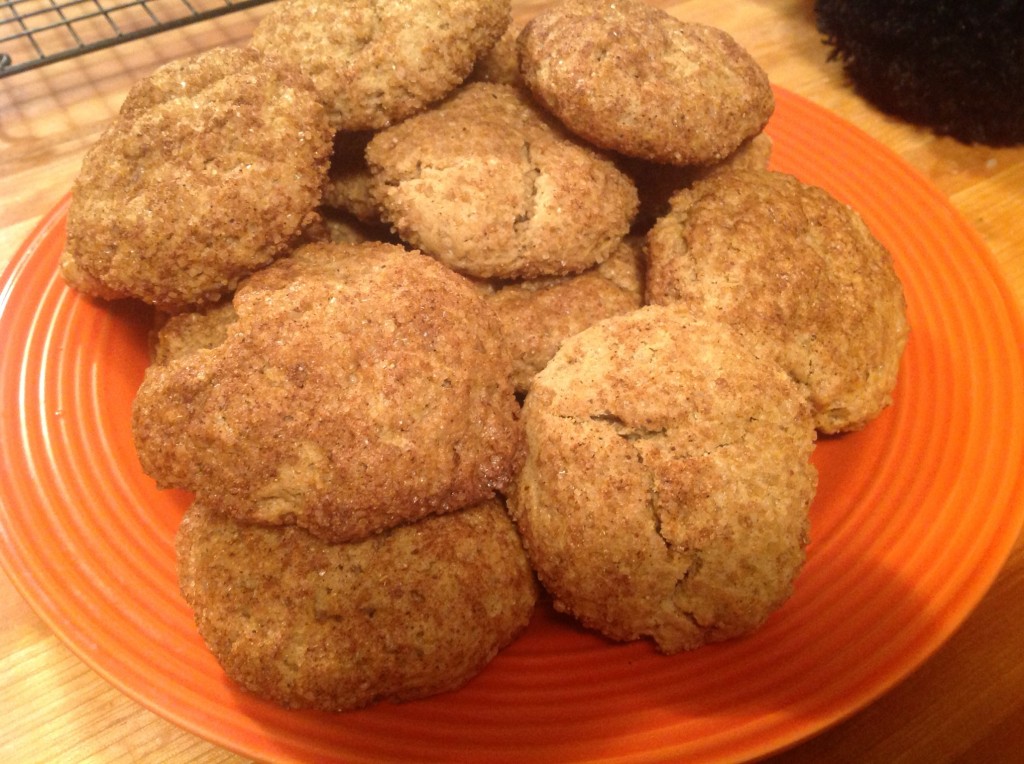 I'm going to be sure to have both kinds of cookies out when Santa comes (yes, he visits Jewish people too). I know he's going to love them. I hope you do too. HO HO HO! Enjoy!
Chocolate Hazelnut Drop Cookies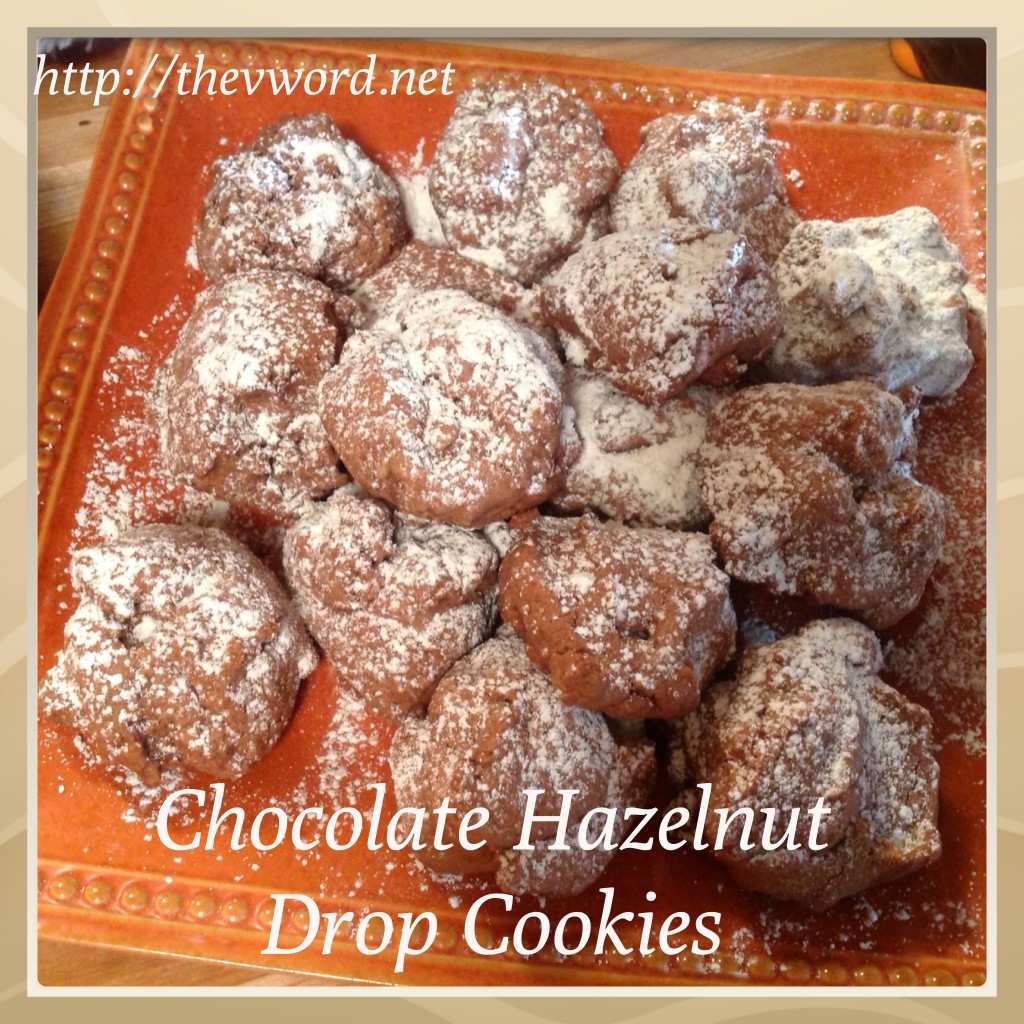 GF, SF if using soy-free butter
Makes about 20 cookies
½ cup or 1 stick of V-Butter or vegan butter
½ cup powdered sugar
1 tsp. vanilla
1 cup all-purpose, gluten-free flour
½ tsp. guar gum or xanthan gum (if not already in your flour mix)
¼ cup Rawmio chocolate hazelnut spread, room temperature
Preheat the oven to 350 degrees. Line a baking sheet with parchment paper. Combine the butter and 3-4 Tbs. of powdered sugar in a large bowl. Using a hand mixer, mix until they are combined and appear fluffy. Add in the vanilla and mix again.  Slowly add in the flour and the gum, mixing with the hand mixer, until everything is well combined. Finally, mix in the chocolate hazelnut spread. You should have a thick but soft doughy batter.
Using a tablespoon, drop balls of dough onto the baking sheet. Bake for 13-15 minutes. Let the cookies cool for 5 minutes and then transfer to a cooling rack.
When the cookies are completely cooled, sprinkle the remaining powdered sugar over them. Store in an air-tight container.
Chai Spice Cookies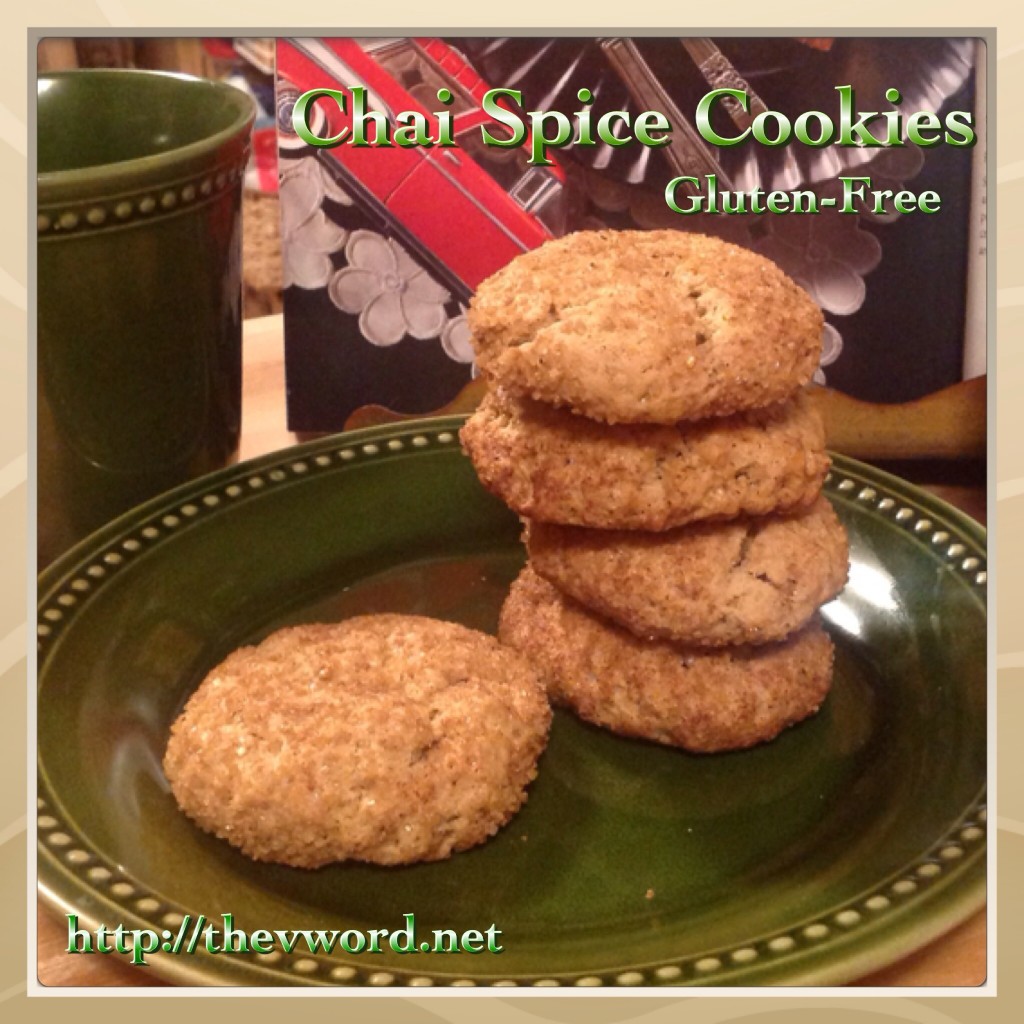 GF, SF if using soy-free butter and milk
Makes about 2 dozen cookies
1 tsp. egg replacer or 1 Tbs. ground flaxseed + 3 Tbs. warm water
1 cup sugar
½ cup brown sugar
2 tsp. ground cinnamon
1 tsp. ground ginger
1 tsp. ground cardamom
½ tsp. ground allspice
½ tsp. ground nutmeg
¼ tsp. ground cloves
1/8 tsp. black pepper
2 cups gluten-free, all-purpose flour
1 tsp. xanthan or guar gum (if not already in the flour mix)
1 tsp. baking soda
½ tsp. baking powder
½ tsp. kosher salt
1 cup (2 sticks) V-Butter or vegan butter, room temperature
3 Tbs. non-dairy milk
1 tsp. vanilla
Preheat the oven to 350 degrees. Line 2 large baking sheets with parchment paper. In a mug or small bowl, combine the egg replacer or flaxseed with warm water. Stir and let sit for 5 minutes. In a medium-sized bowl, combine the sugar, brown sugar and spices. Take 1/3 cup of the sugar/spice mixture and set it aside on a plate for later.
In a large bowl, sift the flour, xanthan or guar gum, baking soda, baking powder and salt. Mix well until it's well-combined.
Add the butter to the bowl with the sugar/spice mixture. Using a hand mixer, mix until the sugar and butter is combined, light and fluffy. Mix in the egg replacer, milk and vanilla until it is smooth. Slowly add the flour mixture, about 1/3 at a time, to the wet ingredients and mix until it is all just combined into a dough.
Wet your hands a little bit and roll spoonfuls of the dough into little balls. The balls should be about 1-inch in size unless you want larger cookies. Roll each ball in the sugar/spice mixture you set aside before and place them on the baking sheets about one inch apart. Using the back of the spoon or the bottom of a glass, lightly press the balls down into discs.
Bake for 16-18 minutes, turning the pans around halfway through. They should be golden brown and just starting to brown on the bottoms. They will still feel somewhat soft on top. They will harden as they cool. When they are done, remove them from the oven. Let them cool for 5 minutes on the baking sheets and then transfer the cookies to wire racks to cool completely.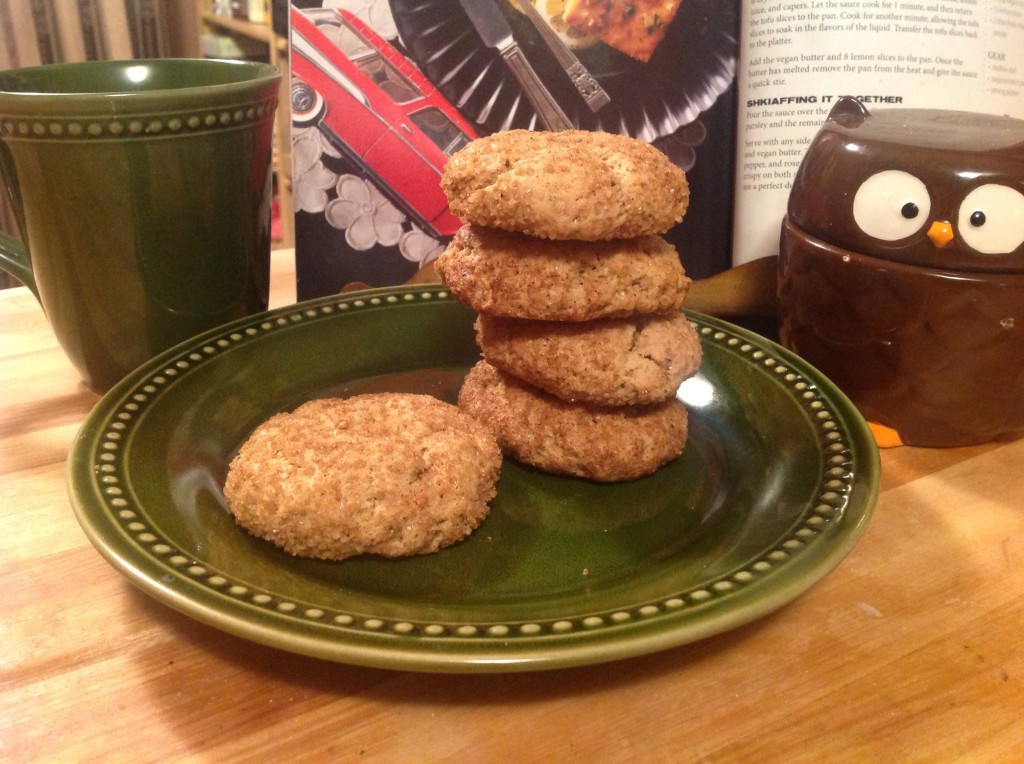 The "V" Word: Say it. Eat it. Live it.
[amd-zlrecipe-recipe:4]
[amd-zlrecipe-recipe:5]
(Visited 3,093 times, 1 visits today)