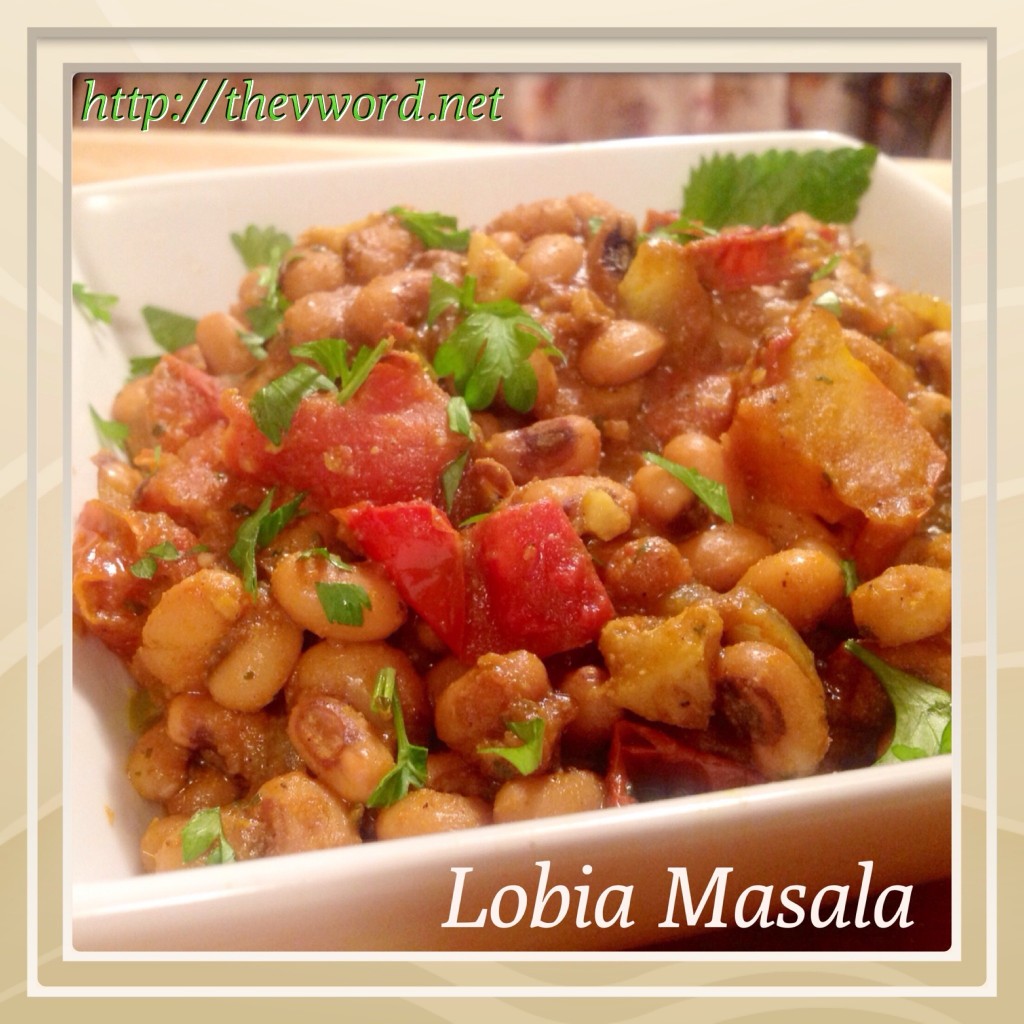 Welcome to another day of VeganMoFo 2013, the month of delicious vegan food. VeganMoFo is the event when hundreds and hundreds of bloggers dedicate their blogs to just vegan food, nothing but vegan food. YUM!

One dish I love but had never made was Chana Masala – Indian Stewed Chickpeas. Well, I have still never made it. Oh, I intended to. I went into the kitchen and got all ready to start when I realized I didn't have any chickpeas in the house. AACK!! How could I run out of chickpeas????
I was going to give up the whole idea for another time but then I thought, why not just use a different bean? Who said it had to be chickpea? So I looked to see what I had and I found several cans of black-eyed peas. I love black-eyed peas. I use them for Hoppin' John, my Gluten-Free Spicy Italian Sausage and my Black-Eyed Pea Burgers. DROOL!
In Lobia Masala, the black-eyed peas are cooked in a tomato-based sauce with the fragrant spices of Indian cuisine: cumin, coriander, cardamom, turmeric, cinnamon, cloves, garlic, ginger and garam masala. Chile peppers and cayenne add some heat. A bit of agave and lime balances it all out.
The stew is thick and fragrant. Served over brown rice, this is a satisfying meal. It just goes to show that recipes should be nothing more than guidelines. Some of the best dishes are created by experimentation and by using your imagination. Some of my best recipes were created when I didn't have what I thought I needed and had to make last-minute substitutions.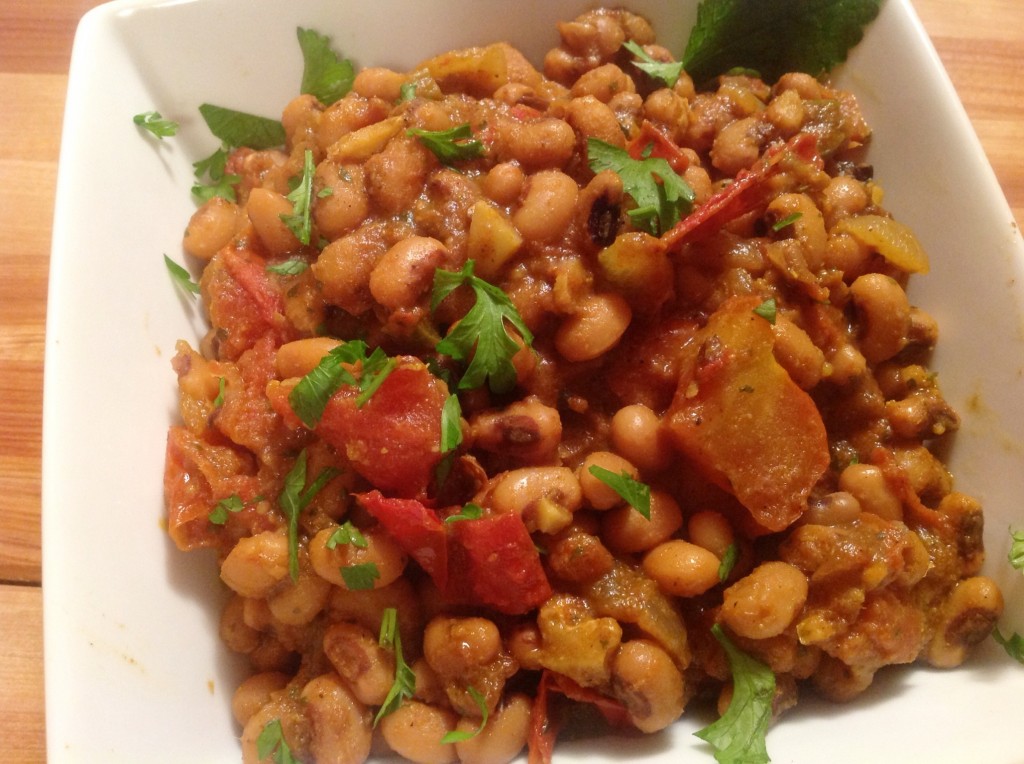 While I will always love chickpeas and I will make chana masala one day, my Lobia Masala is a new favorite. I hope it will be one of yours too. Enjoy!
Lobia Masala (Black-Eyed Pea Masala)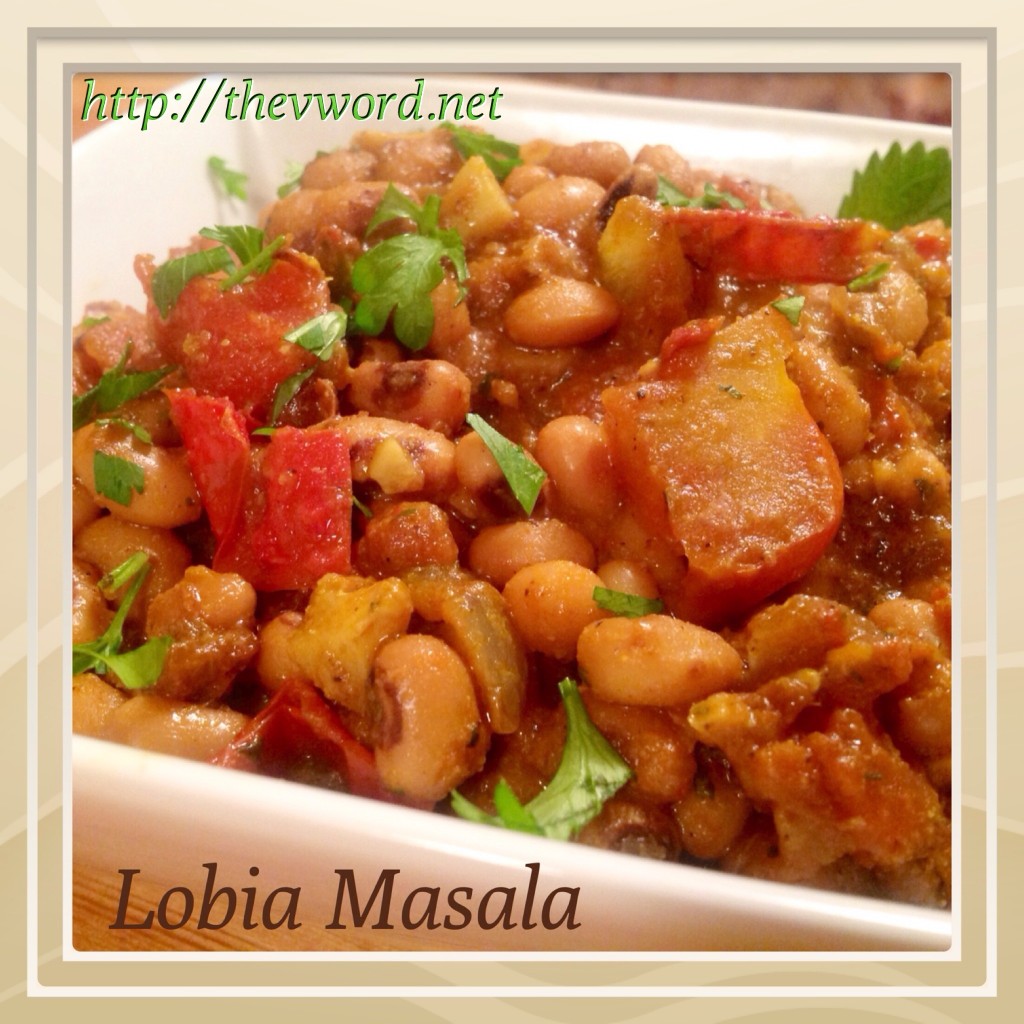 GF, SF
2 Tbs. coconut oil
1 large onion, chopped
1 tsp. ground cumin
1 tsp. turmeric
1 tsp. ground coriander
½ tsp. cardamom
¼ tsp. ground cinnamon
1/8 tsp. ground cloves
4 garlic cloves, minced
1 inch piece of ginger, grated or 1 tsp. ground ginger
1 chile pepper, seeded and chopped
1 tsp. garam masala
1 tsp. kosher salt
¼ tsp. cayenne pepper or more to taste
1-15 oz. can diced tomatoes
2-15 oz. cans of black-eyed peas, drained and rinsed
1 tsp. agave nectar
Zest and juice of 1 lime
2 Tbs. fresh cilantro, chopped for garnish
Heat the oil over medium-high heat in a large pan that has a lid. Add the onion and let cook for 4 minutes until browned. Add the cumin, turmeric, coriander, cardamom, cinnamon and cloves and mix so that the onions are coated with the spices. Add the garlic, ginger, chile pepper, garam masala, salt and cayenne. Mix and cook for about 1 minute. The mixture should be very fragrant.
Add the tomatoes to the pan. Stir to combine. Scrape any bits that are stuck to the bottom of the pan.  Add the black-eyed peas and the agave nectar, stir and cover the pan. Continue to cook for 6-7 minutes, stirring occasionally, until you have a saucy mixture. When the sauce begins to bubble, remove the lid and lower the heat. Simmer for 10-12 minutes until the sauce thickens.
Turn off the heat and add the zest and juice of a lime. Cover the pan completely and let it sit for 5 minutes. This allows the flavors to get absorbed. Garnish with cilantro and serve over rice.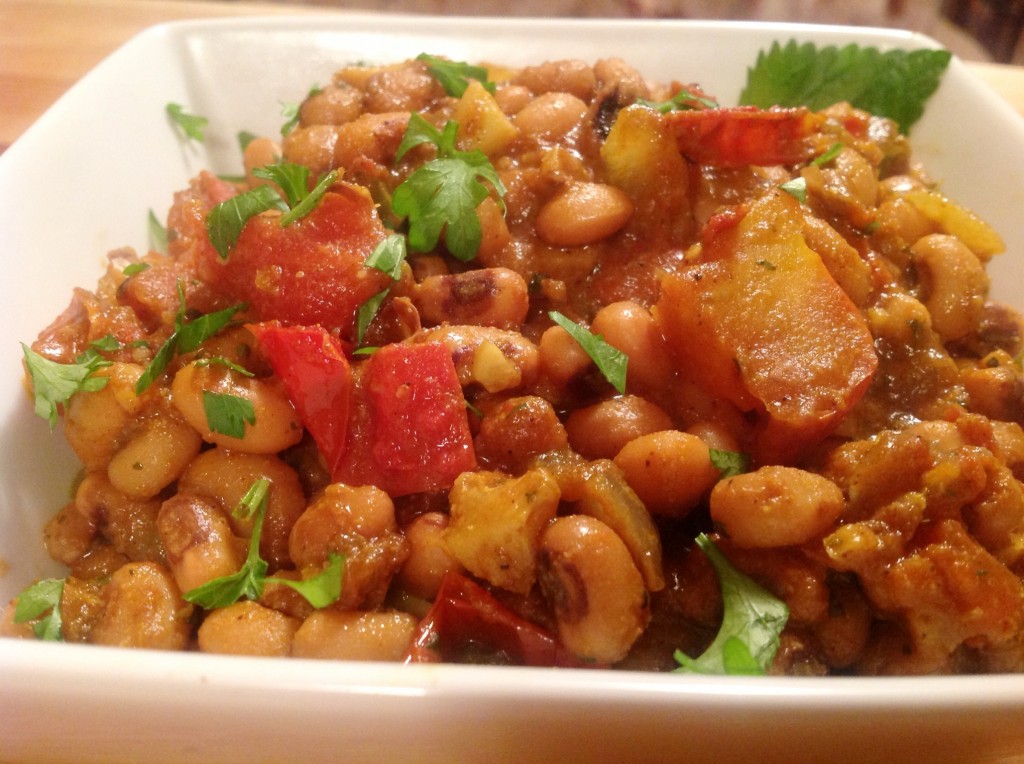 The "V" Word: Say it. Eat it. Live it.
(Visited 943 times, 1 visits today)