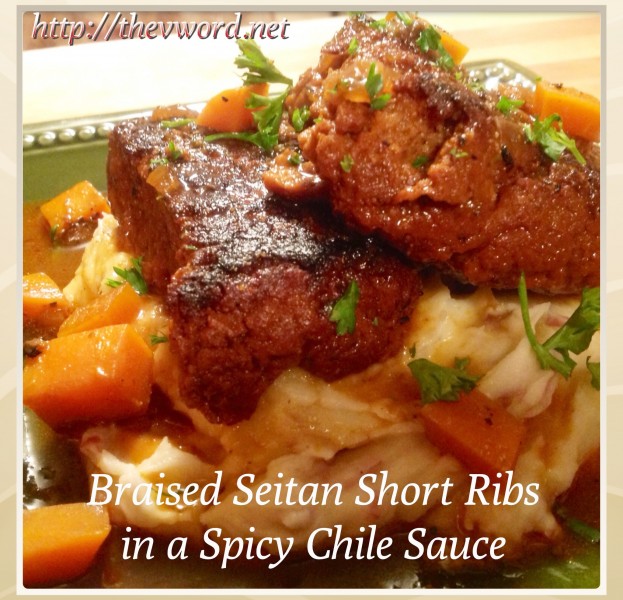 Welcome to another day of VeganMoFo 2013, a whole month of delicious vegan food. What better way to spend any day than with a new recipe that is both amazingly yummy and cruelty-free? It's a win-win!

As you may know, The "V" Word recipes are about 99% gluten-free but every now and then, I have to post something for the seitan lovers. That doesn't mean, however, that my gluten-free peeps are out of luck. This recipe can totally be adapted by using tofu, mushrooms and hopefully soon, V-Meat.
Every now and then I get cravings for foods my mother made us. While much of my inspiration for cooking comes from indulgent food I used to eat at restaurants or from take-out and what I see on television cooking shows, the most meaningful inspiration is from my childhood. I want to recreate every dish my mother ever made.
Mom would sometimes make braised short ribs for my father. He loved this dish. It was so tender and flavorful. Mom spent hours making it. The other day, memories of this dish just popped into my head. I started thinking about it and then craving it.
Maybe it was because it was Yom Kippur and I have to say yiskor for my Dad who passed away 23 years ago. Plus, this year Yom Kippur fell on his birthday. He would have been 85 this year. So my father was doubly on my mind. This was also Tom's first year saying yiskor for his father who died last May. I remember my first year saying yiskor. It was sad and hard so I wanted to do something to make Tom feel better.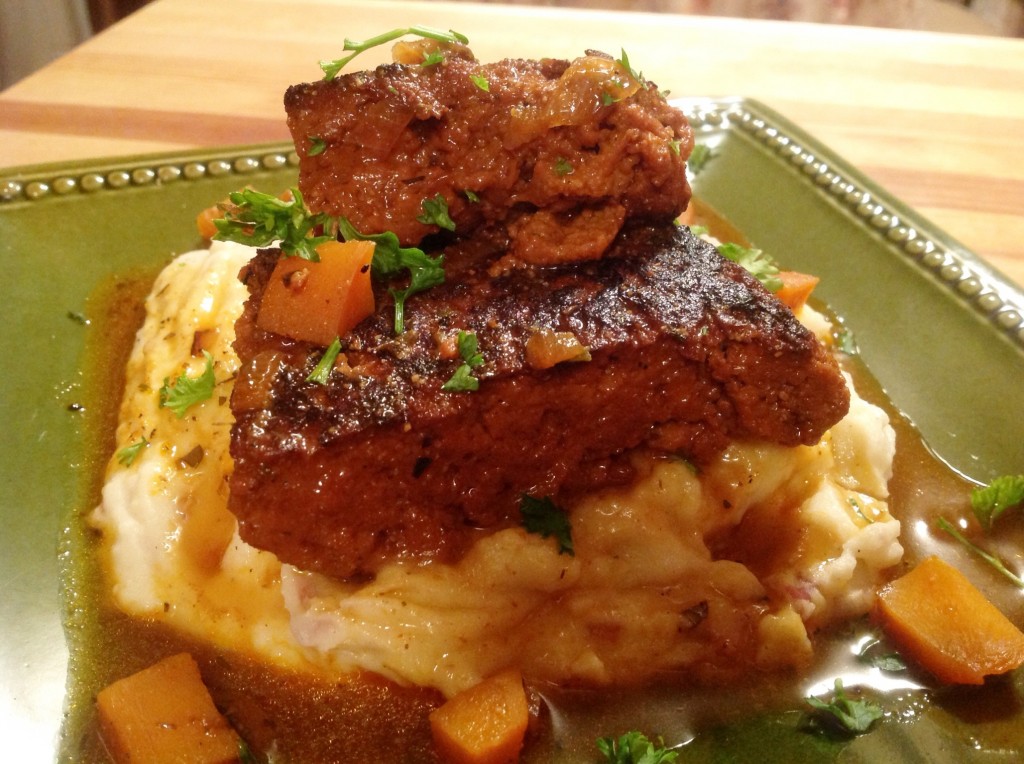 I decided I would try to recreate my Mom's short ribs recipe. Now I have none of her recipes written down. It's all just memories of the taste and what little attention I paid to her cooking methods (I wish I had known cooking would become so important to me; I would have paid better attention!)
Since this was a special meal for Tom, I decided to use seitan and because it's a "ribs" recipe, I used my Balsamic BBQ Seitan Ribs recipe as the starting point. I love that recipe because it's faster and easier than making seitan with other methods and you don't have to wait until the next day to eat it.
For the sauce, I didn't want to make a plain gravy because I wanted this dish to taste different than pot roast which would be "beefy" and mushroom-y. I already have a Seitan Pot Roast recipe. So I made the sauce a bit spicy and bright with some chile sauce and balanced it with brown sugar and vinegar. The sauce was amazing. Tom said I should bottle it!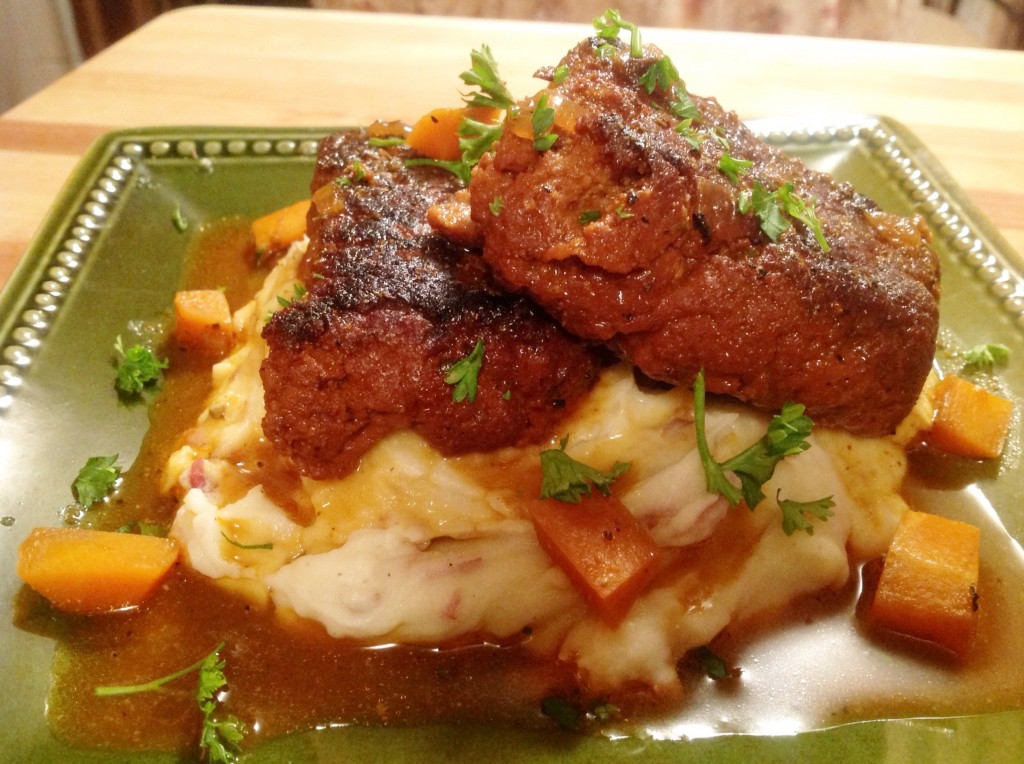 The seitan short ribs, after braising in the delicious sauce were so tender and almost falling apart. I served them over mashed potatoes that I whipped with an electric mixer until they were smooth and creamy. All I added to them was some non-dairy milk and spices. No butter or cream necessary. Then I poured more of the sauce over everything and it was incredible. So comforting and warm and satisfying.
The next day I took the leftovers and let the seitan simmer some more in the sauce until it got very soft. Then I shredded it with two forks, mounded it up on rolls and we had Braised Seitan Short Rib Sandwiches for dinner. The sauce was served on the side. Absolutely amazing!!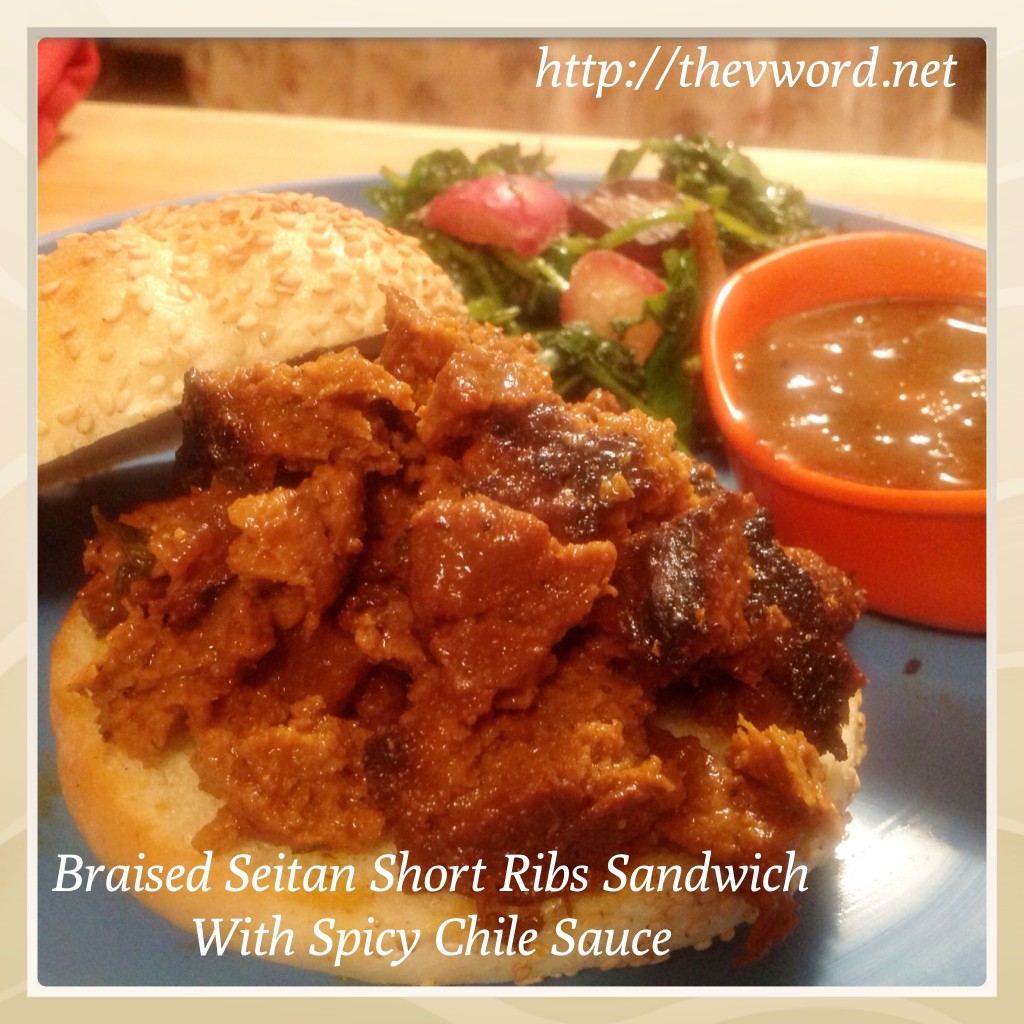 Tom really loved the dish and our friend who became vegan over the summer said, "It's the best food I ever ate!" I loved it too but what I really loved was having one of my mother's special dinners again. It just shows that it's possible to live a compassionate life and with a few changes, keep traditions alive.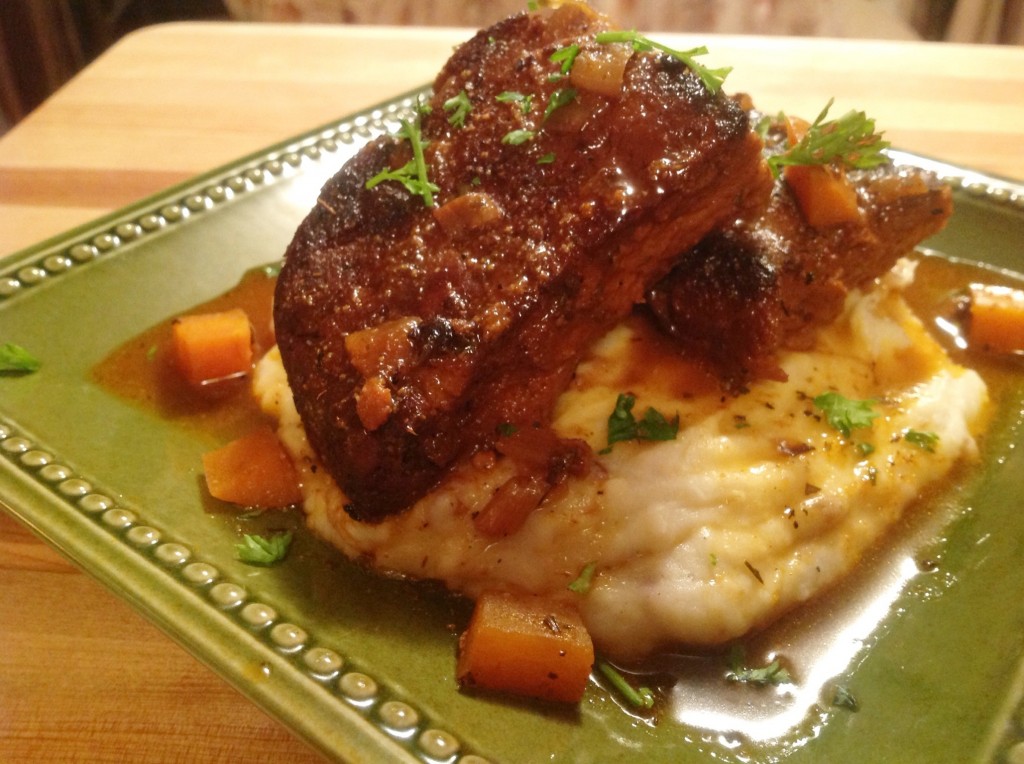 Try my Braised Seitan Short Ribs in Spicy Chile Sauce for your next special dinner. Maybe you will start a new tradition in your family. Enjoy!
Braised Seitan Short Ribs in a Spicy Chile Sauce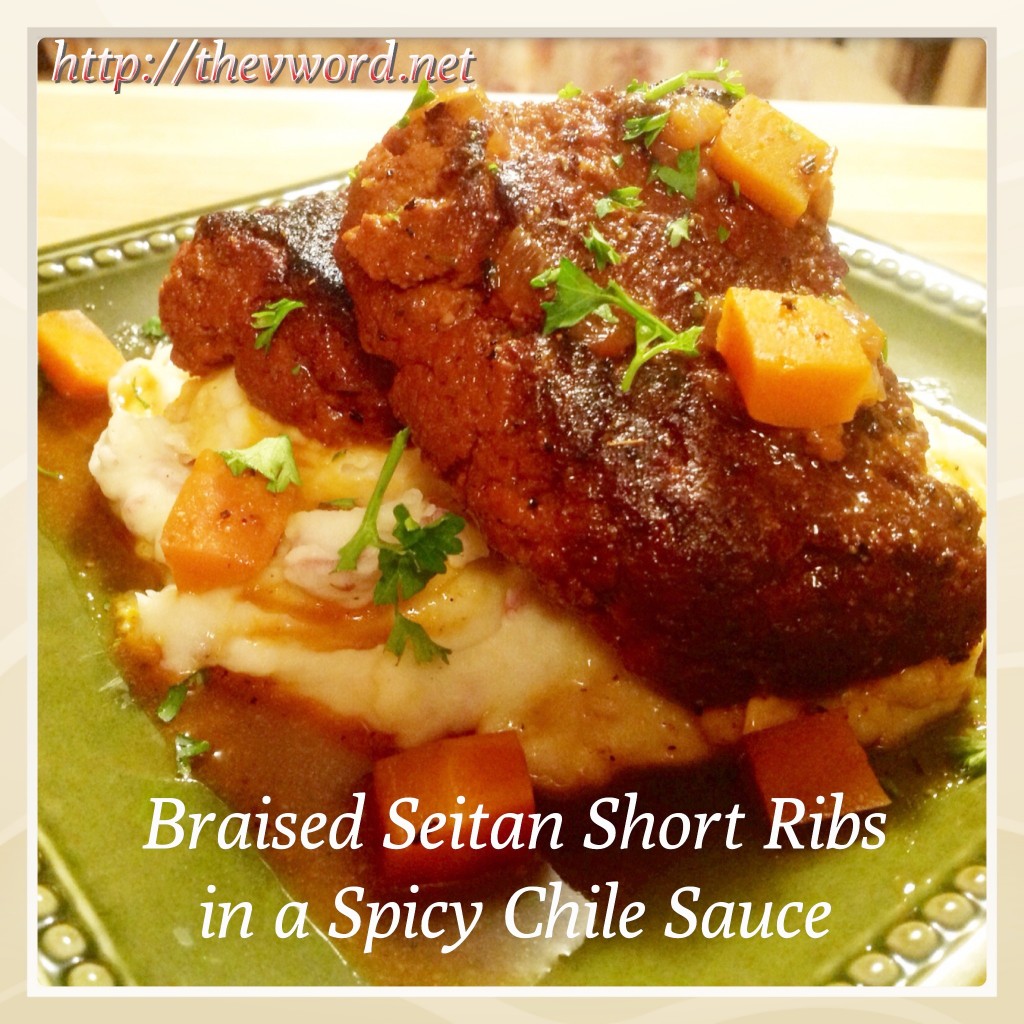 This recipe contains gluten!!!
Makes 5-7 servings
For the Spice Rub­­­­­­­­­­­­­­­
1 Tbs. brown sugar
1 tsp. smoked paprika
1 tsp. kosher salt
1 tsp. dried oregano
1 tsp. garlic powder
½ tsp. ground black pepper
1 garlic clove, minced
For the Seitan Short Ribs­­­­­­­­­­­­­­­
2 cups vital wheat gluten
¼ cup nutritional yeast
3 Tbs. chile powder
3 Tbs. onion powder
3 Tbs. garlic powder
½ tsp. ground black pepper
2 cups water
¼ cup almond butter or tahini
¼ cup low-sodium soy sauce
1 Tbs. canola oil
For the Spicy Chile Sauce­­­­­­­­­­­­­­­
1 Tbs. canola oil
1 large onion, finely chopped
1 large carrot, diced
1 large shallot, minced
4 cloves garlic, minced
1 cup red wine or red wine vinegar
¼ cup chile sauce
2 Tbs. vegan Worcestershire sauce
2 Tbs. brown sugar
1 tsp. dried thyme
1 tsp. dried oregano
½ tsp. kosher salt
2 large bay leaves
4 cups "beef" broth
2 Tbs. fresh parsley, chopped
To make the seitan short ribs: Preheat the oven to 350 degrees. In a small bowl, combine the ingredients for the spice rub. Mix well and set aside. In a large bowl, combine the vital wheat gluten, nutritional yeast, spices and mix well. In a smaller bowl, combine the water, almond butter or tahini, soy sauce and oil. Add the wet ingredients to the dry and mix until just combined. Knead the dough lightly until everything is combined and the dough feels elastic.
Grease or spray a 9 x 13 inch baking dish. Add the dough to the baking dish, flattening it and stretching it out to fit the dish. Use a sharp knife to slice the dough into ribs. Short ribs should be fat squares, not long like other ribs. Cut the dough into 4 pieces length-wise and then make 4 slices width-wise. You should end up with 16 square seitan ribs.
Top the dough with the spice rub and massage it in a bit. Bake the seitan for 60 minutes or until the seitan has a sturdy texture to it. Remove the dish from the oven and lower the temperature to 325 degrees. Recut the ribs and carefully remove them from the baking dish.
Heat the oil in a large Dutch oven over medium-high heat. Place 3-4 seitan ribs into the pot and let brown for about 2 minutes. Don't put more than 3 or 4 ribs in at a time or they will steam rather than sear. Turn the ribs to brown on the other side. Transfer to a plate and continue with the rest of the seitan ribs. Set aside. Try not to eat one. I dare you!
To braise the seitan: Add more oil to the Dutch oven. Add the onions, carrots, shallot and garlic to the pot and cook for 6 minutes until the vegetables soften. While they are cooking, combine the red wine vinegar, chile sauce, Worcestershire sauce and brown sugar in a bowl and whisk until smooth. Add this braising liquid to the Dutch oven. Scrape up any yummy bits at the bottom of the pot. Add the thyme, oregano, salt and bay leaves. Mix and let the braising liquid cook until it reduces by about half.
Turn off the heat and add the broth to the pot. Carefully return the seitan ribs to the pot and make sure they are covered by liquid. Cover the pot and place it in the oven. Cook for 1 hour or until the seitan ribs have considerably softened but are not falling apart. While the ribs are cooking, prepare any side dishes you are having. These seitan ribs are wonderful over whipped mashed potatoes or polenta.
Carefully remove the pot from the oven and remove the bay leaves. Serve 2-3 seitan ribs over mashed potatoes or polenta. Spoon some of the sauce over everything and garnish with fresh parsley.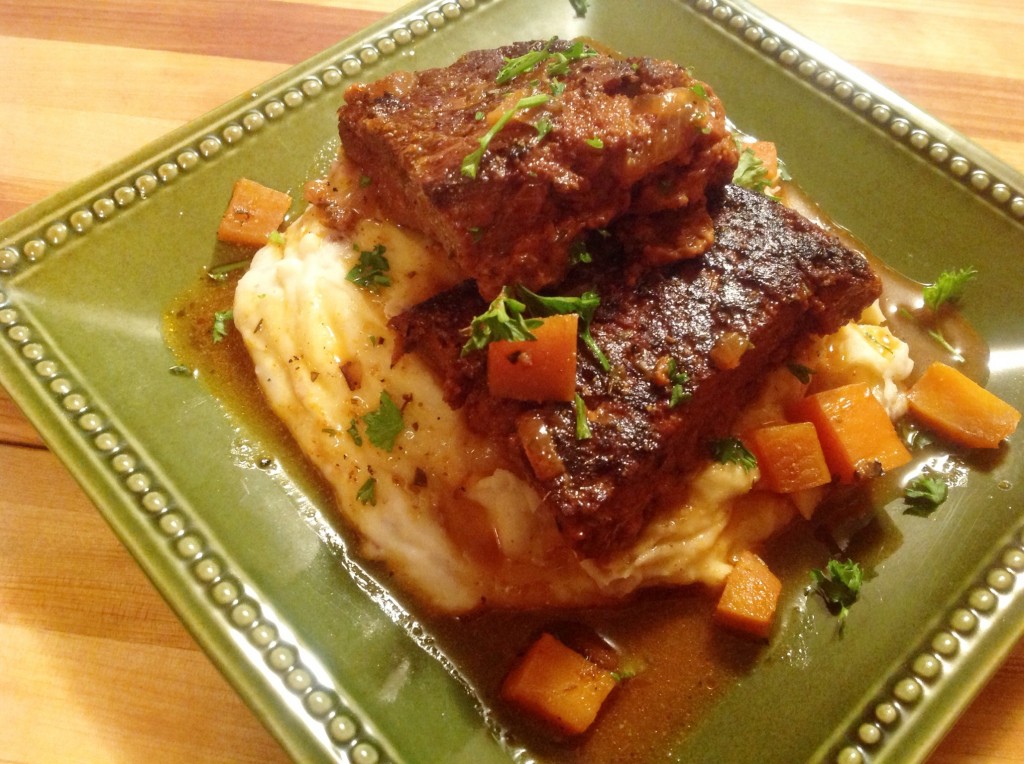 The "V" Word: Say it. Eat it. Live it.
(Visited 9,440 times, 1 visits today)