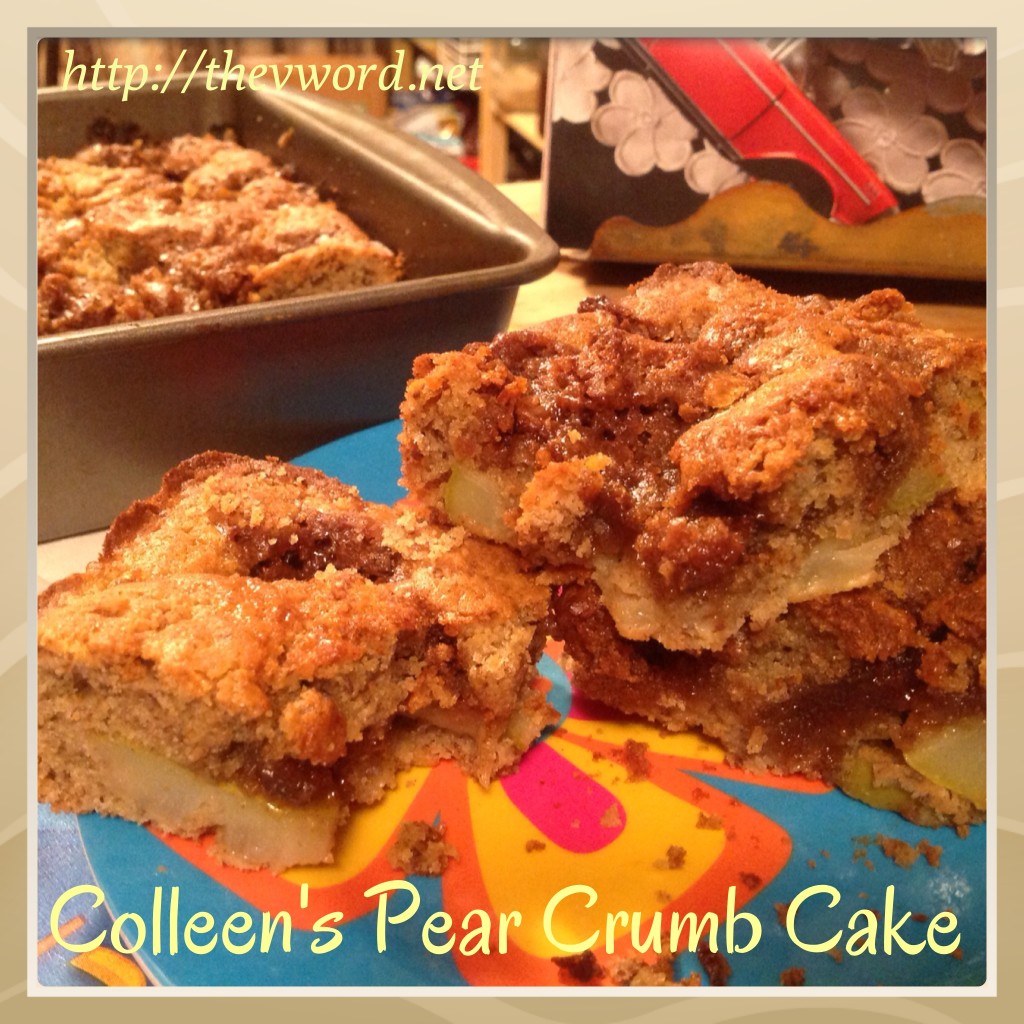 Yesterday I got a huge box delivered to my door. Excited, I hurried to open the box and found a dozen beautiful pears. The pears were a gift from my friend, Colleen.
It wasn't my birthday or anything but life has been hard lately and I have been down. Through it all, Colleen has been there for me – to help me, to talk, to listen and to help. I can't even express how much that has meant to me. Colleen has really been a great friend, something that isn't so easy to find.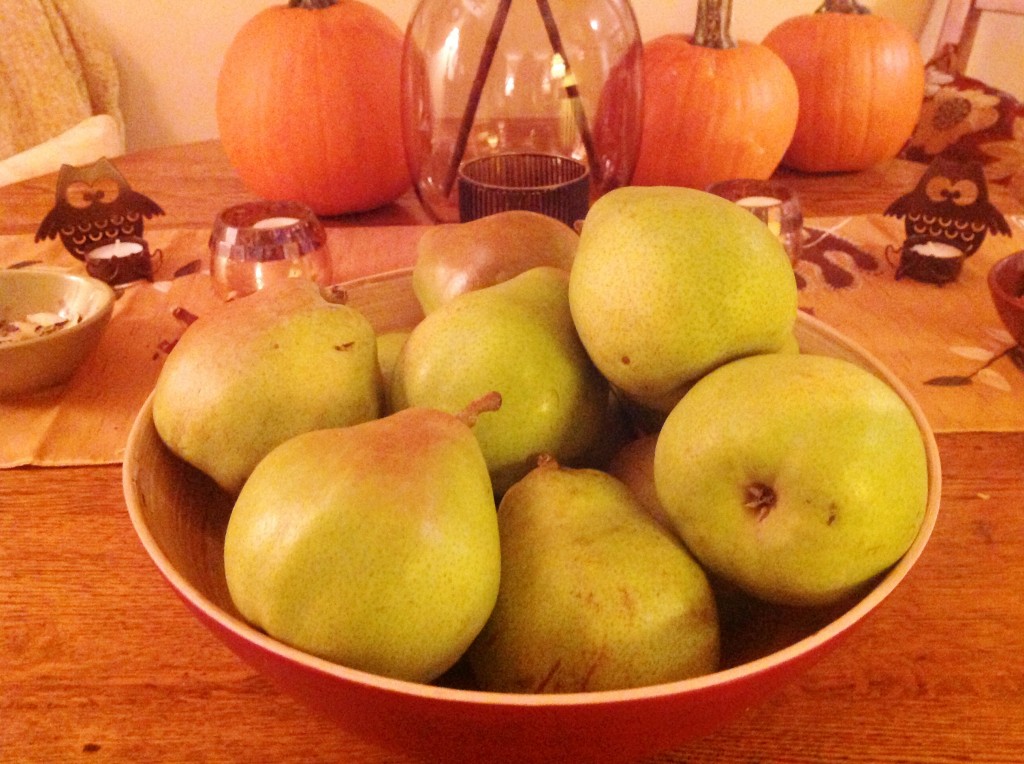 So when I stopped to think about what to make with these beautiful pears and realized that today is Colleen's birthday, I knew I had to create something in her honor. Since it's Colleen's birthday, a cake seemed in order and since she calls me Spicecake to her Cupcake, it had to be more spicy and less sweet. I decided to make a crumb cake and fill it with chopped pears.
The crumb cake is super-moist and tender with a delicious crumb topping. It's not too sweet and the cinnamon and nutmeg shine through perfectly. And all through the cake, there are chunks of cooked pears that are intensely pear-like. The topping is a mix of brown sugar, flour, cinnamon and vegan butter. It's sweet, warm and crumbly. I made the cake gluten-free so Colleen and I can both enjoy the recipe.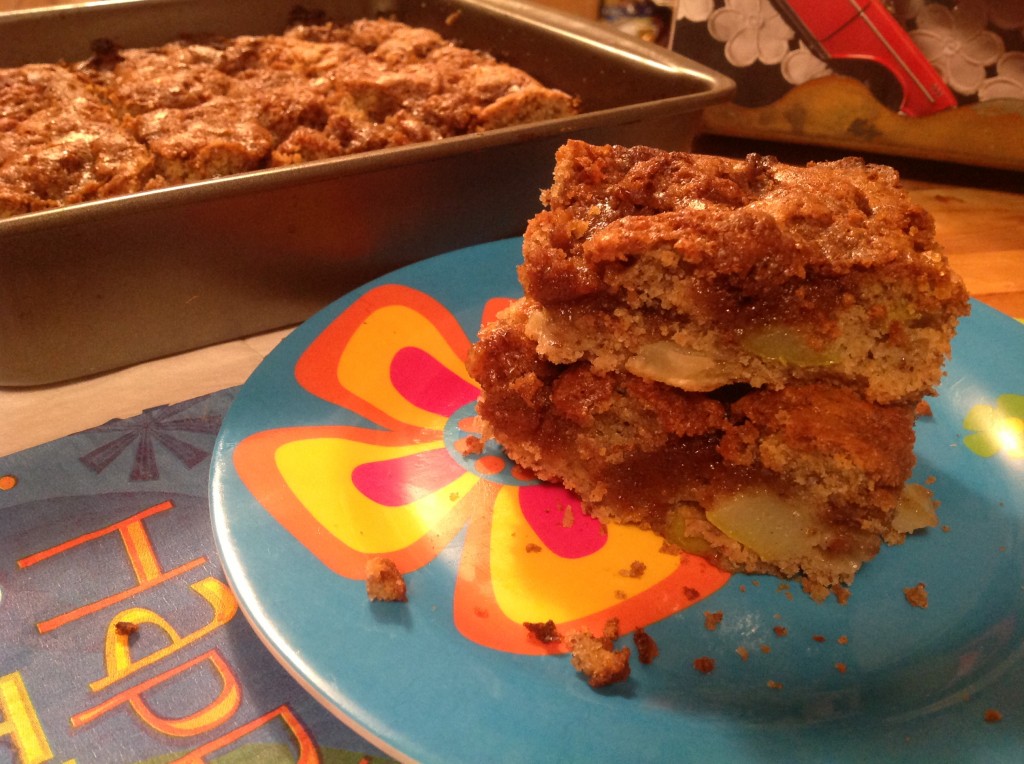 I know it's just a small gesture and that it doesn't come close to expressing my love and gratitude to Colleen for the friend she has been to me. But it's a start. So thank you, Cupcake, and Happy Birthday!! I love you! Enjoy!
Colleen's Pear Crumb Cake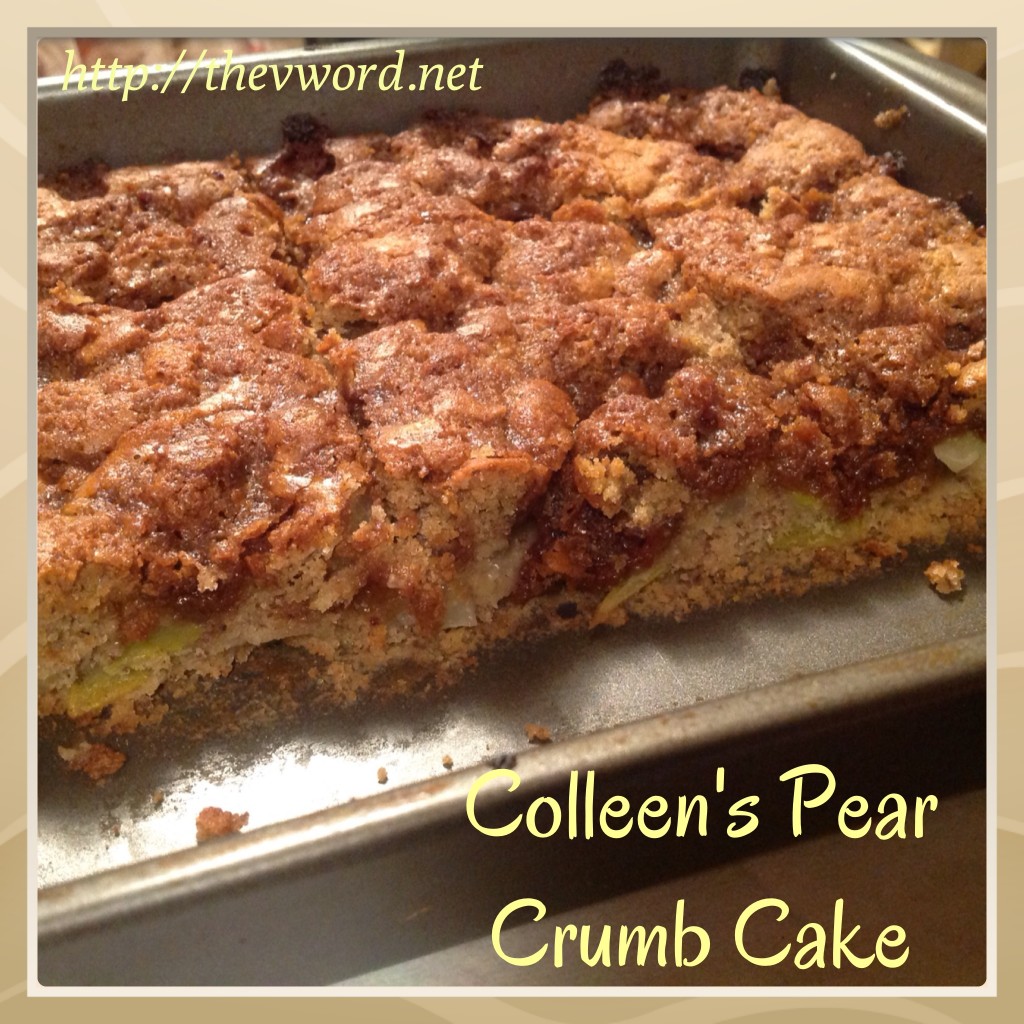 GF, SF
For the cake­­­­­­­­­­­­­­­:
2 Tbs. ground flaxseed
1/3 cup warm water
½ cup non-dairy milk
¼ cup V-Butter, melted or oil
1 ¼ cup gluten-free, all-purpose flour
2 tsp. baking powder
½ cup sugar
½ tsp. kosher salt
½ tsp. ground cinnamon
¼ tsp. ground nutmeg
2 ripe pears, cored and chopped
For the topping:
¾ cup brown sugar
1/3 cup gluten-free, all-purpose flour
1 tsp. ground cinnamon
4 Tbs. cold V-Butter, cut into pieces
To make the cake: Preheat the oven to 400 degrees. Grease an 8 x 8 baking pan. In a mug, combine the flaxseed and warm water. Mix and let it sit for 5 minutes until it becomes a gel. In a medium-sized bowl, combine the milk and the butter. Add in the flax gel and mix well. In a large bowl, combine the flour, baking powder, sugar, salt, cinnamon and nutmeg. Add the wet ingredients into the dry ingredients and mix well until everything is well-combined. Fold in the chopped pears. Pour the batter into the prepared baking pan.
To make the topping: In a bowl, combine the brown sugar, flour and cinnamon. Add the butter bits and with a fork, mash the butter into the dry ingredients until it turns into crumbs. Sprinkle the crumbs over the batter in the pan.
Bake the cake for 45-50 minutes, turning the pan around halfway through. The top of the cake should be dry and hardened. A cake tester should come out clean. Allow the cake to cool in the pan. Cut into squares and serve.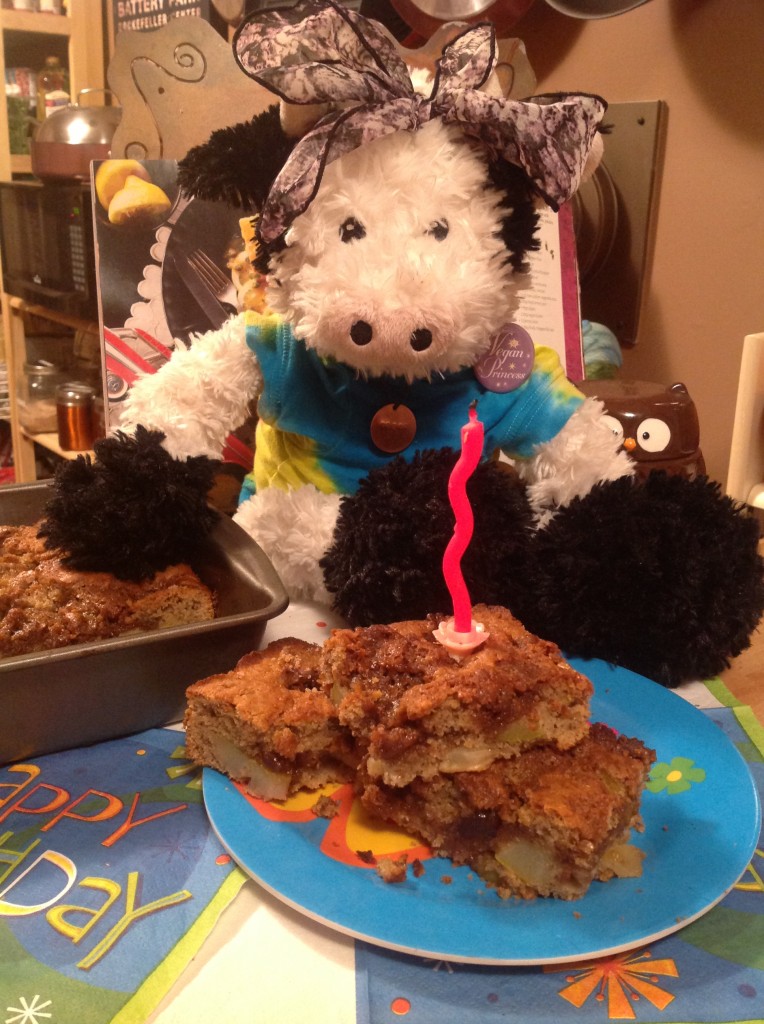 The "V" Word: Say it. Eat it. Live it.
(Visited 1,197 times, 1 visits today)