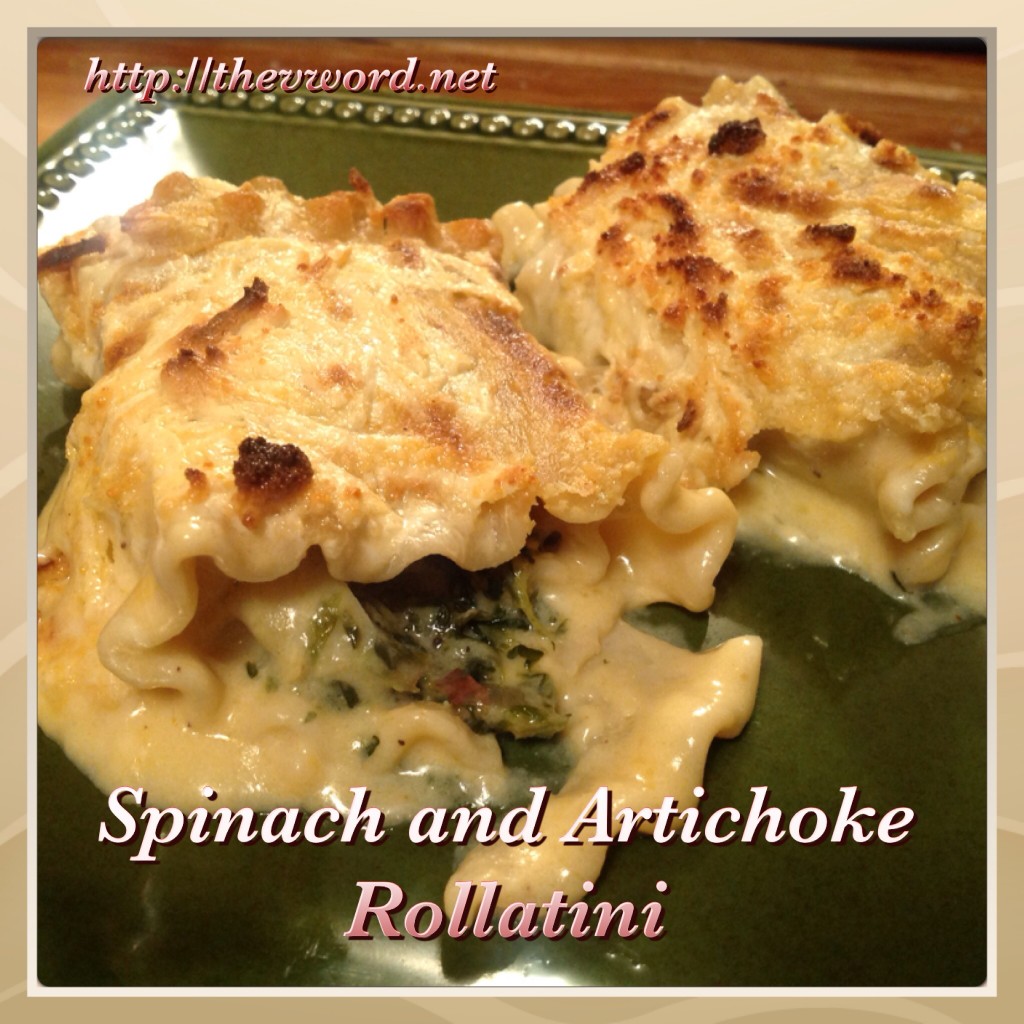 Some food combinations are marriages made in Heaven. Take a favorite dip, combine it with a favorite pasta dish and serve it in individual little roll-ups and you have an amazing dish that will make you roll your eyes back in your head.
I'm talking about creamy, cheesy spinach-artichoke dip combined with the decadence of lasagna and then served up rollatini-style. I saw this recipe in a magazine and I just knew I had to veganize it. I've posted my recipe for Spinach-Artichoke Dip years ago. I've posted the recipe for my Eggplant Rollatini years ago. Lasagnas? Yup. I've posted a couple of those recipes here and here. Now those ideas get combined to make this indulgent dish.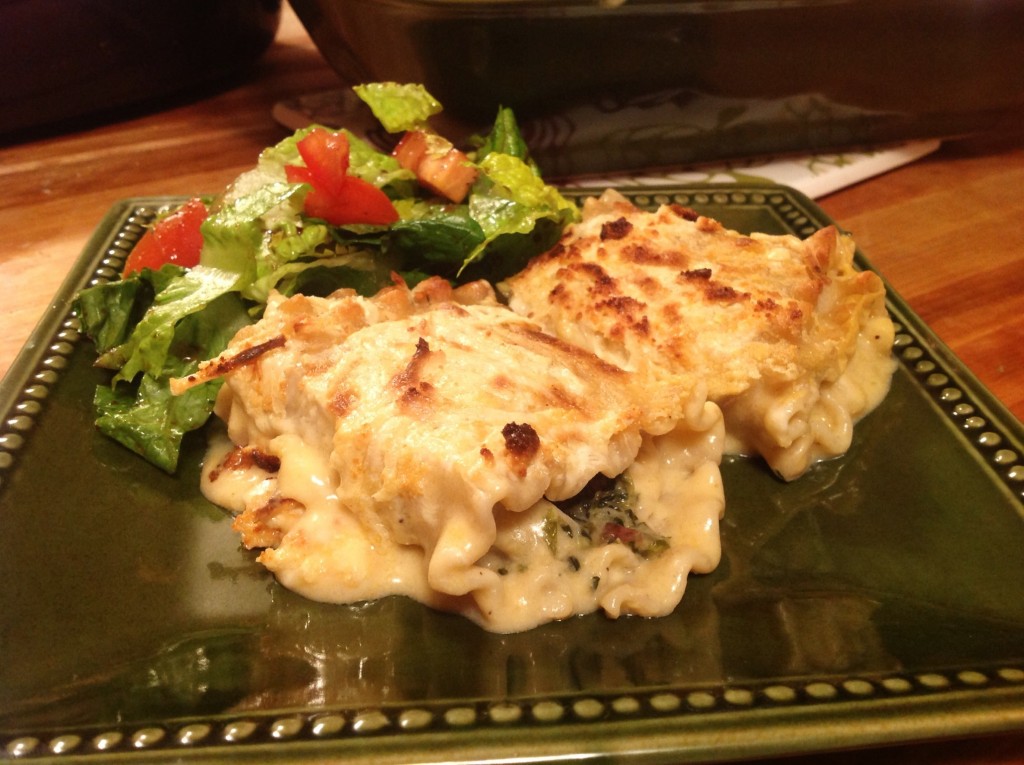 First you make a rich and creamy cheese sauce. Then you make a delicious filling of spinach and artichoke hearts. Then you roll that filling up in par-cooked lasagna noodles. Top it all with cheese sauce and mozzarella and bake until golden brown. It's that simple.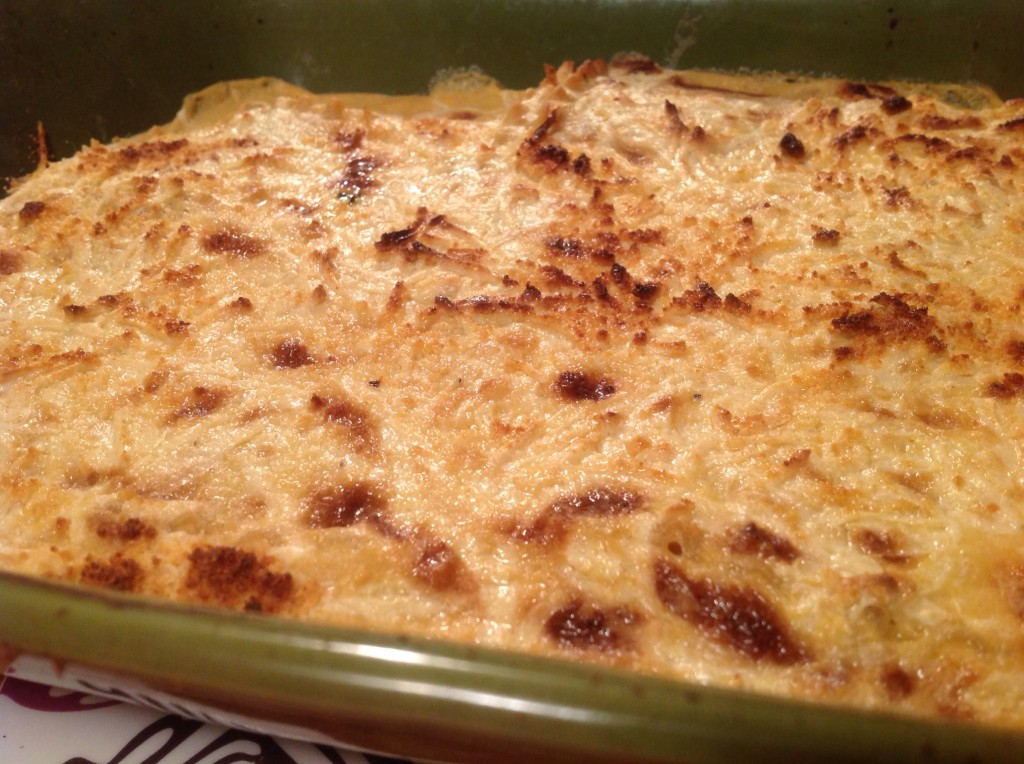 You can make it even simpler by not making the rollatini and just making a lasagna. Simply ladle the cheese sauce into the casserole dish, add a layer of noodles, then the spinach-artichoke filling and repeat until you use all the ingredients up. Top with the cheese sauce and mozzarella and bake until browned and bubbly.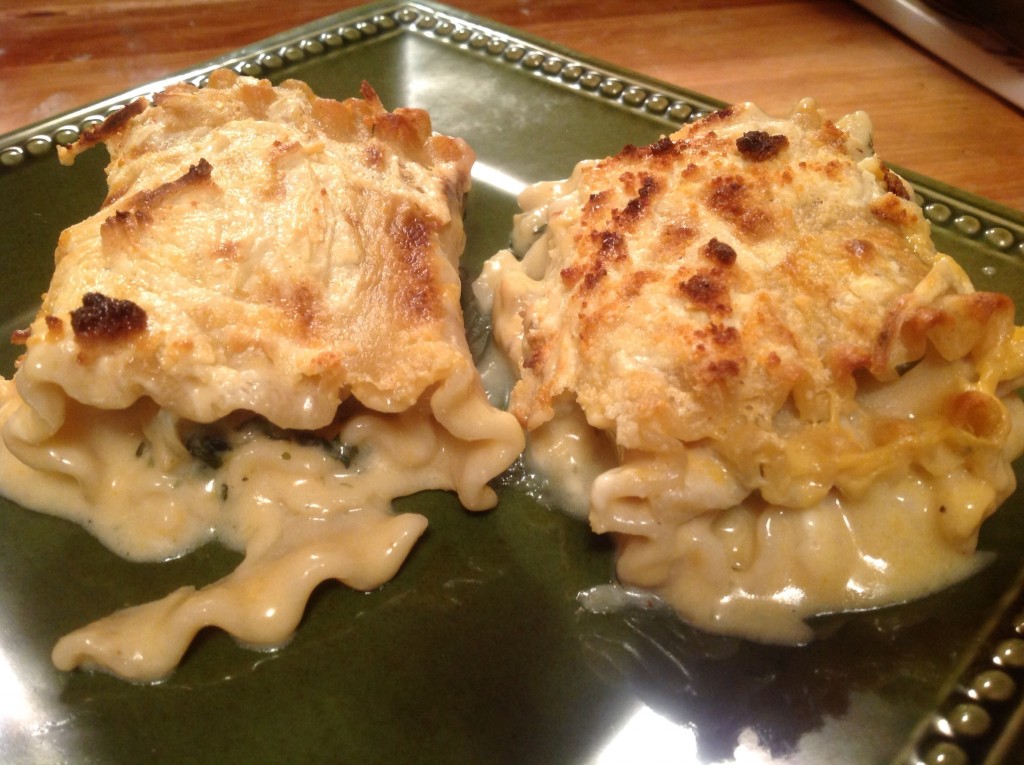 You can make it healthier and lighter by using cooked eggplant slices instead of the lasagna noodles. There are so many options.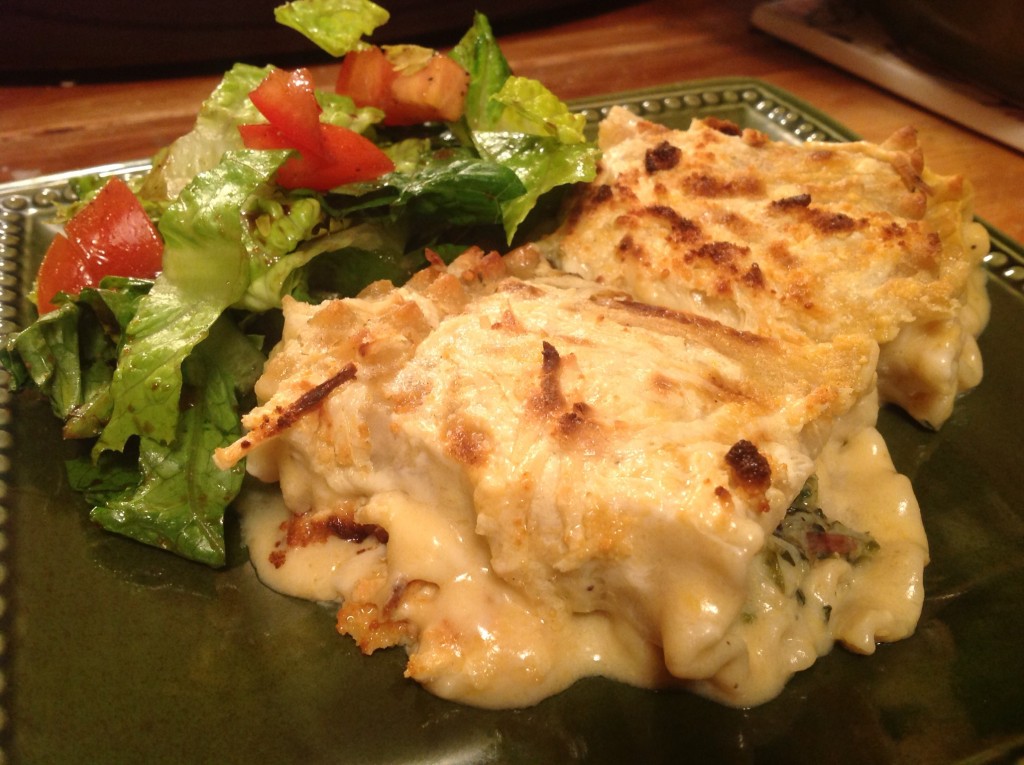 Whichever way you choose to make it, this is a perfect dish for company and entertaining. It travels well for potlucks. It's easy to make but it looks like you created a masterpiece. My Spinach and Artichoke Rollatini will become a regular in your meal rotation. Enjoy!
Spinach and Artichoke Rollatini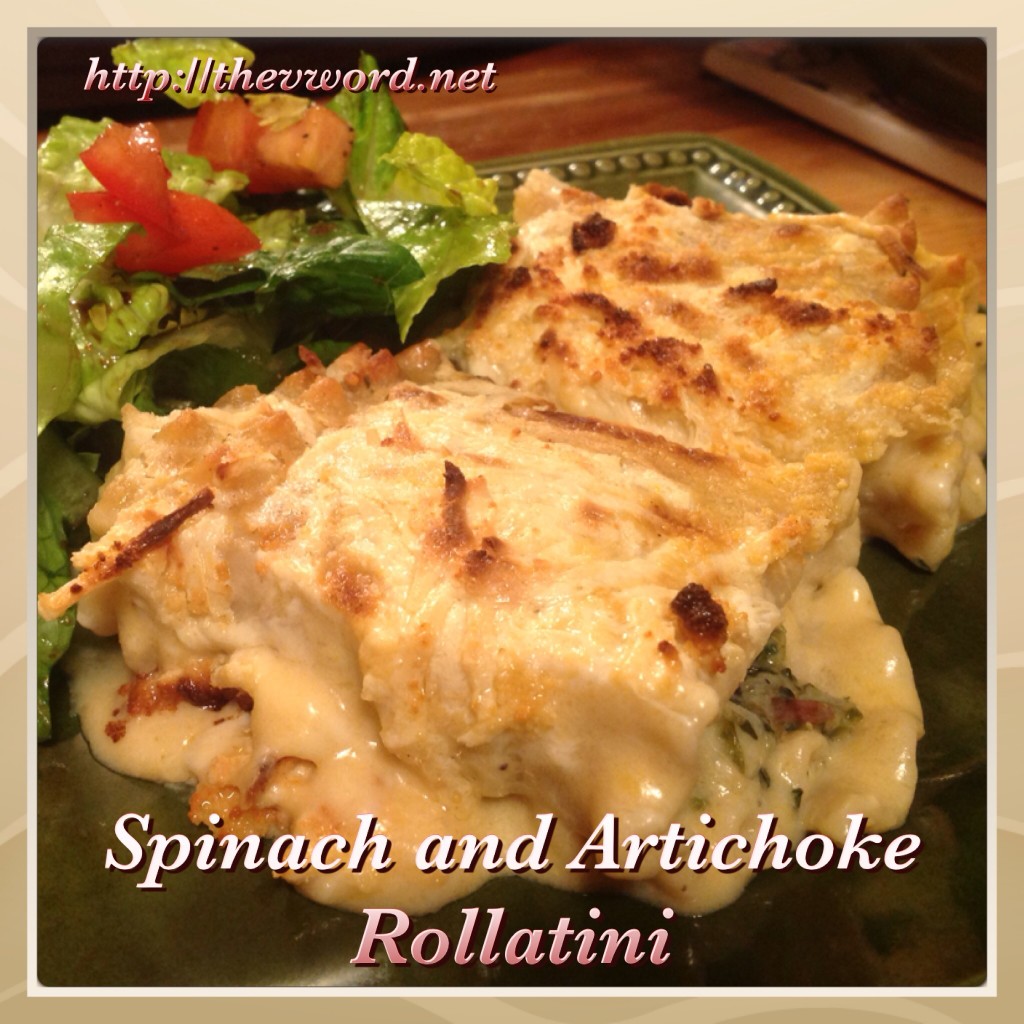 GF
Makes 12 rollatini
3 Tbs. V-Butter or vegan butter
3 Tbs. chickpea flour
3 cups non-dairy milk
A pinch of cayenne pepper
A pinch of nutmeg
1 cup vegan cheddar cheese shreds
¾ cup vegan mozzarella shreds
¼ cup vegan grated parmesan
Kosher salt and pepper
For the filling­­­­­­­­­­­­­­­
1 vegan "egg" (1 tsp. egg replacer + 3 Tbs. water or 1 Tbs. ground flaxseed + 3 Tbs. warm water)
1 Tbs. extra-virgin olive oil
½ small onion, minced
1 10-oz. box frozen spinach, thawed and squeezed dry
1 15-oz. can of artichoke hearts, drained and chopped
2 cloves garlic, minced
2 tsp. vegan, gluten-free Worcestershire sauce (or 1 tsp. balsamic vinegar and 1 tsp. soy sauce)
Kosher salt and pepper
¼ cup grated vegan parmesan
For the Rollatini
Kosher salt
1 Tbs. extra-virgin olive oil
12 brown rice lasagna noodles
1 cup vegan mozzarella shreds
1 Tbs. vegan grated parmesan
To make the cheese sauce: Melt the butter in a medium saucepan over medium-high heat. Whisk in the flour until it's smooth and let it cook for one minute. Now you have a roux. Add the milk slowly while whisking. Mix in the cayenne pepper and nutmeg. Bring the liquid to a boil and then cook on a lower heat for 2 minutes until it thickens a bit. Remove from the heat and stir in the cheeses. Stir until the cheeses melt and the sauce is smooth. Add salt and pepper to taste. Let the sauce cool until you need it.
To make the filing: In a mug or small bowl, prepare the vegan "egg" and set aside. In a skillet, heat the oil over medium-high heat. Add the onion and saute until translucent, about 4 minutes. Add the spinach, breaking apart into pieces with your fingers to separate it. Cook the spinach for 2 minutes and then add the artichoke hearts and the garlic. Mix in the Worcestershire sauce. Stir and cook for 5 minutes until the vegetables are tender. Add salt and pepper to taste. Remove from the heat and stir in the grated parmesan. Transfer the filling to a bowl and allow to cool.
To make the rollatini: Preheat the oven to 350 degrees. Bring a large pot of salted water to a boil. Add the oil to the water so the lasagna noodles don't stick. Add the lasagna noodles, stir occasionally and allow to cook until they are pliable but not too soft. They are going to cook more in the oven. I boiled the brown rice noodles for 8 minutes. Drain the noodles and rinse them under cold water. Lay out the noodles on a baking sheet in a single layer so they do not stick together.
Ladle about 2 cups of the cheese sauce into a 9 x 13 casserole dish. Spoon about 2 Tbs. of filling onto the end of each lasagna noodle, roll up the noodle and set them in the casserole dish in a single layer, seam side down. Top with the remaining cheese sauce. Sprinkle the mozzarella on top of the rollatini and then top that with the grated parmesan.
Cover the casserole dish with foil and bake for 30 minutes or until the cheese sauce is boiling. Remove the foil, turn on the broiler and cook for 4-5 minutes until there is some browning on top. Remove from the oven and let it sit for 10 minutes. It's important to let it sit so it sets up and doesn't fall apart when you serve it. Serve 2 or 3 rollatini per person with extra cheese sauce.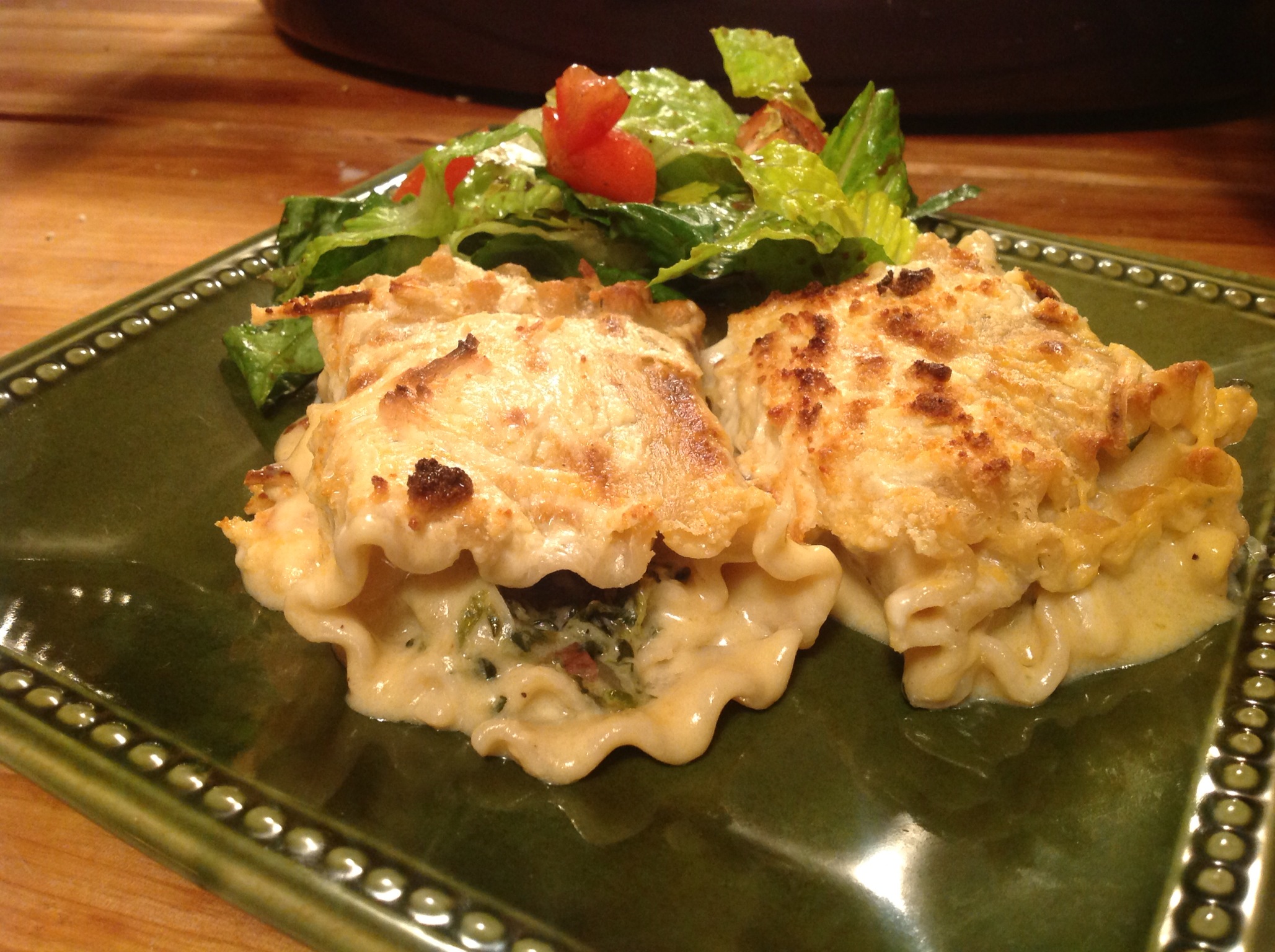 The "V" Word: Say it. Eat it. Live it.
(Visited 2,709 times, 1 visits today)