Welcome to another installment of VeganMoFo, the vegan month of food. VeganMoFo is a spectacular annual event where bloggers all over the world dedicate themselves to posting every day for a month all about vegan food. This year, The "V" Word is focusing on vegan products that are worth writing about, worth buying and worth spreading the word about.


Today it's all about Amy's Kitchen. You know Amy's. In fact, I think Amy's is one of the first names people learn about when they start eating vegetarian and vegan meals.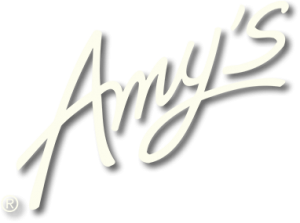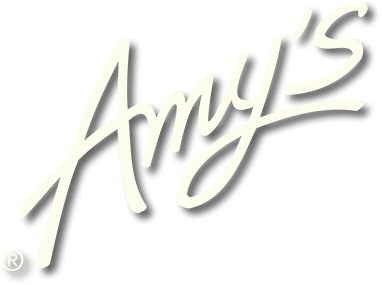 I remember my first encounter with Amy's. It was back in 2008 when I first crossed over to the compassionate side of eating and living. I was living in the Bronx where the idea of vegan food was similar to asking for authentic cuisine from Jupiter. There was one big natural foods market that carried…you know, "health food." That was how people referred to the market – it was "the health food store." In the back of the store, there were a few refrigerator cases and in those cases, were some frozen meals in little square boxes. There were some enchiladas, some veggie burgers and of course, the vegetable pot pie.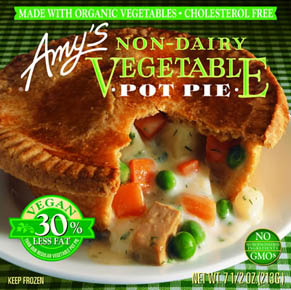 I bought a couple of the pot pies and to my surprise, they were pretty good. Honestly, I wasn't expecting much but the veggies tasted fresh and the crust was flaky and yummy. It's appropriate that the vegetable pot pie was the first frozen dinner I tried since it was the first one that Amy's created.
Amy's Kitchen was started back in 1987 by Rachel and Andy Berliner. They wanted to provide quality vegetarian meals for people who wanted to eat well but were too busy to cook. By the way, Amy is a real person. She is their daughter. Rachel and Andy began their business in the same house where they were married and where Amy was born. Back in 1987, organic food wasn't a big topic nor was frozen vegetarian food so Amy's laid the foundation for both.
After the pot pie, they made other products and they were a hit. Millions of people were happy to have natural foods that were easy to prepare available in their mainstream supermarkets. Since then, Amy's has created over 88 frozen meals and in 1999, introduced a grocery line that included canned soups, beans, chilis, pasta sauces and salsas. Today Amy's is the nation's leading seller of frozen foods with vegetarian, vegan, low-sodium  and gluten-free options.
And even though Amy's Kitchen has expanded and is a huge success, it is still a family business. And Amy? Amy works as a doula and  is currently apprenticing with her father to learn more about the family business and create new sustainability initiatives for the company.
Amy's makes so many products, I couldn't possibly tell you about all of them but Trudy, The "V" Word's Spokescow, would like to show you just a few of the 115 delicious vegan noms that Amy's makes.
Burgers and Veggie Meats
Amy's makes 7 types of vegan burgers including the Texas burger, the California burger, the Sonoma burger, the Quarter Pound, All-American and black bean burger.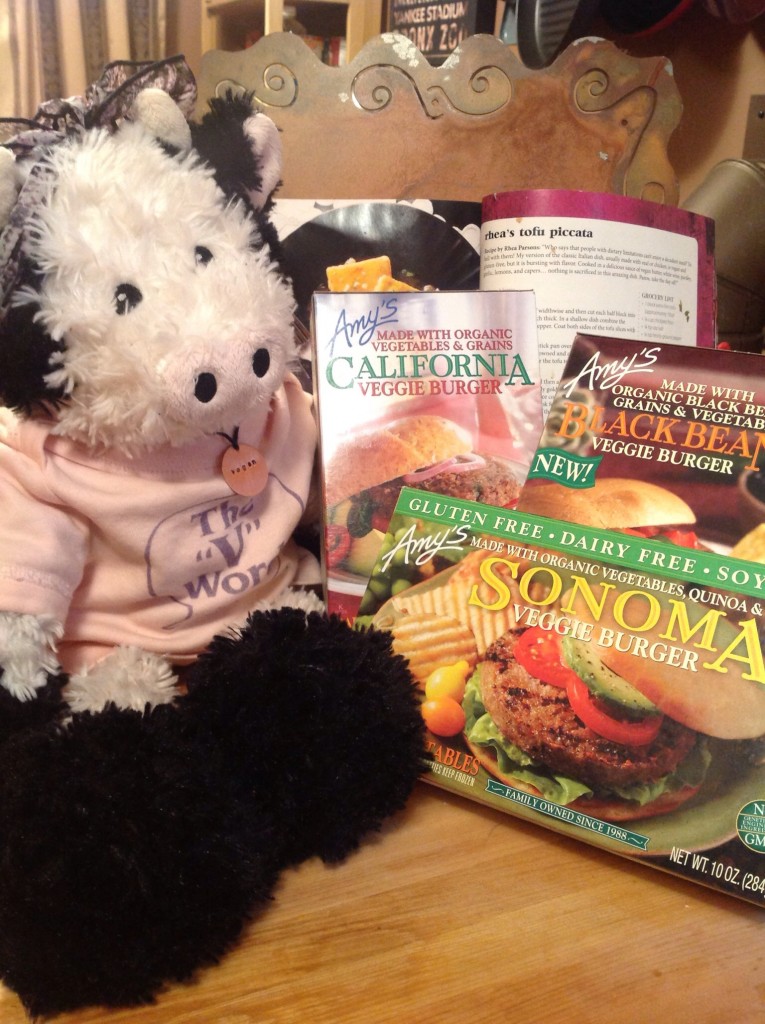 The burgers are all delicious. My favorite is the Sonoma burger that is made with organic veggies, mushrooms and quinoa. It taste fresh and healthy and so good!
Amy's also makes Veggie Meatballs made from high-protein grains, lentils and Italian spices. Amy's Veggie Sausages have a smoky flavor and are made from grains and vegetables. They are perfect for breakfast or slice them up to top a pizza.
Bowls and Dinners
Everyone loves bowls – everything you want to eat in one bowl. Amy's makes 6 types of bowls including Vegetable Penne and Marinara, Baked Ziti, Brown Rice and Vegetables, and a Teriyaki Bowl.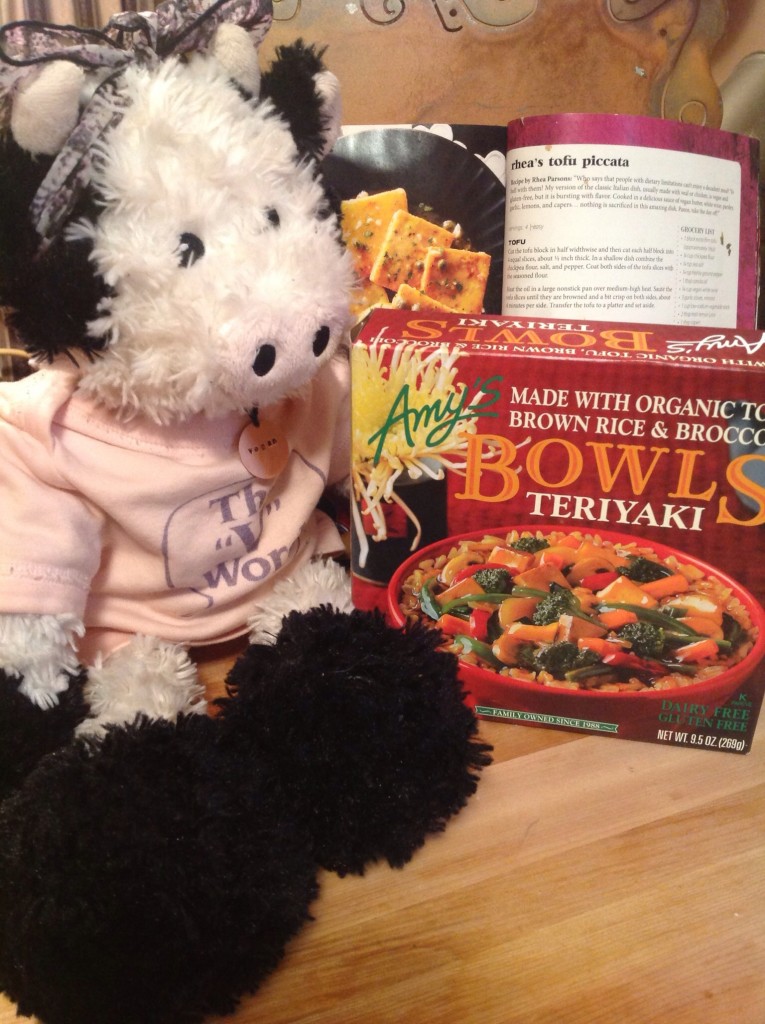 The Teriyaki Bowl is a combo of organic tofu, broccoli and brown rice made in a traditional Japanese recipe. The rice is fluffy, the veggies are fresh and crisp and the tofu is marinated in zesty spices. It's amazing.
Amy's offers a multitude of dinners including a veggie loaf with mashed potatoes and veggies, black bean enchiladas, Shepherd's Pies, Pot Pies, Mexican Tamale Pies, Indian dishes, Asian dishes, tofu scrambles and even Macaroni and Cheeze made with organic rice pasta and vegan cheese.
I got to try Amy's Light & Lean Quinoa & Black Beans with Butternut Squash & Chard dinner bowl. It was inspired by Amy's aunt who often makes this meal from scratch. It's simple food made simply delicious. It's another of Amy's gluten-free options.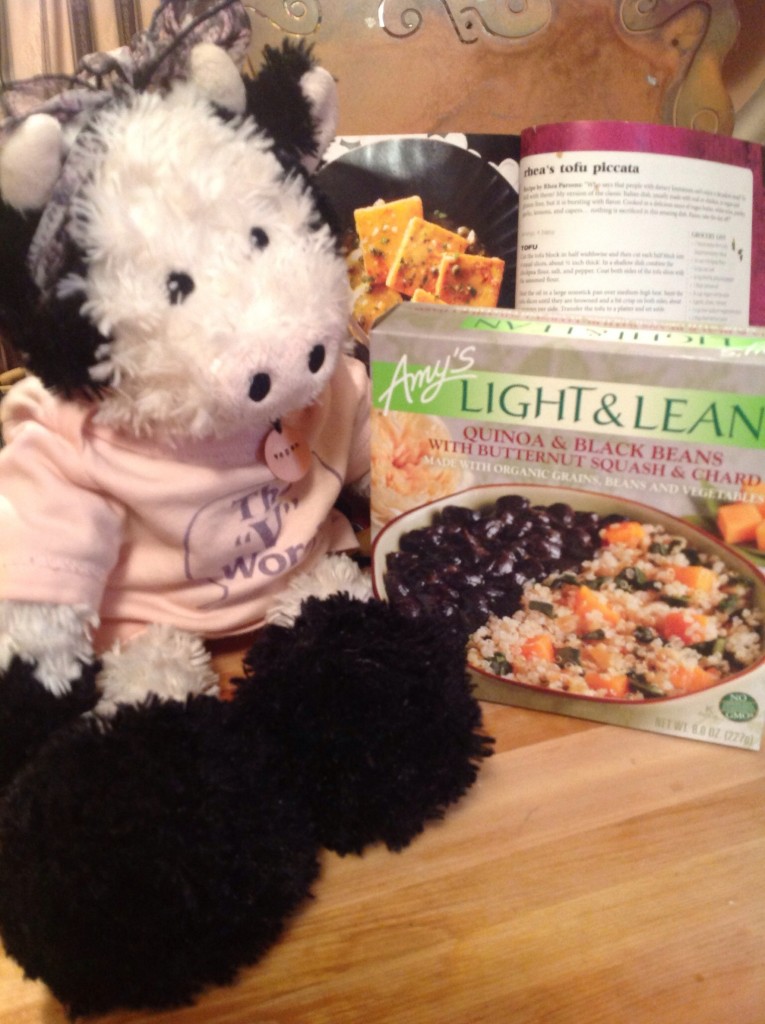 Amy's Red Thai Curry is another delicious bowl. Made with organic veggies, sauteed onions, broccoli, carrots, tofu and butternut squash, it has authentic Thai spices and a curry sauce made with coconut milk. It's served with jasmine rice and is gluten-free.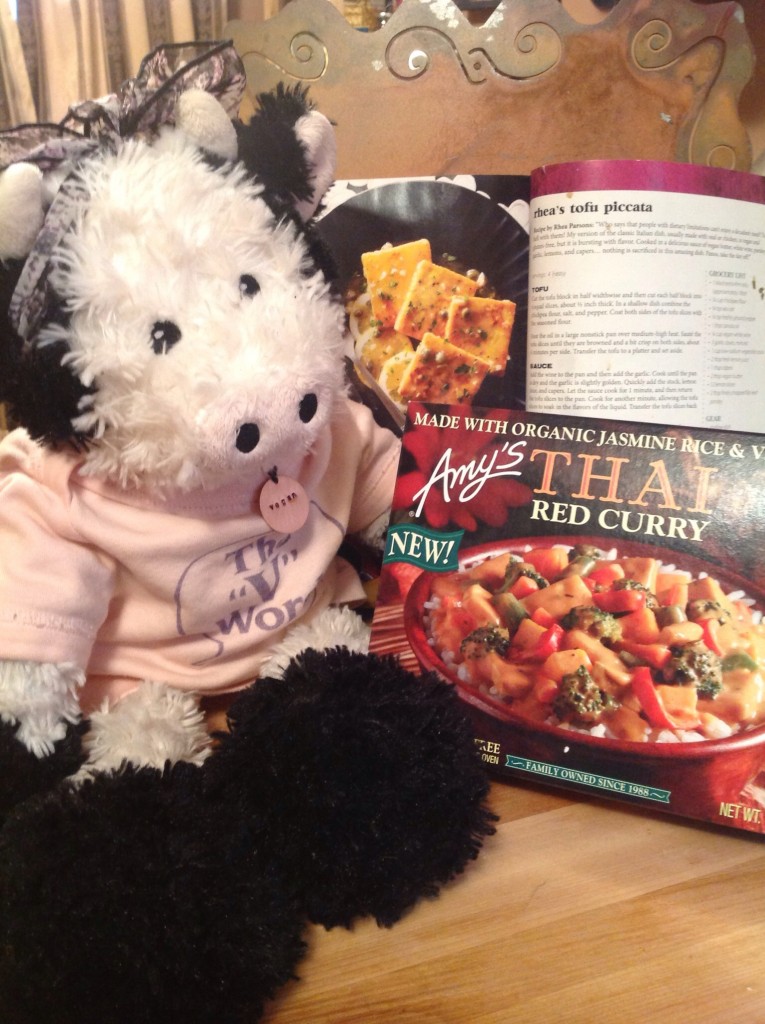 Pizza
Amy's makes 3 types of vegan pizza: Roasted Vegetable Pizza, Vegan Margherita and a gluten-free Rice Crust Spinach Pizza. They also make them in single-serve sizes and a light & lean version.
The Light & Lean Roasted Vegetable No Cheese Pizza is a lighter version of Amy's first vegan pizza. The light crust is topped with lots of veggies including caramelized onions, fire-roasted bell peppers, shiitake mushrooms and artichoke hearts. It's a delicious treat you can feel good about eating.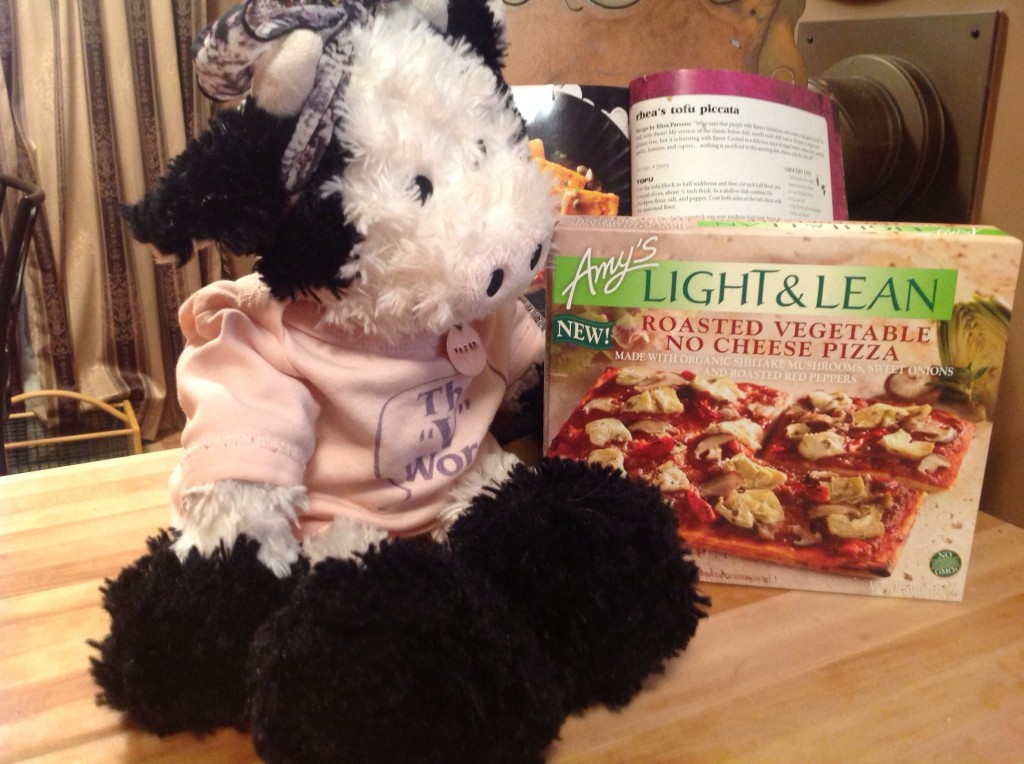 Soup, Chili and Beans
Amy's makes well over a dozen types of canned soups and I'm happy that some of them come in light sodium versions. You can enjoy soups in flavors such as lentil, split pea, minestrone, roasted Southwestern vegetable, black bean vegetable, Tuscan bean and rice, no chicken noodle, vegetable barley, curried lentil, butternut squash, pasta and 3 bean, Spanish rice and bean, Thai coconut and alphabet soup.
I tried the Indian Dal Golden Lentil Soup and the Light Lentil Vegetable Soup. They were both delicious with tons of flavor and the sodium level was right for me. I even shared some of the soup with my dog, Benny. He loved them.!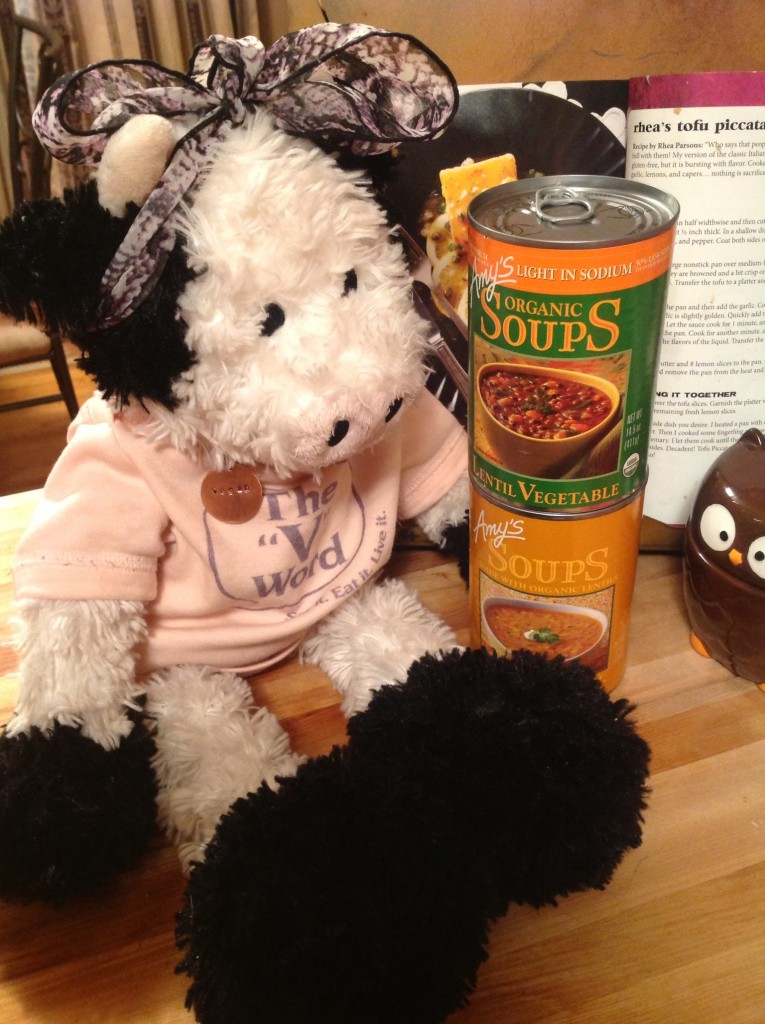 Amy's also makes chili in different heat levels and in low-sodium. I tried the Organic Medium Chili which is made from organic red beans and tofu and a flavorful but not spicy Mexican sauce. Yum!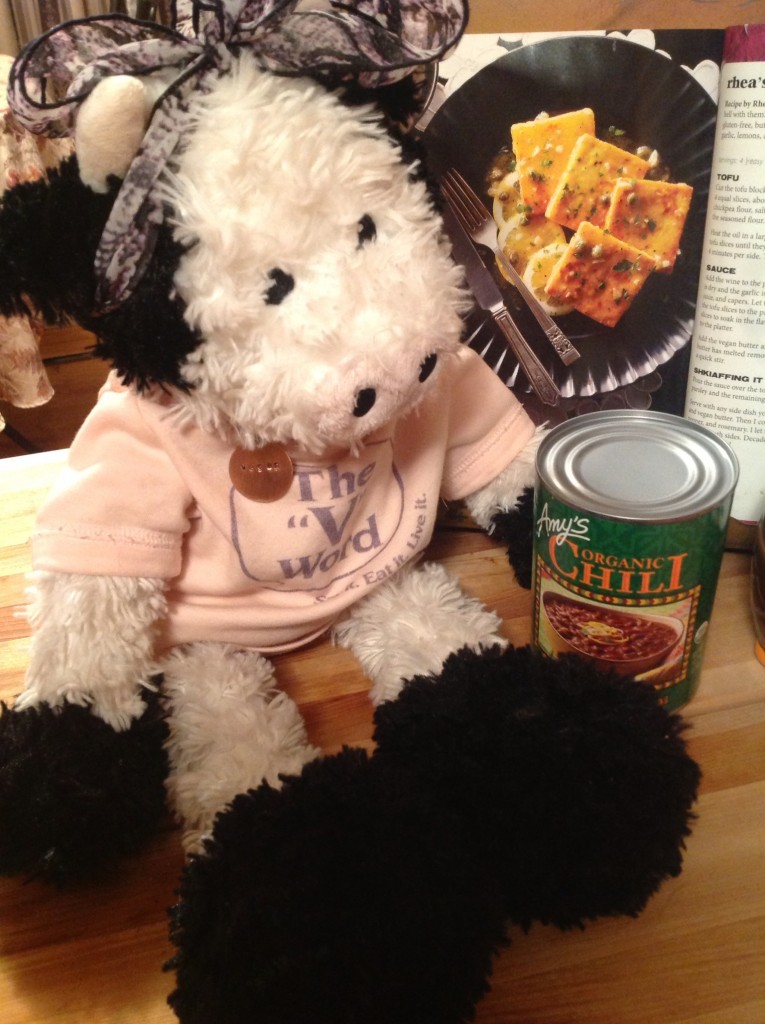 The Mexican feast continued with Amy's Traditional Refried Beans. I had the low-sodium ones and they were so good. Pinto beans made the traditional way but you can also get refried black beans, beans with green chiles or vegetarian baked beans.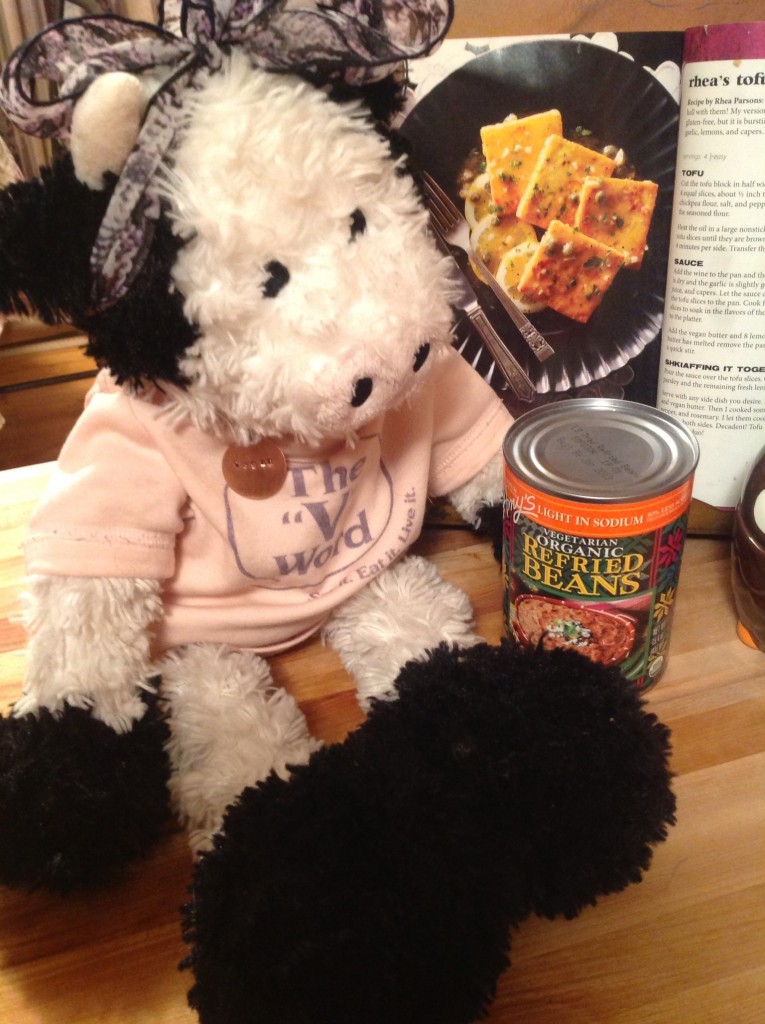 I would have to write forever to keep telling you about all of Amy's incredible products. There are also breakfast items like hot cereal bowls and fruity toaster pops. There are wraps that are great for on-the-go healthy eating. And don't forget dessert! Amy's makes Orange Cake and Gluten-Free Chocolate Cake.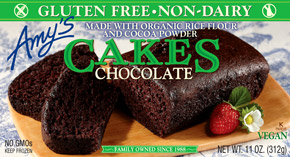 And you can top that cake with one of the 4 flavors of Amy's Frozen Desserts like Mocha Chocolate Chip.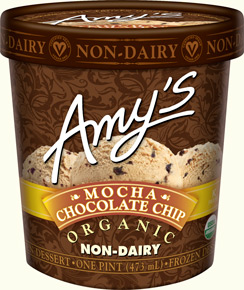 It has been 6 years since I started my vegan journey and Amy's was there at the beginning of it to make it easier for me. Amy's is still here for me with more delicious, vegan products than ever. Be sure to check out their web site for all of their amazing products, store locations and recipes.
Thank you Amy's (and Rachel, Andy and Amy) for all the delicious vegan food and the help along the journey! 
Be sure to visit The "V" Word every day this month for VeganMoFo and more vegan products that I love (and recipes).

The "V" Word: Say it. Eat it. Live it. 
(Visited 1,259 times, 1 visits today)