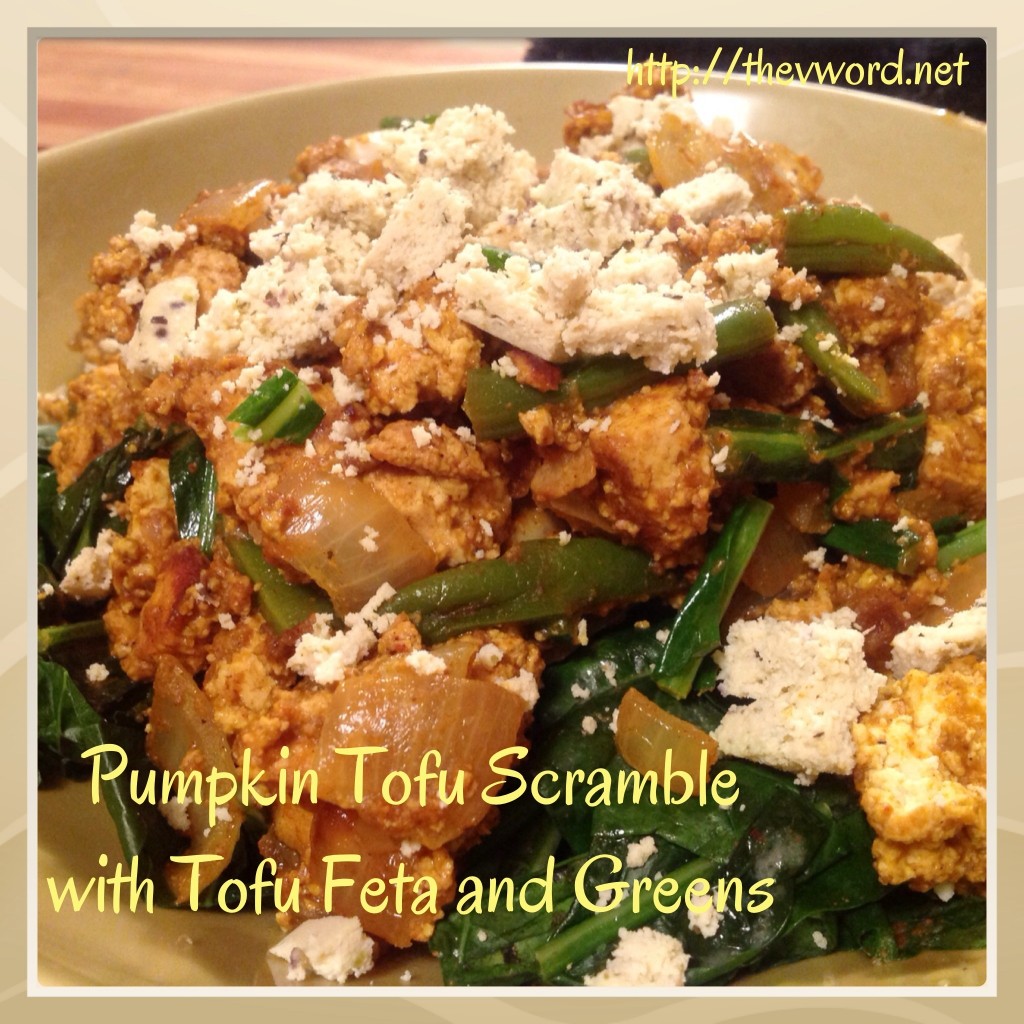 It's October! October is my favorite month of the year. The weather is cooler and the leaves are turning to all my favorite jewel-toned colors: orange, green, brown, red and purple (hey, there are purple leaves!).
It's the month of Tom's and my anniversary. This year will be 10 YEARS since we met in my beloved Manhattan!! And 6 years since we got married in beautiful Wilmington, NC. Tom likes to joke about how I warned him that I rarely dated anyone for too long. I usually got bored and sick of the guy at about 18 months and he's 8 1/2 years past that. 🙂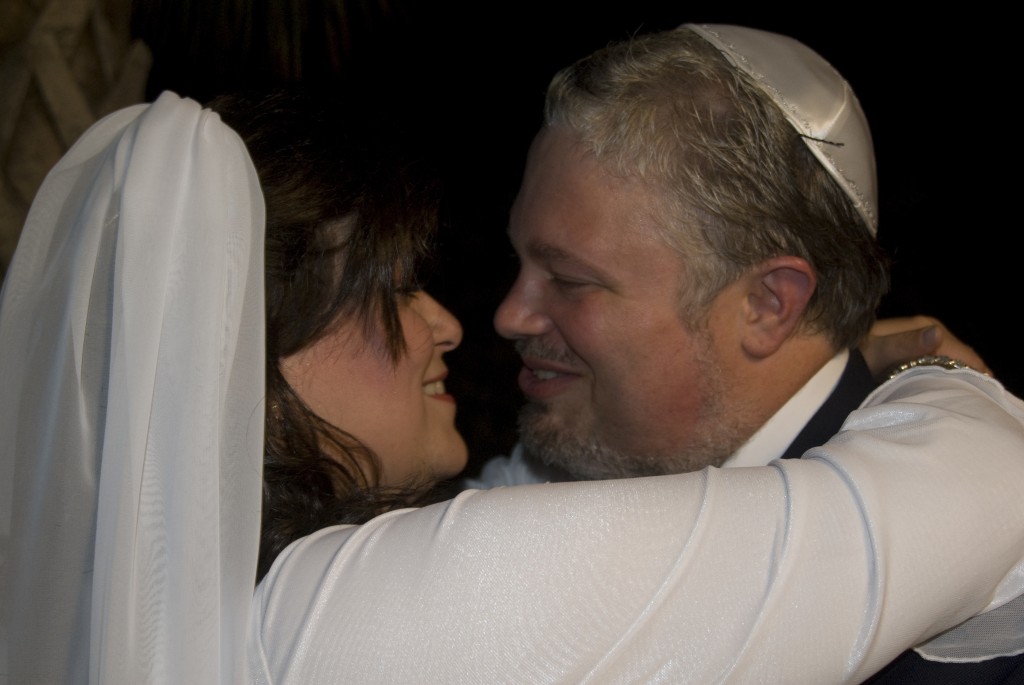 October is also a month of doggie love. While I may have gotten Poochie in September 1992 (and lost her in September 2006), Tom met Poochie in October. He had to pass "The Poochie Test" if he wanted a 2nd date. He showed up with a purple elephant toy for her and won her over.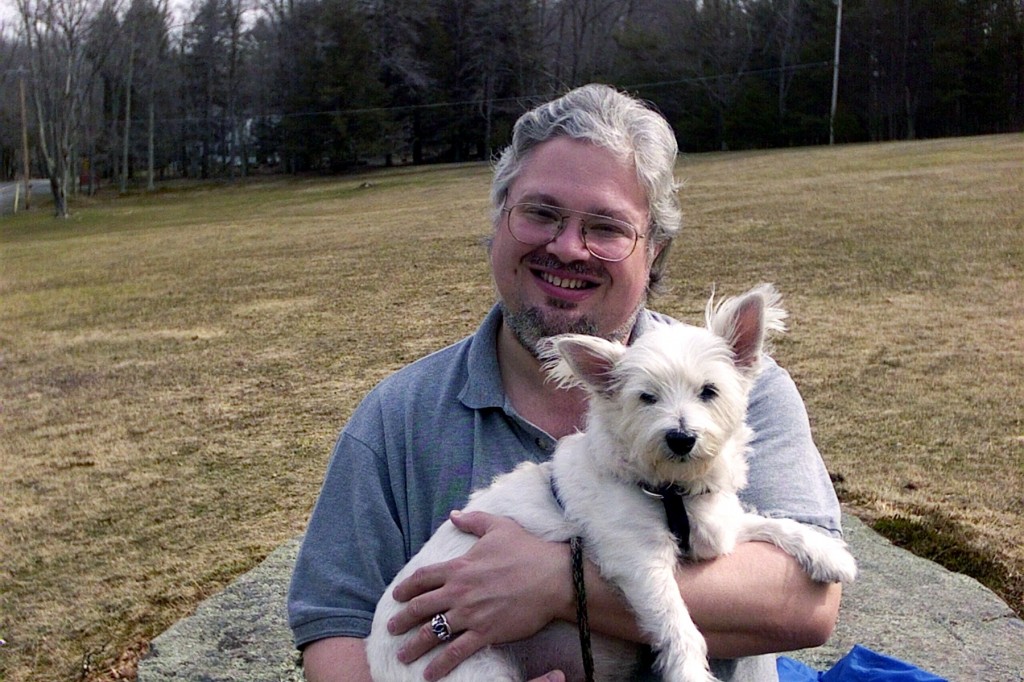 Tom and I rescued Benny in October 2006 and he was the Best Man at our wedding a year later. We even got Trudy, The "V" Word spokescow, in October last year.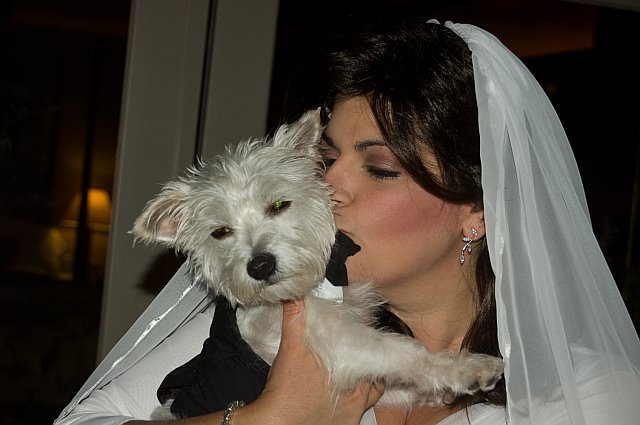 And let's not forget the food of fall. It's time for squash, winter greens, hearty stews, warming soups and PUMPKINS! Yes, now is the time of year that we see a million recipes made with pumpkins. I've made a lot of recipes that use pumpkin but not a tofu scramble. I decided it was time to fix that.
I used a box of Pumpkin Puree from Pacific Foods. Pacific makes some of my favorite items: vegetable broths, non-dairy milks, beans, soups and more. Trudy was very excited about the pumpkin puree.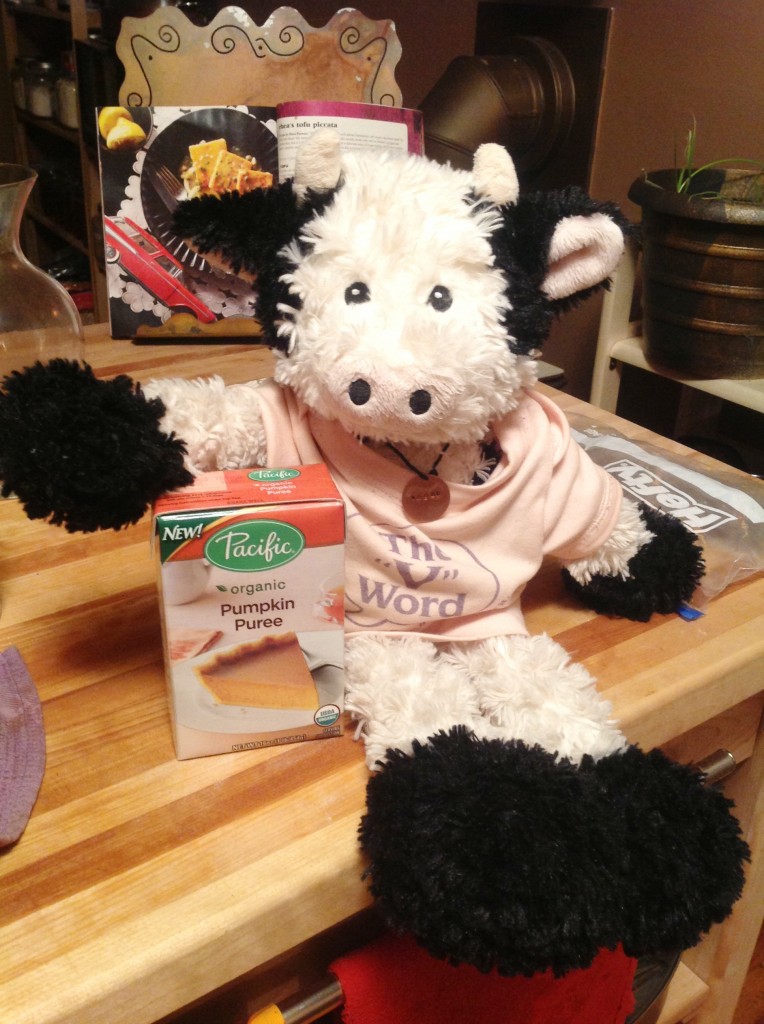 I added the pumpkin to the tofu scramble along with sage and pumpkin pie spices. This time of year, pumpkin pie spices get used so often that I put together my own blend. Just mix 2 Tbs. ground cinnamon, 1 Tbs. ground ginger, 2 tsp. ground nutmeg, 1/2 tsp. ground allspice and 1/2 tsp. ground cloves and you have about 1/4 cup of pumpkin pie spice! Easy!
Pumpkin goes really well with feta cheese. The salty, tangy cheese balances out the warm, spicy pumpkin flavors. So I added some tofu feta to the scramble which of course, always sits on a bed of steamed greens. It's a rule in my house! 🙂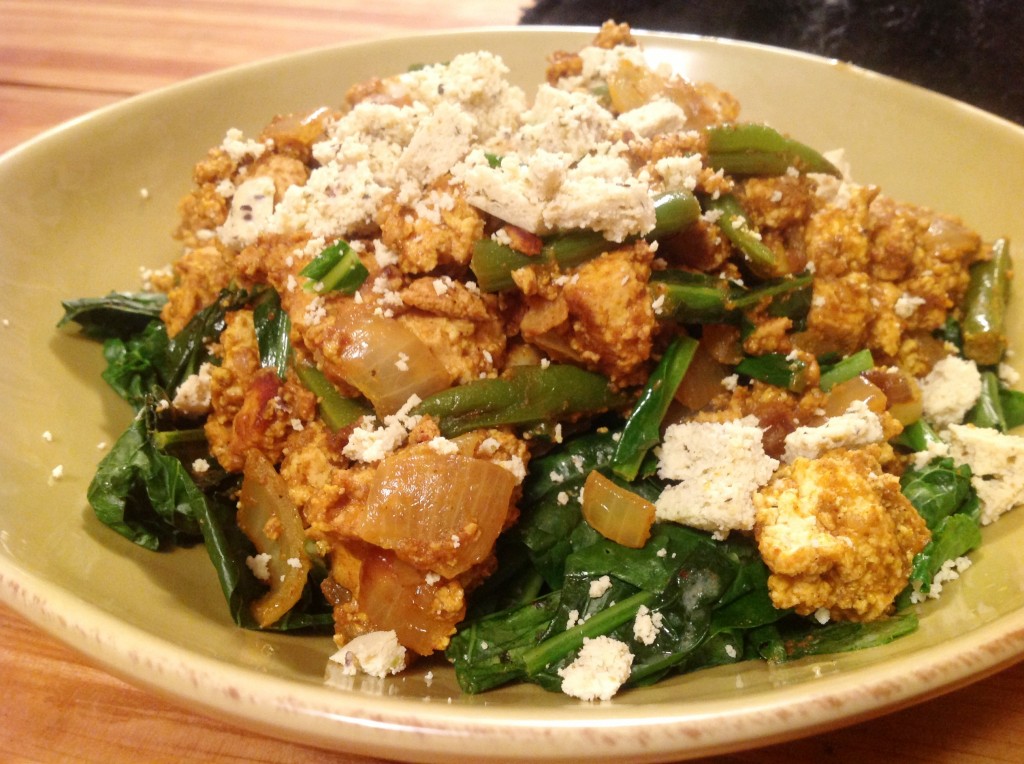 Tom loved the pumpkin scramble. He said it was warm, comforting and so rich in flavor. I think my Pumpkin Tofu Scramble with Tofu Feta and Greens is the perfect way to kick off fall and my favorite month of the year. Enjoy!
Pumpkin Tofu Scramble with Tofu Feta and Greens
GF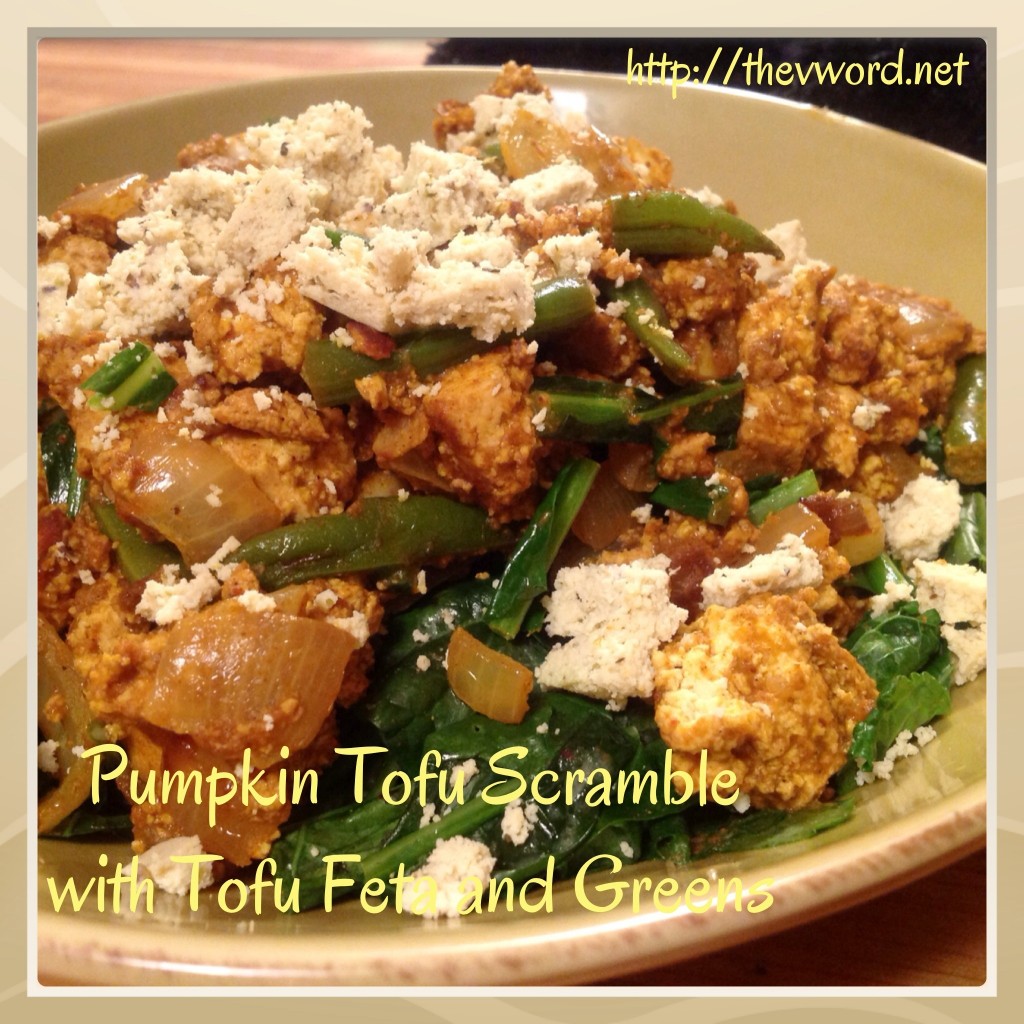 2 tsp. extra-virgin olive oil
1 medium onion, diced
3 cloves garlic, minced
1 block extra firm tofu, drained
1 tsp. black salt
1 tsp. dried sage or 1 Tbs. fresh
1 tsp. paprika
1 tsp. ground cinnamon
½ tsp. ground ginger
¼ tsp. ground nutmeg
¼ tsp. ground allspice
¼ tsp. ground cloves
1/2 tsp. black pepper
1/2 tsp. ground turmeric
1 cup pumpkin puree (I used Pacific Foods)
Water
1 large bunch of collard greens or kale, stemmed and chopped
½ cup tofu feta
In a deep skillet, heat the olive oil and add the onions. Cook about 5 minutes, until softened. Add the garlic and cook another 2 minutes.
Crumble the tofu into the skillet. I like to keep the pieces on the bigger side rather than crumbling it into tiny pebbles. Toss the tofu with the onions and let cook a few minutes. I like to let the tofu get a bit crispy. Add the herbs and spices to the skillet. Mix the tofu until the herbs and spices are incorporated and evenly distributed. The tofu should now look yellow from the turmeric. Mix in the pumpkin puree and be sure to coat all the tofu. Add about ¼ cup of water to the skillet and continue to toss the tofu scramble. The water helps the spices blend so you don't get that dried spice taste in your mouth. Bleh!
Add the collard greens or kale and another ¼ cup of water to the skillet. Cover and let the greens wilt a bit, about 5 more minutes. The greens will look bright green. Uncover transfer the greens into bowls. They will be a bed for the tofu scramble. Spoon the tofu scramble over the greens and top with tofu feta cheese. Serve while hot.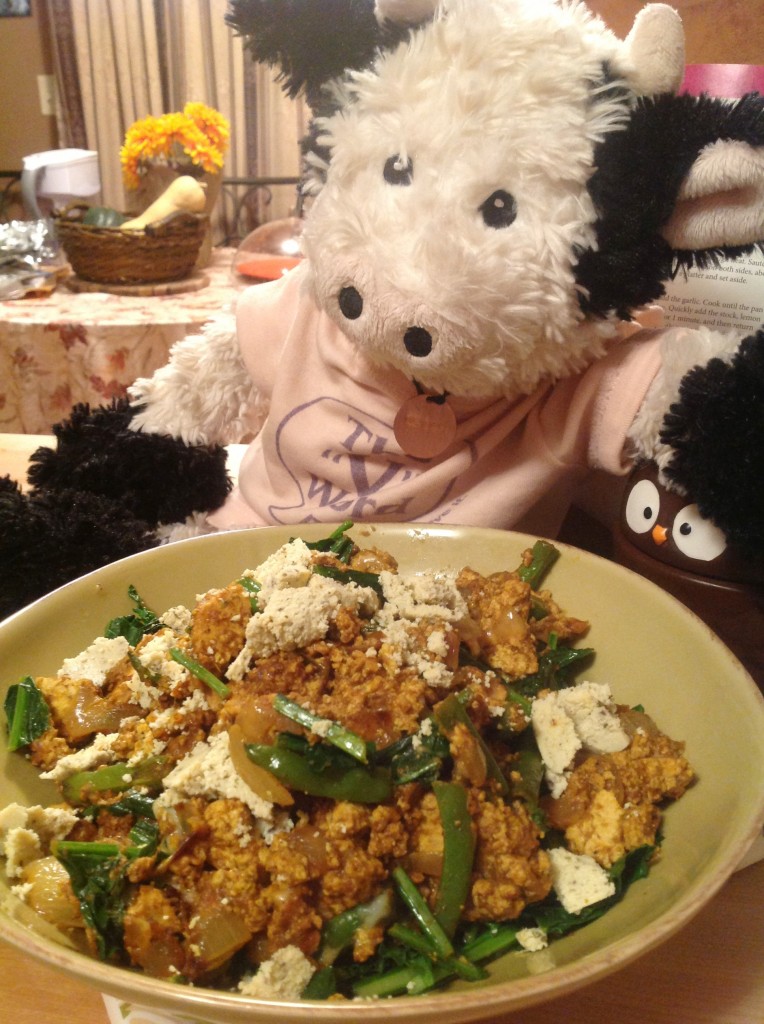 The "V" Word: Say it. Eat it. Live it.
(Visited 1,418 times, 1 visits today)