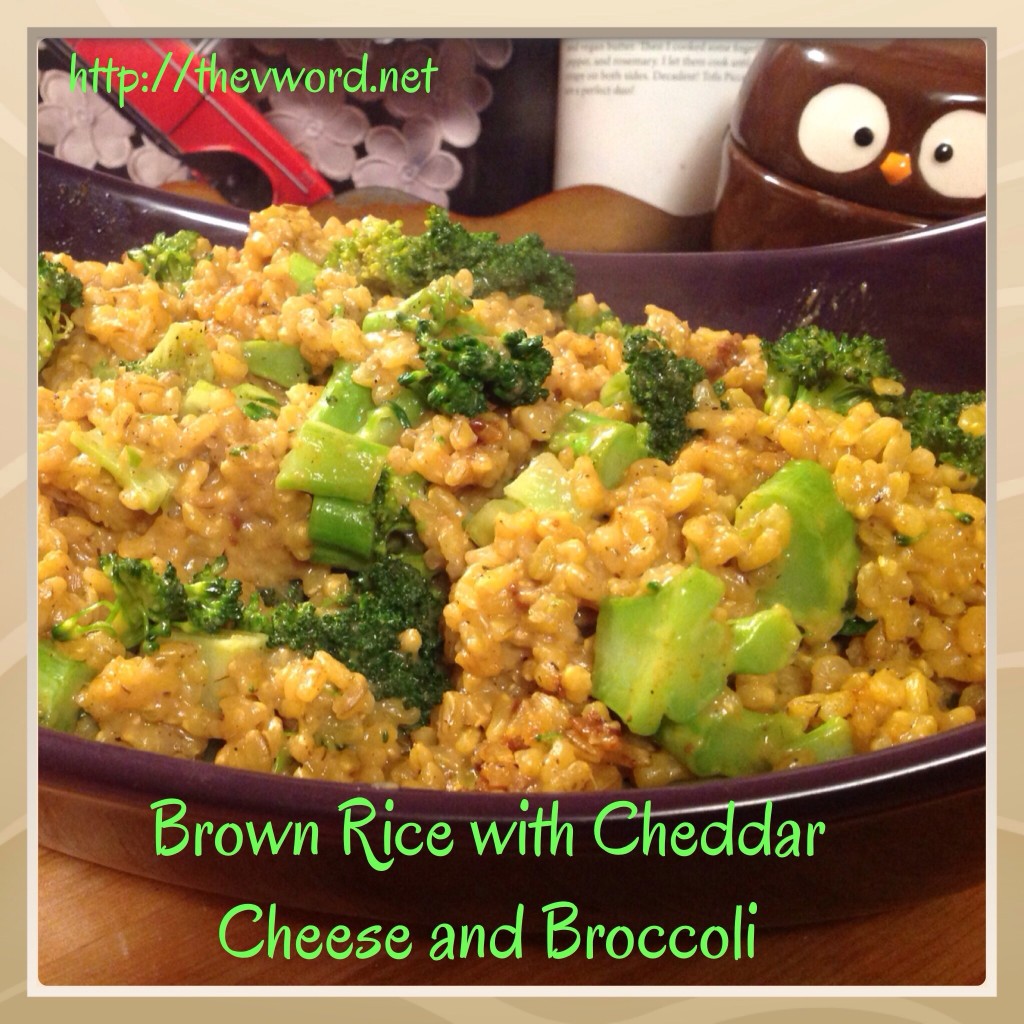 As many of you know, I didn't cook much before I became vegan. Most of my meals were take-out or eaten out. When I did cook, my version of "homemade" involved a lot of boxes and envelopes. My vegetables were the frozen kind that came with the little packet of sauce. My mashed potatoes came in an envelope; just add water. And my favorite thing, the rice, came in a box where I boiled the bag and added the sauce. Mmm….cheesy rice with broccoli and by broccoli, I mean the little green specks that I suppose let them legally label it as containing a vegetable.
A few weeks ago, I had a craving for that rice. Yes, even after almost 5 years vegan, I still get cravings for the foods I used to eat. That's ok. Cravings are ok, it's what you do about them that matters. When I get a craving, I just make a vegan version of what I used to eat.
So I had to create my own version of cheesy rice with broccoli that would be vegan and much healthier than the old kind. This is really easy since making vegan cheese sauce is a snap…as long as you have a yummy vegan cheese. That's where Vegan Gourmet comes in.
Vegan Gourmet is from the Follow Your Heart company. You all know Follow Your Heart – they are the makers of Veganaise, probably everyone's 1st vegan mayo and winner of VegNews 2013 Veggie Award for Readers' Favorite Condiment (Congrats!!!). They also make dressings, cream cheese, and specialty spreads. And vegan cheese shreds.
Vegan Gourmet Cheese Shreds come in Mozzarella, Cheddar and Fiesta Blend flavors. They are vegan, soy-free, gluten-free and non-GMO certified.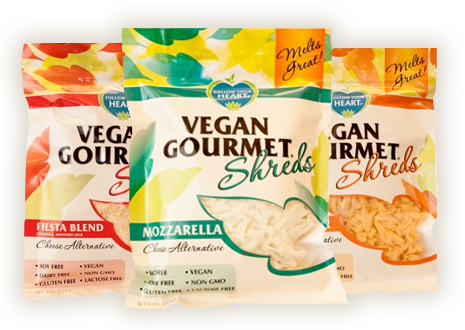 And they melt. 
That's super-important. There are a lot of vegan cheeses out there but they don't all melt that well. Vegan Gourmet Cheese Shreds melt beautifully and they have a real authentic taste. The Fiesta Blend tastes spicy and zesty, the Mozzarella is creamy and the Cheddar is tangy.
In addition to this recipe for cheesy rice, I used Vegan Gourmet Cheddar Shreds in my Cauliflower Cheddar Gratin that is in The "V" Word Cookbook: Holiday Edition.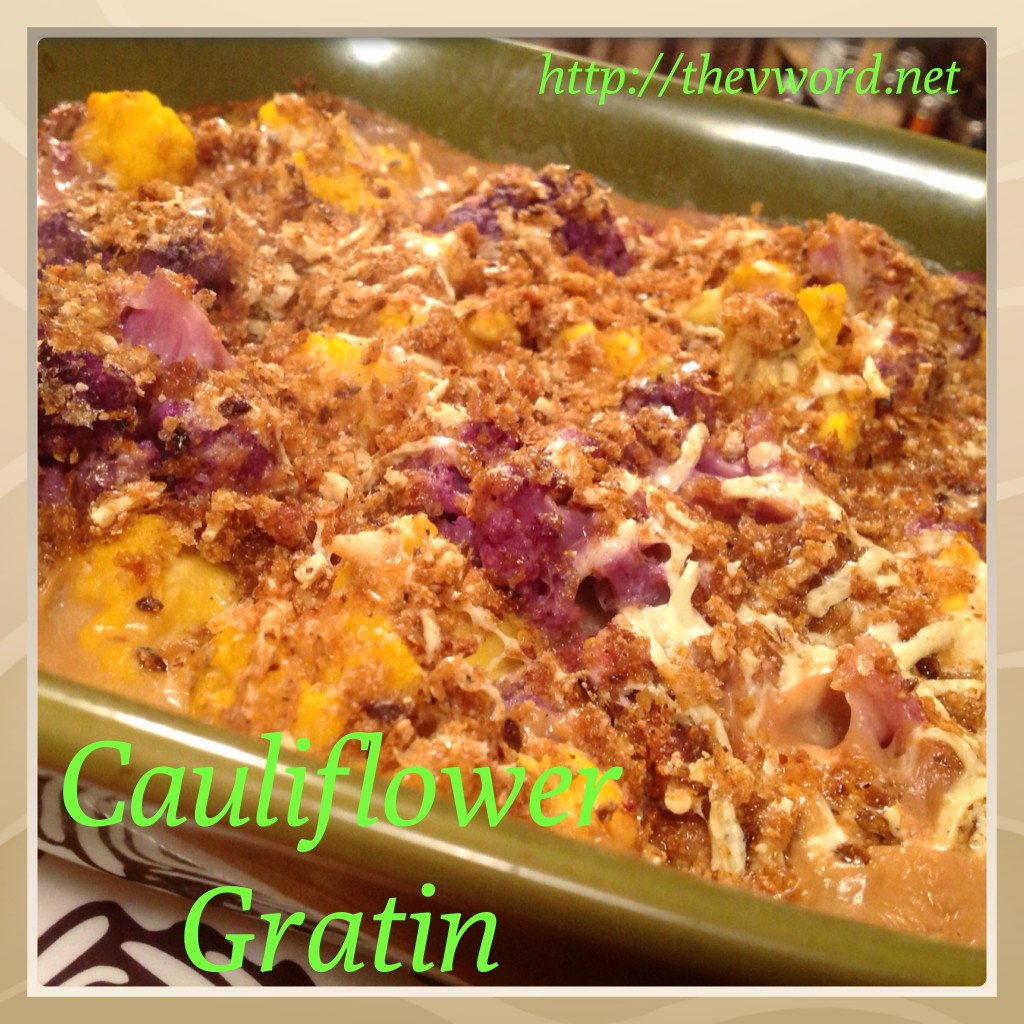 But before we get to the recipe, let's address the orangutan in the room: palm oil. Many people avoid buying products that contain palm oil because of the devastation caused by deforestation to source palm oil. Follow Your Heart has made an environmental commitment to "not use palm oil grown in any area that could negatively impact orangutans."  They further state
"Our palm oil supplier is one of the only global suppliers of organic and fully identity-preserved crude palm oil. They are a family-owned company and have never done any primary forest clearance in order to create new agricultural developments. Their palm oil farms are 100% organic and over 65% Rainforest Alliance Certified already, and they plan to be 100% Rainforest Alliance Certified also by early 2014." 
For more information about this, read here or you can contact Follow Your Heart at info@followyourheart.com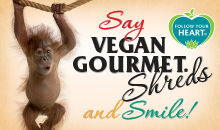 Back to the cheesy rice. It's so simple to make. I just cooked up some brown rice, steamed a whole head of broccoli, florets and stems and made a delicious cheese sauce. It's so quick and easy, no one should ever buy pre-made cheese sauce again. Just make a roux with flour and milk, melt in the cheese and add seasonings. That's it.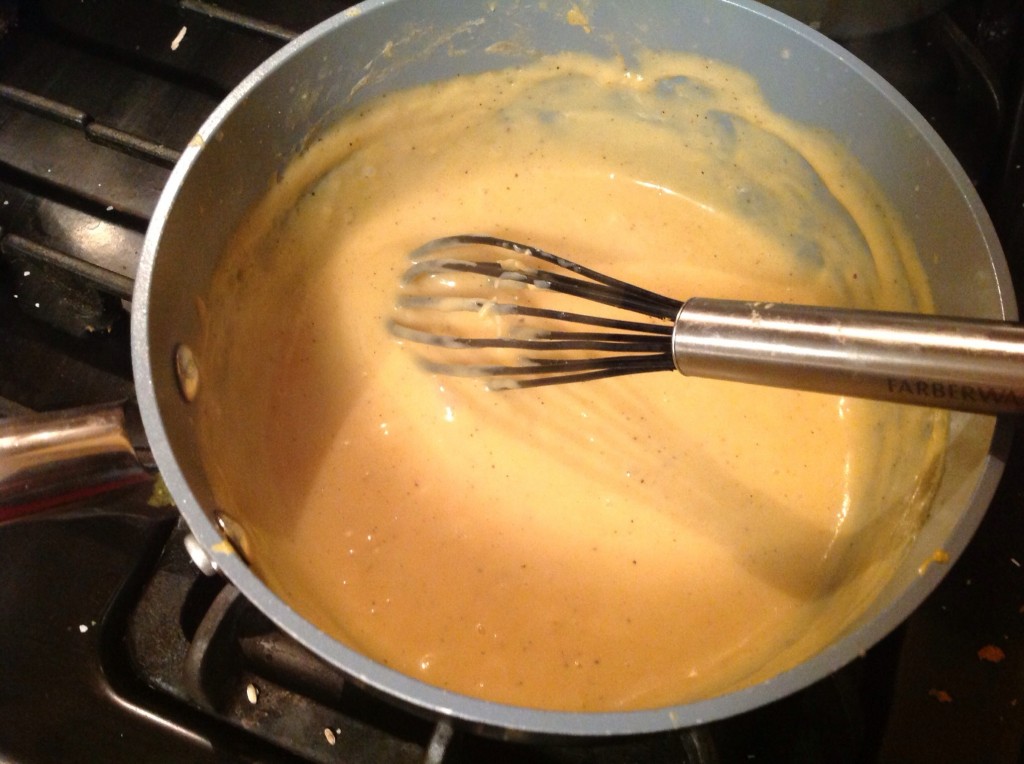 Toss it all together and you have the most decadent, creamy and satisfying dish that will take you right back to your childhood…if you ate cheesy rice in your childhood. I didn't so for me, it takes me back to those meals I considered homemade before I knew better.
My Cheesy Rice with Broccoli is so amazing, it can be a side dish or the main dish. It's because I can satisfy my cravings with delicious, cruelty-free options like this that I not only don't fear my cravings, I welcome them. They lead me to be creative, resourceful and oh, so satisfied! Enjoy!
Check out the Follow Your Heart web site and "like" them on their Facebook page.
Cheesy Rice with Broccoli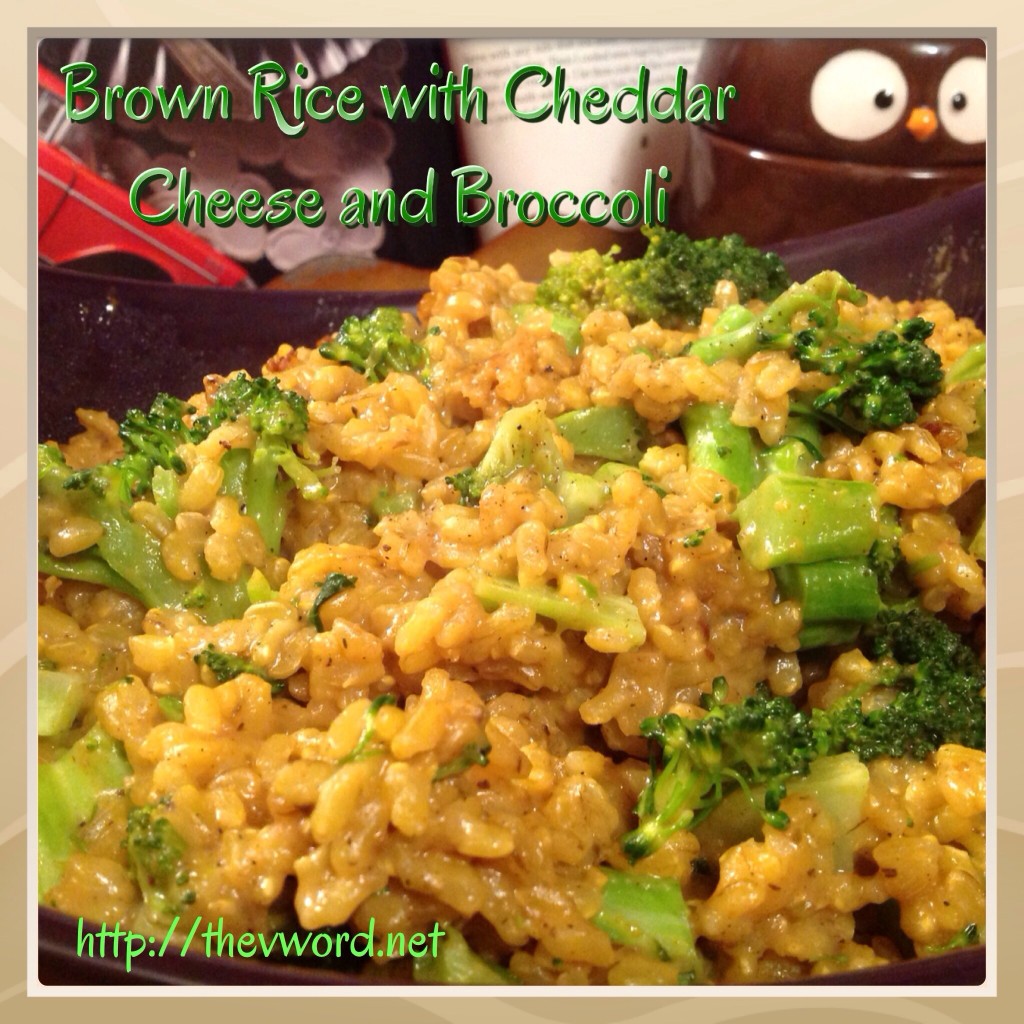 GF, SF if using soy-free cheese, milk and butter
For the rice and broccoli­­­­­­­­­­­­­­­
2 tsp. olive oil
½ red onion, diced
Kosher salt
2 cups brown rice
4 cups water
1 head of broccoli
For the cheese sauce­­­­­­­­­­­­­­­
2 Tbs. V-Butter or vegan butter
2 Tbs. chickpea flour
2 cups non-dairy milk, warm or room temperature
Kosher salt and black pepper to taste
A pinch of nutmeg
1 cup Vegan Gourmet Cheddar Shreds
1 tsp. Dijon mustard
Heat the oil in a large saucepan over medium-high heat. Add the onion and a pinch of salt and cook for 3 minutes until softened. Add the rice and cook for a couple of minutes until it looks chalky. Add the water, stir and bring the water to a boil. Cover the pot, lower the heat to low and simmer for 30 minutes or until the water is absorbed.
While the rice is cooking, cut the head of broccoli, both stem and florets, into bite-sized pieces. When you cut the stem, trim off the outermost layer which can be tough. Two minutes before the water is absorbed, add the broccoli to the pot with the rice to steam. Then turn off the heat and let the rice and broccoli sit in the covered pot for 10 minutes.
Heat the butter in a medium-sized saucepan over medium-high heat. Add the flour and whisk until combined. Let the roux cook for 1 minute to get rid of the flour taste. Whisk in the milk and keep whisking until all of the roux is dissolved. Let it cook over medium heat. It will thicken a bit. Add salt and pepper to your taste as well as a pinch of nutmeg. Now you have a béchamel sauce.
When the béchamel sauce is thicker and hot, turn off the heat and add the cheese. Stir to melt the cheese and then add the mustard. Taste for seasoning.
Add the cheese sauce to the rice and broccoli. Mix well to combine. Serve while hot.

The "V" Word: Say it. Eat it. Live it. 
[amd-zlrecipe-recipe:13]
(Visited 3,307 times, 1 visits today)