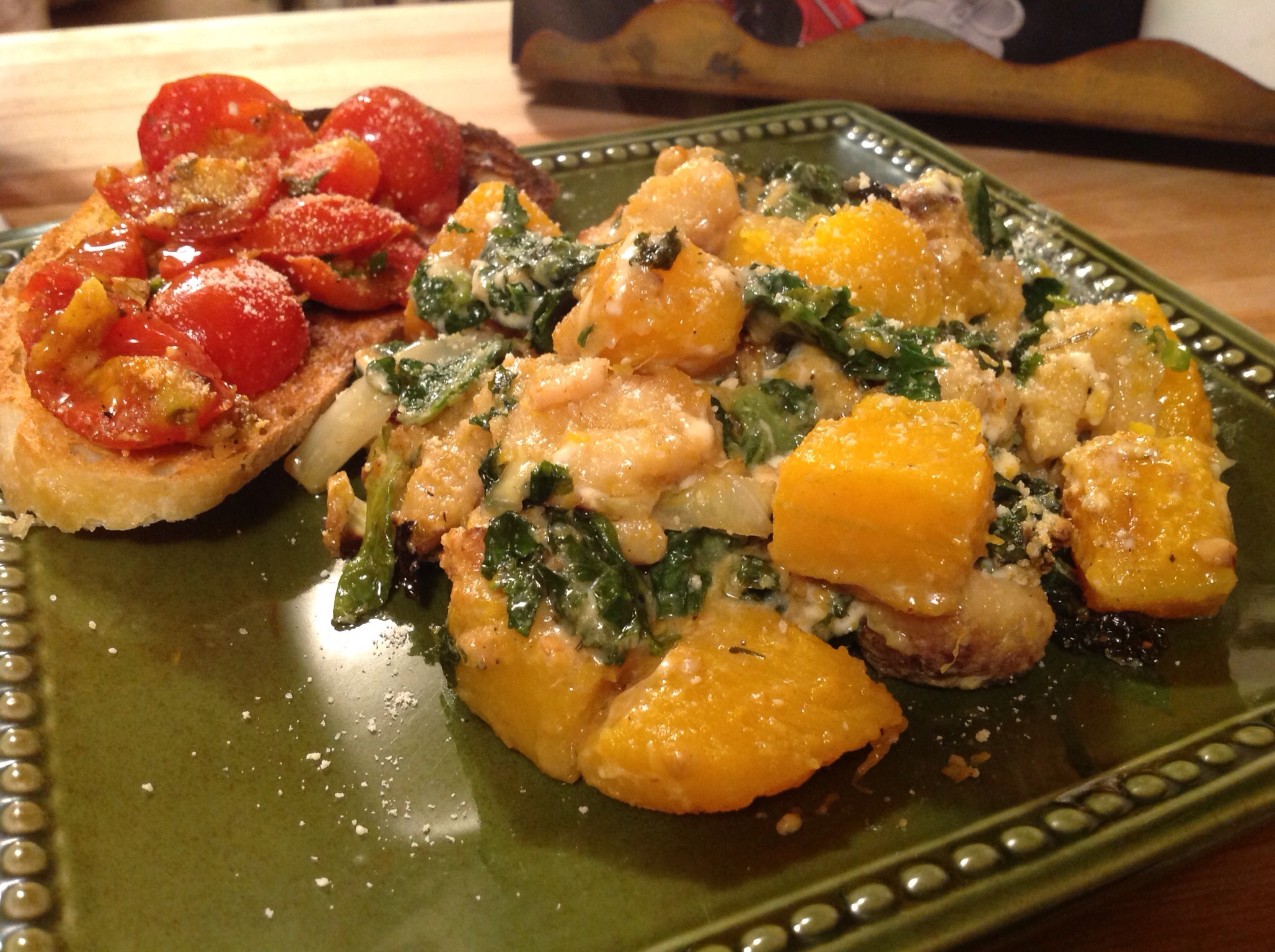 If someone offered me a lifetime supply of one product, it would be an easy decision: Go Veggie! Dairy-Free Grated Parmesan. That's the one. Go Veggie!, please deliver a case of this each month and I'll try not to run out before the month is over.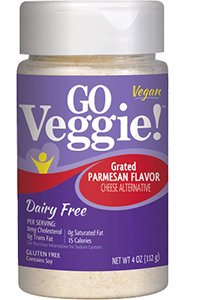 I know cheese is that thing that so many people think they can't live without and is a big hurdle towards getting them to become vegan but not me. I was never a big cheese lover except for 2: mozzarella and grated parmesan. Growing up, whenever my mother made Italian food, my Dad and I would fight over the stringy mozzarella that clung to the aluminum foil. Later when I shopped for my own home, I always bought a container or two of grated parmesan from the Italian deli. Every week.
So yes, I love parmesan cheese and I did miss that when I became vegan. Like most vegans, I started using nutritional yeast to sub for the cheese but (1) it doesn't taste like parmesan at all and (2) nutritional yeast makes me really sick. I know! How can I be vegan without nooch? And most vegan alternatives for grated parmesan have nutritional yeast in them. Except Go Veggie! Plus, it actually tastes the closest to dairy parmesan than any other vegan alternative I've tried, including homemade with cashews.
Go Veggie! not only makes vegan grated parmesan (which is in a large fraction of my recipes) but they have a whole line of dairy-free cheeses that come in blocks, slices and shreds. The blocks come in mozzarella and cheddar flavors.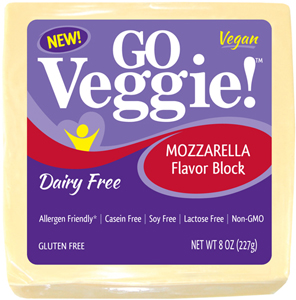 The shreds come in mozzarella and Mexican flavors.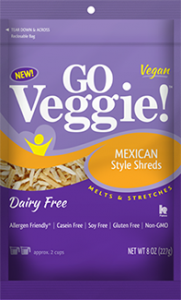 The slices come in American, cheddar, mozzarella and my personal favorite, Pepper Jack. I used the Pepper Jack slices along with some of the mozzarella shreds to make a spicy vegan sausage pizza that was soooo good!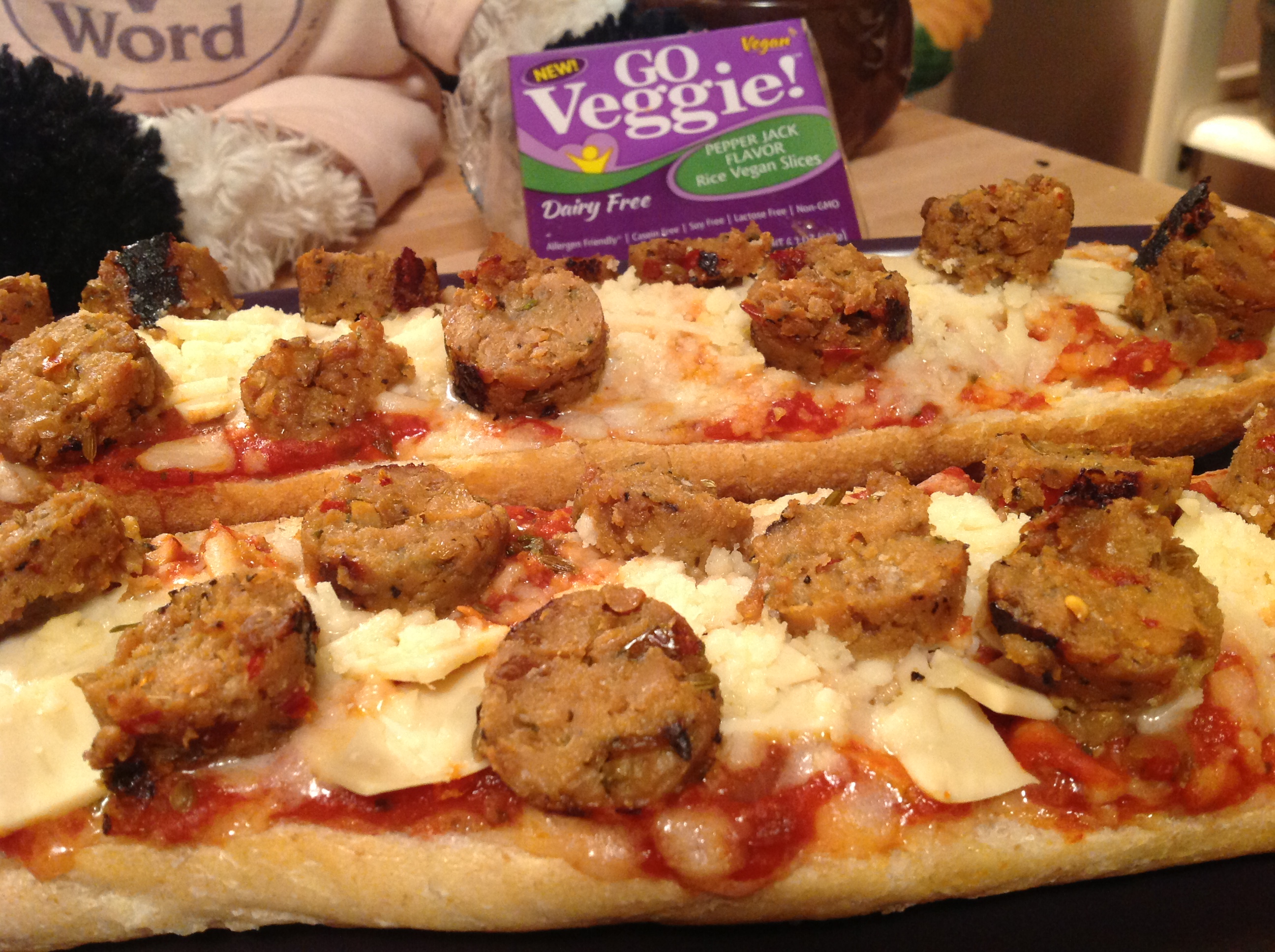 Oh, and Go Veggie! also makes delicious vegan cream cheese in 3 flavors: Original, Garlic & Chive and Strawberry.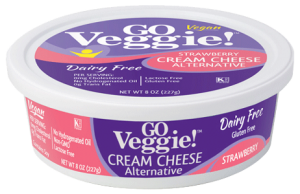 I use the Original flavor when I make my Maple Cream Cheese Frosting for my carrot cake. And I have plans for the strawberry – you'll have to be patient for that one.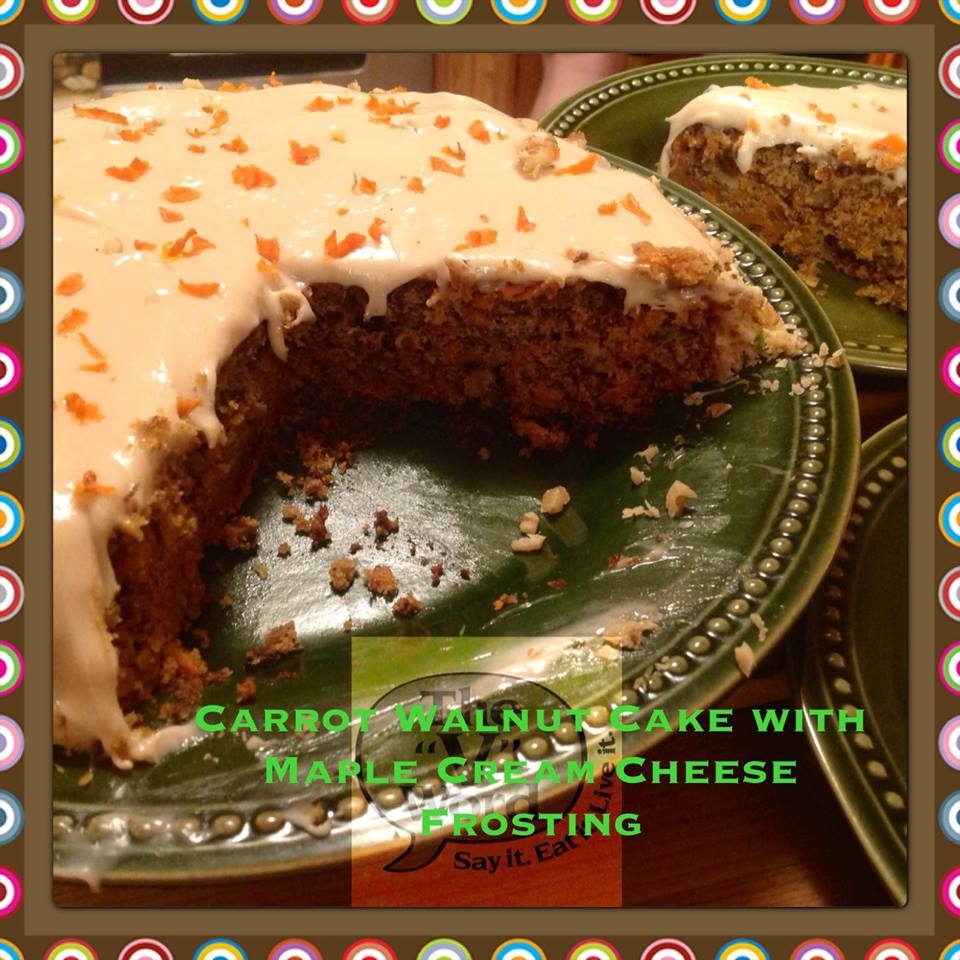 It's easy to come up with recipes that use vegan cheese but I wanted to create a couple that would really highlight my favorite Go Veggie! product: the grated parmesan – which is Trudy-approved, by the way. 🙂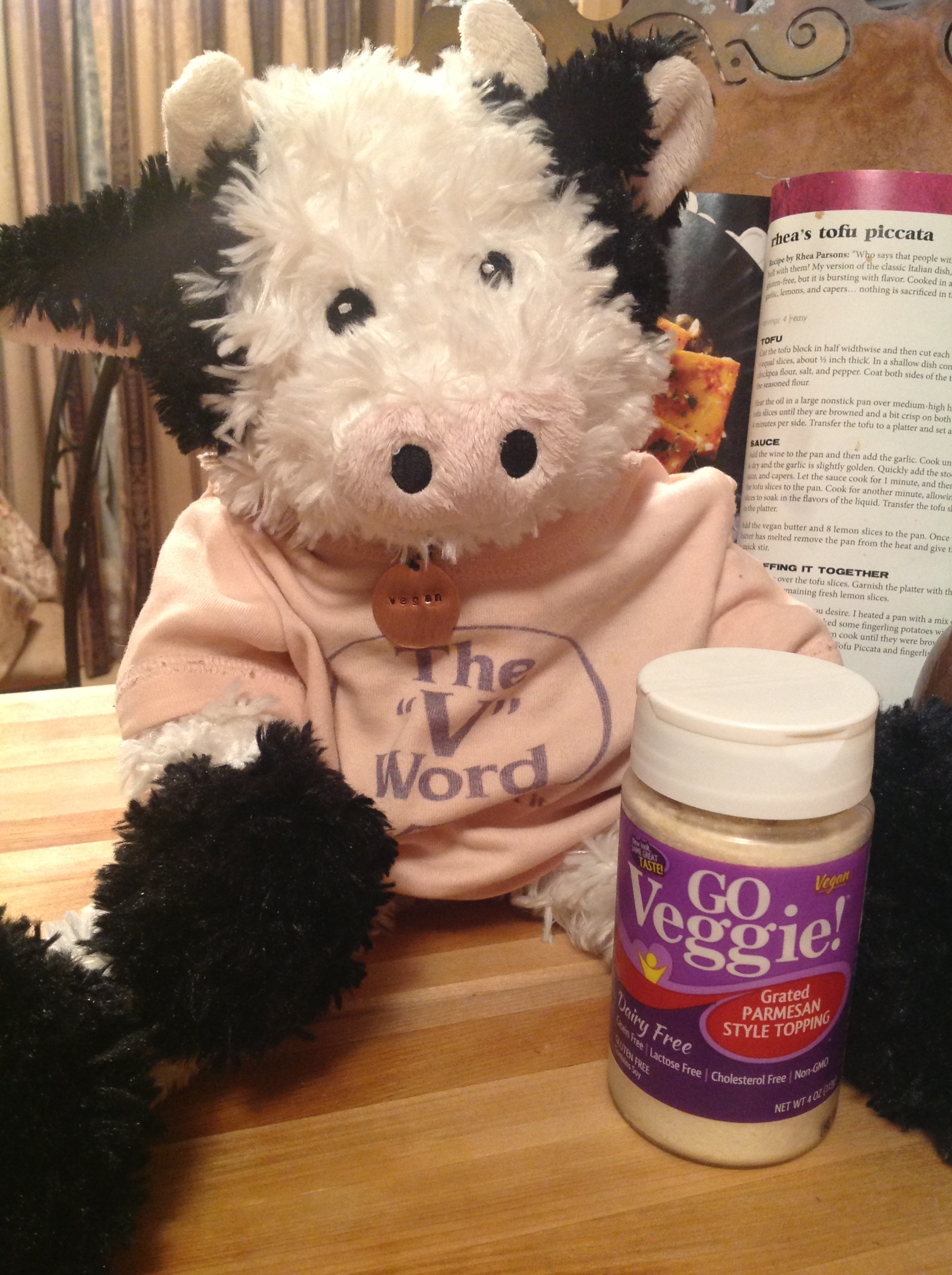 First, I made the most incredible appetizer: Garlic Tomato Bruschetta. OMG, I wish I had another plate of this right now!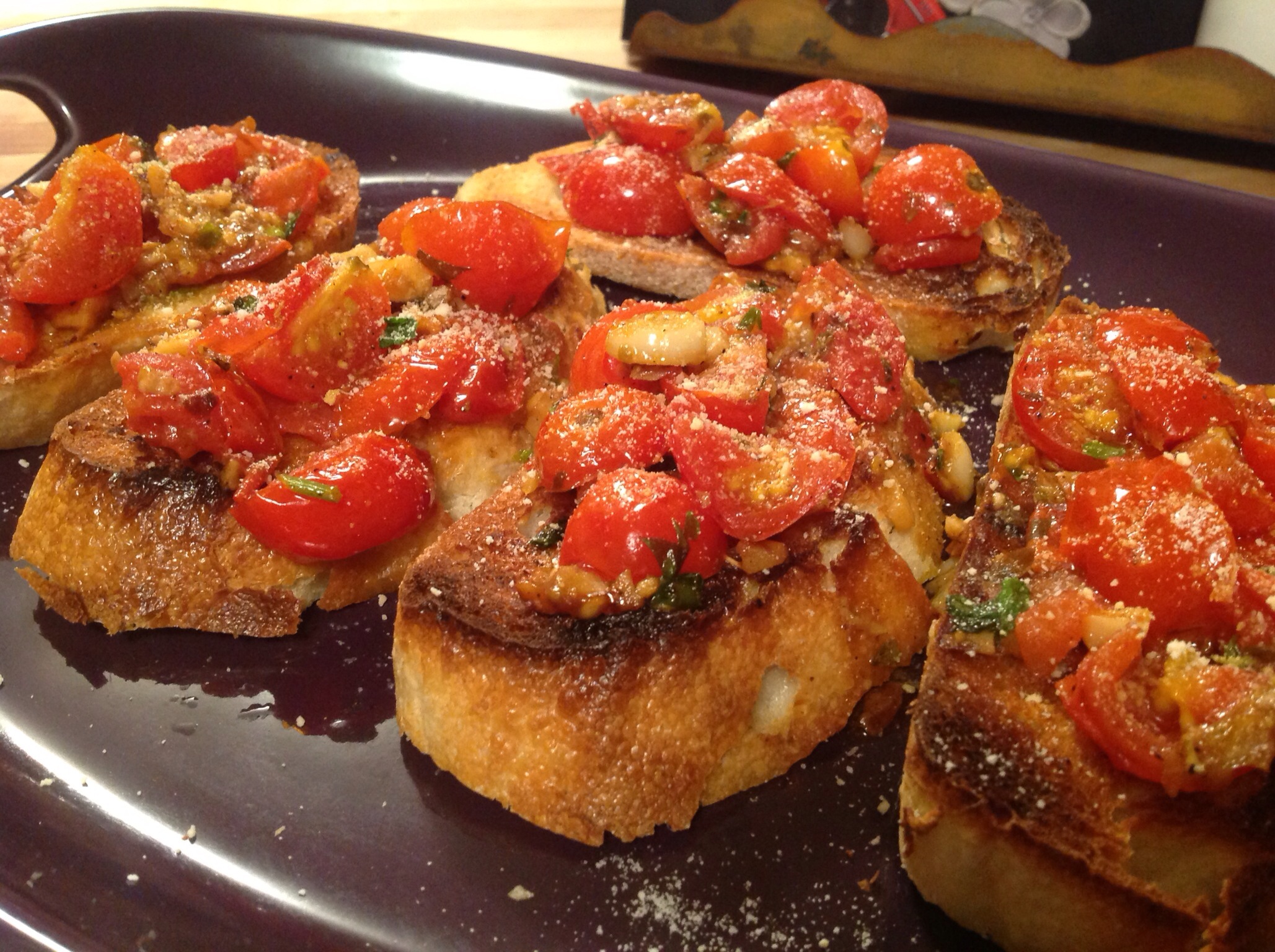 I toasted slices of Italian bread that were drizzled with extra-virgin olive oil. While they were toasting, I sauteed up some halved grape tomatoes in garlic oil. I topped the bread with the garlicky tomatoes and then sprinkled, ok, doused, them with Go Veggie! grated parmesan. It was so crunchy, garlicky and amazing. I told Tom that I could live on this dish alone – just give me the bruschetta and some white wine and I'm set.
But that wasn't all. I also made an entree of Gnocchi with Butternut Squash, Kale and Mozzarella.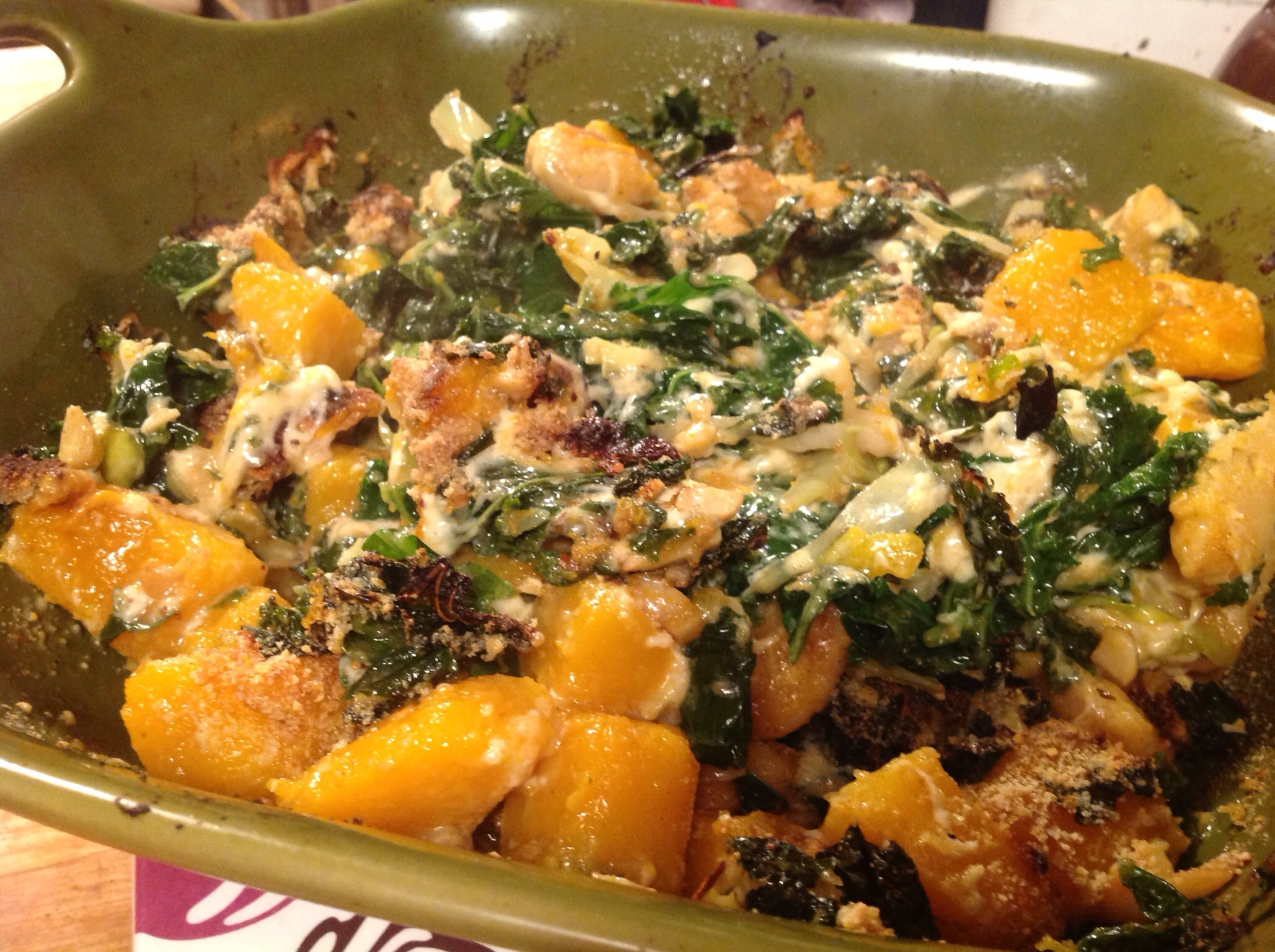 Beautiful butternut squash that is sauteed in vegan butter and then has kale wilted into it. It gets tossed with crisped up gnocchi and some Go Veggie! Mozzarella shreds. Then it gets broiled to melt the cheese and you guessed it, topped with Go Veggie! Grated Parmesan.  It's such a warm, hearty dish that has all the colors and flavors of autumn. It's ooey-gooey, full of flavor and definitely ready to become one of your holiday favorites.
Get the recipes for both dishes below.
Go Veggie! Dairy-Free products have won awards from publications such as Vegetarian Times and Delicious Living. If I had an award to give out, I'd certainly give it to Go Veggie!, especially for their Pepper jack slices and of course, their grated parmesan. In fact, if Go Veggie! had a registry, I'd sign up and ask everyone to get me a container of Go Veggie! grated parmesan or two or three for my Chanukah present (hint, hint).
Check out the Go Veggie! web site for information, coupons and recipes. "Like" them on their Facebook page too!
Then try my recipes for Garlic Tomato Bruschetta and Gnocchi with Butternut Squash, Kale and Mozzarella. They are so delicious, you'll want to thank me with lots of Go Veggie! grated parmesan, I hope! Enjoy!
Garlic Tomato Bruschetta
GF if using gluten-free bread
Makes 8 servings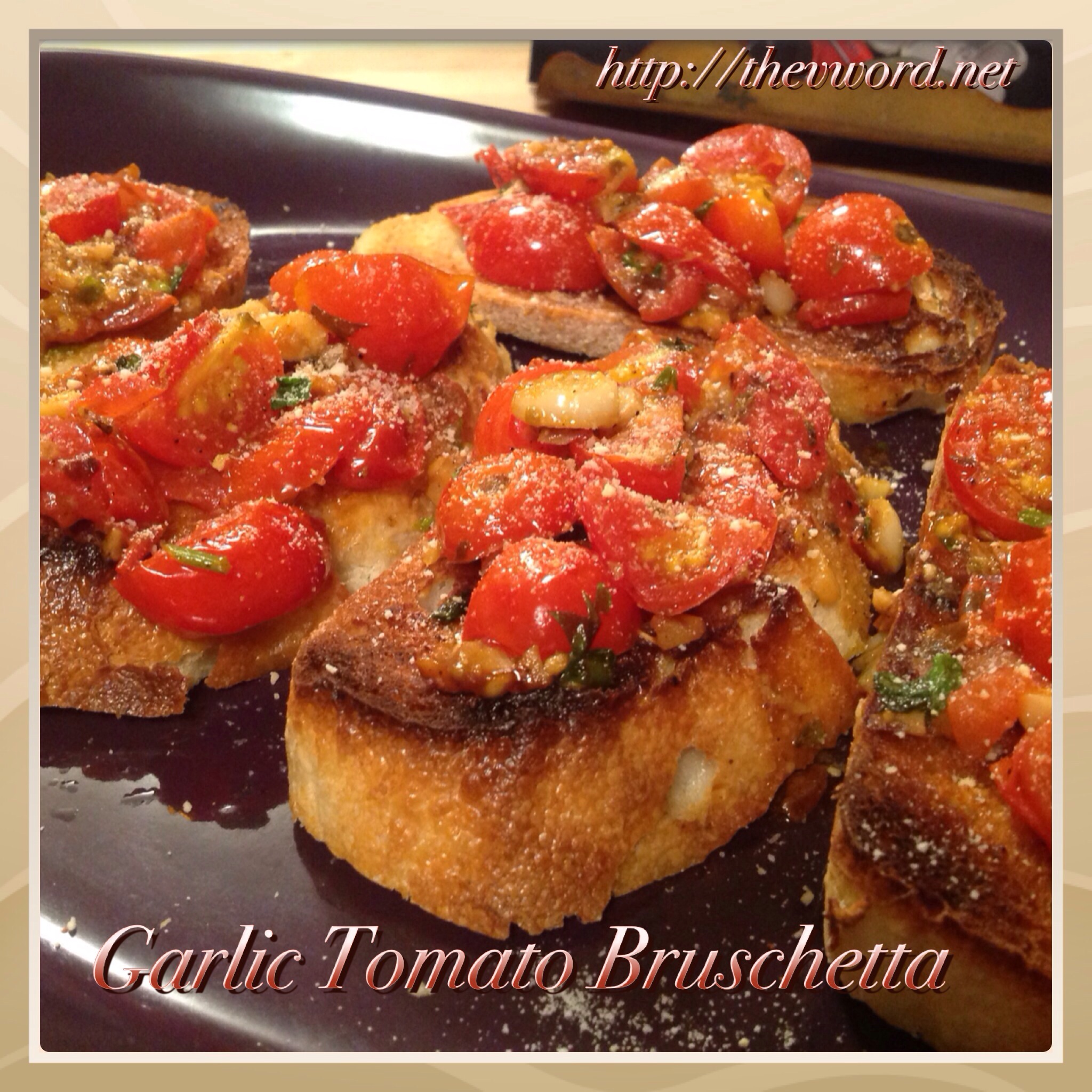 Italian bread, cut into 16 slices
¼ cup extra-virgin olive oil, divided
4 garlic cloves, minced
A pinch of red pepper flakes
1 pint grape tomatoes, halved or quartered
Kosher salt and black pepper
2 Tbs. parsley, chopped
Go Veggie! Dairy-Free Grated Parmesan, for garnish
Preheat the broiler. Place the bread slices on a large baking sheet. Drizzle with 2 Tbs. of the olive oil. Broil the bread for just 3-4 minutes until it is crispy. Remove from the oven.
In a skillet, heat the remaining oil over medium heat. Add the minced garlic and the red pepper flakes. Cook for a minute until the garlic just starts to soften. Add the grape tomatoes and cook for about 4 minutes until they soften. Season with salt and pepper to taste.
Spoon the tomatoes onto the toasted bread. Garnish with parsley and vegan grated parmesan.

Gnocchi with Butternut Squash, Kale and Mozzarella
GF if using gluten-free gnocchi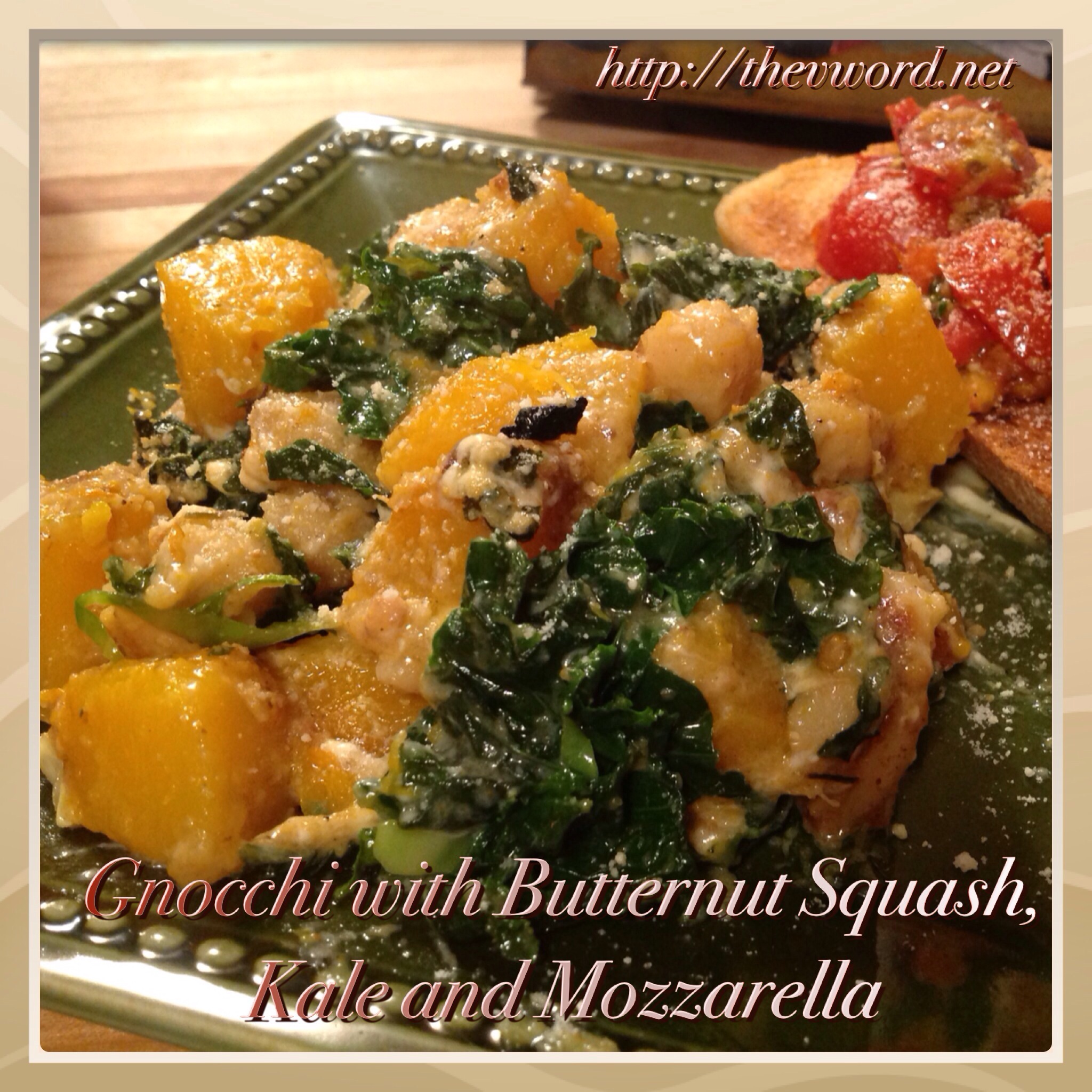 3 Tbs. vegan butter, divided
1 package gnocchi
½ large butternut squash, peeled, seeded and cut into ½" cubes
3 cloves garlic, minced
1 tsp. ground sage
¼ tsp. red pepper flakes
Kosher salt and black pepper to taste
1 cup low-sodium vegetable broth or water
1 large bunch kale, stemmed and chopped
1 cup Go Veggie! Dairy-Free Mozzarella Shreds
¼ cup Go Veggie! Dairy-Free Grated Parmesan, divided
Melt 1 Tbs. of the butter in a large skillet or saucepan that has a lid over medium heat. Add the gnocchi and toss to coat in the butter. Cook until the gnocchi is browned and crisped up a bit, about 6 minutes. Transfer the gnocchi to a bowl.
Add another Tbs. of butter to the pan. Add the squash and cook, stirring, until slightly golden and soft, about 8 minutes.  Add the garlic, sage, red pepper flakes, salt and pepper. Cook until the garlic softens, about 2 minutes.
Preheat the broiler. Add the broth to the skillet. When it starts to simmer, stir in the kale and cover the pan, letting the kale wilt slightly. Uncover the pan and add the gnocchi, stirring to coat. Add the mozzarella and 2 Tbs. of grated parmesan and toss to combine everything.
Transfer the food from the pan to a casserole dish. Sprinkle with the remaining grated parmesan. Broil until golden and bubbly, about 4 minutes. Serve while warm.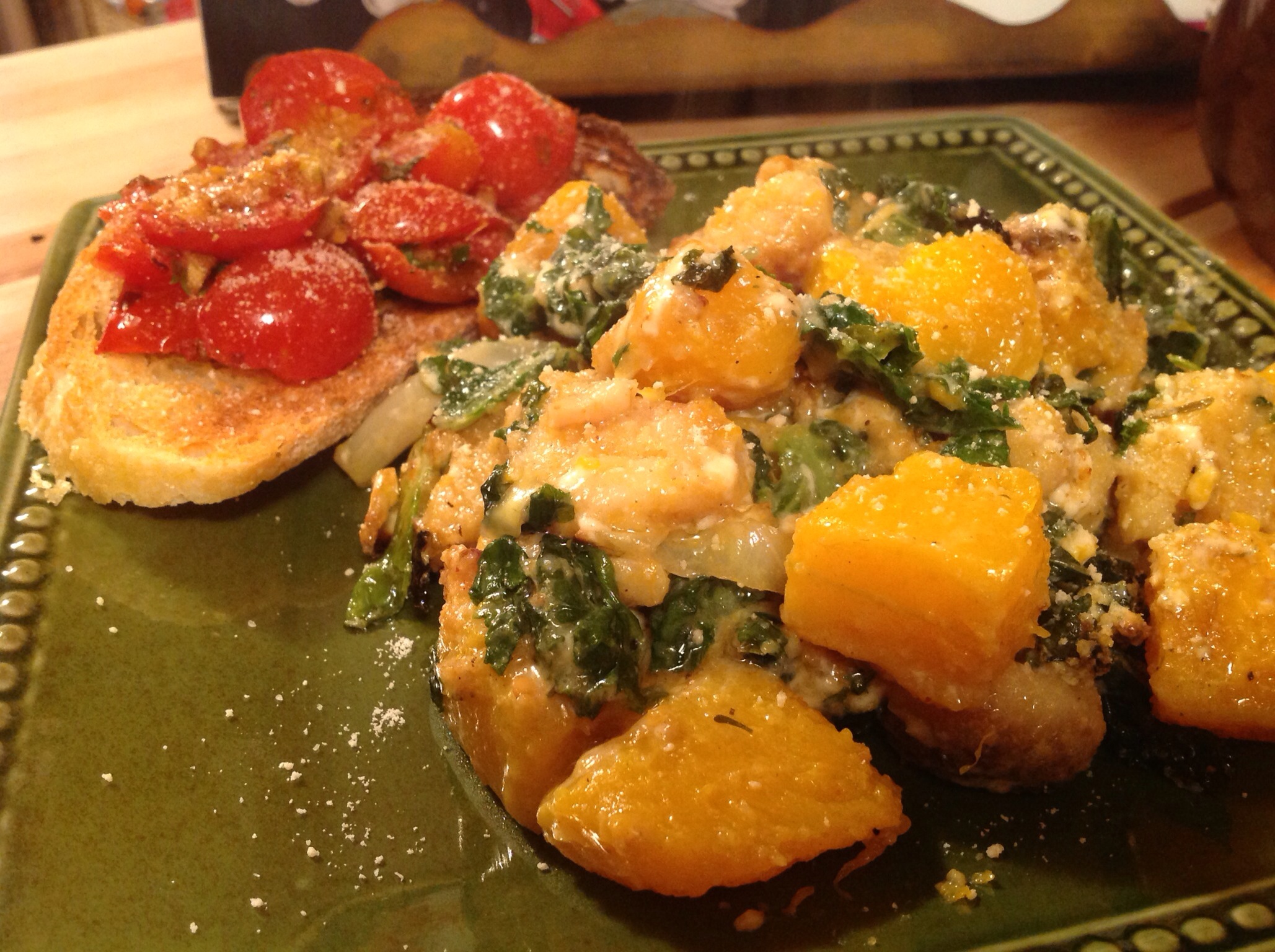 The "V" Word: Say it. Eat it. Live it.
[amd-zlrecipe-recipe:19]
[amd-zlrecipe-recipe:20]
(Visited 3,445 times, 1 visits today)