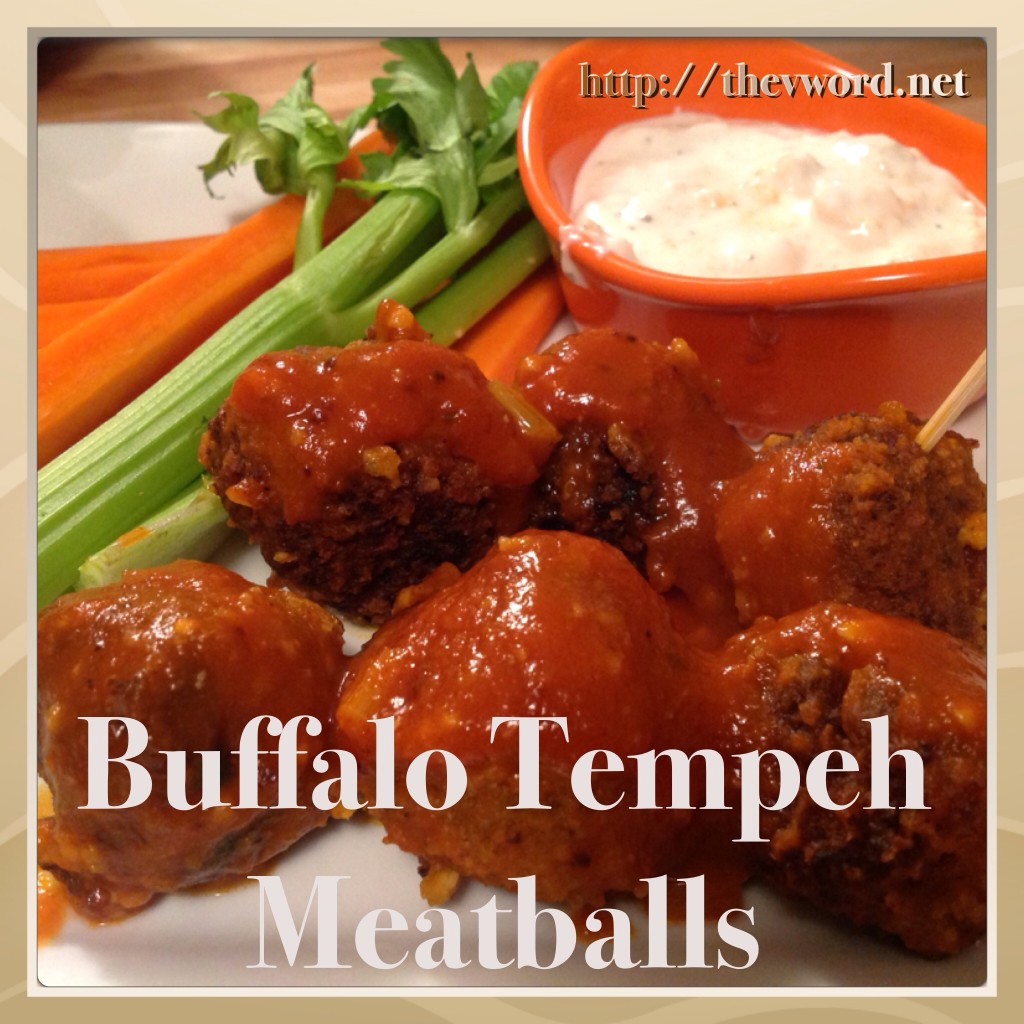 There are two things I can never get enough of: puppies and food that is Buffalo-style. On February 2nd, I can indulge in both. While most of the country will be watching something called the Super Bowl, I'll be settling with lots of red, messy, finger-licking deliciousness while watching the Puppy Bowl.
Puppy Bowl X will be airing on Animal Planet starting at 3 pm EST. If you have never watched the Puppy Bowl, you are missing out on hours and hours of cuteness overload. A dozen puppies who come from shelters all over the country come to play on a make-shift football field. These cuties run and play with toys – including toy footballs, chasing and tackling each other, and just looking downright adorable!
There are cameras in the water bowl for close-up slurping action shots, a kitty half-time show, cheerleaders in the form of bunnies, guinea pigs and other furbabies with pom poms and a blimp that is piloted by hamsters. I KNOW! Too cute!
While watching this adorable show that makes me exclaim "Awwww" every minute (which upsets Benny to no end because I am only supposed to make that sound for him and his adorableness), the menu is an assortment of appetizers and starters.
My Super Bowl Party Menu (from back when the Giants were in – and won – the Super Bowl) is filled with tons of appetizing starters as well as entrees and desserts. We're talking Spinach Artichoke Dip, Mozzarella Sticks, Eggplant Fries, Jalapeno Poppers, Mini-Calzones and so much more!!
There is also my Super Bowl/Puppy Bowl Nachos with homemade vegan Queso cheese sauce!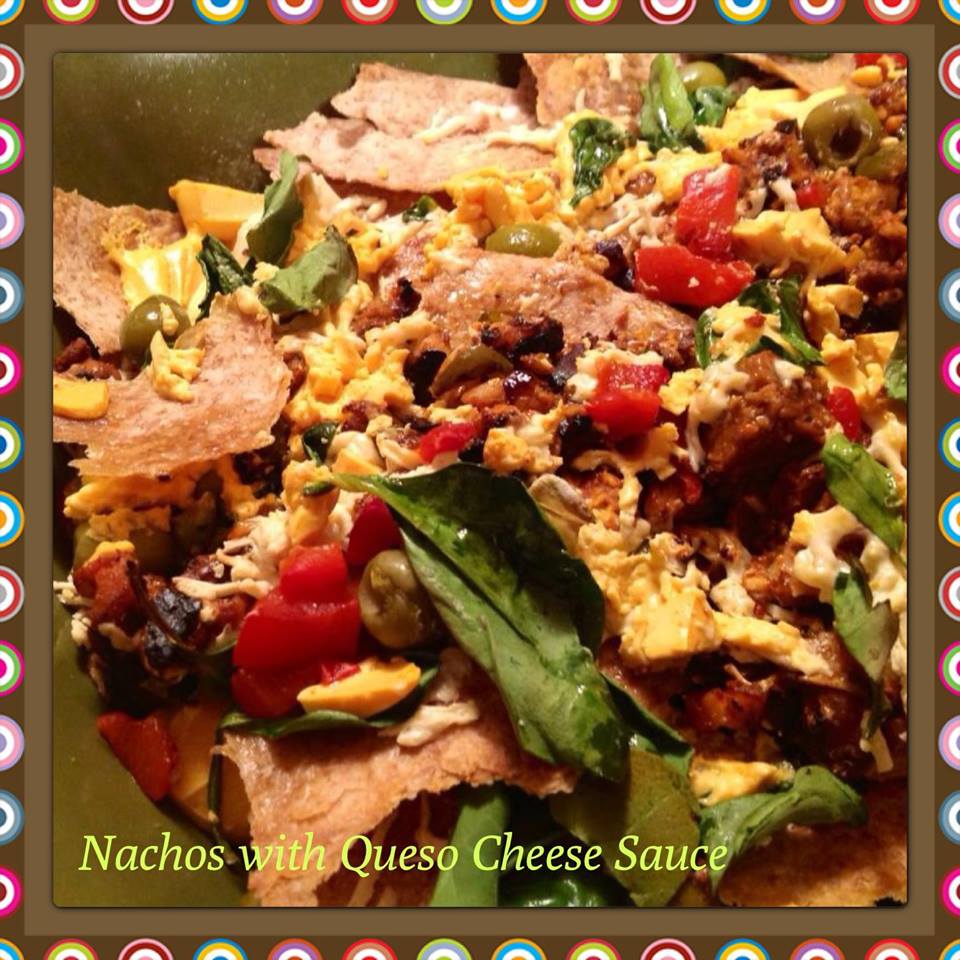 For help in party planning, check out Dr. V's post about scoring a touchdown with delicious vegan party food.  Especially the Buffalo-style food.
There are my Buffalo Tofu Fries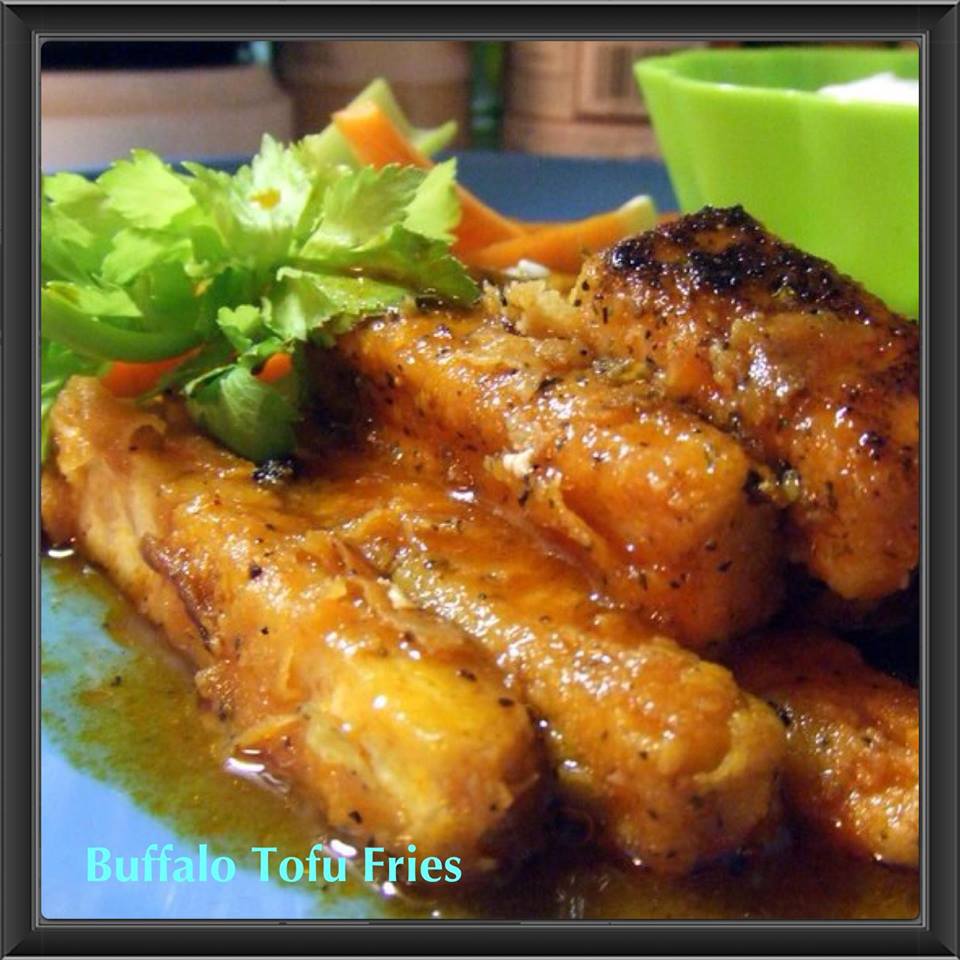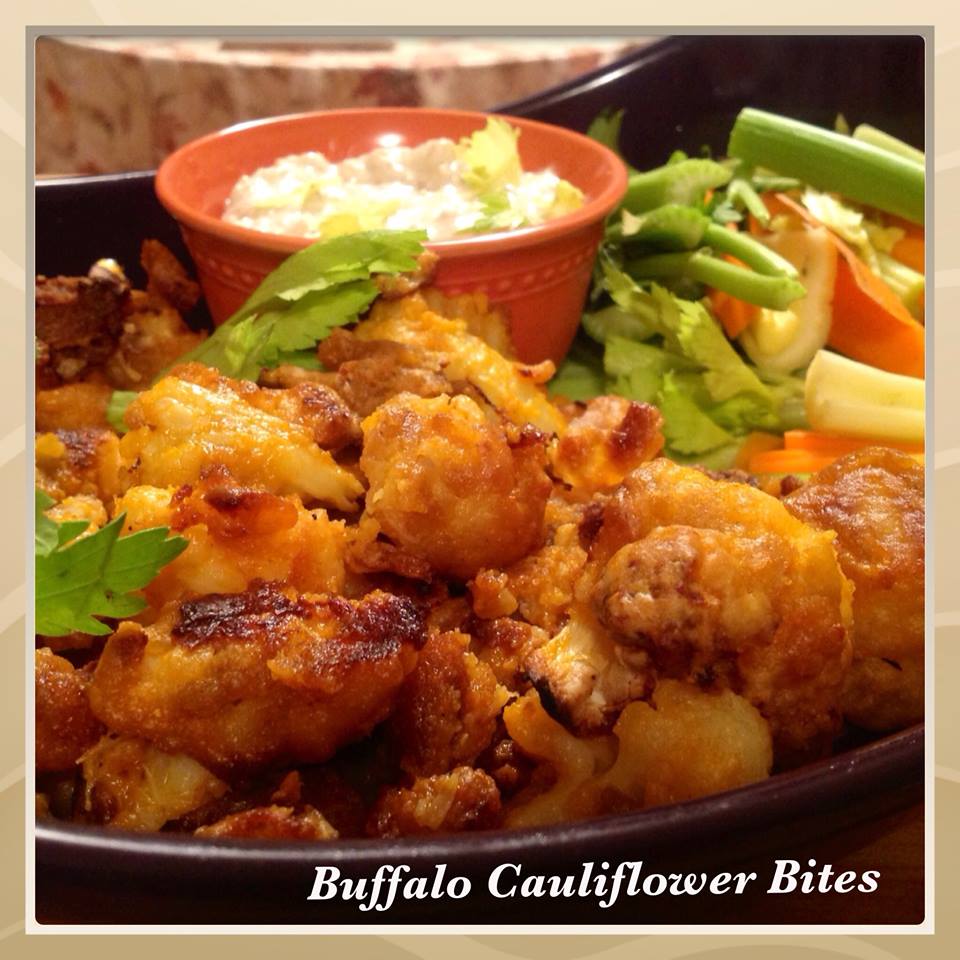 My "Chicken-Fried" Seitan Steak with Buffalo Vinaigrette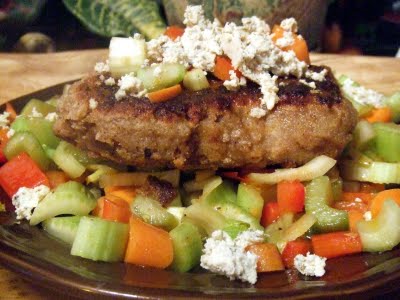 And now joining my family of Buffalo-style dishes is my latest recipe for Buffalo Tempeh Meatballs. I developed a recipe for Tempeh Meatballs which I haven't shared yet (though I've posted pictures just to tempt you with). The only thing better than tempeh meatballs is mini-tempeh meatballs that you can just pop in your mouth. And the only thing better than mini-tempeh meatballs is Buffalo Tempeh Meatballs. I KNOW!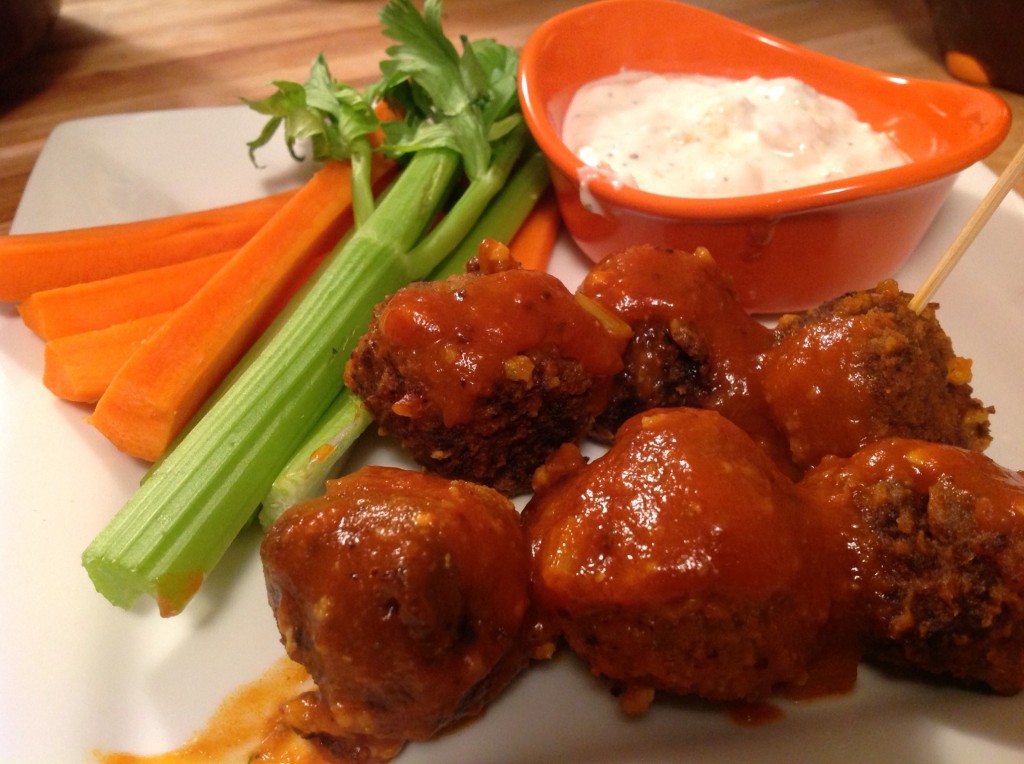 These little tempeh meatballs are moist and flavorful. Very easy to make. Then they get tossed in a hot, spicy Buffalo tomato sauce. It's a little different than the Buffalo sauce that I've put on tofu and cauliflower. It's more like a Buffalo marinara sauce – tomato-y and spicy at the same time.
I serve them with celery and carrot sticks and vegan blue cheese dressing. Vegan Gourmet has a vegan blue cheese dressing you can buy in   most big stores. Or you can whip up a quick ranch-style dressing with vegan sour cream and mayo.
Whether you watch the Super Bowl or the Puppy Bowl, make sure you have a vegan feast to celebrate with and make sure my Buffalo Tempeh Meatballs are part of the lineup. Enjoy!
Buffalo Tempeh Meatballs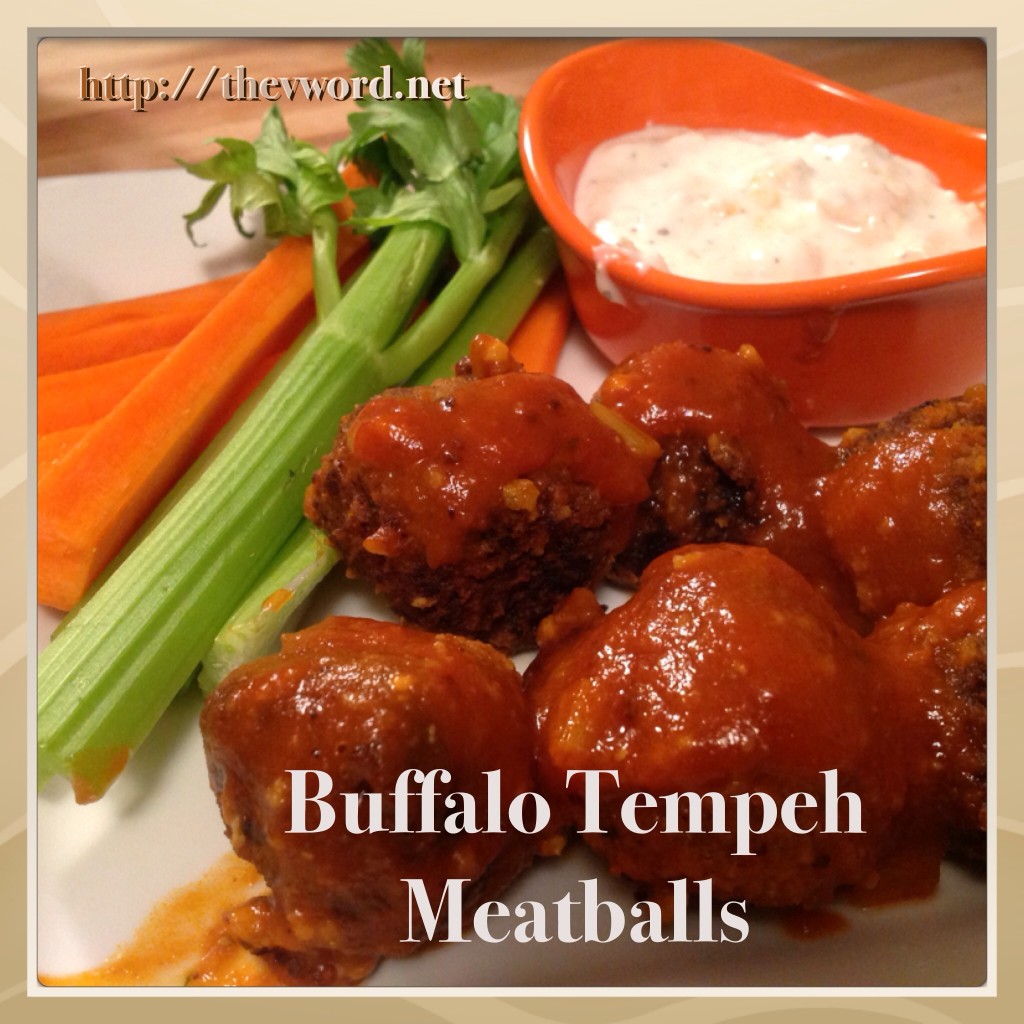 GF
Makes about 28 meatballs
1 Tbs. ground flax seed
3 Tbs. warm water
1 block tempeh
½ small onion, chopped
1 small carrot, chopped
1 celery stalk, chopped
2 scallions, chopped
2 garlic cloves
2 Tbs. gluten-free, vegan Worcestershire sauce
2 Tbs. vegan parmesan or nutritional yeast
2 Tbs. fresh parsley, chopped
1 tsp. dried oregano
1 tsp. kosher salt
¼ tsp. cayenne pepper
1/3 + ¼ cup gluten-free bread crumbs
Canola oil, for frying
1 Tbs. V-Butter or vegan butter
1 cup hot sauce (like Frank's)
½ cup tomato sauce
½ cup low-sodium vegetable broth
Carrot and celery sticks
Vegan blue cheese dressing for dipping
In a small mug, combine the flaxseed and warm water. Mix and let sit for about 10 minutes. This is your binder.
Break up the tempeh and add it to a food processor. Add the onion, carrot, celery, scallions, garlic, Worcestershire sauce, and the parmesan or nutritional yeast to the food processor. Process until everything is combined.
Add the parsley, oregano, cayenne and salt to the food processor. Add the flax mixture and 1/3 cup of bread crumbs to the food processor and process until well combined. Taste for seasoning adjustments.
Spread the remaining ¼ cup of bread crumbs on a plate. Using a spoon, scoop up some of the tempeh mix and roll it into a ball – about 1 inch in size. Roll the tempeh meatball in the bread crumbs so that it's completely covered and set it aside on a baking sheet. Continue making meatballs until you use up all the tempeh mix. This recipe makes about 28 meatballs.
Heat the oil in a large skillet over medium-high heat. Add the tempeh meatballs to the skillet and fry them. Depending on the size of your skillet, you may need to fry them in batches. Make sure the meatballs brown on all sides. The way I do this is to pull the skillet back and forth by the handle which makes the tempeh meatballs roll around. I find this covers all the sides better than trying to turn them with a utensil. When they are browned, transfer the meatballs back to the baking sheet lined with paper towels.
In a small saucepan, melt the butter over medium heat. Add the hot sauce, tomato sauce and broth to the pan. Mix and bring the sauce to a boil. Reduce the heat and let simmer until it thickens, about 7 minutes. Remove the sauce from the heat and let it cool down a bit. If the tempeh meatballs go into boiling hot sauce, they could fall apart.
When the sauce cools down a bit, transfer it into a large bowl. Add the meatballs to the sauce and toss gently to coat. Serve with carrot and celery sticks and vegan blue cheese dressing for dipping.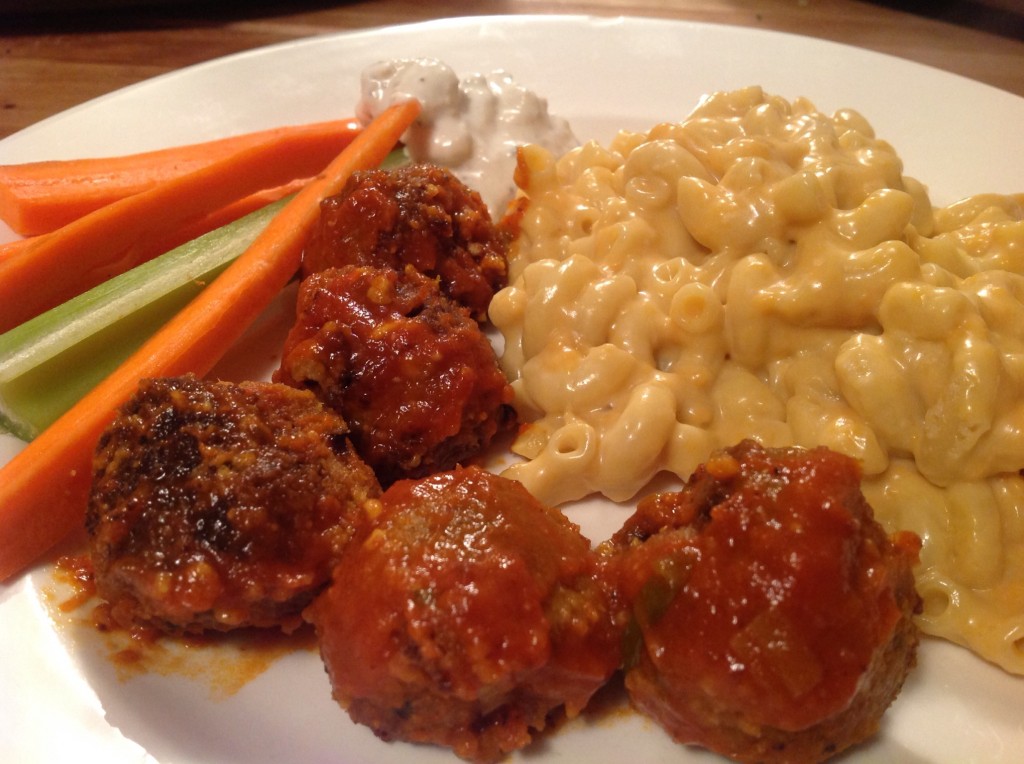 The "V" Word: Say it. Eat it. Live it.
 [amd-zlrecipe-recipe:30]
(Visited 3,951 times, 1 visits today)