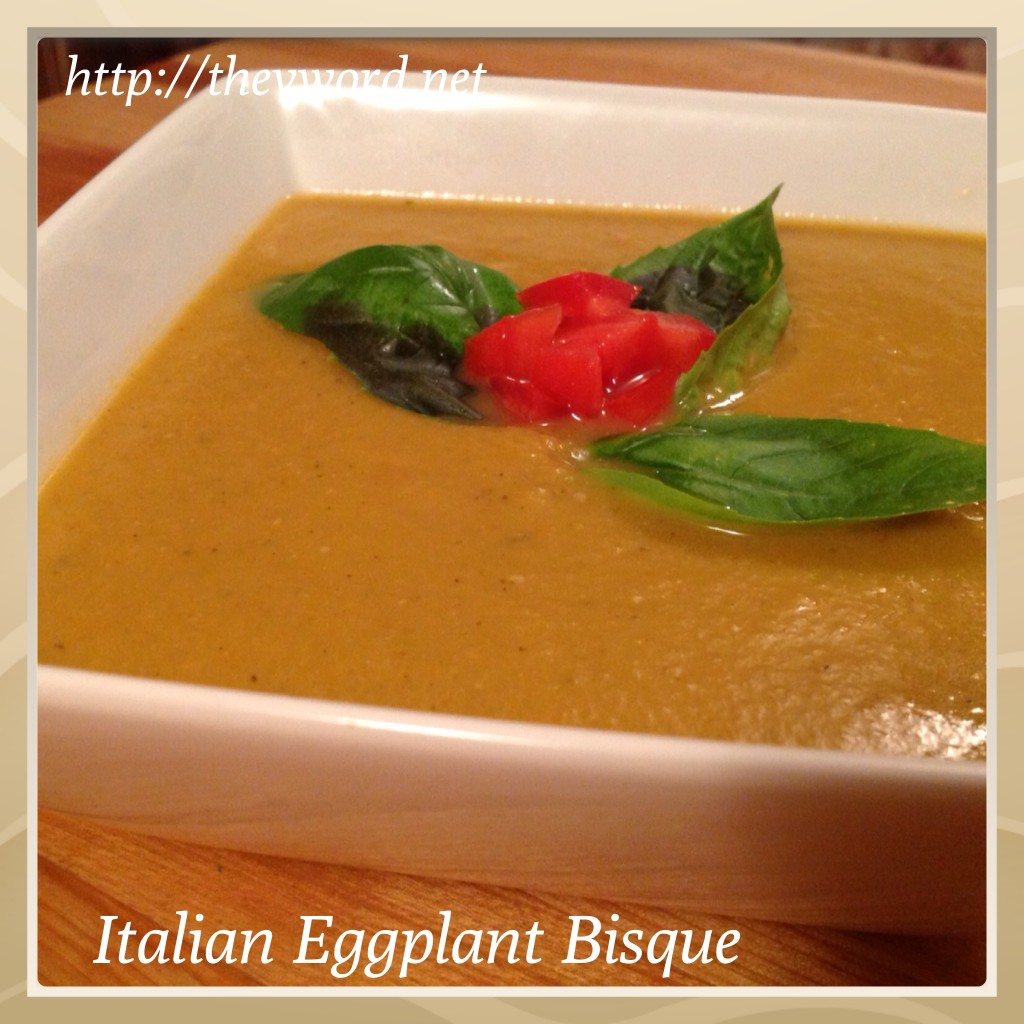 It is officially Spring but apparently, no one has told the weather that! It's been cold! Sure, there have been a few days of warm weather and sunny skies but then it gets cold again. In fact, the weather forecast says snow for tonight and tomorrow!!
So even though my thoughts have turned to lighter dishes for Spring, my body is begging for more of the warm and hearty recipes that fed it all winter. Of course, soup is good all year round and that makes it a go-to no matter what the weather. It's warming when it's colder outside, it makes a great light dinner when the weather is warmer and it's easy. Easy is always good.
Whenever I have an eggplant, I have to decide: eggplant fries? eggplant parm? grilled eggplant? eggplant burger? eggplant meatballs? There are so many choices!! This time, I made an eggplant soup!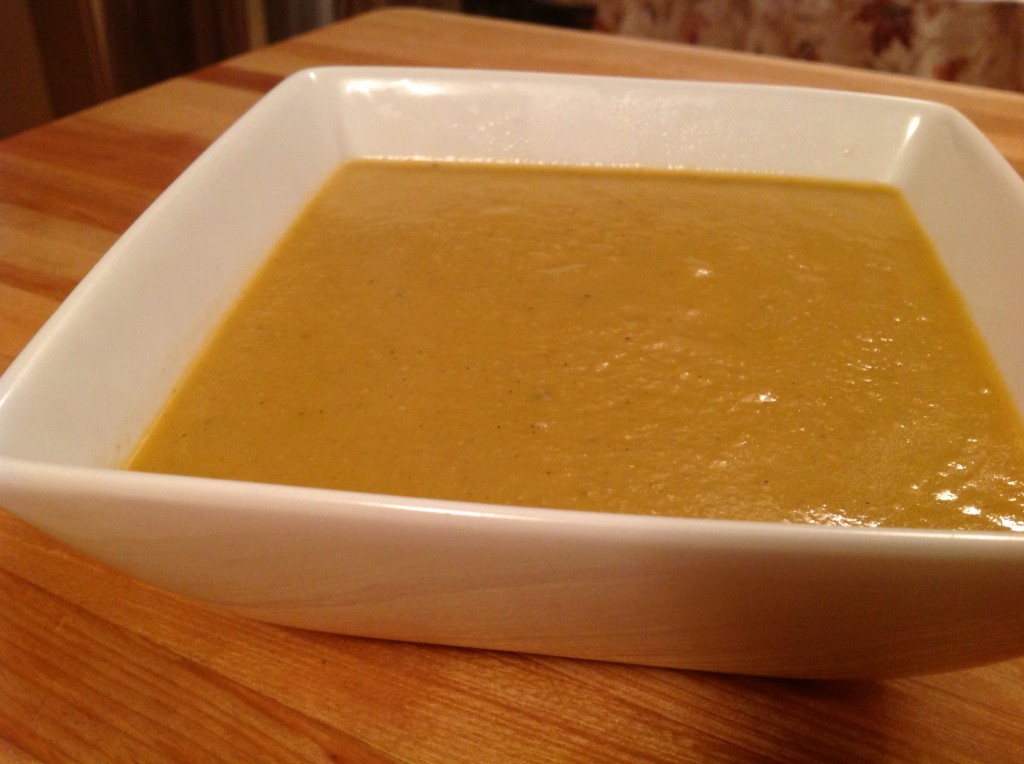 This soup, my Italian Roasted Eggplant Bisque, is easy and comforting but also a little bit different and exotic. The flavor is rich with the roasted eggplant and tomatoes and warmed by the herbs and spices of garlic, cumin, and red pepper flakes. Oregano, thyme and basil give it a fresh taste and Italian aroma that is perfect for Spring.
The soup is made into a bisque by adding just 1/4 cup of non-dairy milk or cream. So Delicious Culinary Lite Coconut Milk would be my choice here.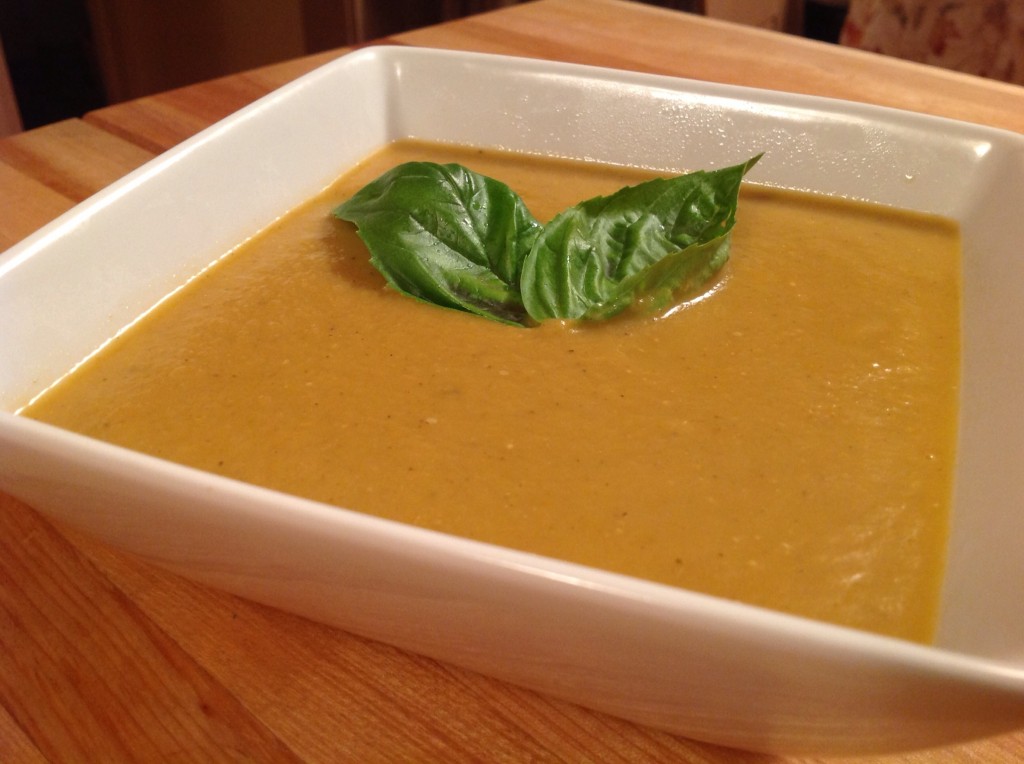 My Italian Roasted Eggplant Bisque would be the perfect soup to serve your friends and family for Easter or Passover dinner. It's light enough to be a starter course, creative enough to make a good impression on your guests and delicious enough to become a new favorite of yours and theirs.  Enjoy!
Italian Roasted Eggplant Bisque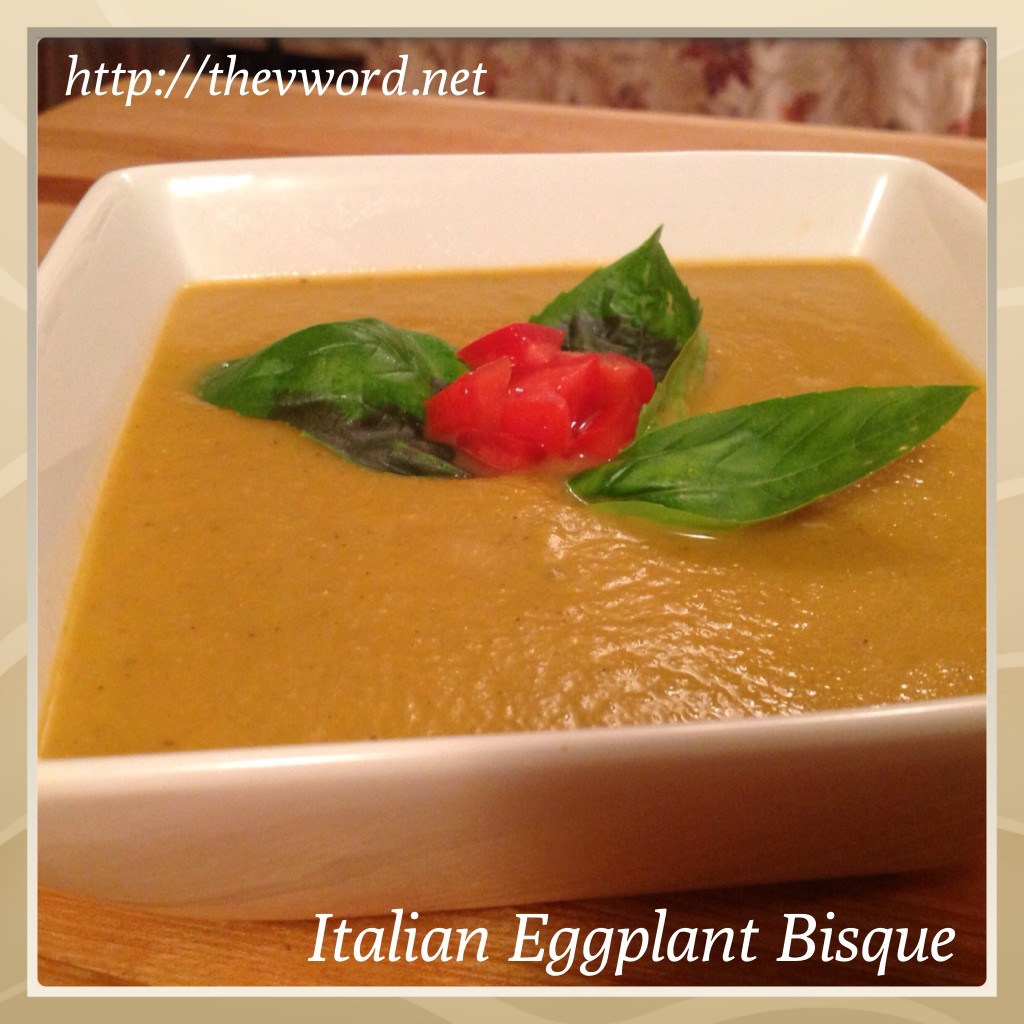 GF, SF if using soy-free milk and grated parmesan
1 large eggplant, cut in half
2 large tomatoes, cut in half
6 cloves of garlic
2 Tbs. olive oil
1 onion, chopped
1 tsp. dried thyme
1 tsp. ground cumin
1 tsp. dried oregano
1 tsp. dried basil
A pinch of red pepper flakes
4 cups low sodium vegetable broth
¼ cup non-dairy milk or cream
Kosher salt and pepper to taste
Vegan grated parmesan cheese, for garnish
Fresh basil, diced tomato, for garnish
Preheat the oven to 425 degrees. On a large baking sheet, place the eggplant halves, the tomato halves and the garlic cloves. Brush the eggplant and tomatoes with oil. Roast the veggies for 45 minutes to an hour, until the veggies get soft and browned. Make sure to check on the garlic cloves from time to time so they don't burn. Remove the veggies from the oven and let cool until you can handle them.
In a large pot, heat 1 Tbs. of oil over medium high heat. Add the onion and cook for 5 minutes until it softens and starts to brown.  Scoop the eggplant meat out of the skin and add it to the pot. Add the tomatoes to the pot. Squeeze the garlic out from their skins and add them to the pot also. Add the thyme, cumin, oregano and red pepper flakes. Toss to combine. Add the broth and bring the soup to a boil. Lower the heat and let simmer for 45 minutes to an hour. Turn off the heat and let the soup cool a bit.
Working in batches, puree the soup in a blender (make sure to only fill the blender half-way with soup and hold a dishtowel over the lid) until it is totally smooth. If you have an immersion blender, you can just blend the soup in the pot. Return the pureed soup to the pot. Add the milk or cream and bring the soup to a simmer. Season with salt and pepper, to taste. Serve while hot and garnish with vegan grated parmesan cheese, fresh basil and diced tomato.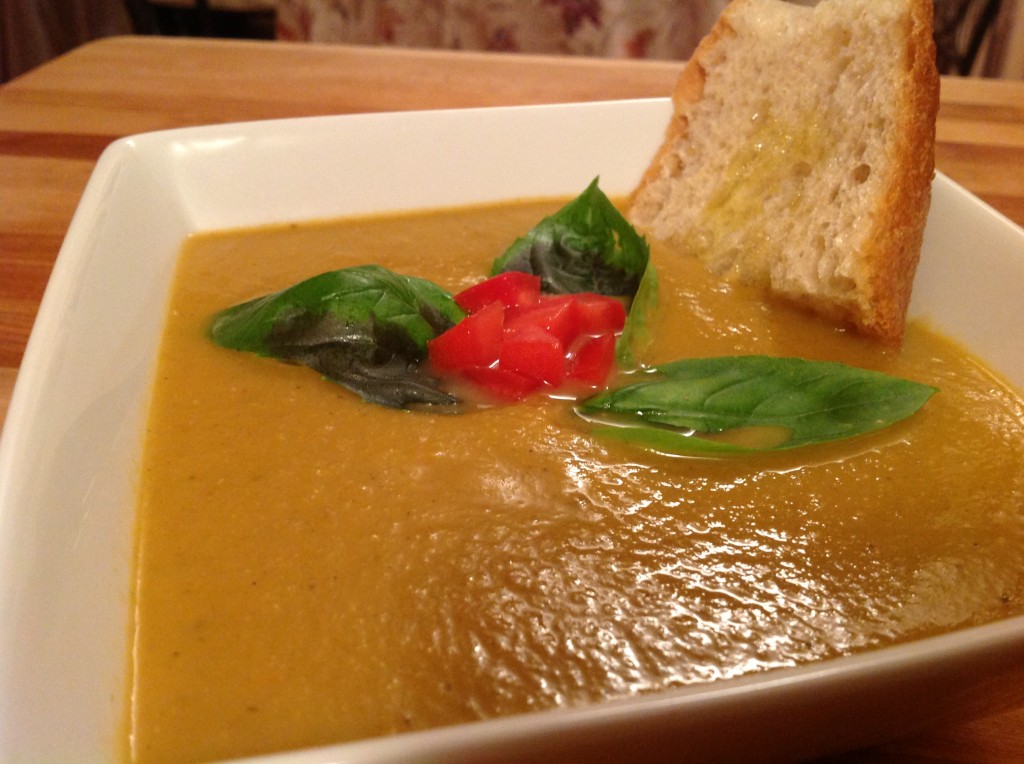 The "V" Word: Say it. Eat it. Live it.
[amd-zlrecipe-recipe:37]
(Visited 2,331 times, 1 visits today)