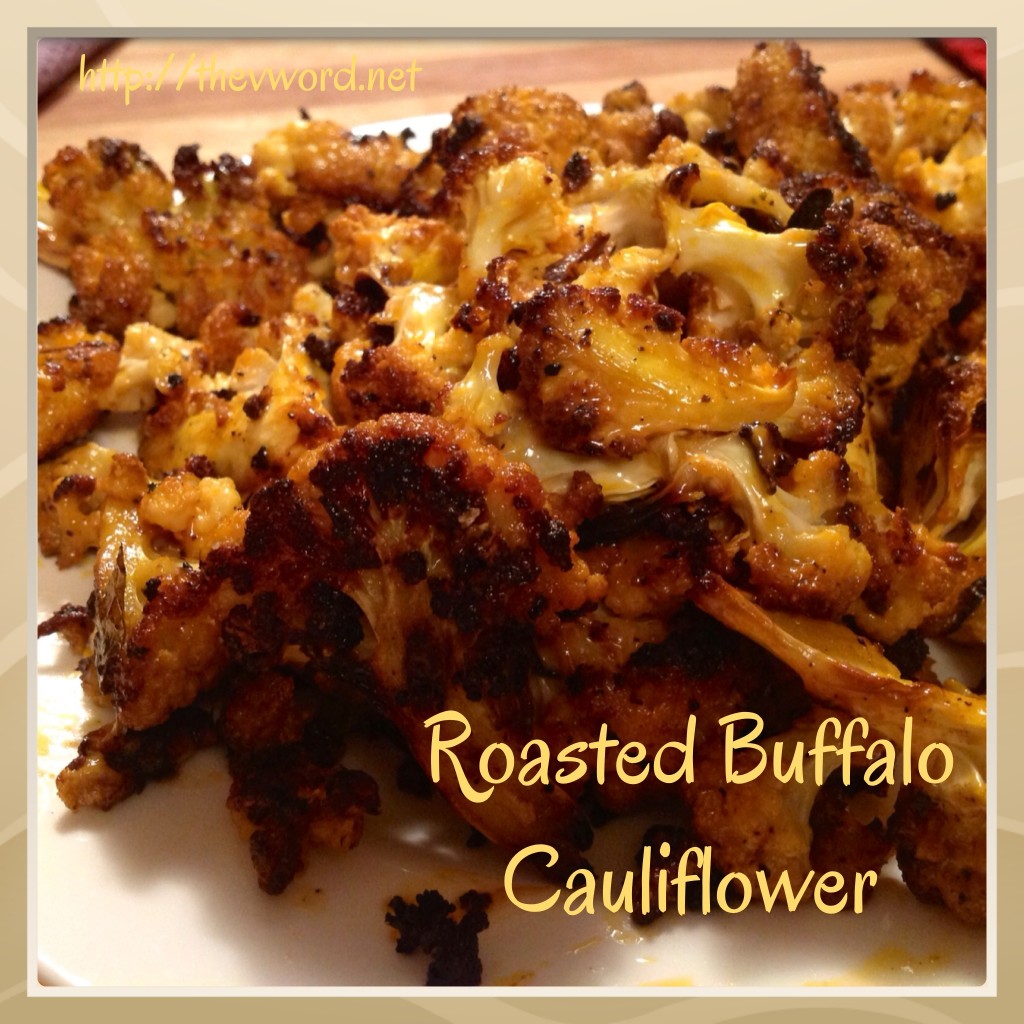 Before I was vegan, chicken was my favorite food and Buffalo wings were my obsession. Whenever I would go out to eat, I ordered Buffalo wings as an appetizer. Sometimes I would go out with friends after work to the local "wing joint" and we would order a platter of 40 or 60 wings. Did I not realize then that each wing came off a chicken and that the platter of 60 wings meant dozens of dead chickens? Of course I did but my ability to push that knowledge to the back of my mind was exceeded only by my ability to devour a disgusting amount of wings and blue cheese dressing.
When I was dieting, I made my own Buffalo wings – a lighter version by removing the skin and baking the wings. I got the Buffalo flavor I loved without a lot of the fat. So of course, when I became vegan, I quickly made my own versions of Buffalo dishes. After all, it's the sauce we love, not necessarily what that sauce is covering. You could probably cover a shoe (man-made, of course) with Buffalo sauce and it would be delicious. So I made Buffalo Seitan Steak, Buffalo Lentil Burgers and my incredibly delicious Buffalo Tofu Fries.  YUM! Those are sooo good!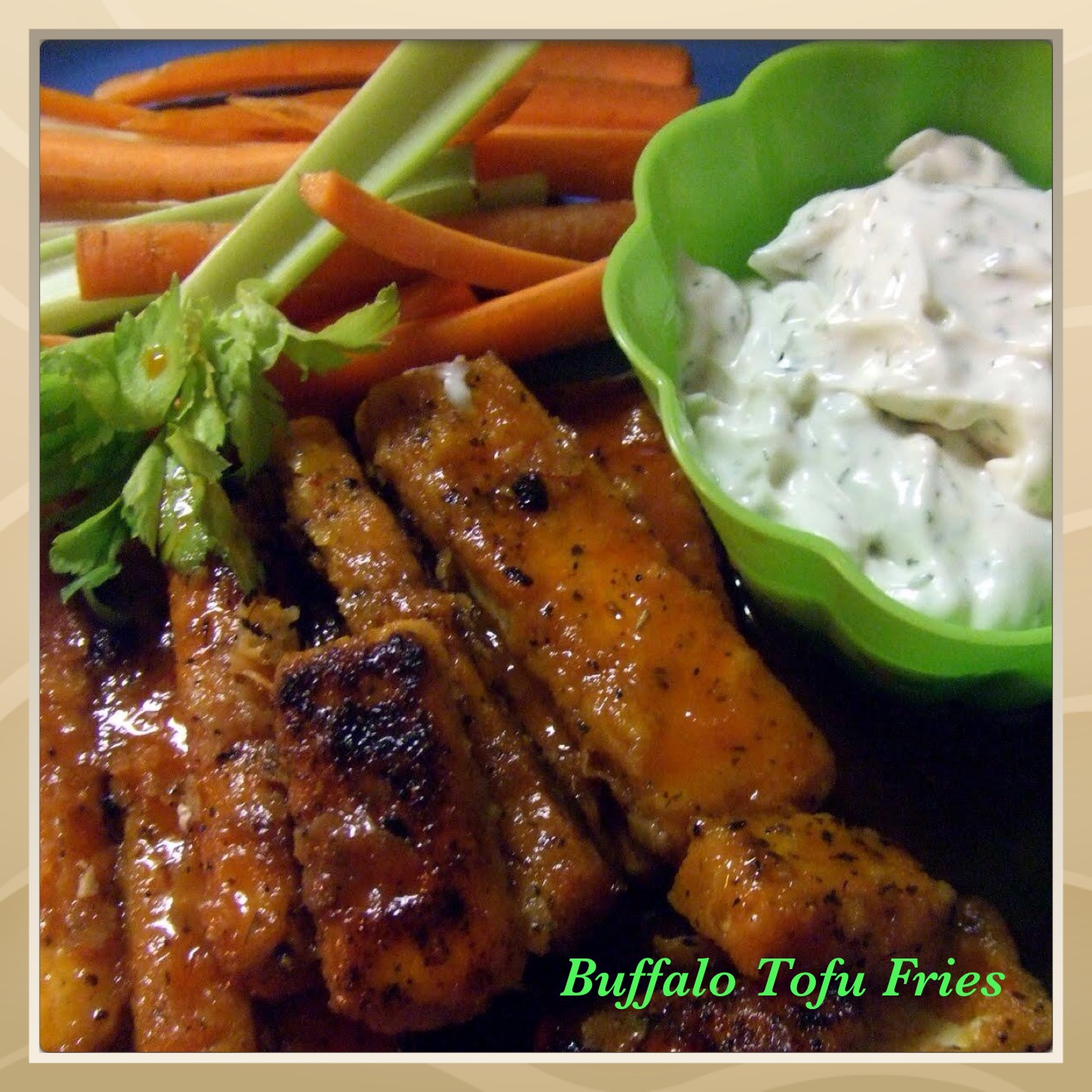 What else can we cover with Buffalo sauce? It seems everyone has a recipe for Buffalo Cauliflower so I figured I would jump on that band wagon. I didn't want to fry the cauliflower, I wanted to roast it. Whenever I bake or roast foods, I don't want it breaded. The baked breading never tastes crunchy enough for me (except baked corn flake crumbs but I've developed a corn allergy lately 🙁  ) If I were frying these, I'd definitely make a batter (flour, baking powder, spices, water) but since I'm roasting these, no batter necessary.
The roasted cauliflower is firm, delicious and a bit blackened. I have to stop myself from just eating it straight. It should look like this: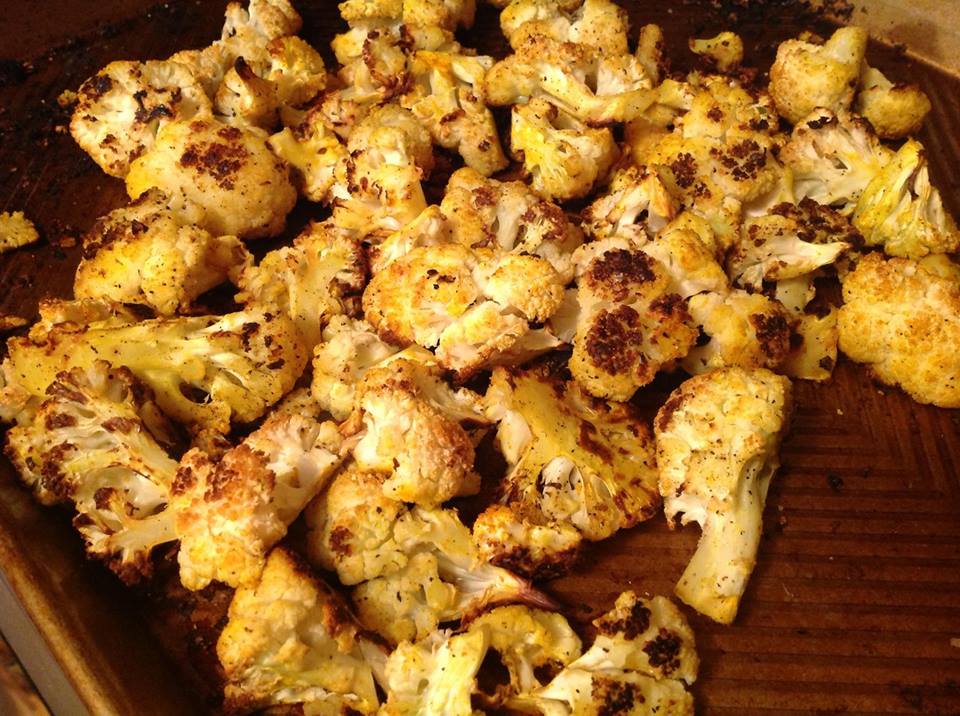 Then it gets covered with V-Butter and Buffalo sauce which makes it incredible and then it gets baked again to caramelize the sauce. It gets the appearance of being fried without using an entire bottle of oil.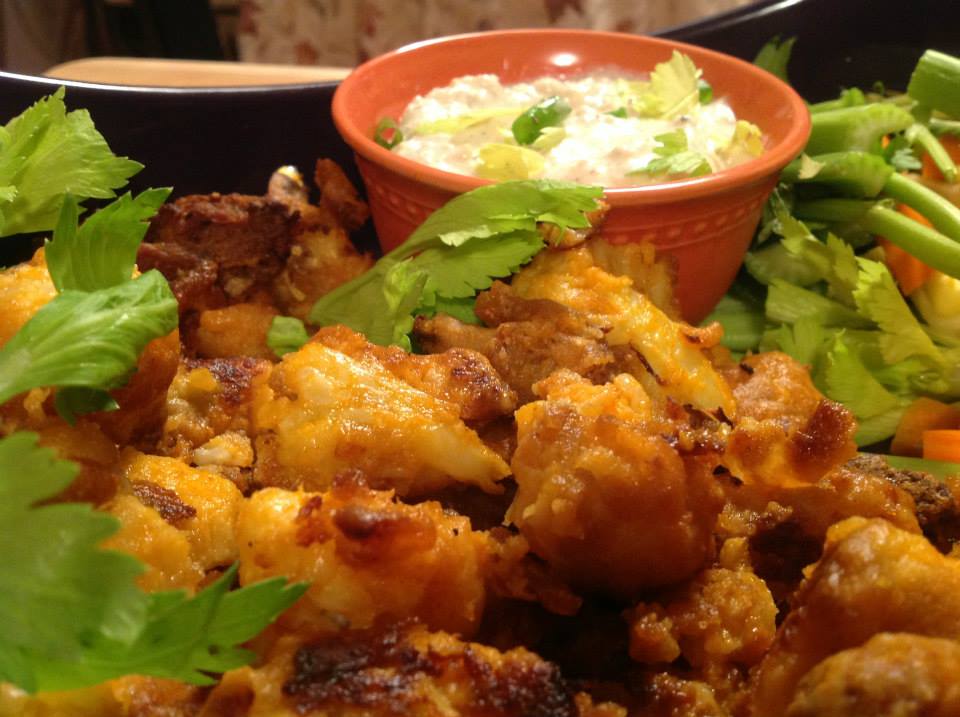 Serve the Buffalo Cauliflower with celery and carrot sticks and your favorite dipping sauce. I like the classic blue cheese dressing so I whip up a vegan version of it or you can buy a bottle of vegan blue cheese dressing in your market.
Whether for an appetizer, main dish or party food, my Buffalo Cauliflower Bites are so tasty, hot and tangy, you better make a few heads worth because once you pop one of these bites into your mouth, you won't be able to stop. Enjoy!
Roasted Buffalo Cauliflower Bites 
GF, SF if using soy-free butter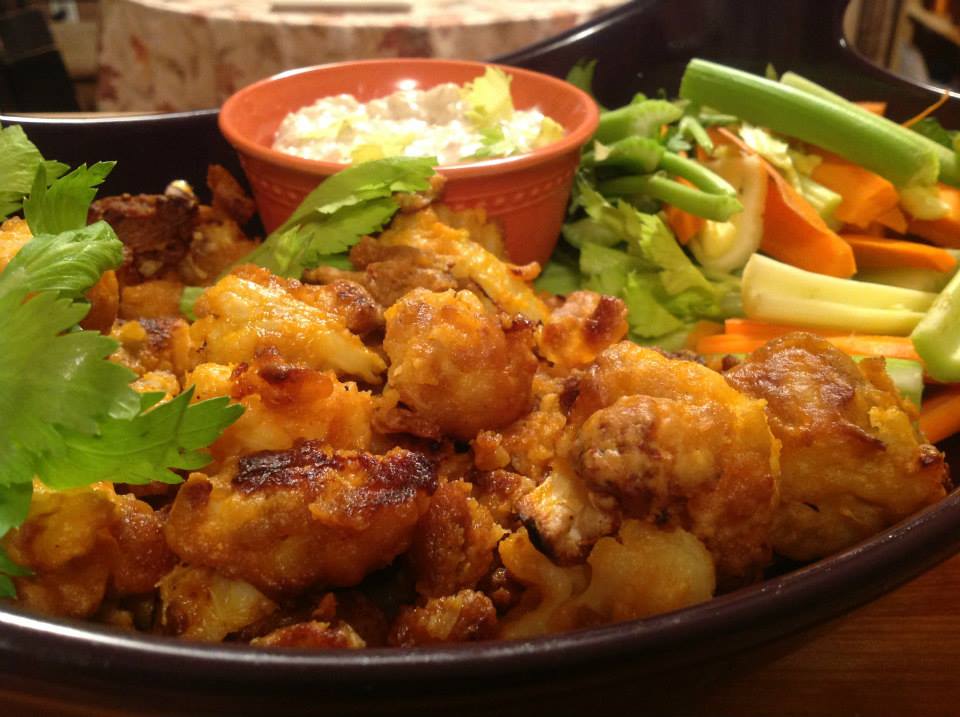 1 large head of cauliflower
1 tsp. garlic powder
1 tsp. onion powder
1 tsp. kosher salt
½ tsp. black pepper
A dash of cayenne pepper
1 Tbs. extra-virgin olive oil
2 Tbs. vegan butter
¾ cup hot sauce
Celery stalks
Carrot sticks
Vegan blue cheese dressing
Preheat the oven to 450 degrees. Core the cauliflower and cut it into bite-sized florets. Put the florets on a large baking sheet. Toss with the garlic powder, onion powder, salt, pepper, cayenne and oil. Arrange the florets in a single layer on the baking sheet and bake for 25-35 minutes until firm and a bit blackened. Flip them once halfway through the time. I find that it's better to make them as crispy as you can if you are adding a heated sauce on top. If they are not cooked enough, turn on the broiler for a few minutes. You want them to have some bite to them.
 While the cauliflower is baking, melt the butter in a small saucepan. Add the hot sauce, mix well and heat through. When the cauliflower is ready, transfer it to a large bowl, add the Buffalo sauce and toss to coat.
 Return the cauliflower to the baking sheet and bake for 10 more minutes. This will "seal" the hot sauce onto the cauliflower. Cut the celery and carrots into sticks.  Serve the Buffalo cauliflower bites with the celery and carrot sticks and blue cheese dressing for dipping.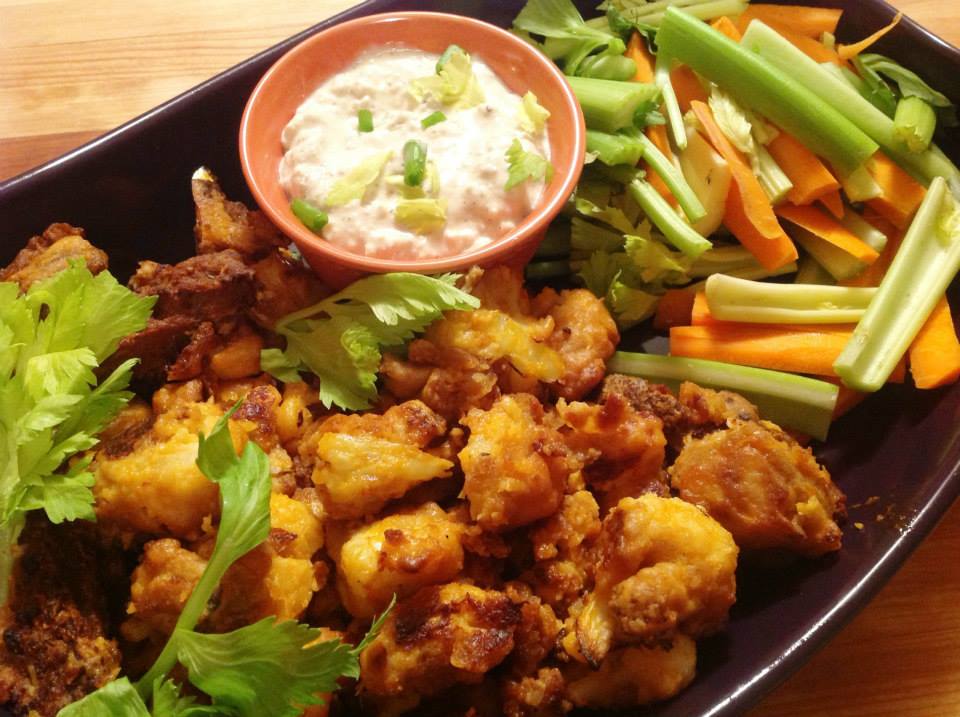 Update 9/17/13
I wanted to make my Buffalo Cauliflower Bites but I had no butter and was very little hot sauce. After I roasted the cauliflower, I tossed the florets in a mixture of hot sauce and 2 Tbs. vegan mayo. Then I put them back on the baking sheet and roasted them for 10 more minutes. YUM! They tasted like Buffalo Bites that already had the dip inside them. Another great idea would be to mix the hot sauce with vegan blue cheese dressing, coat the roasted cauliflower and cook for 10 minutes. So delicious.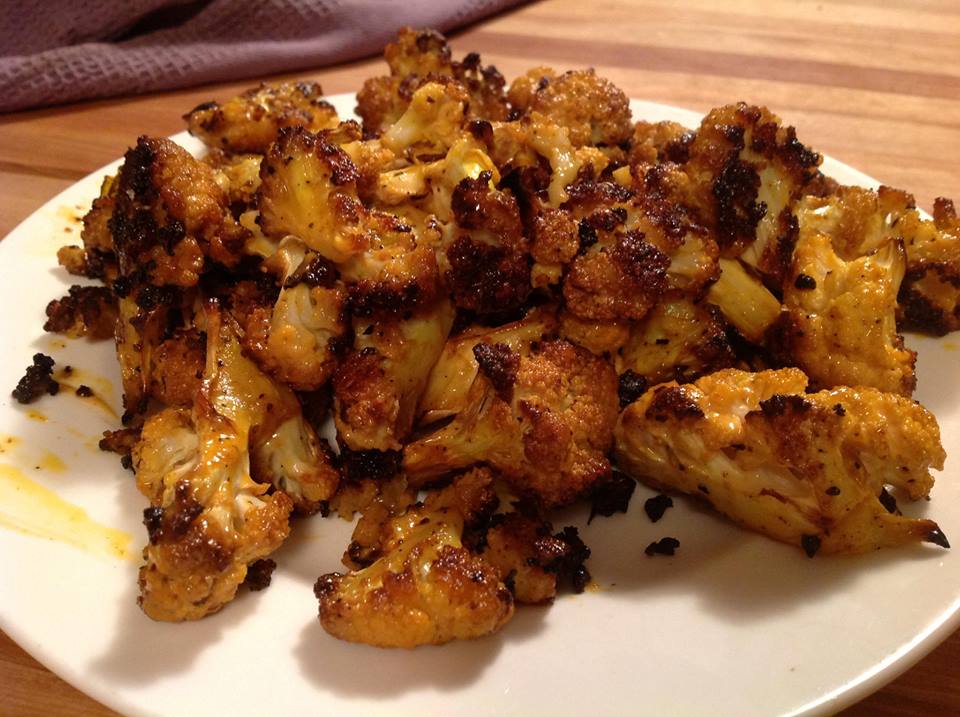 The "V" Word: Say it. Eat it. Live it.
[amd-zlrecipe-recipe:23]
(Visited 33,509 times, 1 visits today)