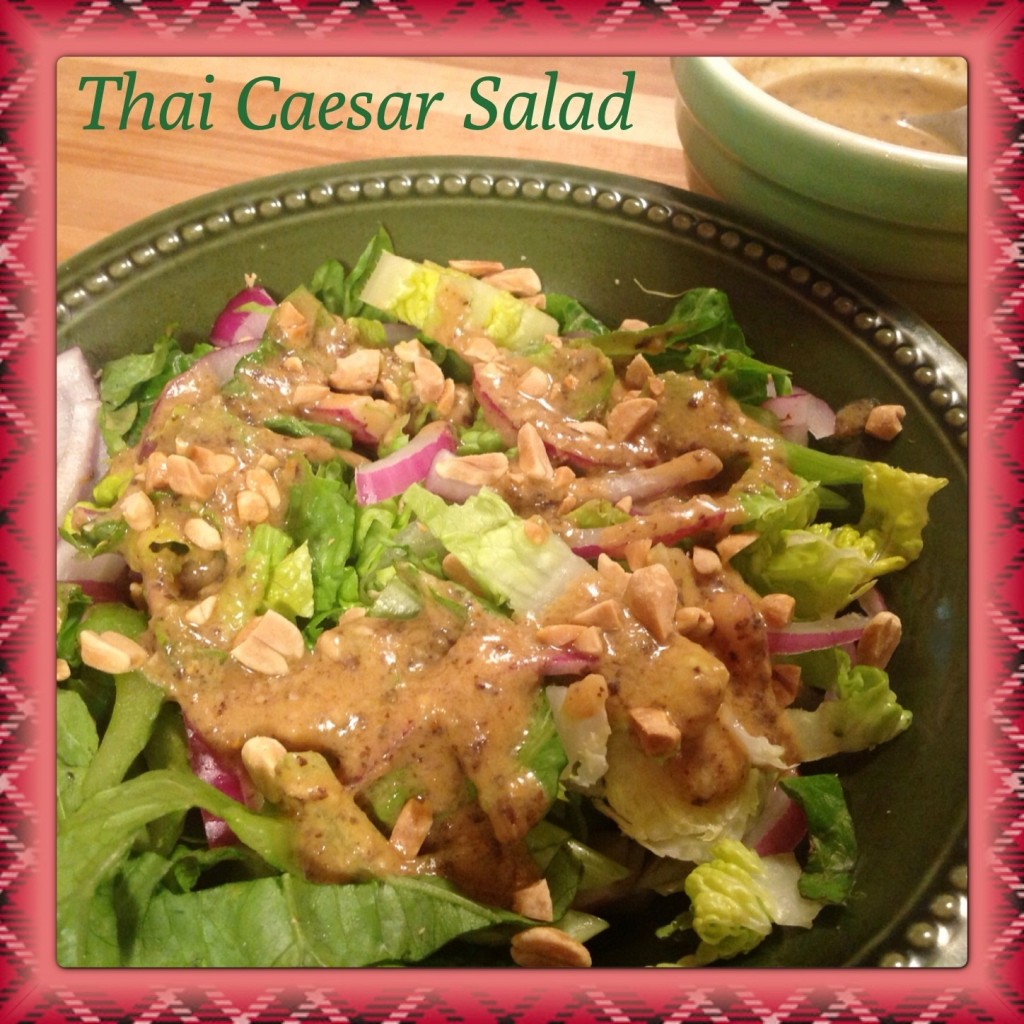 Welcome to another edition of VeganMoFo 2013, a whole month dedicated to blogging about delicious vegan food.

Do you know Gary Lowenthal? If you don't, you should. Gary is the founder of the Worldwide Vegan Bake Sale and co-founder of Compassion for Animals.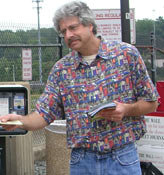 Compassion for Animals is a non-profit organization that "works to reduce human-caused harm to animals, primarily through educating people on animal-friendly lifestyles and cultivating empathy and respect for the nonhumans with whom we share the earth."
Compassion for Animals leaflets, tables at street fairs and other events, arranges animal sanctuary tours, holds vegan bake sales and does "Pay Per View" video outreach. They also hold protests, picnics, "meet and greets" with vegan authors and speak at schools and clubs.
Gary founded The Worldwide Vegan Bake Sale which occurs on SIX CONTINENTS (just one to go) and has raised mega-money for charity. This event is so huge, it has been covered by CNN and other media outlets and it was voted "Veg Event of the Year" by VegNews Magazine.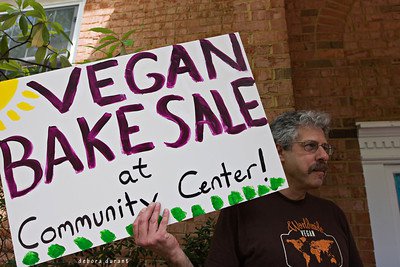 Gary is a tireless advocate for animals and veganism. He is friendly, kind and funny. His easy-going yet passionate approach makes it easy to like him, easy to listen to his message and easy to be his friend.
I've never met Gary in real-life, only on Facebook but I feel as if I have known him forever. Last year, Gary lost his beloved bunny, Fiona, and he asked if I could make a recipe in her honor using her favorite foods.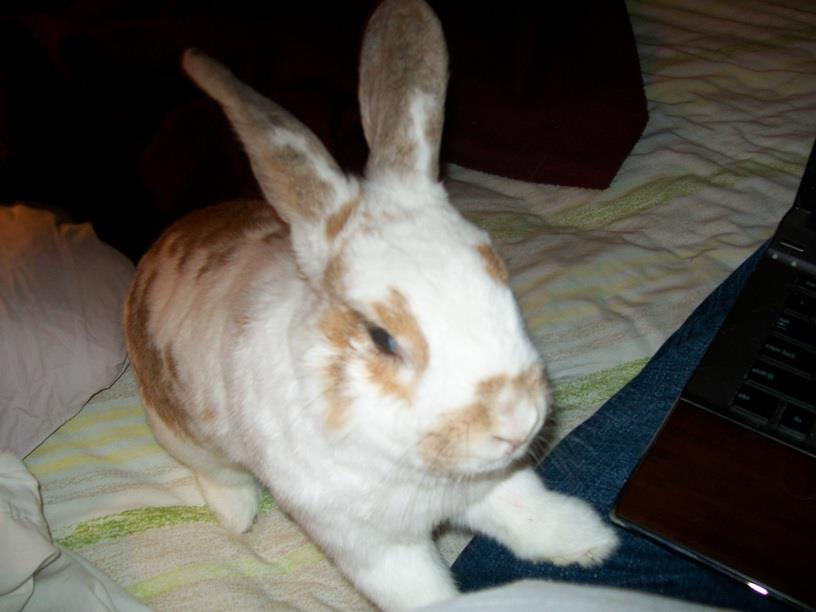 I was honored that he thought of me and created Fiona's Favorites Moroccan Salad with Parsley-Dill Dressing.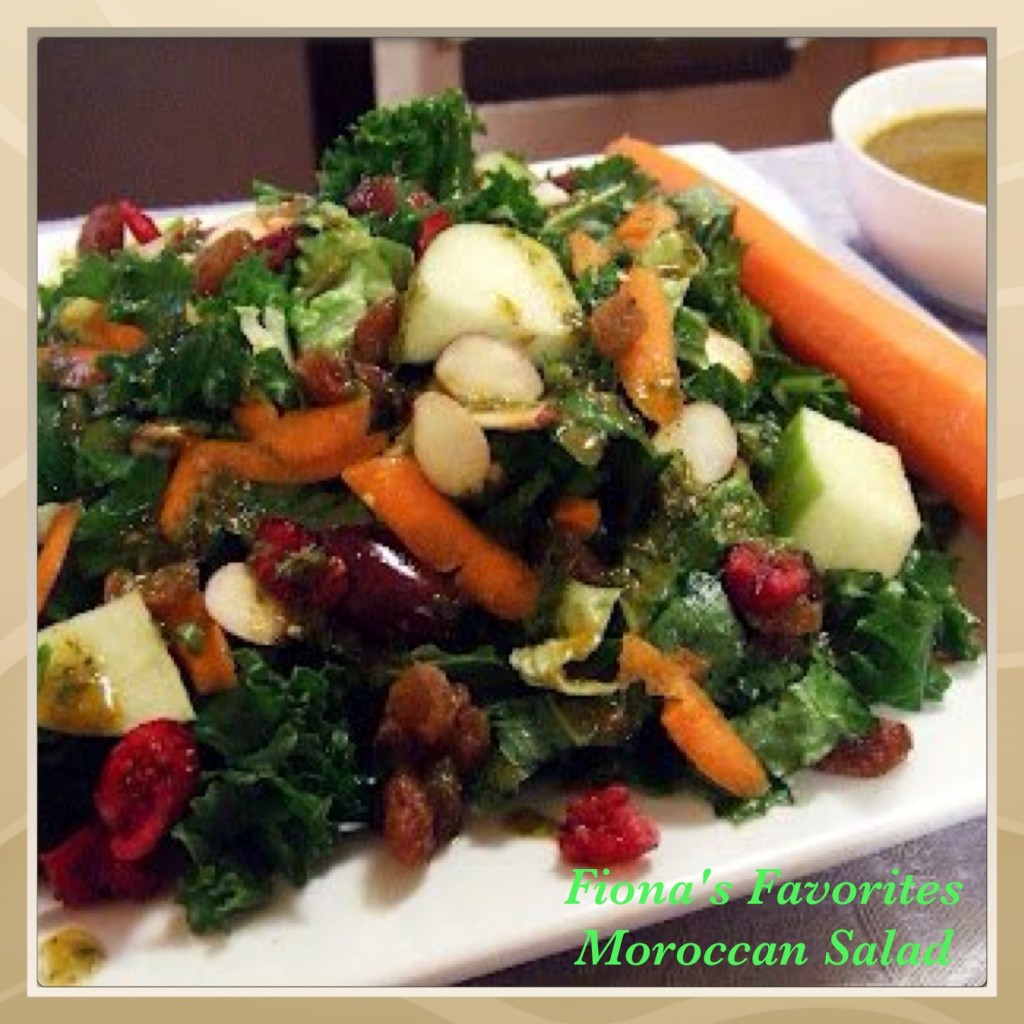 Then this year, Gary lost his father. Again he asked if I could create a recipe to honor his father using his Dad's favorite foods. Again, I was honored. And challenged – his father's favorite foods included scallops, Thai food and Caesar salad. So I got to work and I made Gary 4 dishes – vegan versions of his Dad's favorites. I made Tofu Scallops, Rice Noodles in a Spicy Thai Peanut Sauce, Vegetables in Thai Green Curry Sauce (recipe coming soon) and a Thai Caesar Salad.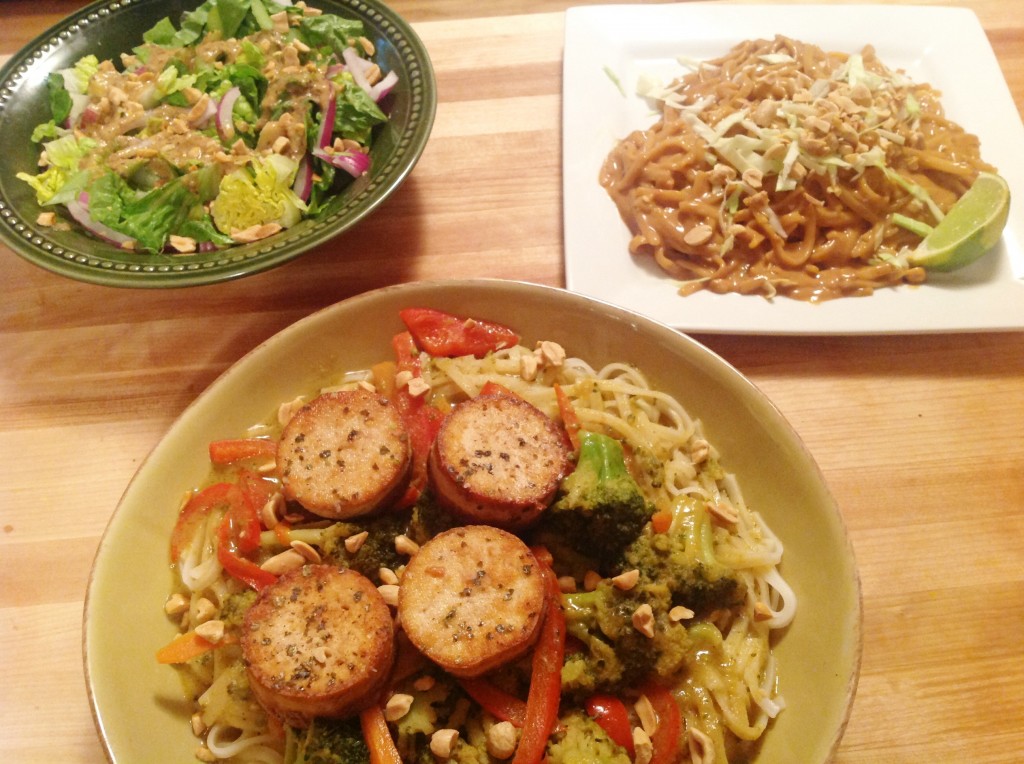 It was a Thai feast. Gary plans on making all of these dishes at some point for his family. It feels really special to know that I have some small part in honoring the man who gifted this world with such a remarkable man such as Gary.
Thai Caesar Salad might sound strange but it's really delicious. I have made and posted a vegan Caesar Salad before (recipe here). Making it a Thai dish just meant a few extra flavors and peanuts. Always peanuts. It's really delicious – fresh, crisp lettuce, tomatoes and other veggies topped with a salty, nutty, lime-filled dressing.  Tamari and lime subs for the fish sauce that is common in Thai food while kelp flakes give you that distinctive taste that anchovies usually lend to Caesar dressings.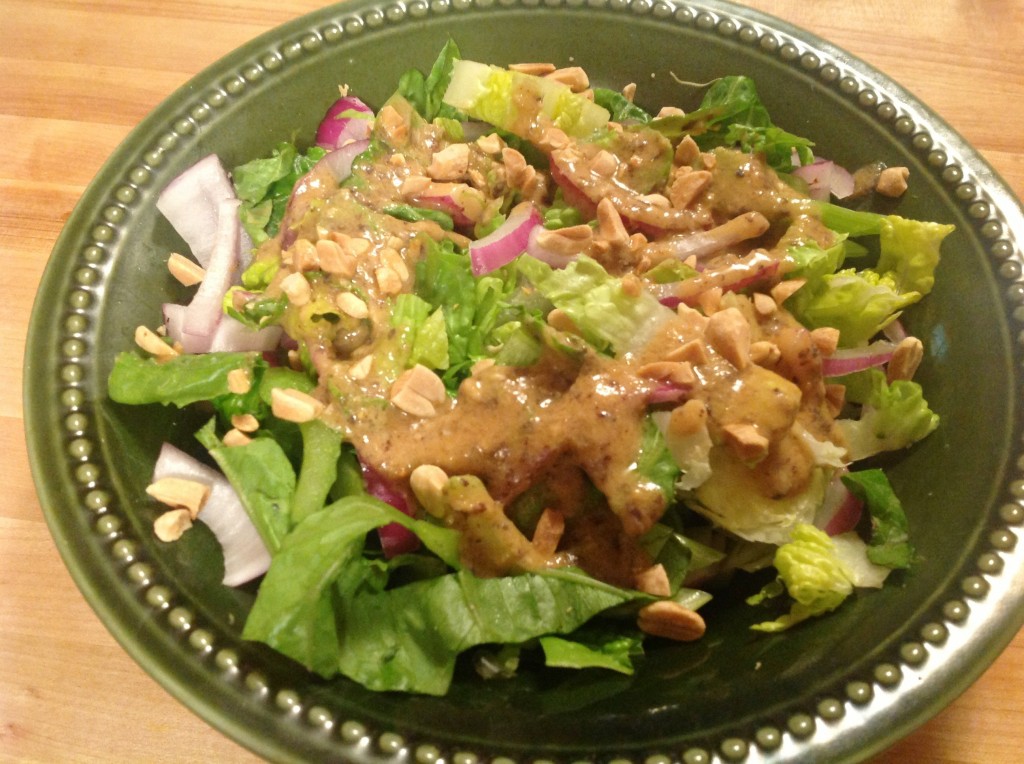 This is a wonderful dish to have on the side of a bigger Thai meal or it can be a meal in itself. Top the salad with the Tofu Scallops and you have a delicious, exotic meal.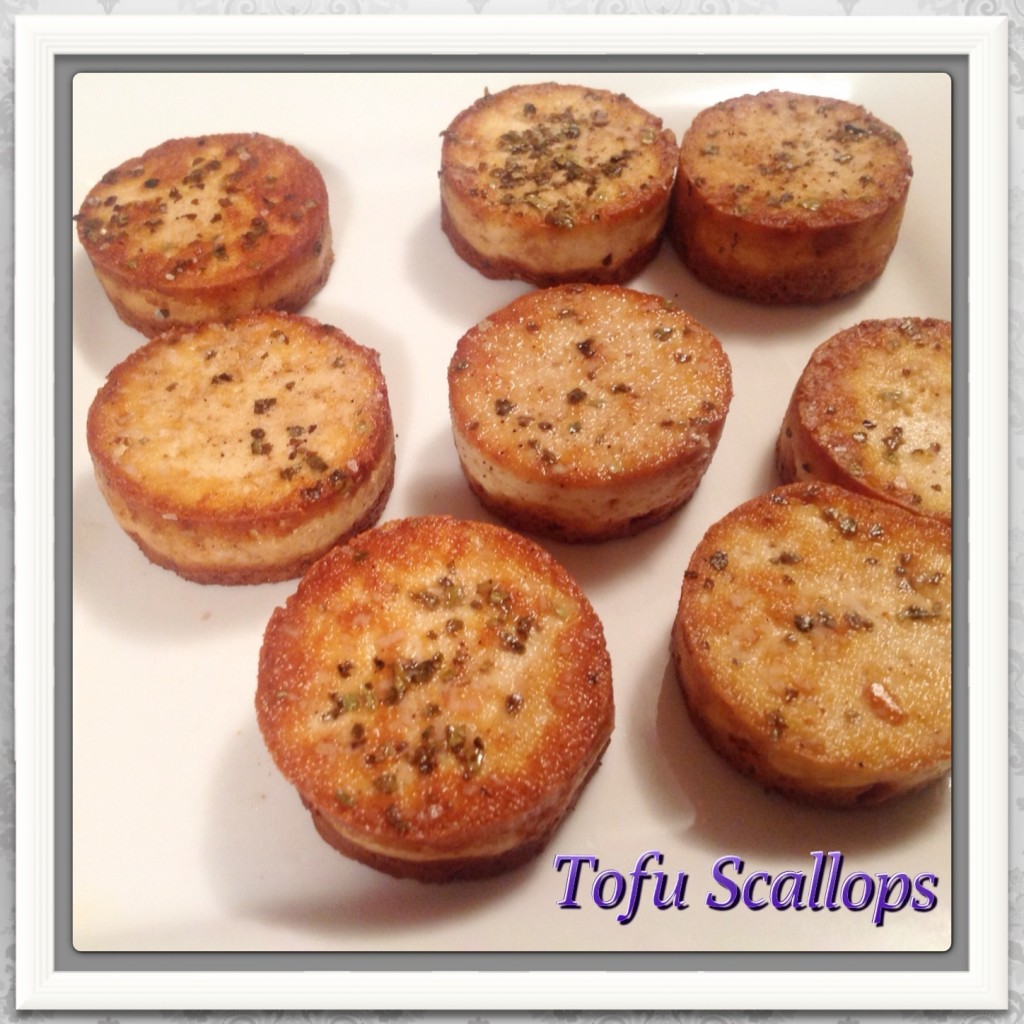 Gary thinks that I did him a favor by creating these recipes but it's really the other way around. I am the one who is honored that he thought of me, that he believed I had the creativity and talent to do his loved ones justice and that I get to play a small part in his tributes and family gatherings. The pleasure is all mine. I hope you love eating my Thai Caesar Salad as much as I loved creating it. Enjoy!
Thai Caesar Salad
GF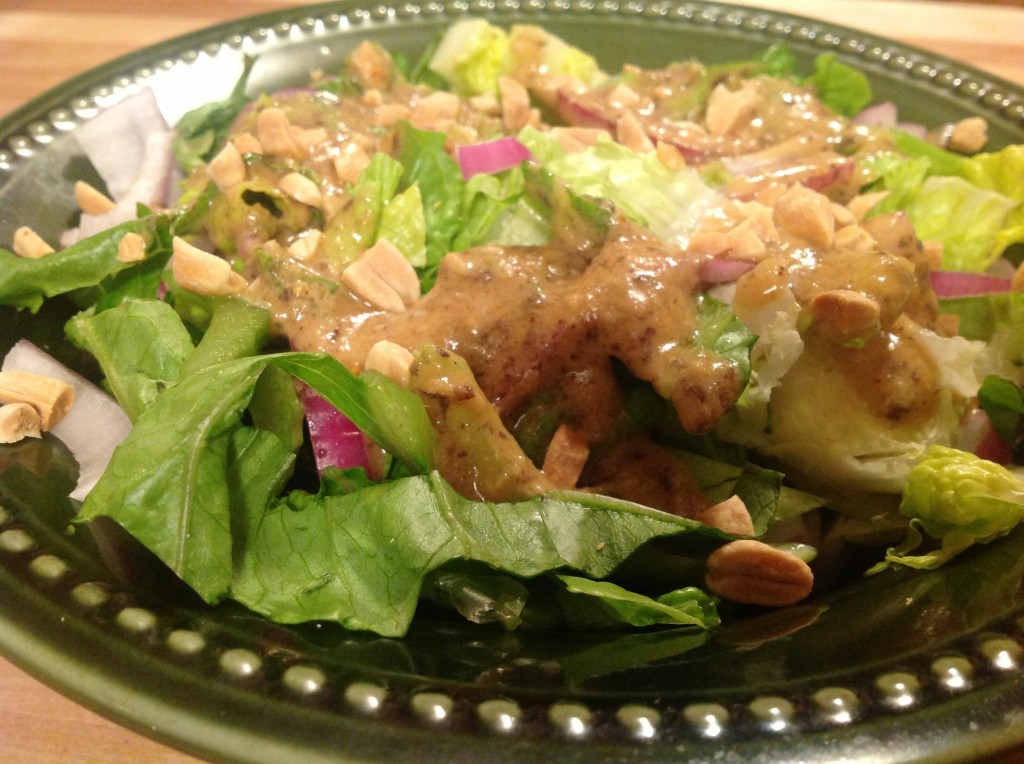 For the Thai Caesar Dressing

­­­­­­­­­­­­­­­
2 Tbs. vegan mayonnaise
Zest of one lime
1 Tbs. lime juice
2 cloves garlic
1 tsp. gluten-free, vegan Worcestershire sauce
1 tsp. gluten-free tamari
1 tsp. onion powder
½ tsp. Dijon mustard
1 tsp. kelp flakes
½ cup extra-virgin olive oil
2 heads of Romaine lettuce, cut into shreds
1 small red onion, sliced
1-2 tomatoes, chopped
¼ cup roasted peanuts, chopped
For the Thai Caesar dressing:

Combine all the ingredients in a blender or food processor. Blend until you have the desired consistency. Taste for seasoning adjustments.
For the Thai Caesar salad:

Combine the lettuce, onion and tomatoes in a large bowl. Add the Thai Caesar dressing and mix well with tongs. Top with chopped peanuts for garnish.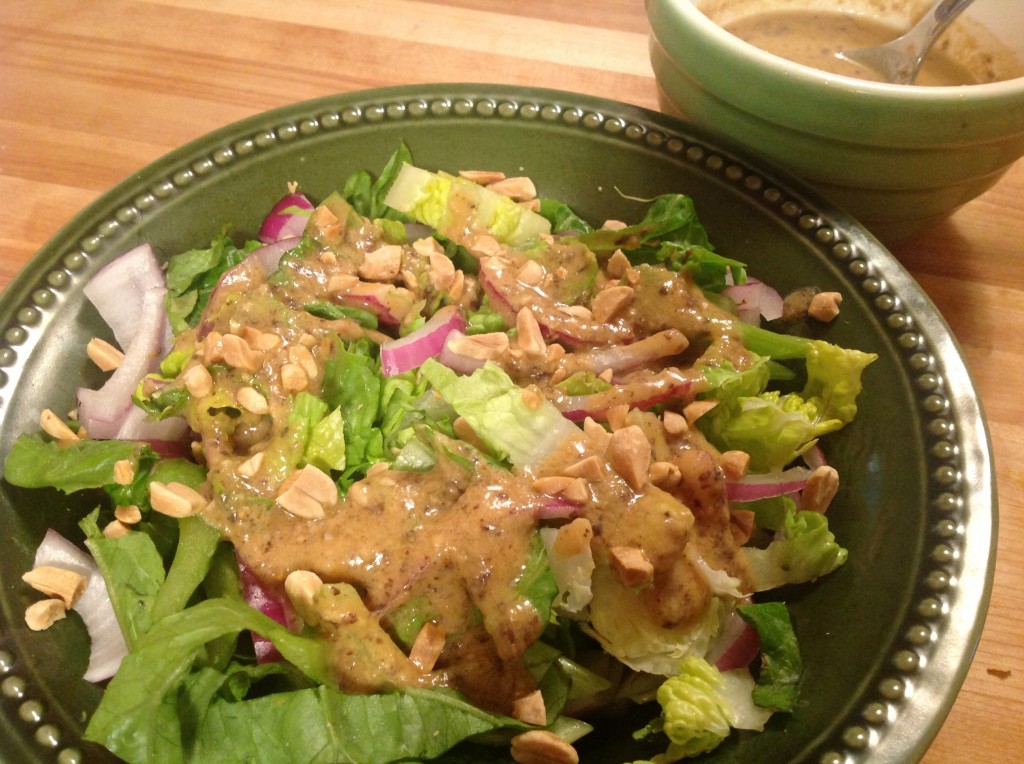 The "V" Word: Say it. Eat it. Live it.
(Visited 1,509 times, 1 visits today)