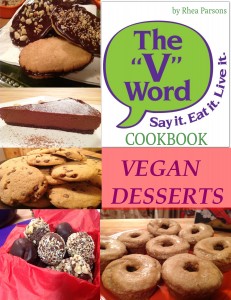 I know I always said desserts were not my thing and there was a time I swore I couldn't bake to save my life. But times change and I have challenged myself again and again to get in the kitchen and learn how to make delicious desserts. It's especially challenging because I make mostly gluten-free recipes and gluten-free baking sometimes feels like it requires a doctorate in baking sciences. But I did it and now it's time to share some of what I've learned with you.
The "V" Word Cookbook: Vegan Desserts is a 62-page e-book filled with full-color photos for EVERY SINGLE recipe!
There are 31 recipes: 29 are gluten-free and the other 2 can certainly be made gluten-free just by swapping the type of flour used.
Most of the recipes are soy-free except for the ones that use vegan cream cheese as an ingredient and if you use soy-free cream cheese, ALL the recipes can be soy-free as well.
Over half a dozen of the recipes have never before been posted on this blog or shared anywhere.
If you are a fan of The "V" Word and The "V" Word Cookbook e-books, then you already know that my recipes are clearly written and easy to follow. If I can make these desserts, so can you!
What kinds of desserts you ask?

How about muffins, cakes, doughnuts, tarts, galettes, puddings, mousse, pies, truffles and so much more!!!
Take a look at these:
And my

NEW

recipes for these:
Geneva- and Milano-Style Cookies (I KNOW!)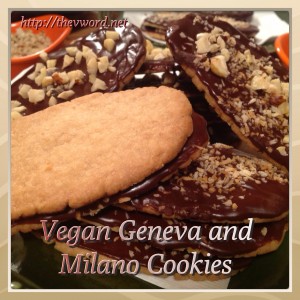 Vegan Truffles (I KNOW!)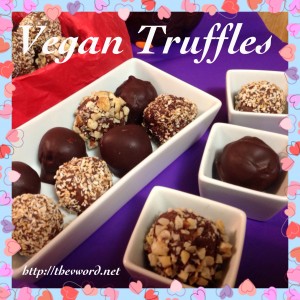 Yes, all these recipes can be yours! Order NOW!
How to order The "V" Word Cookbook: Vegan Desserts
The "V" Word Cookbook: Vegan Desserts is all yours for just $5.00!! That's less than 17 cents per recipe! I know!  Just follow these 2 steps:
Simply click the "Buy Now" button below and purchase your copy of The "V" Word Cookbook: Vegan Desserts. 

Then send your receipt to me at info@thevword.net and I will send your e-book to you right away.
You can also order any of my other e-books: Party Food or Holiday Edition for $5. 
OR GET ALL 3 FOR JUST $10. THAT MEANS YOU GET ONE FREE! THAT'S OVER 100 RECIPES!!
Just specify which book you want when you send me your receipt.
Holiday Edition contains 27 recipes that are perfect for the holidays or any day! Appetizers, soups, entrees, sides and desserts!
Party Food contains over 50 recipes that will make your party fabulous – appetizers, finger food, sandwiches, burgers, entrees, sides and desserts. Plus vegan and gluten-free substitution lists, product brand guides and links to extra recipes and material from The "V" Word.

Please tell all your friends about this great offer and share it everywhere! Enjoy!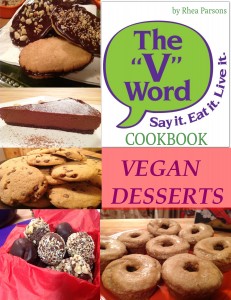 The "V" Word: Say it. Eat it. Live it.
(Visited 1,606 times, 1 visits today)