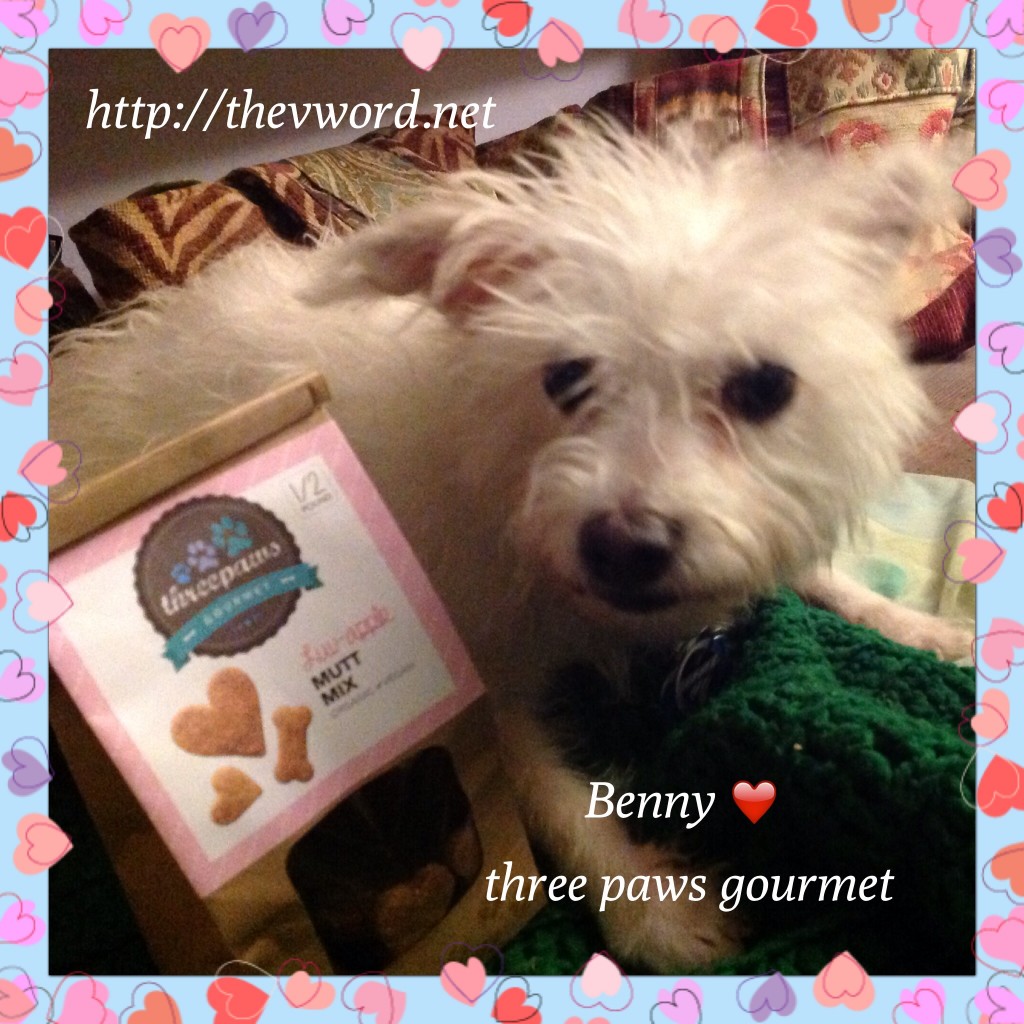 It's almost Valentine's Day and that means it's time to focus on love, hearts and the warm fuzzies that come from true love. What better topic could there be than my Benny? We all know that when you want to find true love, you'll find it with animals. Benny is my little valentine (whether he wants to admit it or not) and I love him more than I thought possible.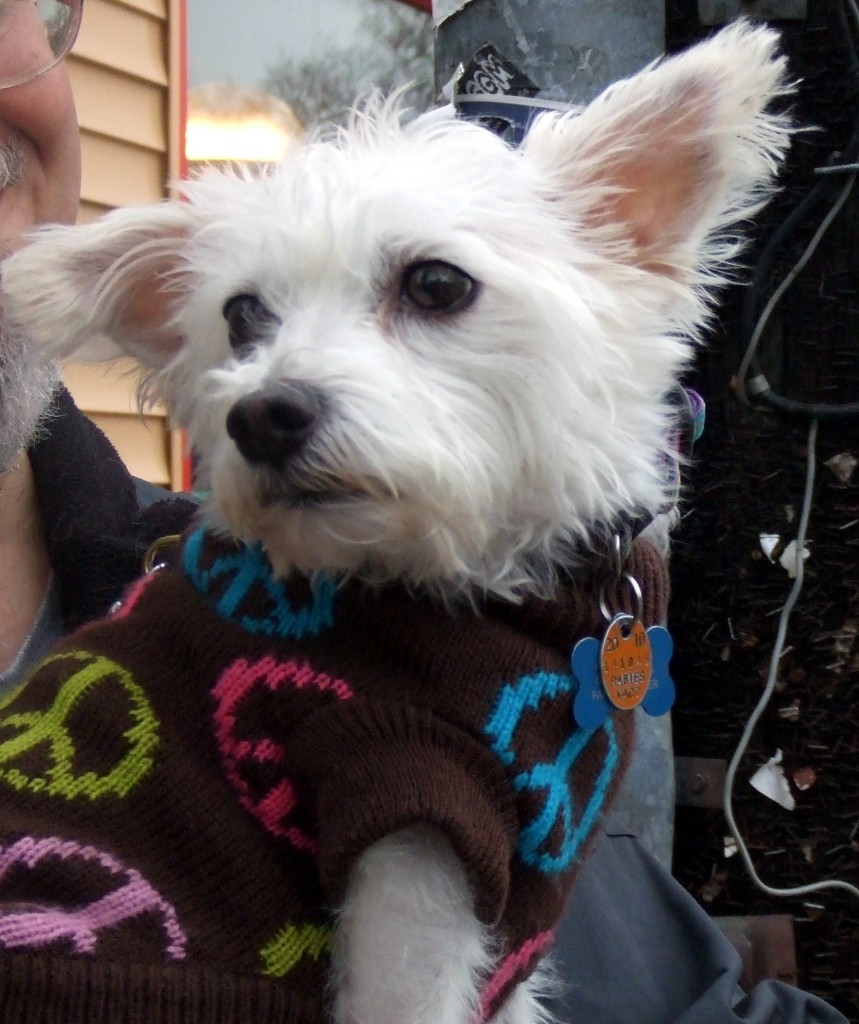 Benny came into my life after a huge loss and I never thought I could open my heart to him but he showed me that the heart can also make room when it comes to love. Everyone may say that I rescued Benny but in so many ways, he's the one who rescued me. My Benny is my heart, pure and simple.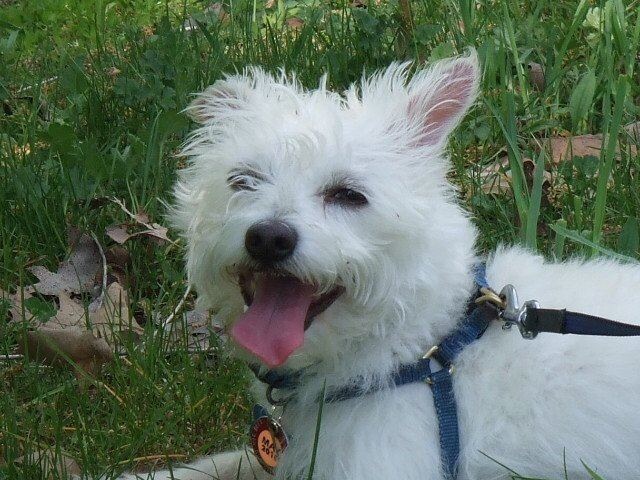 One of the ways I like to show Benny how much I love him is by giving him treats that are not only delicious (which is all he cares about) but that are good for him too. Treats that are pure and simple – like our love. That's why I'm so happy that I found Three Paws Gourmet.
Three Paws Gourmet is a company that makes handmade dog treats that are organic, non-GMO, and vegan with grain-free and gluten-free options.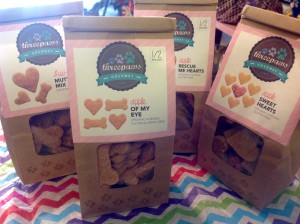 Three Paws Gourmet is run in Wisconsin by Hannah and Alex, both inspired by their dogs, Layla and Duke, to offer healthy and tasty treats to our canine loved ones. They make dog treats you can feel good about giving to your fur baby. Their mission is to deliver "the highest quality treats you can buy, by using only the best organic and locally sourced ingredients." All of their treats are baked-to-order and shipped quickly so the treats are fresh and yummy.
The three paws logo represents their values: growth, diversity and support of animals in need. In fact, they do special things like send you a free bag of treats to give to your local shelter when you buy 3 bags.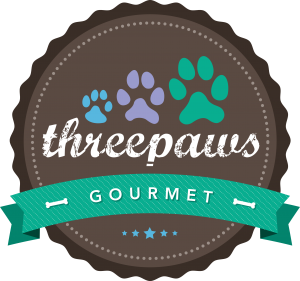 Three Paws Gourmet makes treats that are free of fillers, chemicals and artificial anything! Even the packaging is eco-friendly.
Let's take a look at the amazing variety of treats that they offer:
Knowing that coconut and coconut oil are really healthy for dogs and help their skin, digestion, immune system, metabolic function and dog health, there are several coconut treats: Duke's Coconut Bites, Layla's Coconut Bones and Classic Coconut Cookies.
There are also Carob Coconut Cookies and Carob Coconut Bones to add that chocolate-like flavor with healthy carob.
Then there are the apple treats: Apple Sweethearts, Apple Rescue Me Hearts, Apple of My Eye and Luv-Apple Mutt Mix.
The Luv-Apple Mutt Mix contains Organic whole wheat flour, organic apple sauce, organic peanut butter, organic maple syrup, and organic cinnamon. That's it.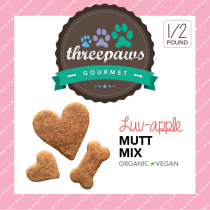 The Rescue Me Hearts and Sweet Hearts are gluten-free so they contain organic brown rice flour, organic coconut flakes and the pink coloring comes from organic beet juice.
The Apple of My Eye treats are grain-free as well as gluten-free so they contain organic garbanzo bean flour and coconut flour. You couldn't choose healthier, simpler ingredients for your baby.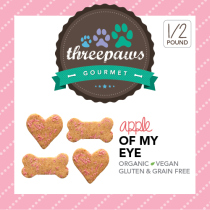 Their newest treats are the Mini Minty Bites and Mini Minty Bones which have fresh mint for fresh doggie breath and Crusher's Peanutty Crumble that can be mixed into food for picky eaters.
Of course, the true test is whether the doggies like the treats or not. Benny can be very picky about his treats. There are about a handful that he likes and luckily, the biscuits we make for him at home are in that list. So it's always with a little trepidation that I open the treat bag and ask Benny if he wants to try a new treat.  I needn't have worried because Benny loved them.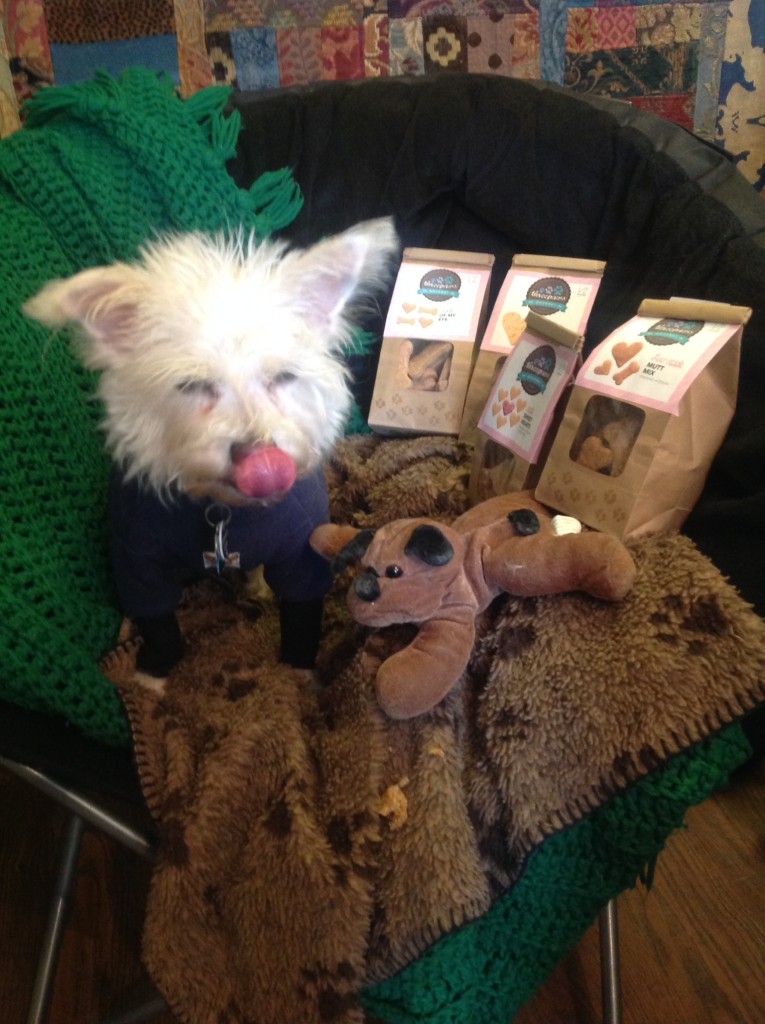 The dog treats are soft and chewy. I will be totally honest and say that I tasted them for myself. There is no salt and no added sugar other than the beets and maple syrup. The cookies taste very plain and simple to me but Benny can't get enough of them.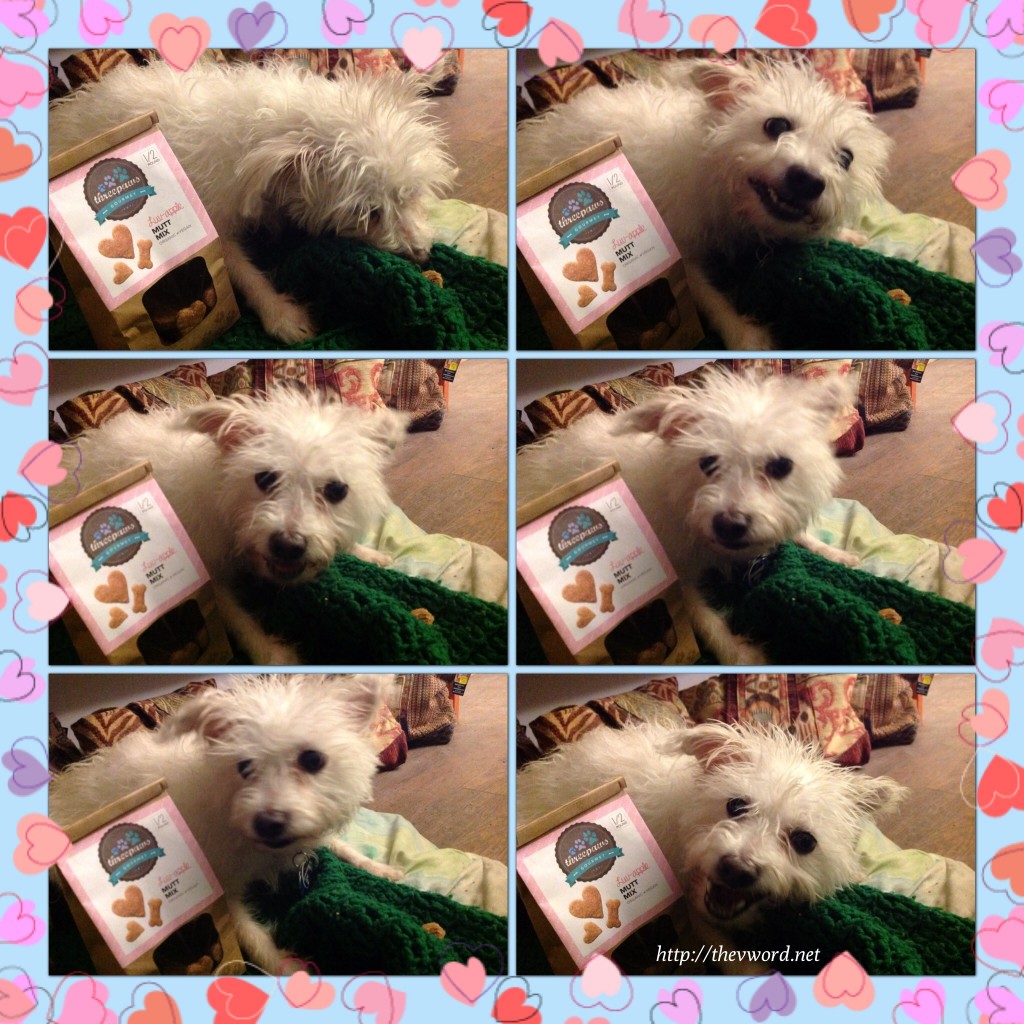 That just shows how unnecessary it is to add so many flavors and ingredients to dog treats, thinking they need to be enticed to eat them. After all, dogs don't know whether treats are good or bad for them; they only care how they taste. It's up to us as doggie parents to choose only the healthiest ingredients for our loving, loyal friends.
The only thing Benny wasn't thrilled with was having to share his Three Paws Gourmet Dog Treats with his "frenemy" Rosie. Rosie is a 12 1/2 year old mini schnauzer who is also very selective about her treats and she absolutely loves these.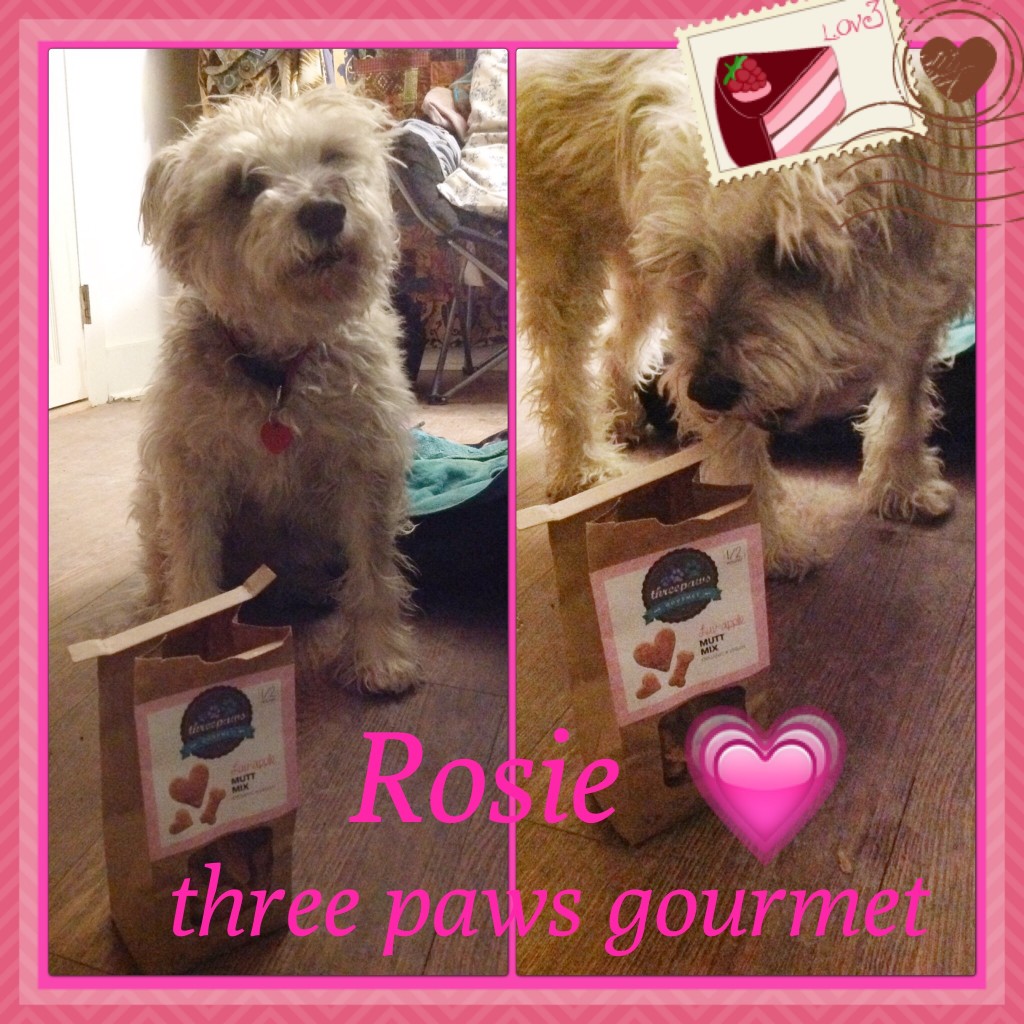 It means so much to find a company that cares as much about my dog as I do. Three Paws Gourmet dog treats are "always handmade to order with love, passion and compassion." When I can offer Benny such healthy treats that he finds delicious (and force him to share them with Rosie), I get to show him how much I love him in a way that makes us both happy. Three Paws Gourmet dog treats make every day feel like Valentine's Day.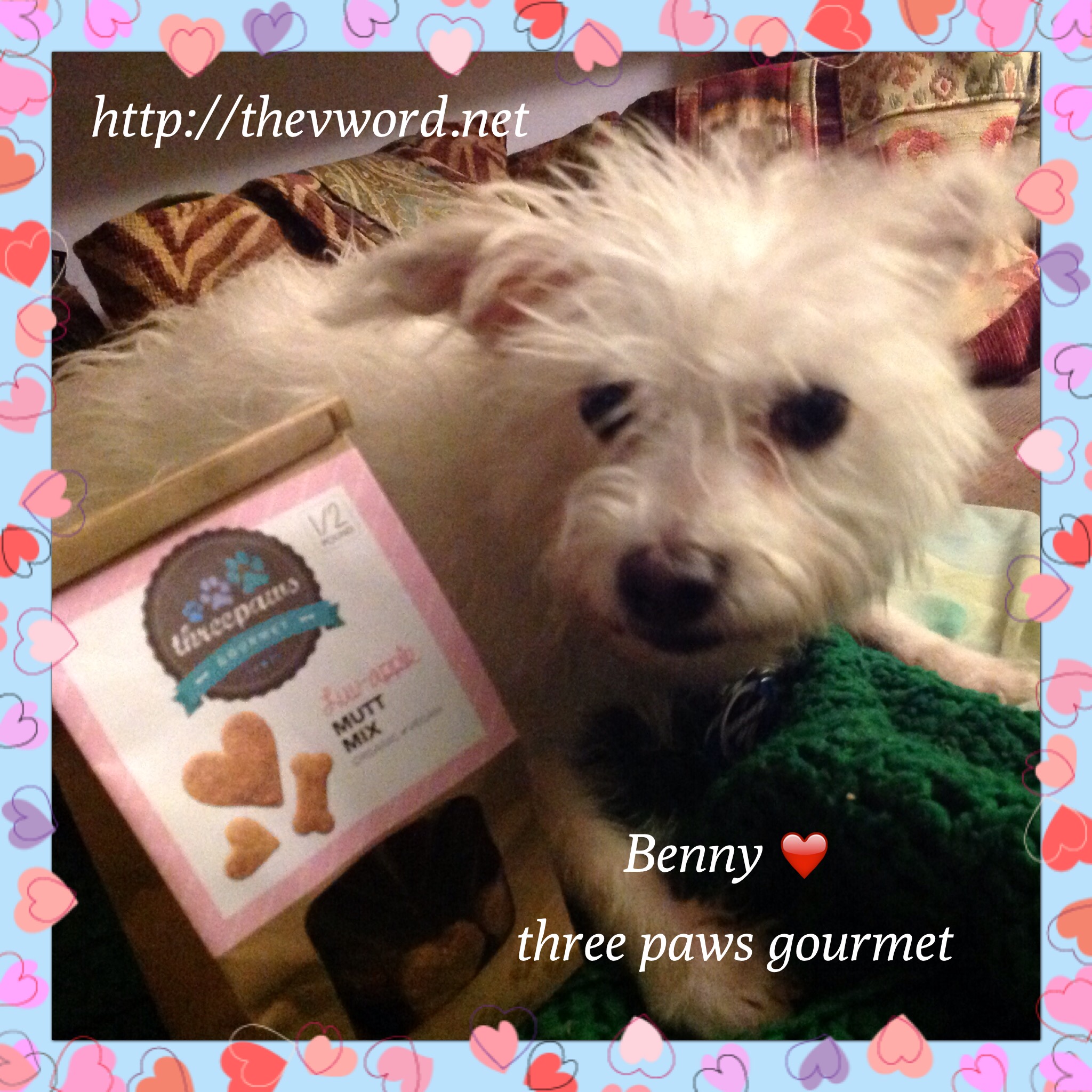 Check out the Three Paws Gourmet web site for more info and ordering instructions including how to get free shipping with your $30 order.
Thank you, Three Paws Gourmet, for the healthy, yummy treats. Benny and Rosie say "Woof, woof!" 
The "V" Word: Say it. Eat it. Live it.
(Visited 1,260 times, 1 visits today)