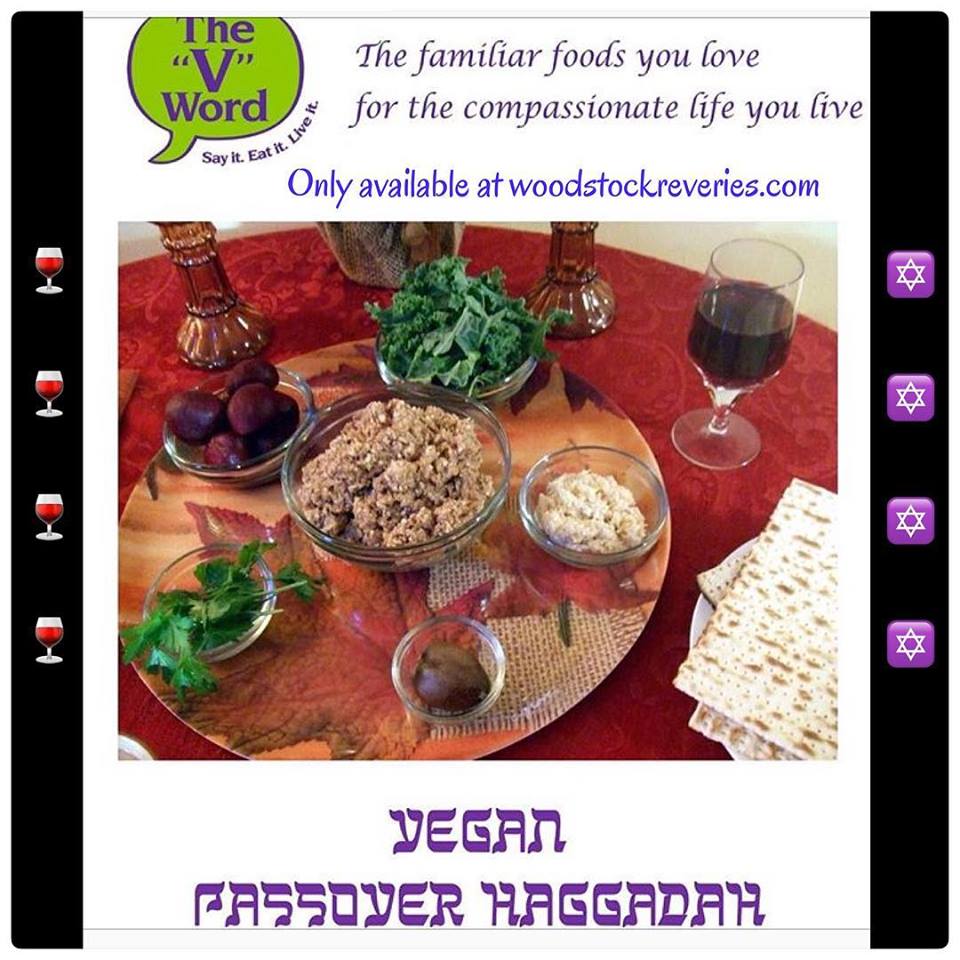 Hey friends! Sorry I've been missing for so long but my laptop crashed and Dell has had it for 2 months. They said they fixed it but when I got it back, it had something new wrong with it so it had to go back to them again. I wasn't able to post anything while they have my computer hostage and who knows when I'll get it back. I'm using a loaner they sent me. And speaking of hostages, I have some exciting Passover news!
For people who hold vegan Passover Seders, there are limited options when it comes to Haggadahs.  There's a vegetarian Haggadah and a beautiful but expensive humanist one but that's about it. So I wrote my own.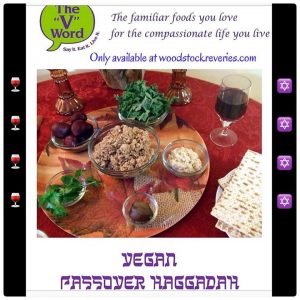 "This Vegan Haggadah has been lovingly written to combine both the traditional practices of the Passover Seder while also acknowledging the oppression of other living beings which requires breaking with some of those traditions. It is a marriage of old and new, as we expand the scope of those who pray for freedom.
This Haggadah aims to remove the hypocrisy of celebrating freedom at a table filled with products of enslavement, suffering and death and replace it with messages of peace, compassion and ahimsa (non-violence)." – from The "V" Word Vegan Passover Haggadah
You can use part of it, all of it or let it be a guide to having the vegan Seder that's right for you.
This e-book is a 70-page PDF with full-color photos and a few bonus vegan Passover recipes from The "V" Word such as vegan Gefilte fish and matzoh ball soup.
Of course, you can find lots more recipes here on The "V" Word.
The "V" Word Vegan Passover Haggadah is available only at Woodstock Reveries.  It is $5 and upon payment, a link to download the e-book comes in your receipt.  All my other e-cookbooks are also available at Woodstock Reveries for $5 each or the bundle of 4 e-books for $15  And you can still get the Cookbook Preview for free by emailing me at info@thevword.net to request it.
Happy Vegan Passover! 
The "V" Word: Say it. Eat it. Live it. 
(Visited 1,654 times, 1 visits today)