The "V" Word continues its celebration of VeganMoFo, the month of Vegan food, with the other 25 letters of the alphabet. "R" is for Ropa Vieja.
A man's family was coming to his home for dinner. Being very poor, the man could not buy them enough food. So he went to his closet, gathered some old clothes (ropa vieja) and imbued them with his love. When he cooked the clothes, his love for his family turned them into a wonderful stew. According to Wikipedia, that's one of the theories of how the dish Ropa Vieja got its name.
If I could, I would translate Ropa Vieja to mean "bad timing." I learned how to make Ropa Vieja just a few months before I gave up eating meat. Spanish food is one of my favorites and when I was just starting to learn how to cook, I made this dish and it was incredible! But then I watched "Meet Your Meat" and tossed my old clothes away. I remember thinking how bad my timing was to learn how to make this dish right before I could no longer eat it in good conscience.
As I learned how to cook Vegan food, I kept thinking that I could easily recreate the dish with seitan. But I never got around to it. Then I became gluten-free and once again, threw my old clothes away. Why had I procrastinated?!
I still really wanted to make a vegan version of Ropa Vieja but now it had to be gluten-free as well. So I turned to the ingredient that would best fit: portobello mushrooms. They are "meaty," can be thinly sliced or shredded and they are the right color. The result was amazing! Juicy, beefy portobello mushrooms cooked in a rich sauce of sofrito, olives and cumin with delicious colorful vegetables. Not only is my Ropa Vieja muy bien but it's also muy bonita!
In the pictures you can see that I didn't do the best job shredding the mushrooms. I think I was really anxious to eat this dish that I waited so long for, that I hurried through it. But I did take the time to make my own sofrito – a combination of aromatic ingredients cooked in oil that serves as the base of cooking. It's like the Spanish and Latin American mirepoix or "holy trinity" of cooking. Different countries have different versions of sofrito. The one I make is closest to a Puerto Rican version with ajices dulce (when I can find them), cubanelle peppers, bell peppers, garlic, onion, plum tomatoes and cilantro. Starting a dish with sofrito makes an incredible flavor difference in the finished product. I always try to keep some in the freezer in serving size portions and pull them out as I need them.
In the end, I guess the translation of Ropa Vieja is quite fitting. When I went vegetarian, I threw away my old clothes of being a meat eater. When I went Vegan, I threw away more old clothes to eliminate dairy, eggs, honey and all animal products. Even more old clothes were dumped when I went gluten-free. There has been a lot of closet cleaning but I think I've finally found the clothes that fit me best and they are delicioso!


Ropa Vieja
GF
6 large Portobello mushroom caps
½ tsp. black pepper
1/2 tsp. onion powder
1 tsp. garlic powder
2 Tbs. safflower oil
½ cup sofrito (see recipe below)
8-10 stuffed pimento olives (alcaparrado or other green olives)
1 tsp. ground cumin
1-14 oz. can diced tomatoes
1 Tbs. vegan, gluten-free Worcestershire sauce
1 1/2 cups water
2 bay leaves
4 medium stalks celery, diced
2 medium carrots, diced
2 bell peppers, diced, mix colors if possible
1 medium onion, diced
Kosher salt
1/2 cup frozen green peas
Fresh parsley for garnish
Instructions
For the Sofrito: (This makes more than you need for the recipe. Keep the rest in the refrigerator for up to 3 days or freeze serving size amounts in individual plastic bags.)
Ingredients
1 medium Spanish onion, cut into large chunks
1 medium green pepper, cubanelle or frying pepper
8 garlic cloves
3 ajices dulce, optional (if you don't have this, add more cilantro)
1 cup cilantro
2 plum tomatoes, cored and cut into chunks
1 red bell peppers, chopped
Instructions
Put the onion and peppers in a food processor and pulse until coarsely chopped. With motor running, add remaining ingredients one at a time and process until smooth.
Back to the Ropa Vieja:
Slice the mushroom caps thinly. Heat oil in a large sauté pan. Add the mushrooms, season with pepper, onion powder and garlic powder. Cook about 10 minutes until they are browned. Remove from the pan and set aside.
Add sofrito, olives, and cumin to the pan. Add more oil if the pan is too dry. Stir in tomatoes, Worcestershire sauce, and water. Add the bay leaves. Let cook for about 4 minutes until the sauce begins to bubble.
Return the mushrooms to the pan, bring to a boil, then cover and simmer on low heat about 20 minutes until the mushrooms are soft and have taken on the flavors of the sofrito, olives, cumin and tomatoes.
Remove the mushrooms again and shred with 2 forks (or slice them as thinly as possible; thinner than I did in the pictures). Return them to the pan.
Add the onion, celery, carrots, and peppers to the pan. Season with salt, to taste. Bring it to a simmer, about 10 minutes or until the vegetables are tender. Add the frozen peas and heat through. Remove the bay leaves.
Garnish with fresh parsley. Serve over rice or quinoa, with potatoes or plantains. Enjoy!
"R" is for Ropa Vieja. For another "R" word, check out my Red Potato Home Fries and my Ratatouille Stew.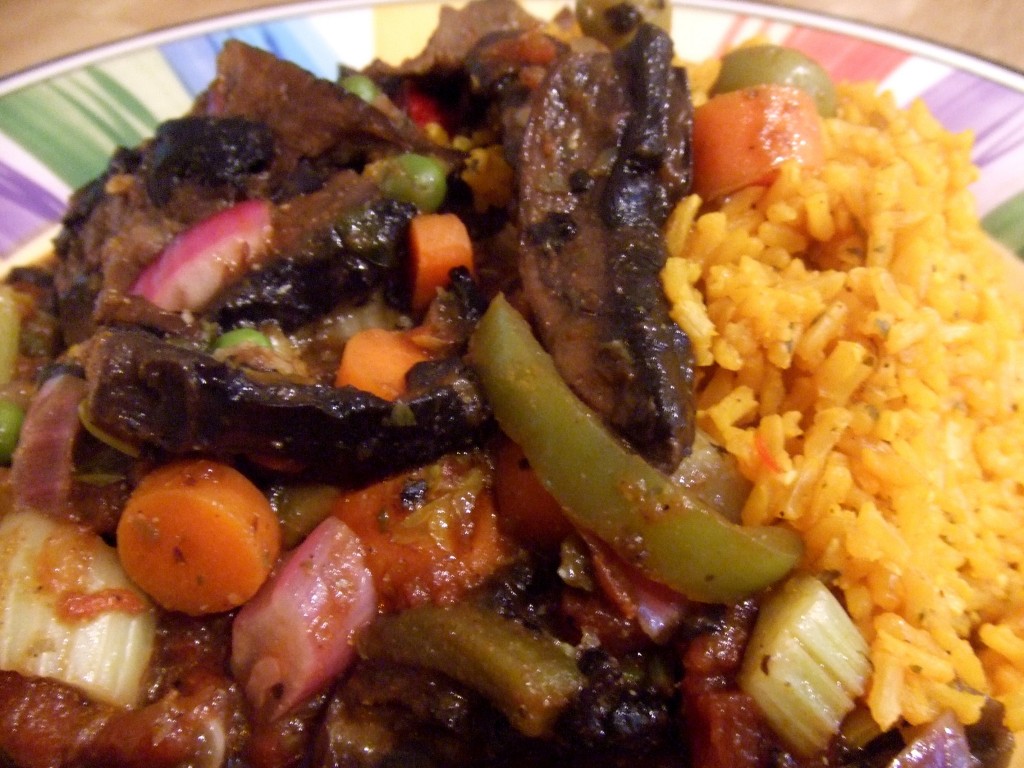 The "V" Word: Say it. Eat it. Live it.
(Visited 2,505 times, 1 visits today)