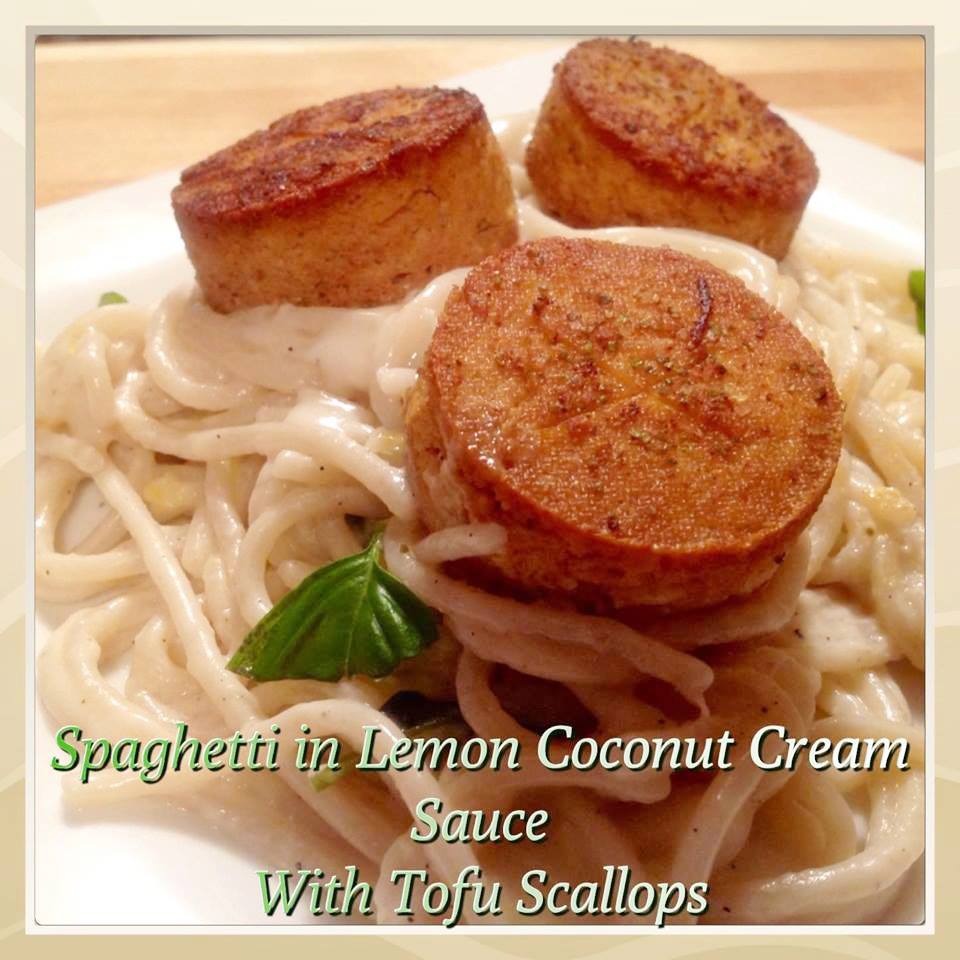 It seems that every time I get really excited about a new vegan product, it's made by So Delicious. I've always loved their yogurt, I could live on their frozen desserts, I'm addicted to their new cashew milk and their seasonal coconut milks make me wish it was autumn all year long!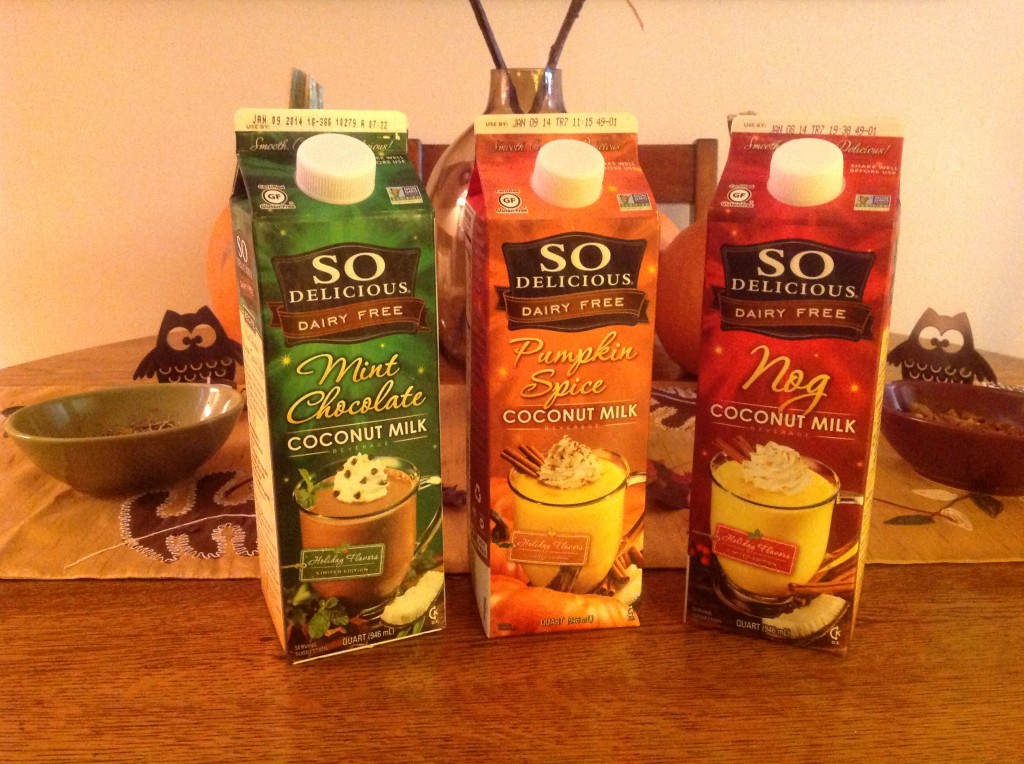 Now So Delicious Dairy Free has a new line of coconut culinary milks. That's right, milk made just for cooking! So Delicious Dairy Free Culinary Coconut Milk is a product the world has been waiting for.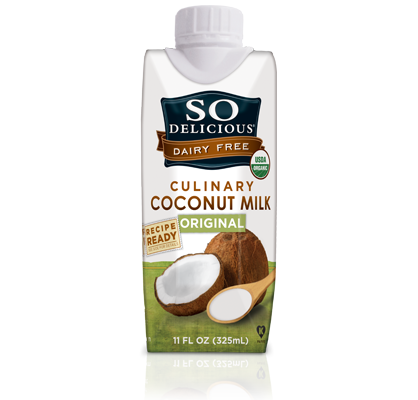 I'm sure many people, like myself, love to cook with thick and creamy coconut milk but the cans are kind of inconvenient. First, you need to keep them in the fridge to make sure they are thick enough for whatever you're making. Then you have to drain away the watery part which ends up being half the can. And then, if you only need one cup of coconut milk, you can't reseal the can.
So Delicious Culinary Milk comes in these handy containers that are resealable. Just twist off the top, use what you need, put the top back on and put it in the fridge. Easy! The milk is white, fresh and tastes delicious. The Culinary Milk comes in both Lite and Original. They are vegan, gluten-free, organic and non-GMO certified.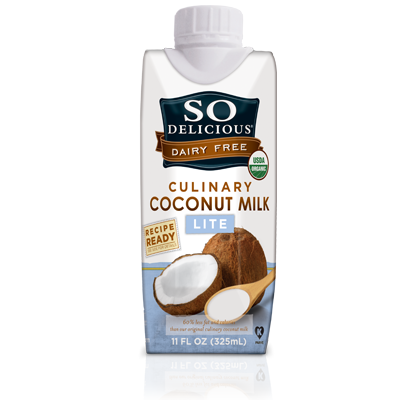 Since I got my hands on this culinary milk, I've been cooking a lot more with coconut milk. I made whipped cream with it and this incredible Jamaican Rice and Peas (get the recipe here) which was creamy beyond belief.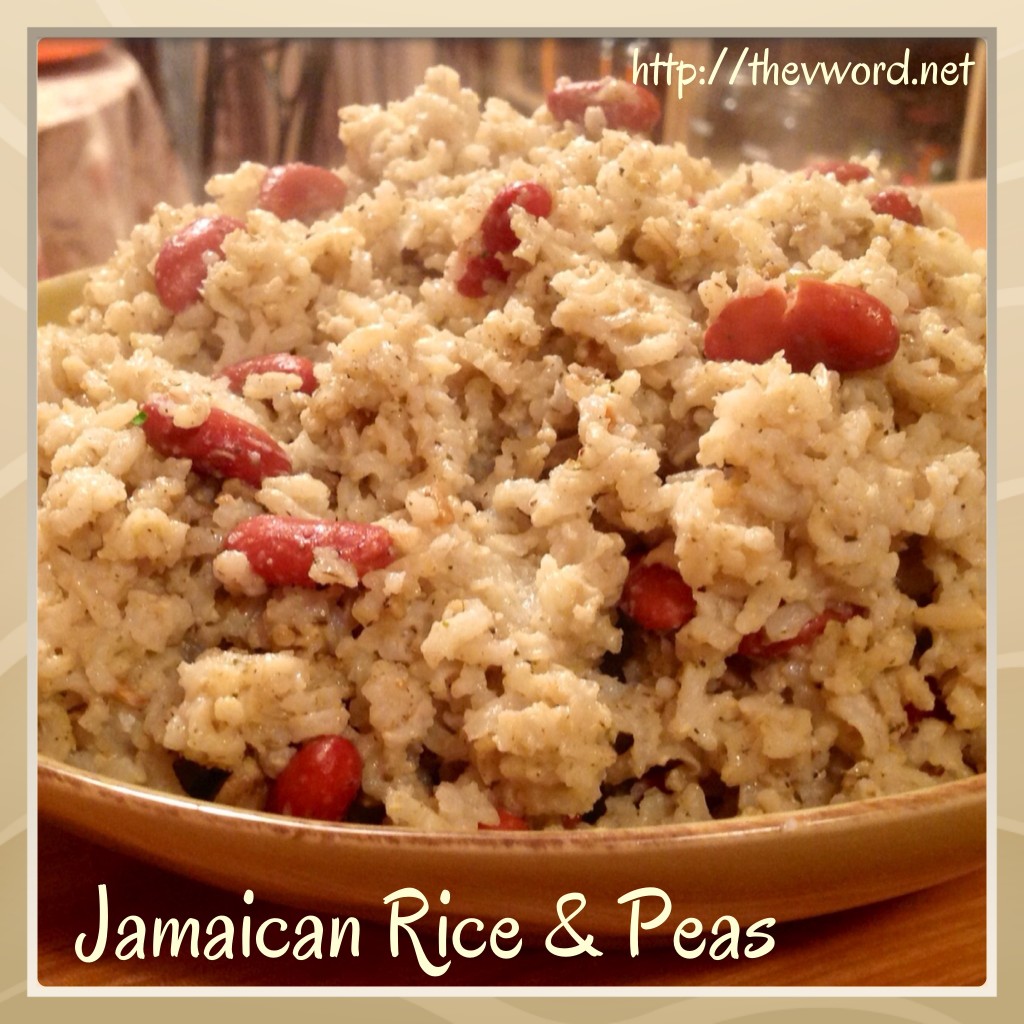 But my favorite recipe (and Tom's) is this pasta dish I made for our anniversary: Brown Rice Spaghetti in a Lemon-Coconut Cream Sauce. It's like an Alfredo sauce but so much easier to make. It's thick, creamy, cheesy and so decadent. I topped it with my Tofu Scallops and it made an elegant meal that was definitely something to celebrate. Get the recipe below!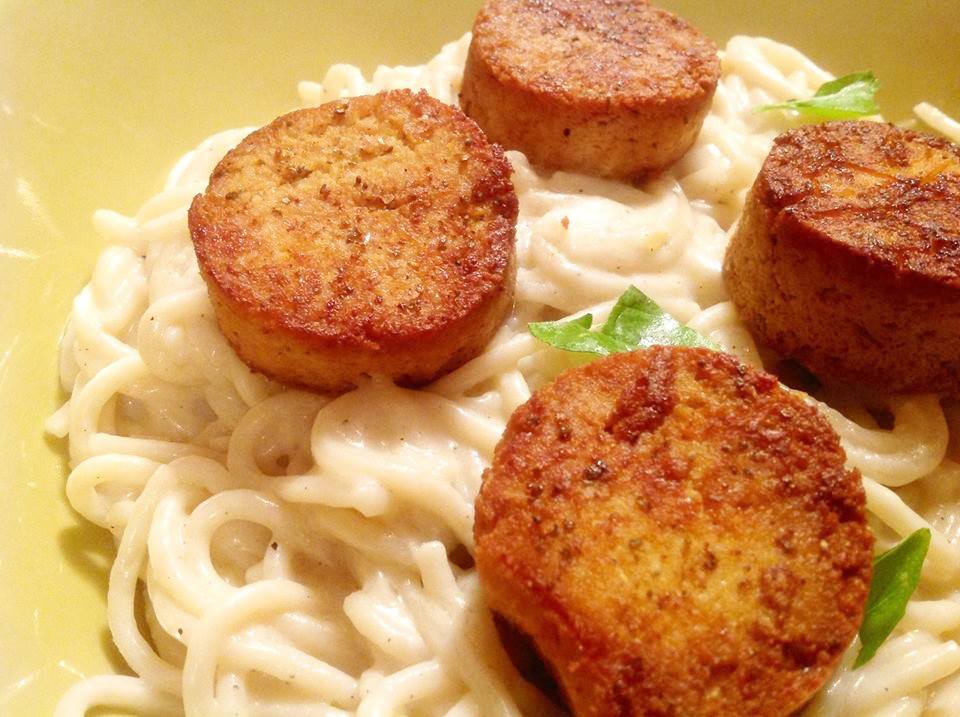 I've made it several times since, changing it up to suit the mood. Last week I made with brown rice penne topped with tempeh meatballs. Yum!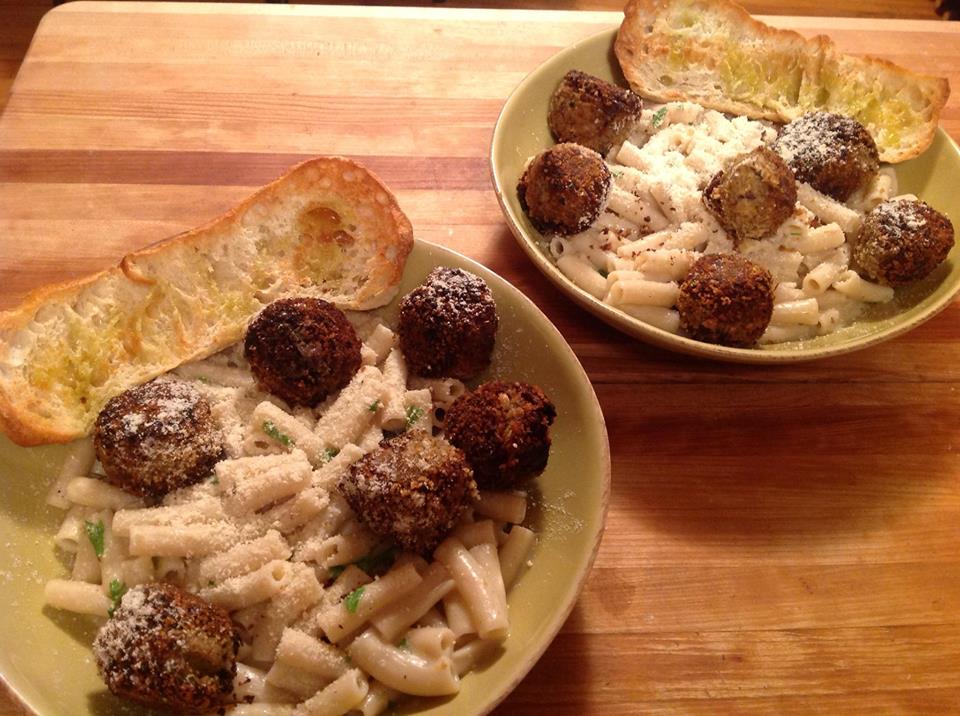 With So Delicious Culinary Coconut Milk, I see a lot more cooking with coconut milk in my future. I have to admit, I always hesitated because of the inconvenience of the cans but now it's as easy as opening any container of milk. So Delicious makes everything better. I love their products so much, I'm trying to get them to let me live in their warehouse! Please?
So Delicious Dairy Free
Web site: www.sodeliciousdairyfree.com
Facebook page: https://www.facebook.com/sodeliciousdairyfree
Spaghetti in a Lemon-Coconut Cream Sauce with Tofu Scallops
GF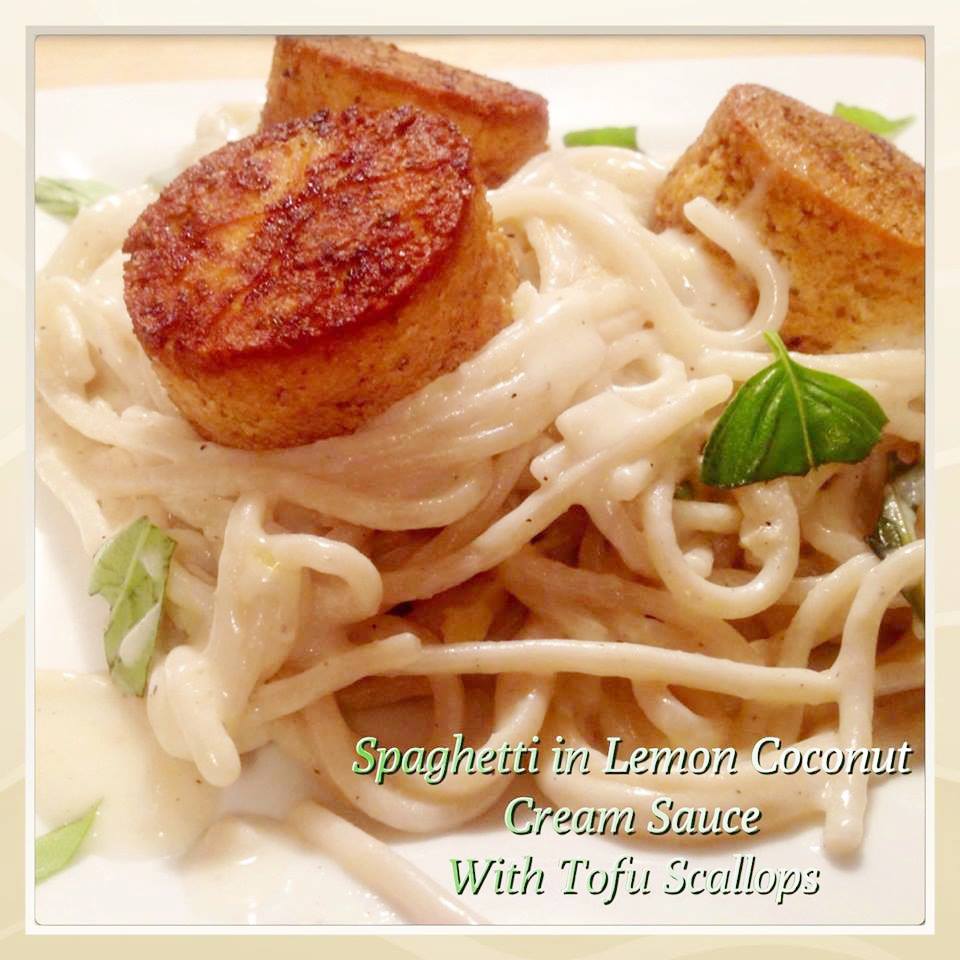 1 lb. gluten-free spaghetti
Kosher salt
4 Tbs. vegan butter
1 cup So Delicious Culinary Coconut Milk
Zest and juice of one fresh lemon
1/4 cup vegan grated parmesan plus more for garnish
Black pepper
Fresh basil leaves
12-16 Tofu Scallops
Bring a large pot of water to a boil. Add a handful of salt and the spaghetti. Cook until just shy of al dente. Reserve 1 cup of pasta water. Drain the spaghetti and set aside.
While the spaghetti is cooking, heat a large skillet or saute pan over medium heat. Melt the butter in the pan. Add the coconut milk and the lemon juice. Stir and let cook until everything is heated through. Add 1/4 cup of the grated vegan parmesan and mix. Season with salt to taste.
Add the spaghetti to the pan and toss to coat with the sauce. Add ½ cup of the reserved pasta water and stir. Continue to cook until the spaghetti and the sauce are hot. If the sauce gets too thick, add the remaining ½ cup of pasta water and mix. Turn off the heat. Add the lemon zest and season black pepper to taste. Top with grated parmesan and fresh basil leaves. Serve in bowls topped with 3-4 tofu scallops.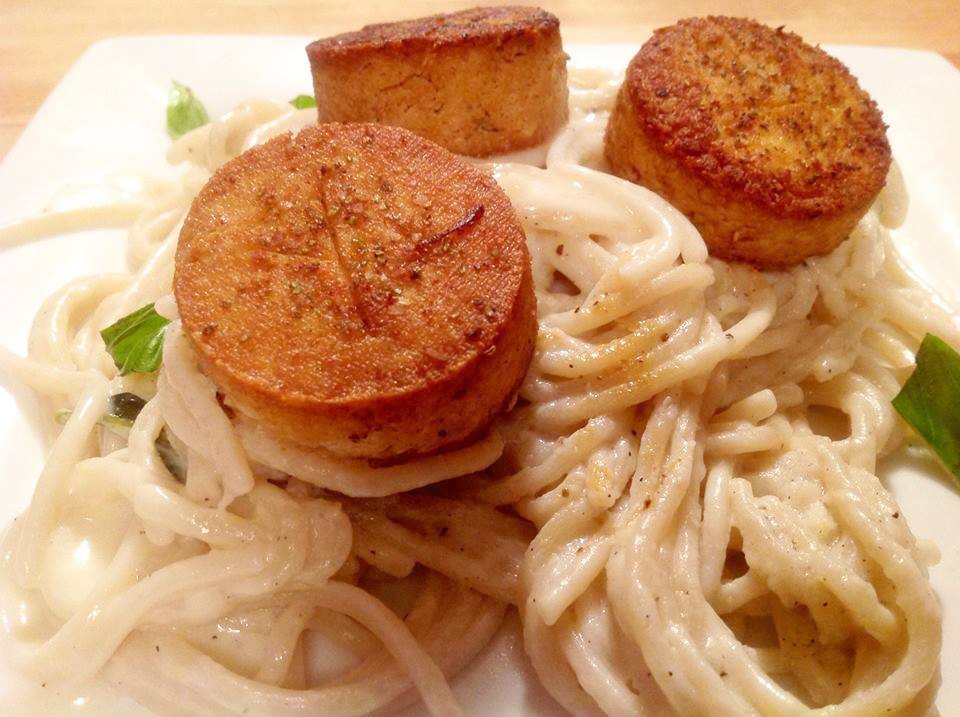 The "V" Word: Say it. Eat it. Live it.
[amd-zlrecipe-recipe:21]
(Visited 10,479 times, 1 visits today)