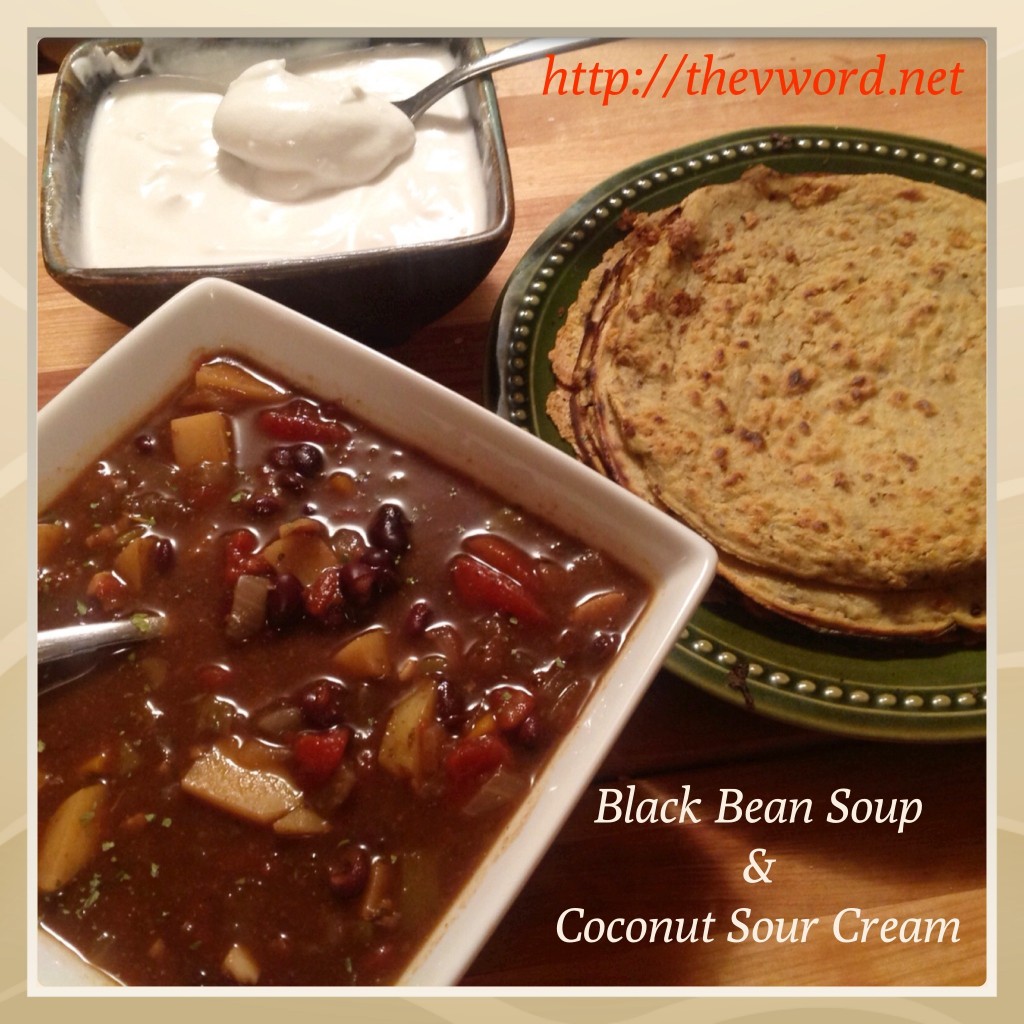 Welcome to another day of VeganMoFo 2013, the month of delicious vegan food. Hopefully, you are checking out lots of blogs that might be new to you and finding lots of great new recipes to try.

The weather is getting colder fast. The leaves are already changing and falling. It's time to pull those sweaters and jackets out of the closet. It's time for food that warms you up and that means soup.
I wanted to make a soup that was hot: both temperature hot and spicy hot. I happened to have some cans of black beans so that's what I decided to make – a spicy black bean soup.
It's really quick and easy to make, though the longer you let it cook, the more the flavors intensify. Lots of soups and stews are like that. They might be delicious fresh but they are incredible the next day.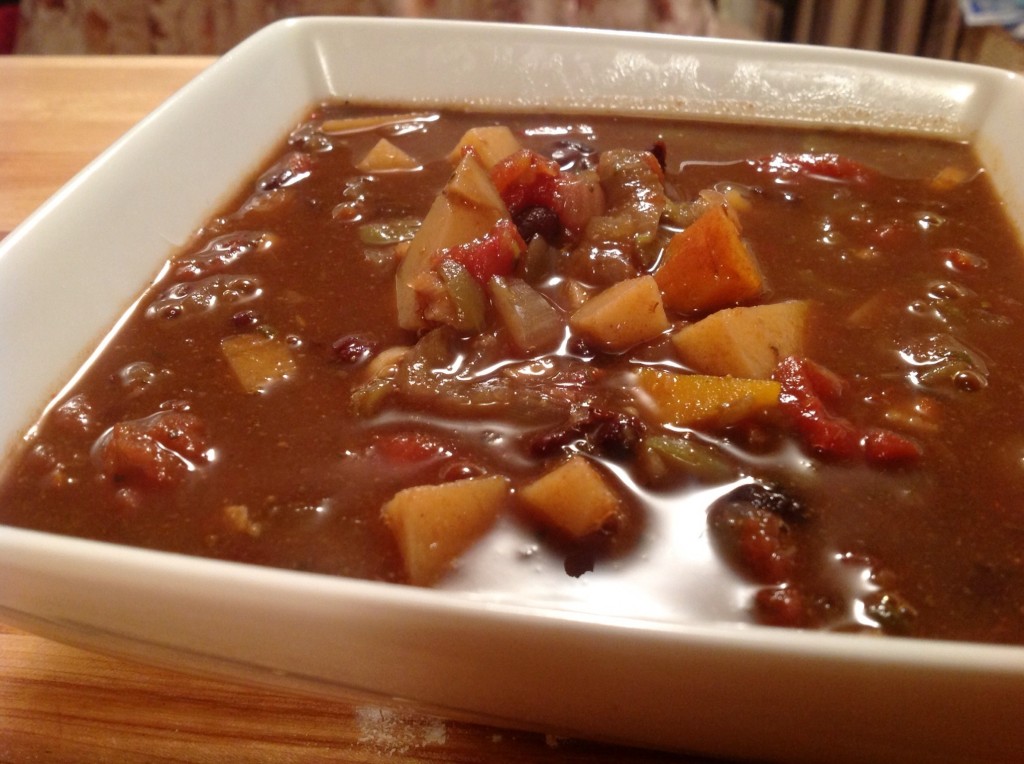 This soup is made spicy with chiles and lots of warm spices like paprika and cumin. I add one potato just to add some starch and make the soup thicker. That's also the reason I don't drain the beans; I want all that starchy liquid. Some people puree the beans before putting them in the soup or use an immersion blender to puree the soup after it has cooked but I don't. I like my soup chunky with whole beans. But if you want to, you can choose to smash half the beans and leave the other half whole.
Toppings can be whatever you want: crispy tortilla chips, smooth and creamy avocado or tangy sour cream. I made my own coconut sour cream that I told you about last week and some soft chickpea crepes.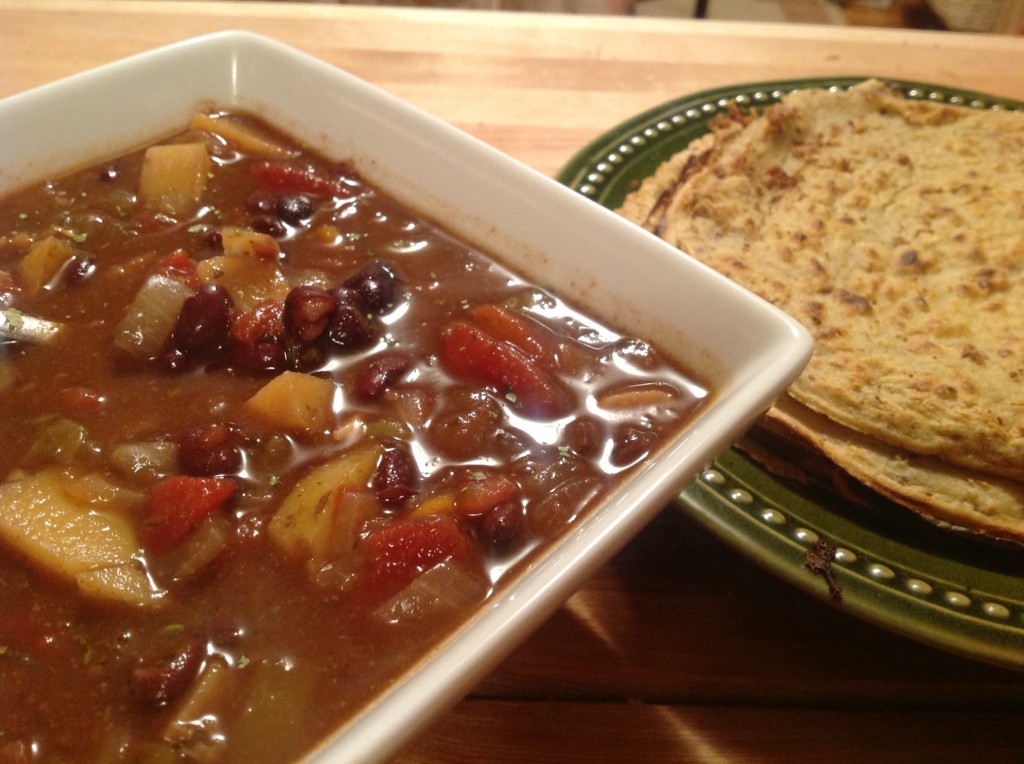 My Spicy Black Bean Soup with Coconut Sour Cream is warm, spicy and guaranteed to make you feel all warm inside. A perfect way to begin autumn. Enjoy!
Spicy Black Bean Soup with Coconut Sour Cream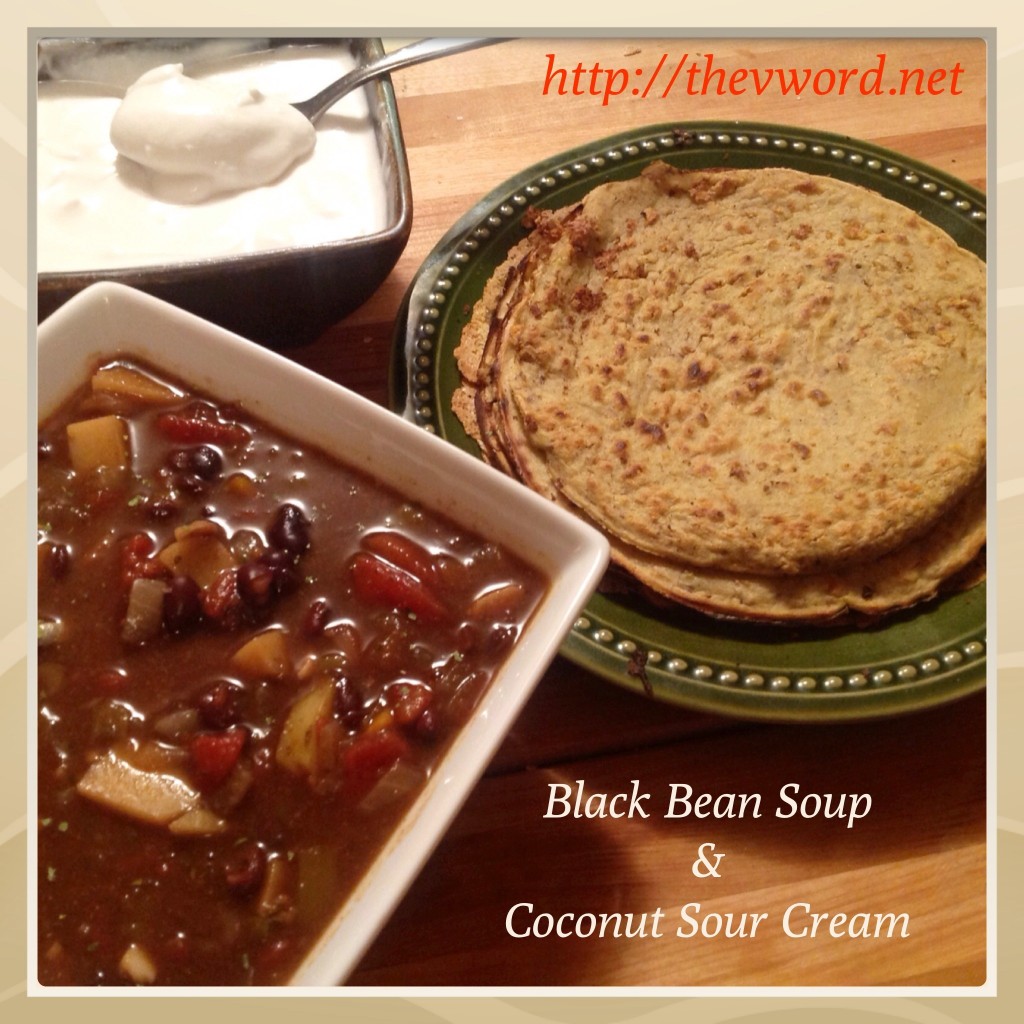 GF, SF
1 Tbs. canola oil
1 large onion, diced
1 carrot, diced
1 large Yukon gold potato, diced
6 cloves garlic, minced
1-4 oz. can green chiles
1-15 oz. can diced tomatoes
1 tsp. ground cumin
1 tsp. ground coriander
1 tsp. dried oregano
1 tsp. smoked paprika
½ tsp. ground black pepper
1 bay leaf
2- 15 oz. cans black beans, undrained
6 cups of low-sodium vegetable broth or water
Kosher salt to taste
2 Tbs. fresh cilantro, chopped
Optional toppings: avocado, tortilla chips, chickpea crepes
Heat the oil in a large soup pot over medium-high heat. Add the onion and let cook for 5 minutes until softened. Add the carrots, potato and the garlic and let cook another 5 minutes. Add the chiles and the tomatoes and stir to combine. Mix in the cumin, coriander, oregano, paprika, black pepper and the bay leaf. Don't add any salt now since the flavors will intensify as the soup cooks. Add it at the end.
Add the beans to the soup and then the broth. Cover the pot and bring the soup to a boil.  Then remove the lid, lower the heat and let simmer for at least 45 minutes. The longer it cooks, the more the flavors will intensify.
Before serving, taste the soup to see if it needs salt. Add the cilantro and remove the bay leaf. Serve in bowls topped with sour cream, avocados or tortilla chips.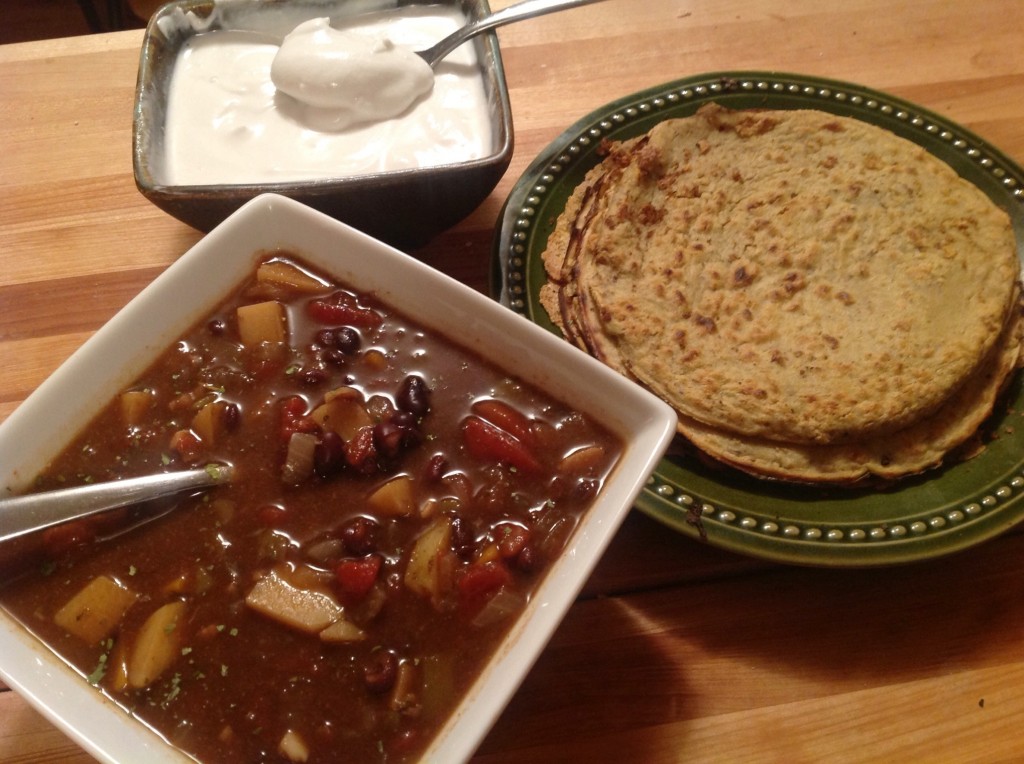 The "V" Word: Say it. Eat it. Live it. 
(Visited 1,603 times, 1 visits today)