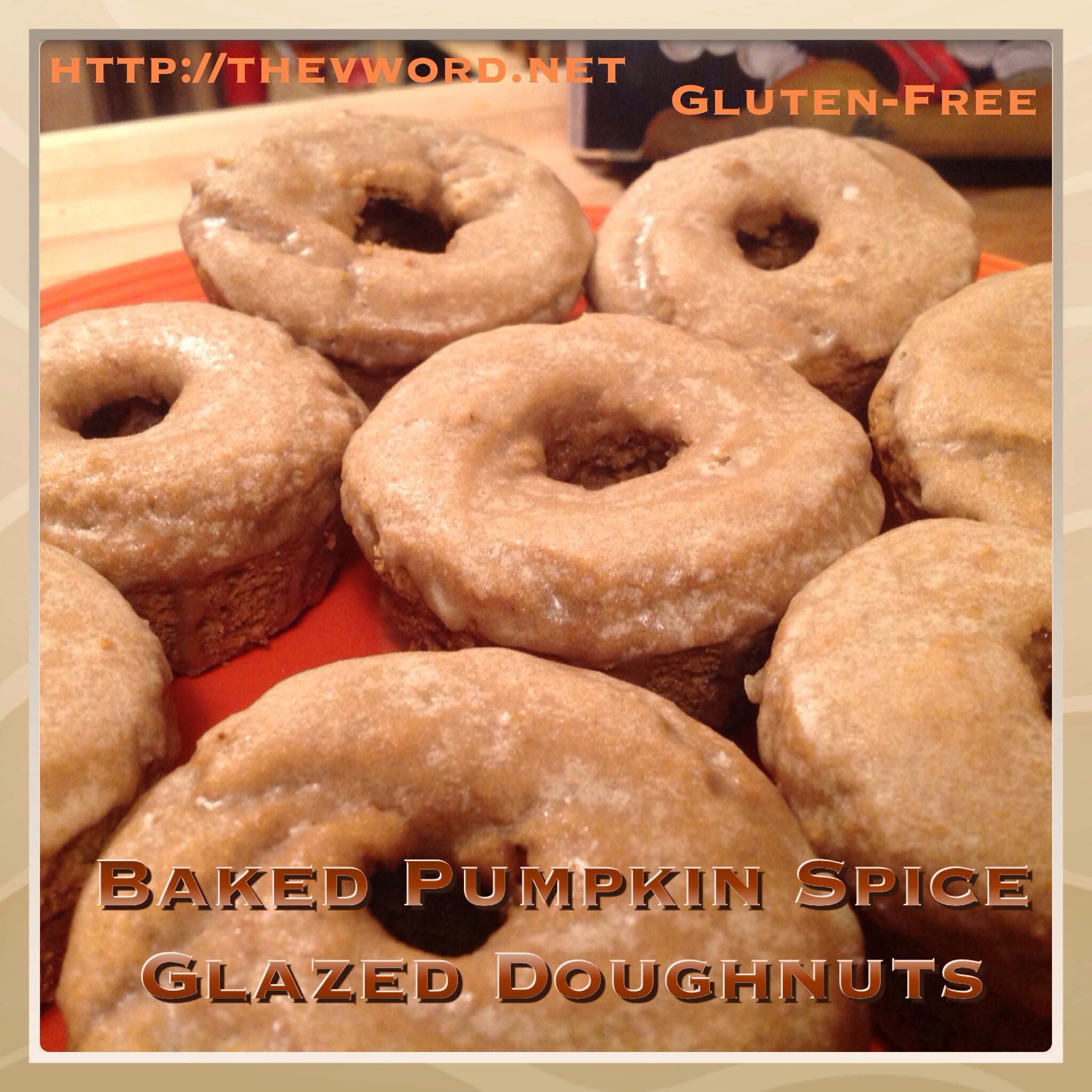 Wow, this has been a rough week. On Sunday night, the wind and rain was so bad from a storm that we lost power. Even though we got the power back on Monday, we had no internet or cable until today! We actually went 5 days with no TV or internet! We were totally off the grid – well, to us anyway.
I thought I would go crazy without the TV and the internet but I coped much better than I had anticipated. We listened to music on the radio, we played Scrabble, we read a lot! But most importantly, we talked more. Usually we eat on the couch, competing with each other while watching Jeopardy. For this week, however, we had breakfast and dinner at the table with soft music in the background. And we talked. We sat across from each other, looked at each other and talked. It was nice. I have to say, I even felt a little nervous as if I were on a date with Tom, like the old days. 🙂
So today the internet and cable came back but we didn't even turn the television on yet. We like having the music on and we are vowing to eat dinner at the table from now on. The TV can wait. Sometimes the universe sends good lessons we need to learn.
A sad part about not being online, though, was not being able to show everyone what I've been cooking all week. And I haven't been able to share any recipes so it's time I gave you one, right? Right.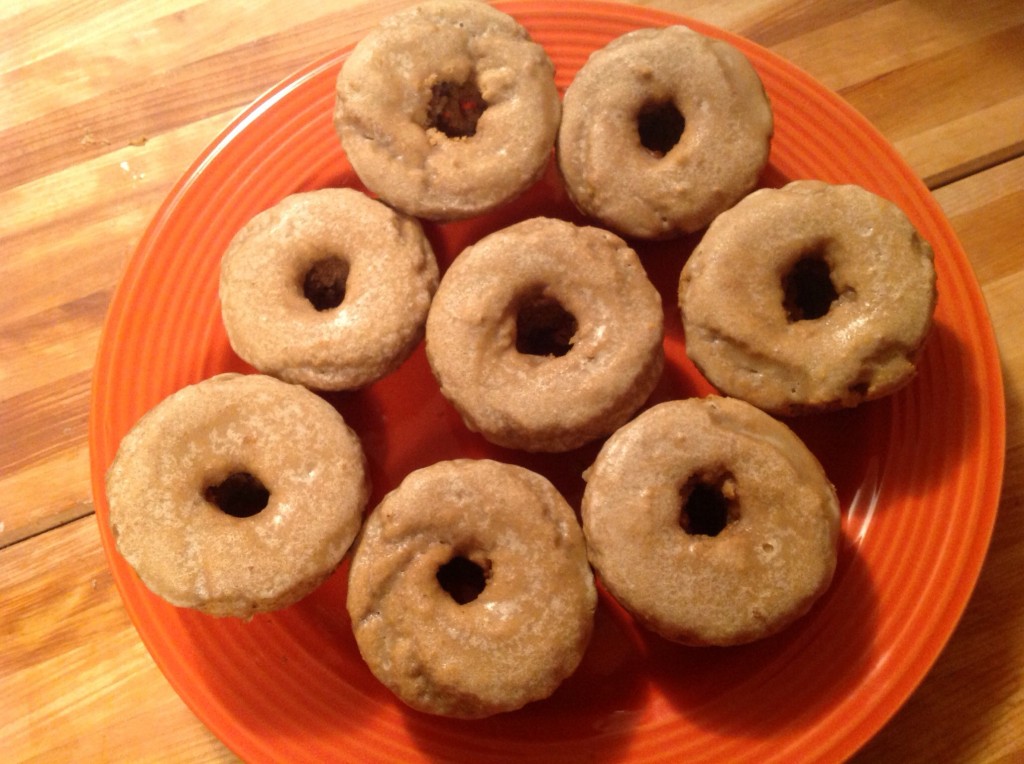 With Chanukah just days away, I wanted to make doughnuts. Not fried, though. I wanted to bake them. And make them gluten-free. So for my first attempt, I kept them pretty simple. I wanted to make pumpkin doughnuts but I didn't want a full-force pumpkin taste so I didn't add any pumpkin puree.I used So Delicious Dairy Free Pumpkin Spice Coconut Milk in the batter and in the glaze for the top. It gave me just the right amount of pumpkin flavor and of course, all the warm pumpkin spices.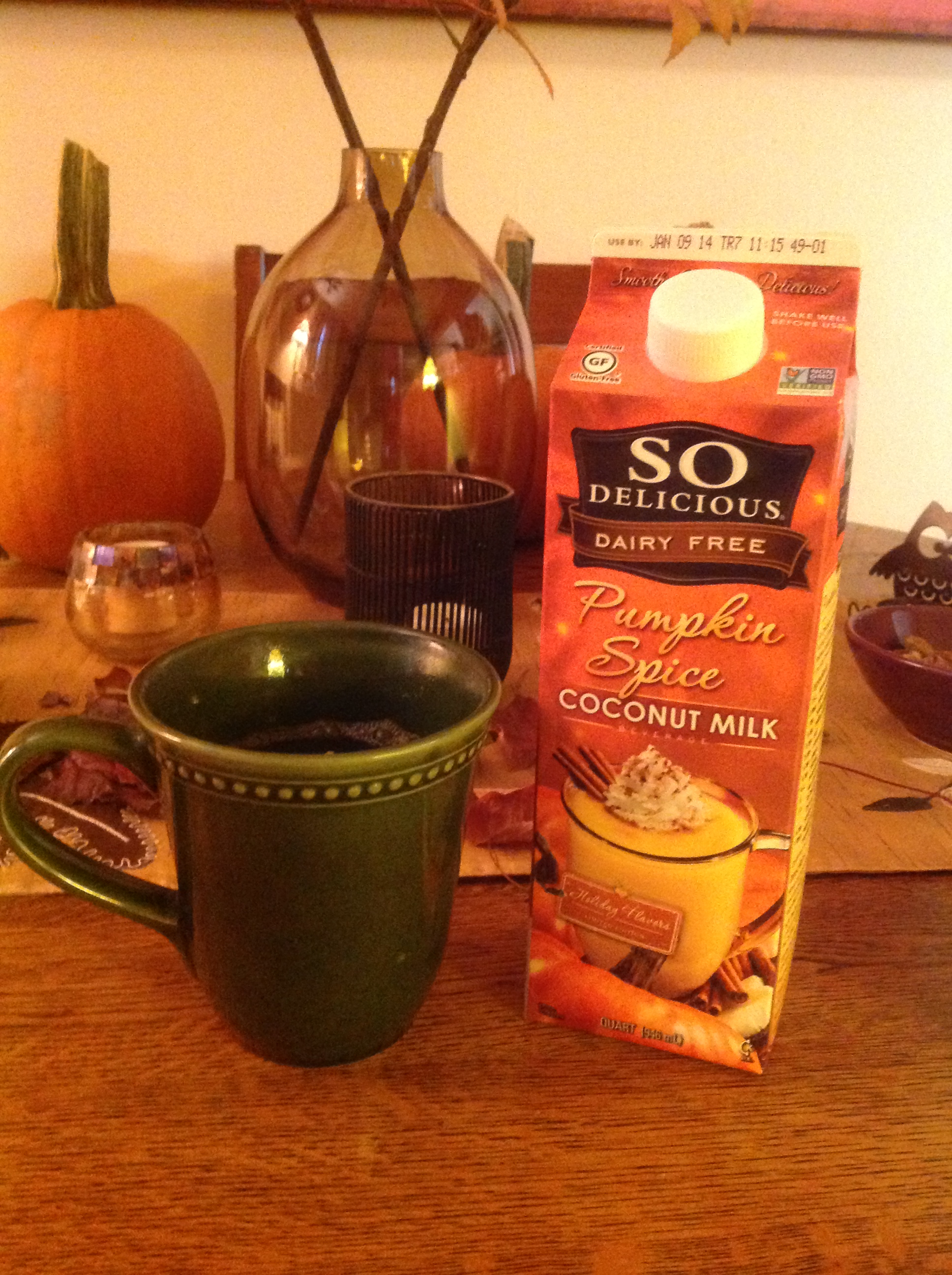 If you don't have a doughnut baking pan, here's a trick: roll up little balls of aluminum foil and place them in a muffin pan. Pour the batter around the ball and bake. That will create the hole in the doughnuts. Just don't fill them too high or they will look more like muffins than doughnuts – though they would still be delicious.
My Pumpkin Spice Glazed Doughnuts are soft, tender and moist and the glaze on top is perfect. Not too sweet. They are very light and a wonderful dessert for both Chanukah and Thanksgiving (which fall back-to-back). Enjoy!
Baked Pumpkin Spice Glazed Doughnuts
GF, SF
Makes about 9 doughnuts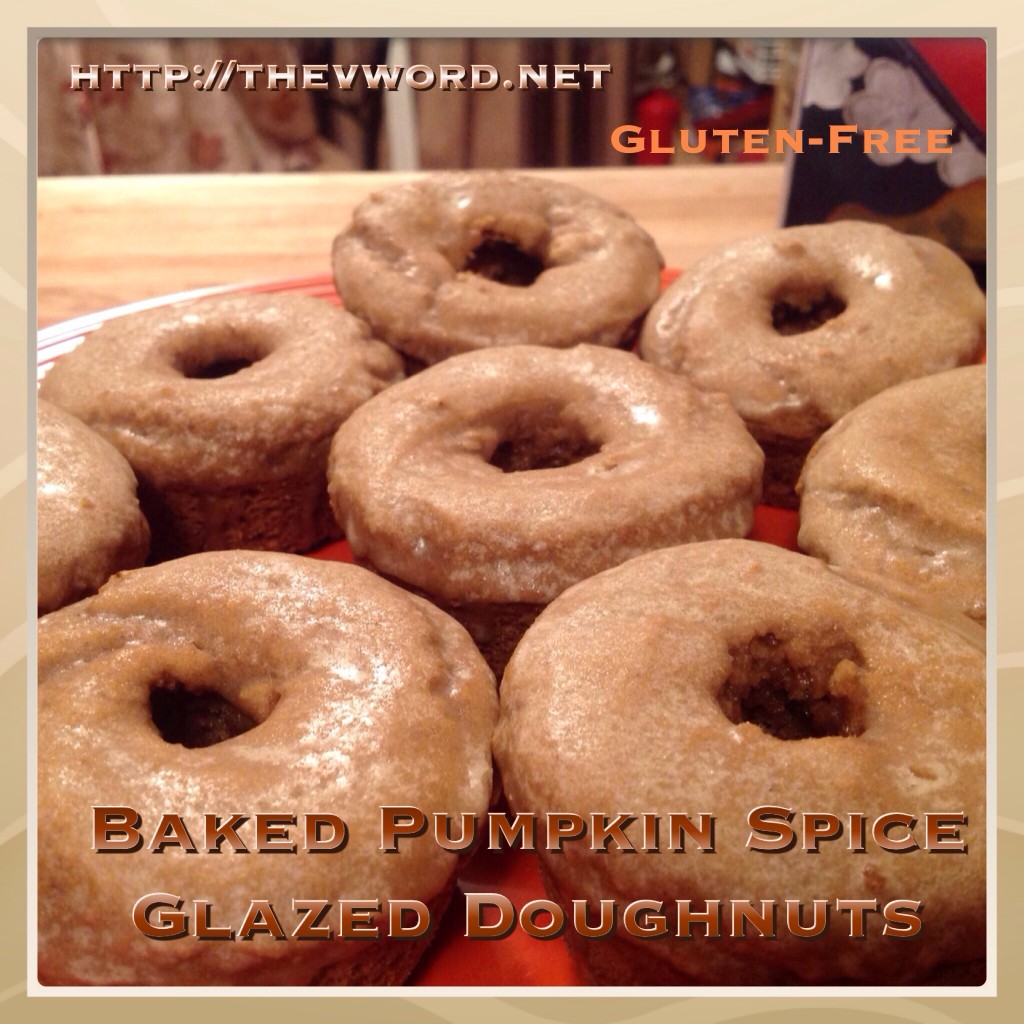 For the doughnuts­­­­­­­­­­­­­­­
1 Tbs. flaxseed + 3 Tbs. warm water
½ cup So Delicious Pumpkin Spice Coconut Milk + ½ tsp. apple cider vinegar
1 cup gluten-free, all-purpose flour
1 ½ tsp. baking powder
½ tsp. baking soda
½ tsp. kosher salt
1/2 tsp. xanthan gum or guar gum (if not already in the flour)
2 tsp. pumpkin pie spice
4 Tbs. V-Butter or oil
½ cup brown sugar
1 tsp. vanilla
For the glaze­­­­­­­­­­­­­­­
½ cup powdered sugar
1 Tbs. So Delicious Pumpkin Spice Coconut Milk
½ tsp. vanilla
Preheat the oven to 375 degrees. Grease a doughnut pan with oil or butter and set aside. In a mug, combine the flaxseed and warm water. Stir and let thicken for 5 minutes. In a second mug, combine the milk and the vinegar. Stir and let sit. It will curdle. That's what it's supposed to do.
In a medium-sized bowl, combine the flour, baking powder, baking soda, salt, xanthan gum or guar gum and pumpkin pie spice. Mix until everything is well combined.
In a large bowl, add the butter and sugar. Use an electric hand mixer to cream them together. Add the milk/vinegar combination and mix until smooth. Pour in the flaxseed gel and mix again until smooth. Finally, add the vanilla and mix that in.
Add the dry ingredients in thirds to the wet ingredients. Mix with the mixer until the batter is smooth and thick. Use a spoon to fill the doughnut pan with batter ¾ full. The doughnuts will rise so don't fill them to the top. Brush the tops with milk and bake for 20-23 minutes. The doughnuts should be firm but still spring back when you touch them. Allow the doughnuts to cool in their pan while you prepare the glaze.
In a bowl, combine the powdered sugar, milk and vanilla. Use the hand mixer to beat the glaze until it is thick and glossy. Set up a cooling rack on top of a baking sheet. When the doughnuts cool, remove them from the doughnut pan. Dip each doughnut in the glaze and set them on the cooling rack for 15 minutes or until the glaze hardens.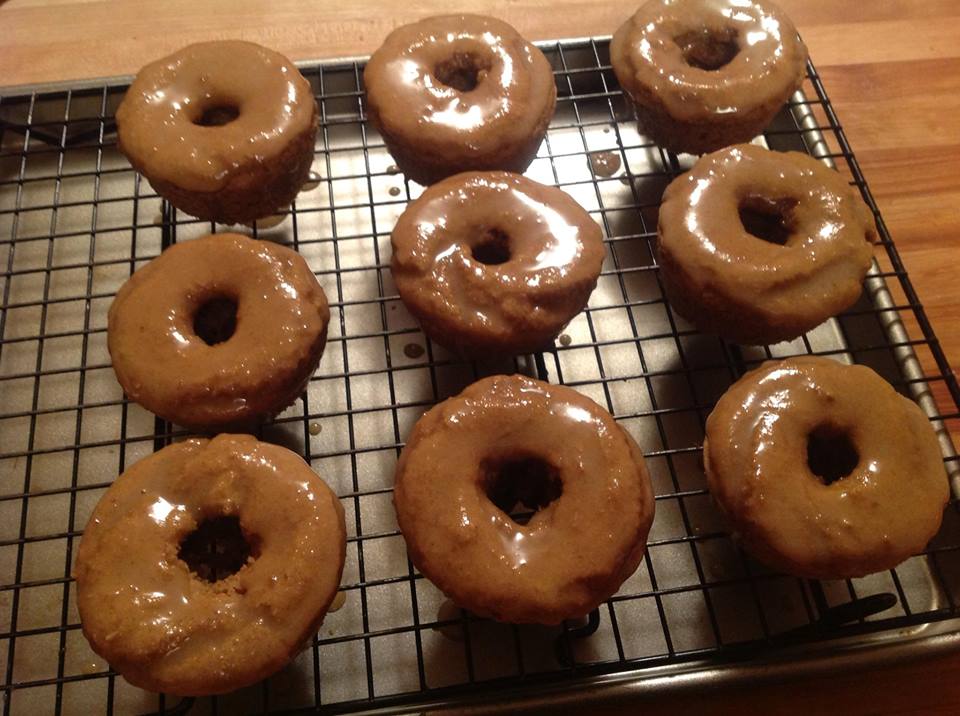 The "V" Word: Say it. Eat it. Live it.
[amd-zlrecipe-recipe:16]
(Visited 2,445 times, 1 visits today)