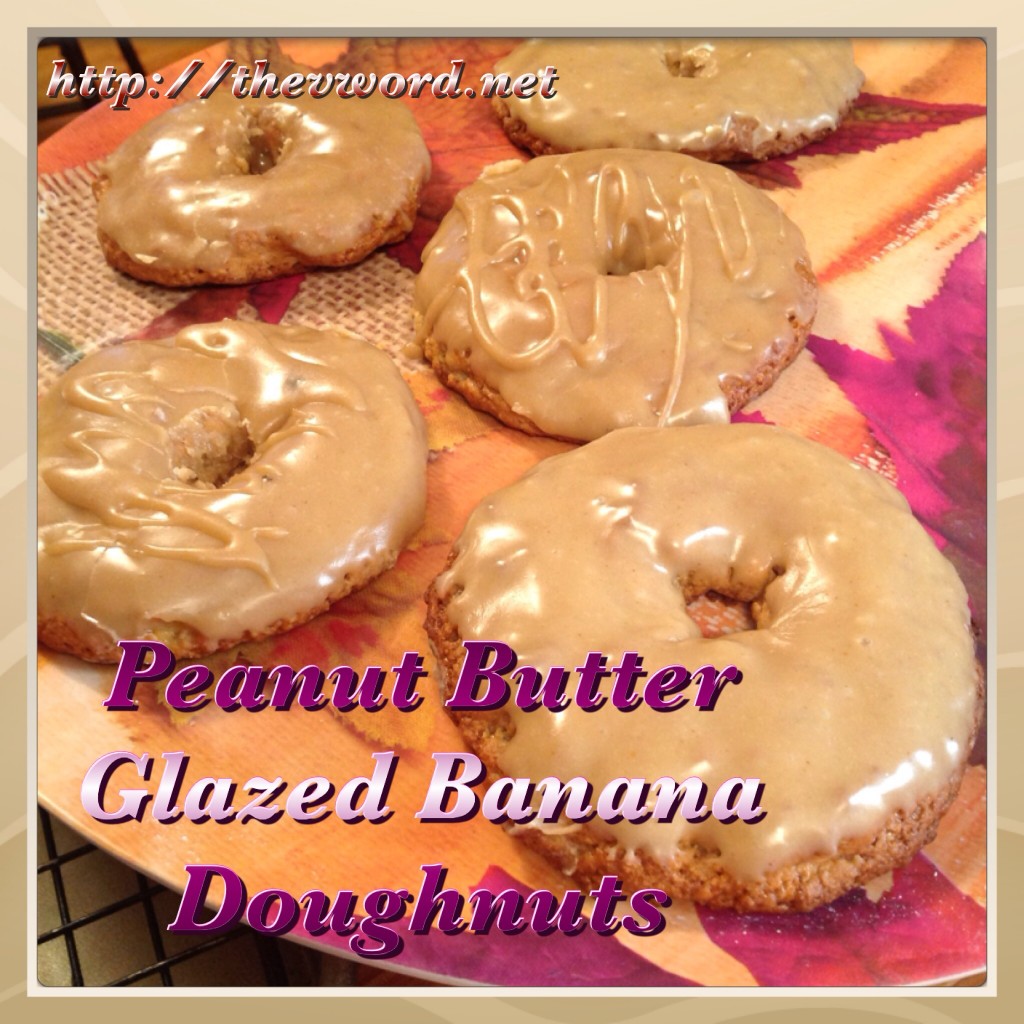 I made the most amazing doughnuts today, even more delicious than the last ones I made. While I could go on and on about how much I love banana bread and how that led me to want to make banana doughnuts and how only a peanut butter glaze would be the perfect topping, I want to focus on something else – how to make doughnuts if you don't have a doughnut pan.
As someone with limited space and money, I can't get every single gadget and cooking tool that's out there. I'm not really a gadget person. I think I get that from my mother. When she got an electric can opener, she refused to use it, saying that by the time she plugged it in and figured out how to use it, she could open 5 cans by hand. I agree. I prefer to do things by hand. I grate potatoes for latkes by hand, I don't have a bread machine, a rice cooker or a stand mixer (though I'll take one of those if anyone's buying).
When it comes to baking, I have the basics: baking sheets, a square pan, 2 round pans, a muffin tin, a mini-muffin tin and a springform pan. I never liked baking so I didn't bother to add more pans to my little collection. But I've been baking more and when I decided to make doughnuts, I realized I don't own a doughnut pan. What to do?
Well, guess what? You can make doughnuts without a doughnut pan. Sure, they won't come out as perfect and round as they would with a real doughnut pan. Sure, the holes won't be perfect but they will look very homemade and rustic (isn't that what you call any dish that looks less than perfect?). But who needs perfect food? Not me. Anyone with a doughnut pan can make a dozen doughnuts that all look alike but my imperfect doughnuts are unique. Each one is a one-of-a-kind creation. If they are all the same size, how can I say, "I'll have the small one?" How's that for rationalization? 🙂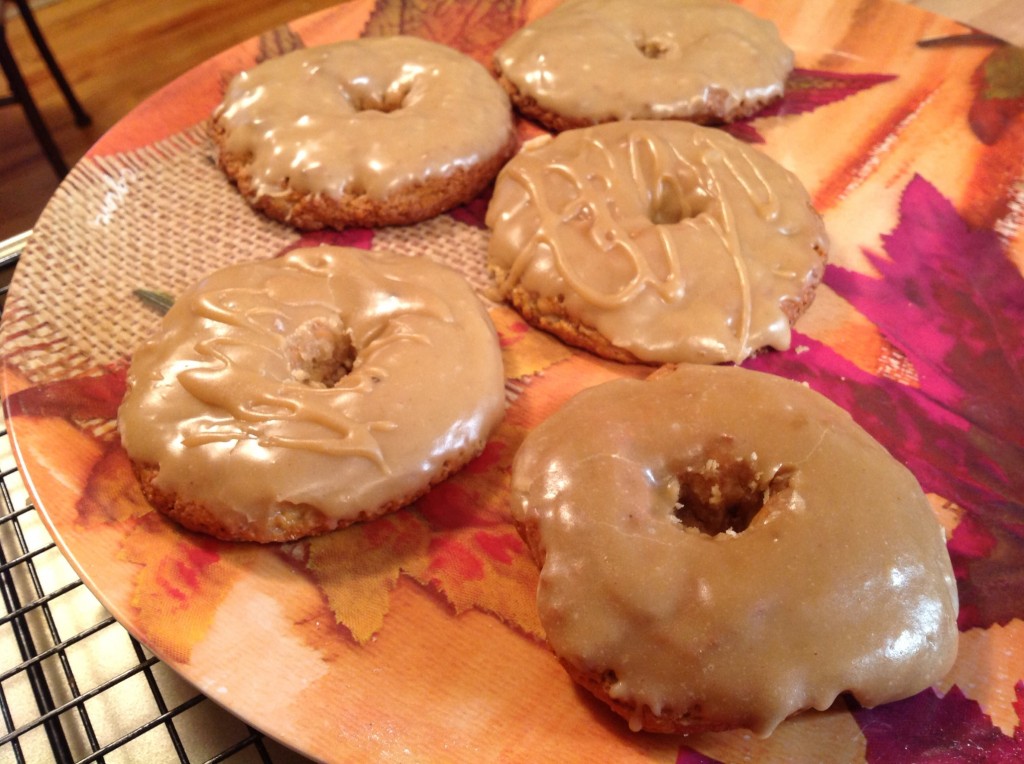 So if you don't have a doughnut pan, here are 2 ways to make doughnuts anyway.
1. Use a muffin pan. Yes, muffin pans are not the right shape. But if you make little foil logs to stick in the middle, they will help create the holes in the doughnuts or duffins or moughnuts.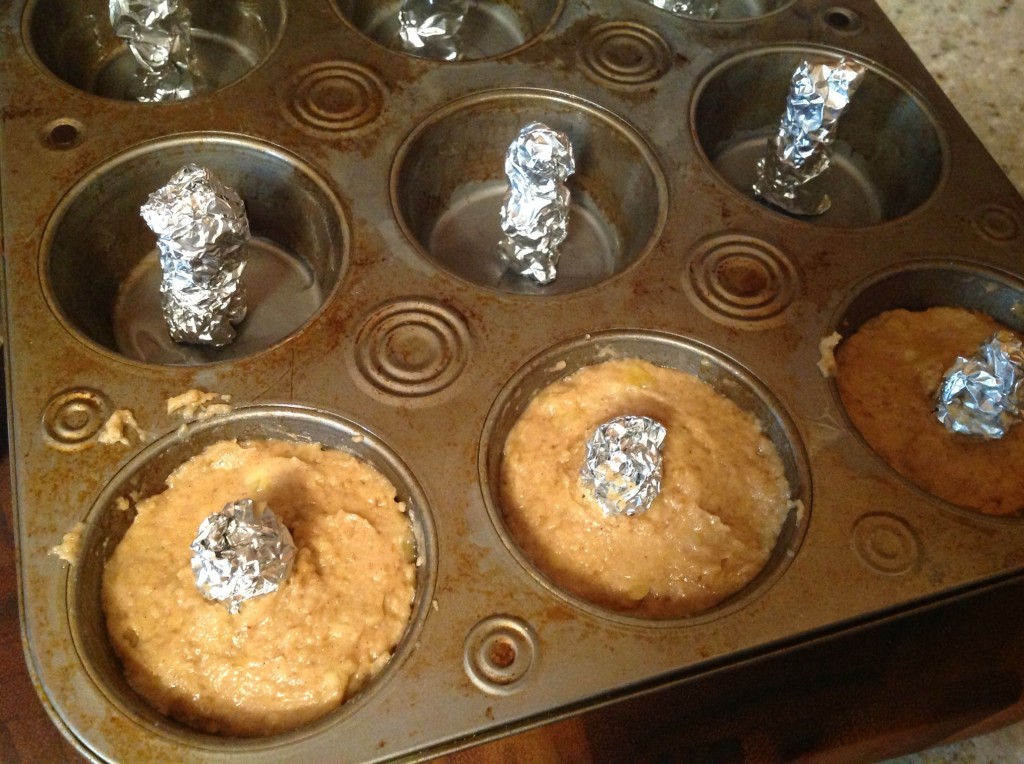 They will look perfect on the top but the bottoms will be a little more muffin-shaped and a bit more muffin-textured. But still delicious.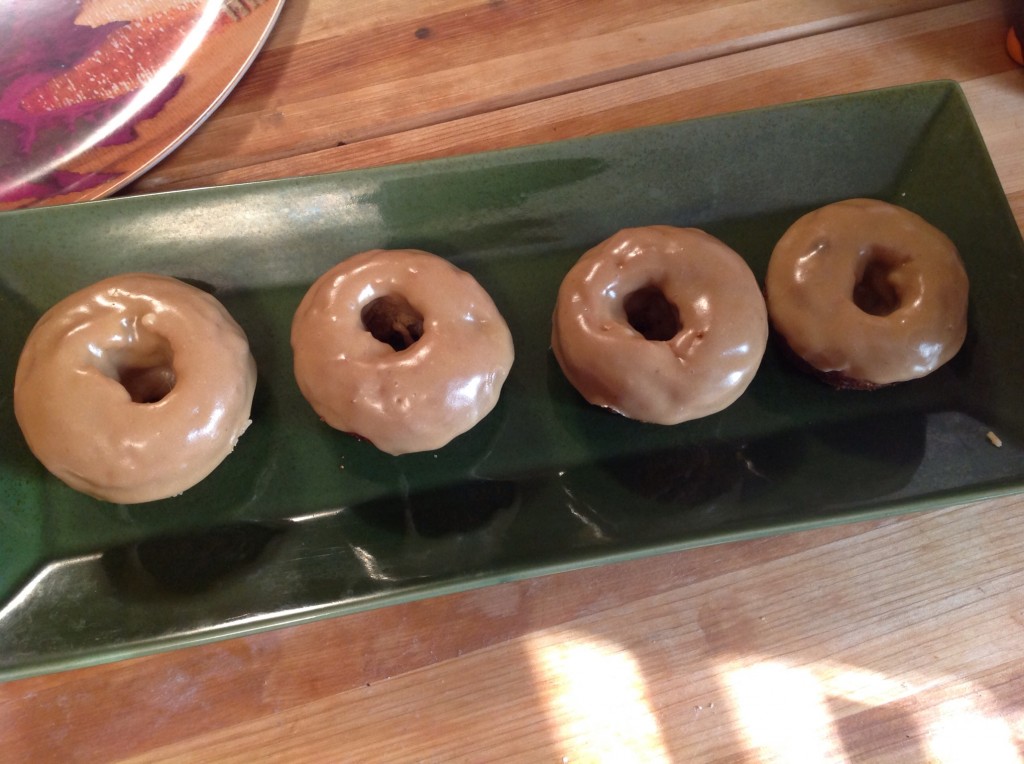 2. Make them free-form. Line a baking sheet with parchment paper and put about 3 heaping spoons of batter on the pan. Use your fingers and a spoon or an offset spatula to shape the batter into a ring. You can also use a mold like you would to make burgers. Then create a hole using your finger or a spoon and smooth it all out with the offset spatula.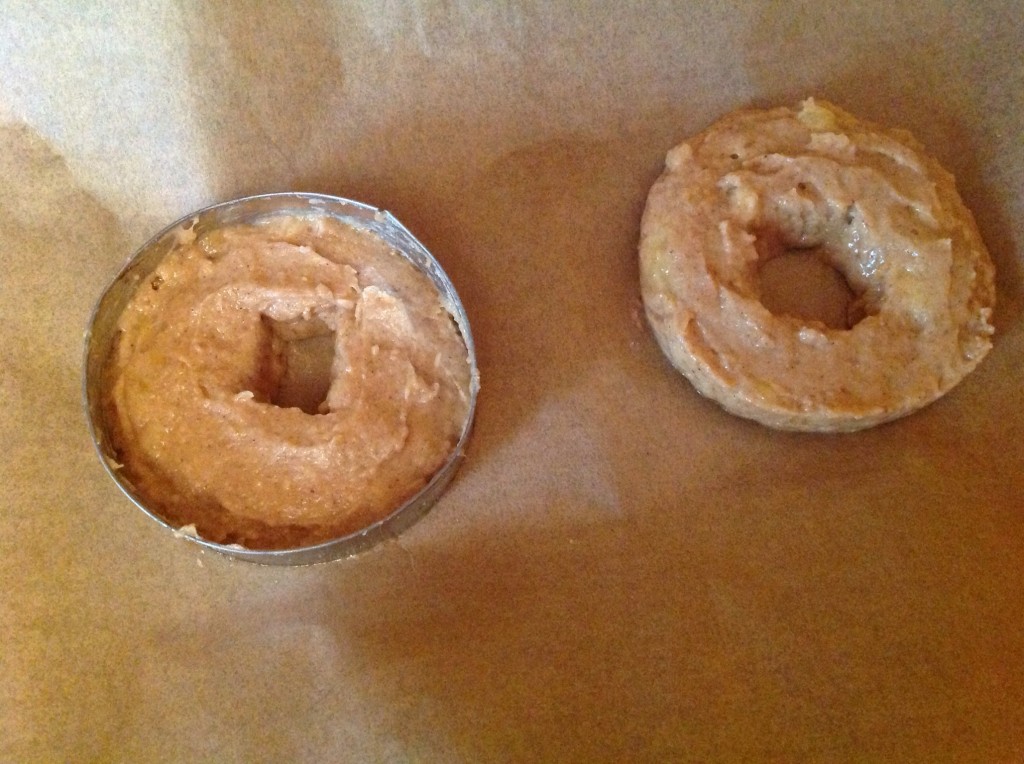 These will come out more doughnut shaped and are my favorite way. How thick they are will depend on how much batter you use in the ring. I made mine kind of thin and they were like doughnut-cookies. So amazing! I may make them this way forever.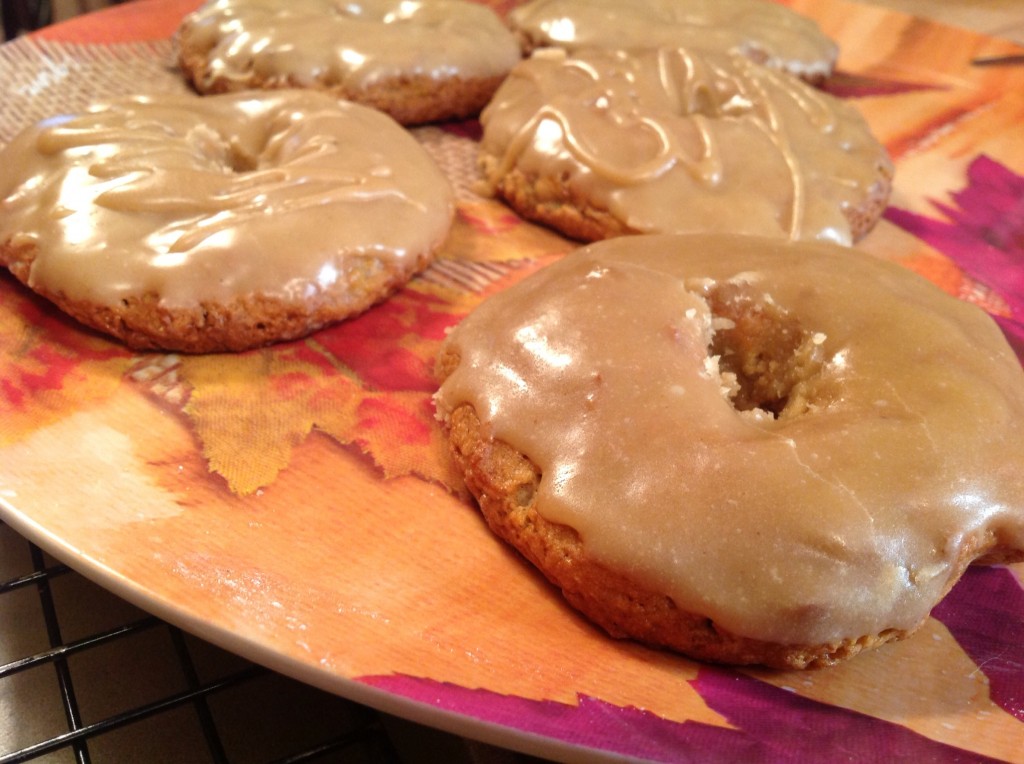 Either way, you get light, fluffy, springy doughnuts and they're gluten-free!!!! No one would ever know. You know I'm not a sweets person but as soon as the glaze hardened, I ate 2 of them!!
My Peanut Butter Glazed Banana Doughnuts taught me that I CAN do things I thought I could never do: I can bake, I can bake gluten-free, and I can make doughnuts without a doughnut pan. I can't wait until after dinner so I can have another one. Enjoy!
Peanut Butter Glazed Banana Doughnuts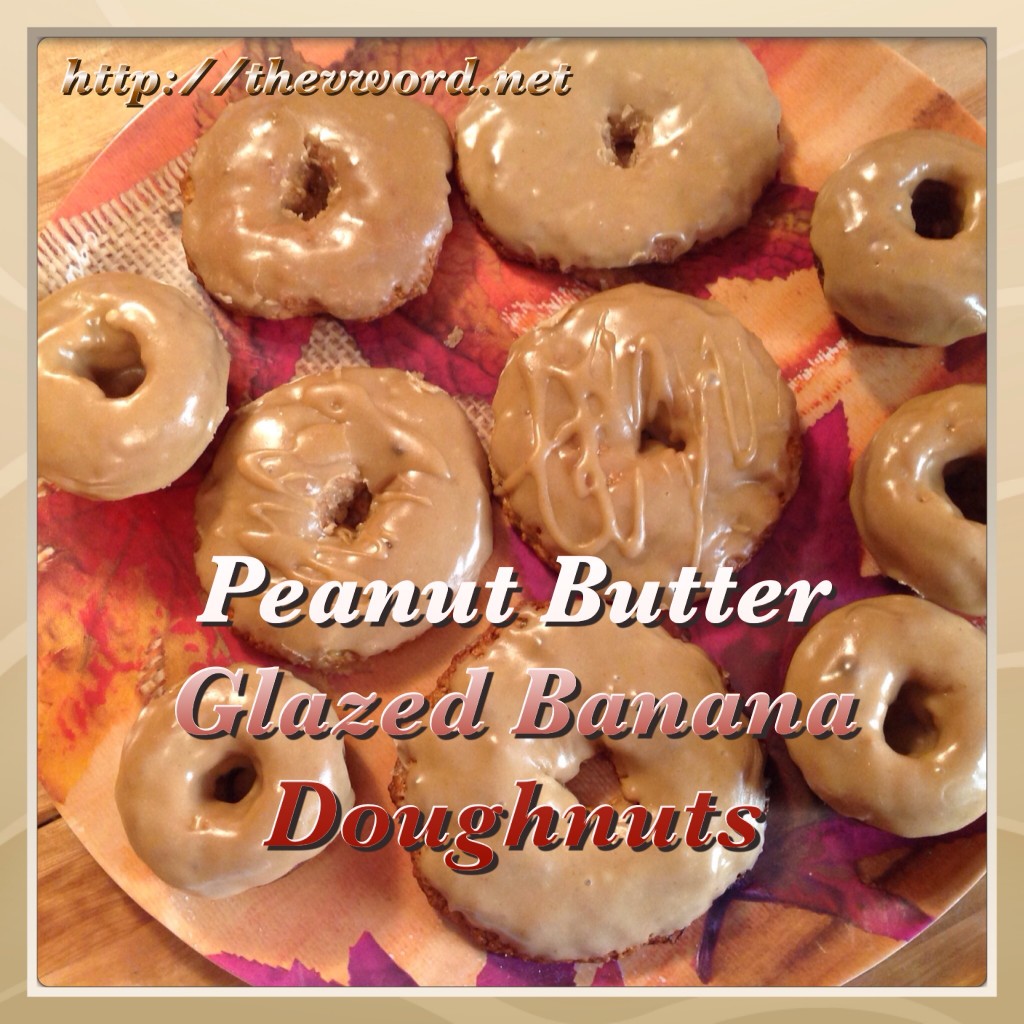 GF, SF if using soy-free milk
Makes about 9 doughnuts
For the doughnuts­­­­­­­­­­­­­­­
1 tsp. egg replacer + 3 Tbs. warm water
½ cup So Delicious Cashew Milk + ½ tsp. apple cider vinegar
1 ¼ cup gluten-free, all-purpose flour mix
½ tsp. xanthan or guar gum (if it's not in your flour blend)
1 ½ tsp. baking powder
¼ cup sugar
¼ cup brown sugar
½ tsp. kosher salt
1 tsp. ground cinnamon
¼ tsp. ground nutmeg
3 Tbs. coconut oil, melted
1 tsp. vanilla
1 ripe banana, mashed
For the glaze
1 cup powdered sugar
2 Tbs. Crazy Richard's Creamy Peanut Butter
2 Tbs. So Delicious Cashew Milk
½ tsp. vanilla
To make the doughnuts: Preheat the oven to 375 degrees and oil a doughnut or muffin pan. In a mug, combine the egg replacer and warm water. Stir and let sit for 5 minutes. In another mug, combine the milk and vinegar. Stir and let sit for 5 minutes. The milk will curdle. This is how you make buttermilk.
In a large bowl, combine the flour, xanthan gum (if needed), baking powder, sugar, salt and spices. Mix to combine. In another bowl, combine the melted coconut oil, the egg replacer mix, the buttermilk and the vanilla. Whisk until all combined and smooth. Add the mashed banana to the wet ingredients.
Add the wet ingredients to the dry ingredients and mix until just combined. It should be a thick batter.
If you are using a doughnut pan, simply fill the cups half-way, smooth the tops and place in the oven.
If you are using a muffin pan, make rounded logs with aluminum foil. Fill the muffin tins about half-way and insert the foil log in the middle to make the hole. Smooth the tops with a spoon.
If you want to make the doughnuts free-form, line a baking sheet with parchment paper. Put 2 or 3 heaping tablespoons of batter onto the baking sheet and smooth with a spoon to form a ring. You could also use a round mold to do this. Use the spoon, your fingers or a small round object like a bottle cap to form a hole in the middle of the batter. Smooth the batter to form a round doughnut.
Bake for 20-25 minutes, turning the pans around halfway through. Times may vary but gluten-free baking usually takes longer. While the doughnuts are baking, prepare the glaze. When the doughnuts are lightly golden and a toothpick comes out clean, remove from the oven and let cool.
To make the glaze: In a small saucepan, combine the milk and peanut butter and cook on low heat while stirring until it is smooth. Add the powdered sugar and continue to stir until you have a thin glaze. Remove from the heat and mix in the vanilla.
Place the saucepan atop a bowl of hot water so it keeps warm. Dip the top of each cooled doughnut into the glaze and place on a cooling rack that is over a baking sheet to catch the drips. Allow the glaze to harden, about 5-10 minutes. If the glaze starts to harden in the bowl, simply reheat the glaze until it is smooth again.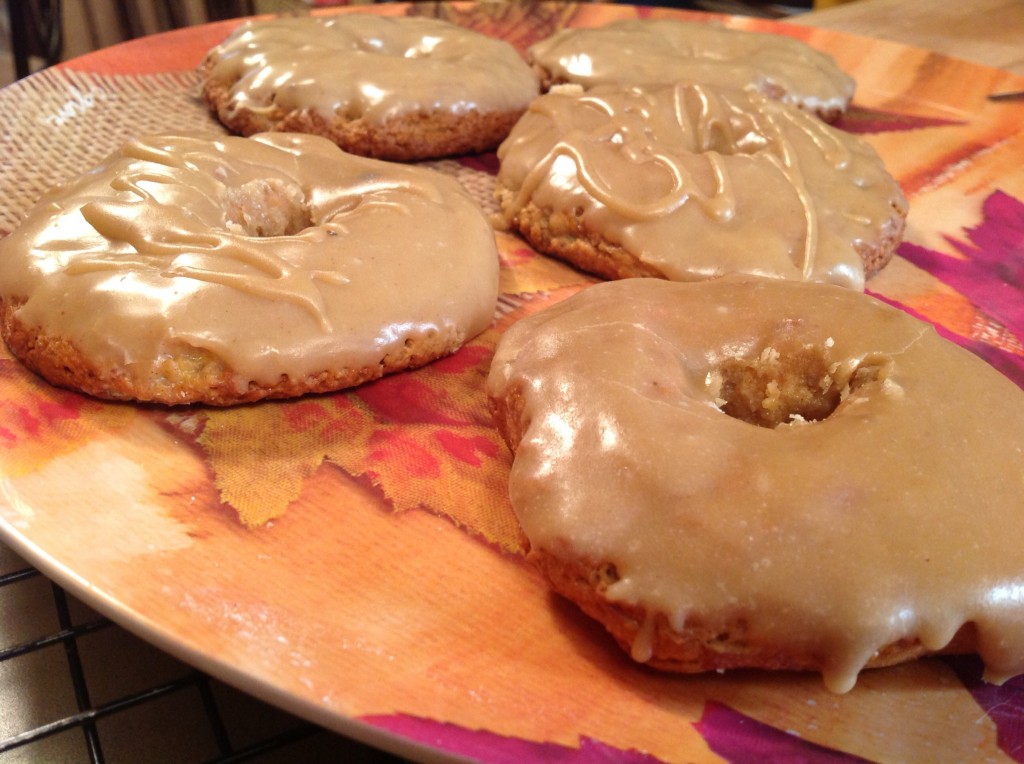 The "V" Word: Say it. Eat it. Live it.
[amd-zlrecipe-recipe:12]l
(Visited 2,654 times, 1 visits today)