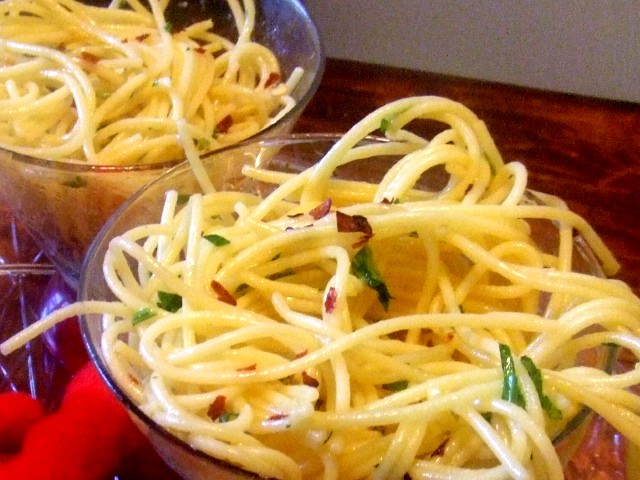 Welcome to another day of VeganMoFo, the month of vegan food. VeganMoFo is an annual event where bloggers from all over the globe dedicate a month of their time and their blogs to posting daily about vegan food. This year The "V" Word's theme is "Products I Love." These are products worth writing about, reading about, buying, trying, and spreading the word about. And if any of those products inspired recipes, I will gladly share those as well.

Today isn't about just one product or brand. Today is a broader category of gluten-free pasta for they are not all created equal. I would like to share some of the brands of gluten-free pasta that I like best and the recipes that were made with them.
DeBoles has been making pasta for over 75 years and they pride themselves "on providing only the best organic and all natural pastas to those seeking a healthier lifestyle." DeBoles offers a wide variety of gluten-free pastas including rice, quinoa and corn types. The rice pastas come in spaghetti, angel hair, fettuccine, penne, spirals and lasagna. Rice pastas with added flax is available in spirals and angel hair while quinoa pasta with added flax comes in spaghetti and penne. The corn pasta comes in spaghetti and elbows.
I read about corn pasta and that it's a hearty type best used with hearty sauces. I was skeptical that I would like the corn pasta but I tried it and I was pleasantly surprised. The type I tried was the Corn Spaghetti Style Pasta. It comes in 8 oz. boxes so you get that portion control for free!

I made a dish of corn spaghetti with a light garlic and oil sauce called aglio olio and it was to die for. The corn pasta was thicker than wheat pasta but not chewy. It was nutty, tender and unlike other gluten-free pastas, it didn't stick. It was a perfect match with the delicate sauce.  I know I read to use it with a hearty sauce but I can be oppositional sometimes. 🙂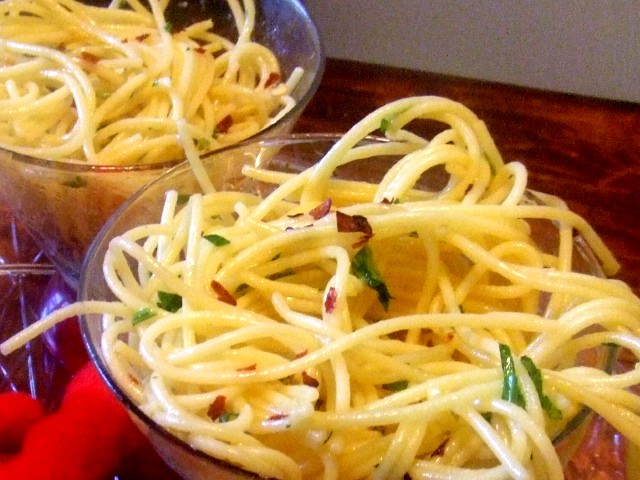 For the Aglio Olio recipe, see my Zucchini Linguine Aglio Olio post.
Another brand of pasta I love is Tinkyada Rice Pastas. They are made from just rice and water and they are delicious. The texture is never mushy or too chewy. Best of all, they come in many varieties including spirals, penne, shells, lasagna, spaghetti, spinach spaghetti, and angel hair. They also seem to be the least expensive of all the gluten-free, specialty pastas and are widely available.
I think most of the gluten-free pasta dishes I have made have been with Tinkyada. Here are a few examples: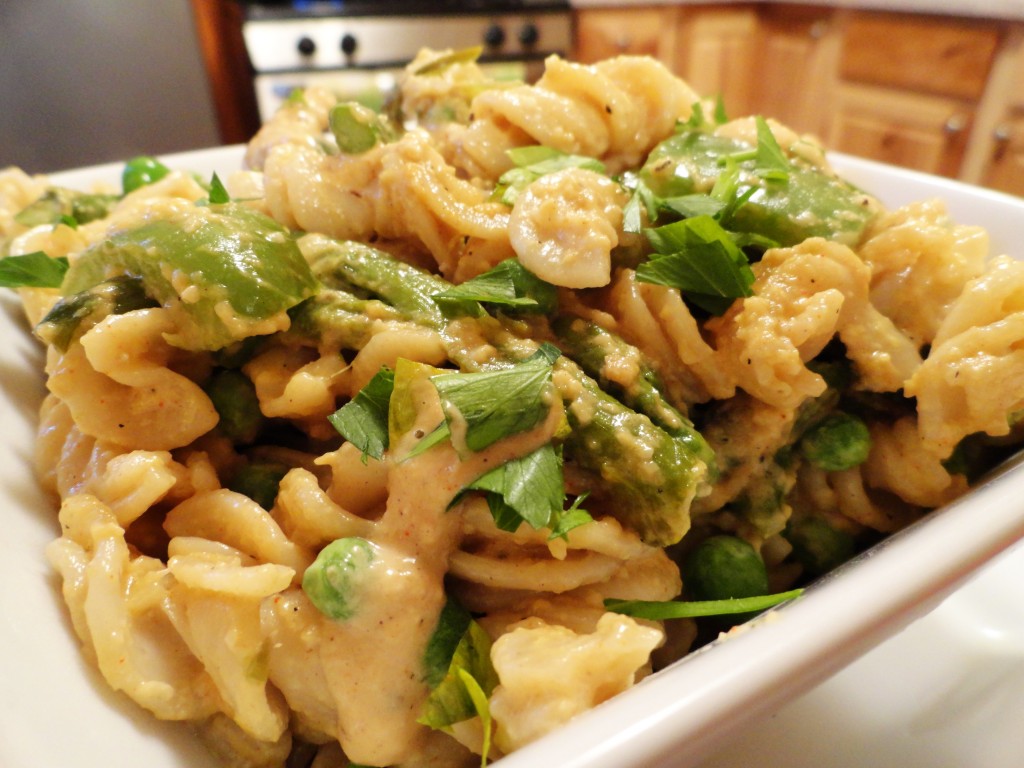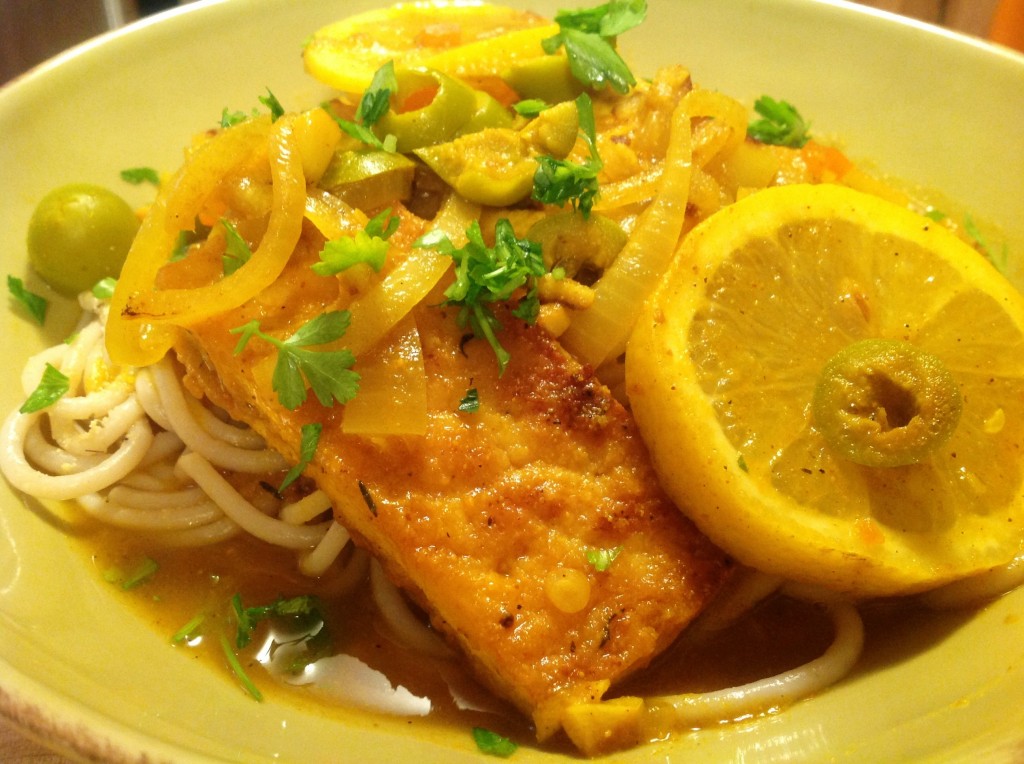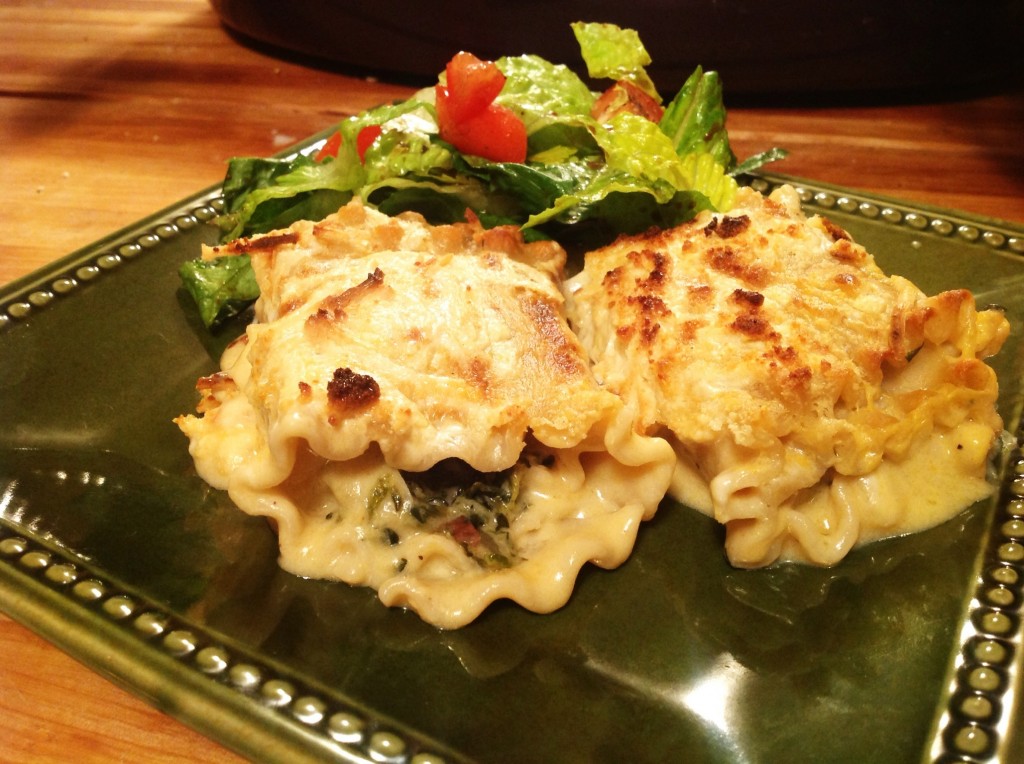 I have written about Mrs. Glee's products before when I shared with you my recipe for Gluten-Free Biscuits: Pumpkin Feta and Garlic and Rosemary Cheddar.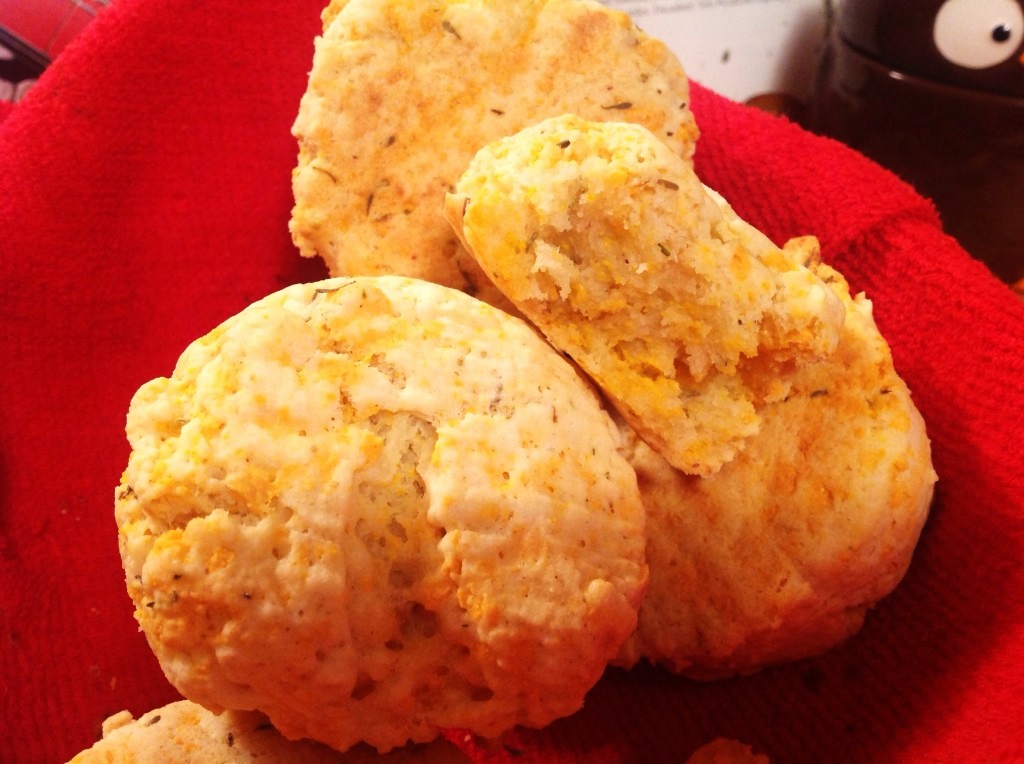 To make them I used Mrs. Glee's All-Purpose Performance Blend which already has the xanthan gum measured into it. One less step for me to worry about. The interesting thing about Mrs. Glee's is that the products are made from whole non-GMO navy beans and non-GMO corn. It was the first time I ever had navy bean flour or pasta. The pastas come in rigatoni, old-fashioned noodles and elbows.
The elbows are perfect for mac and cheese or my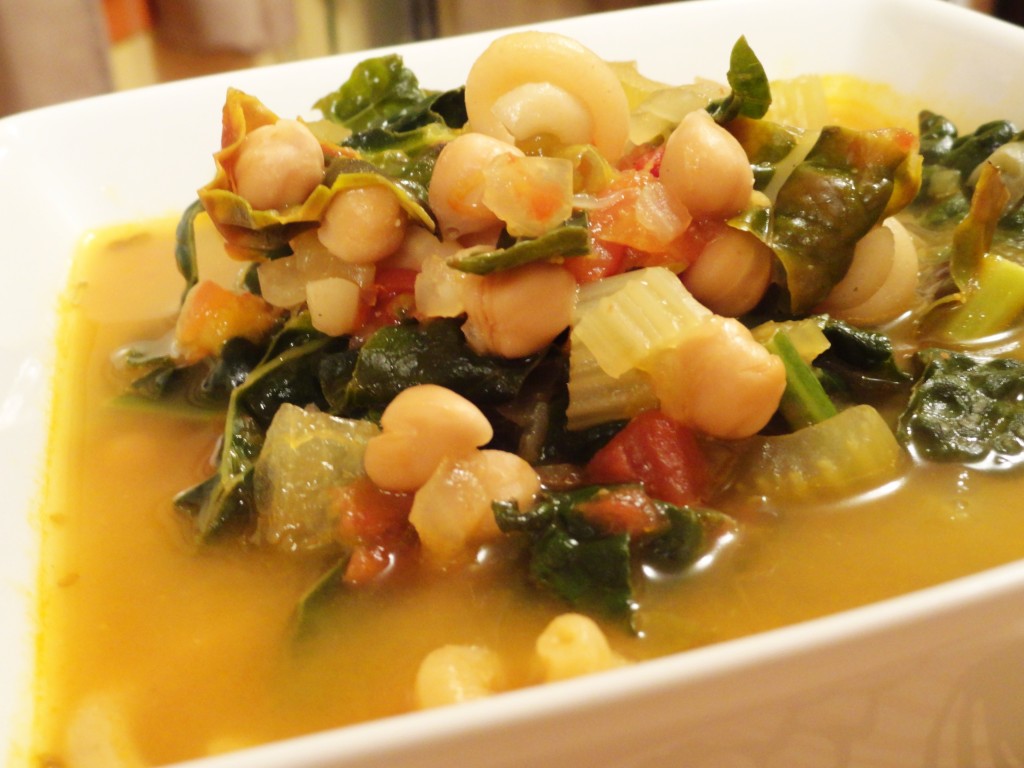 Jovial is all about eating well and feeling well. They believe it is "essential to nourish our bodies with the best ingredients. Eating gluten-free with Jovial means eating great-tasting foods that are certified organic, artisan-crafted and wholesome."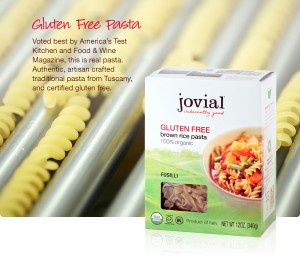 Jovial's vegan brown rice pastas come in penne rigate, fusilli, caserecce, spaghetti, capellini, and lasagna. With Jovial's gluten-free pastas, you can enjoy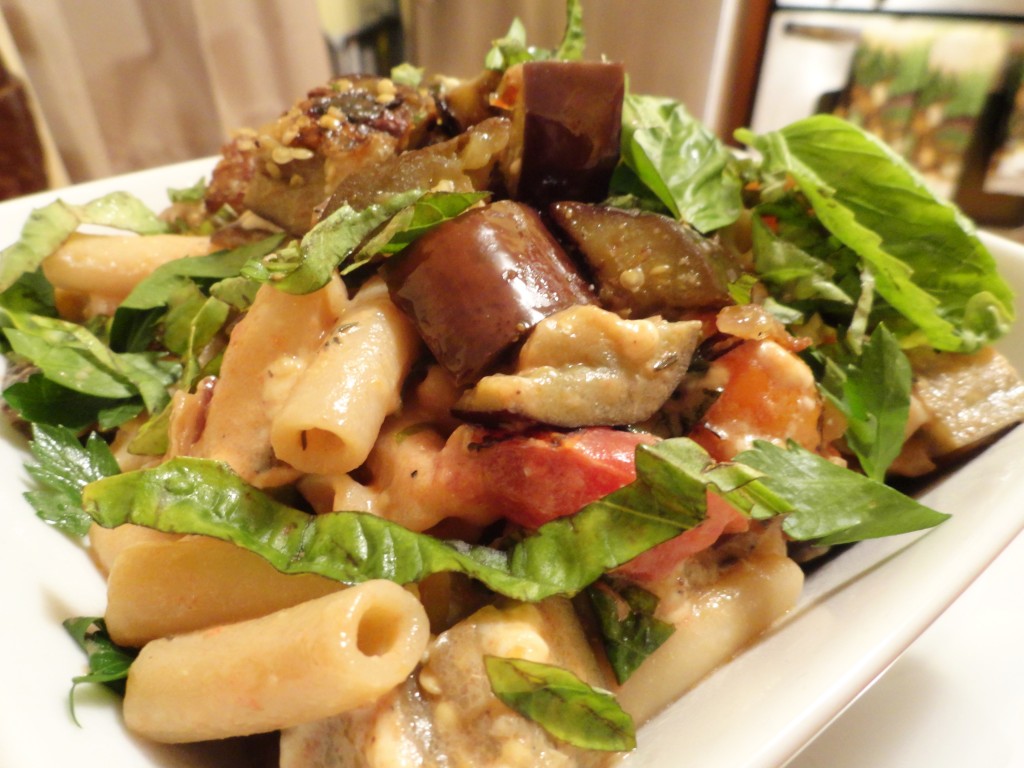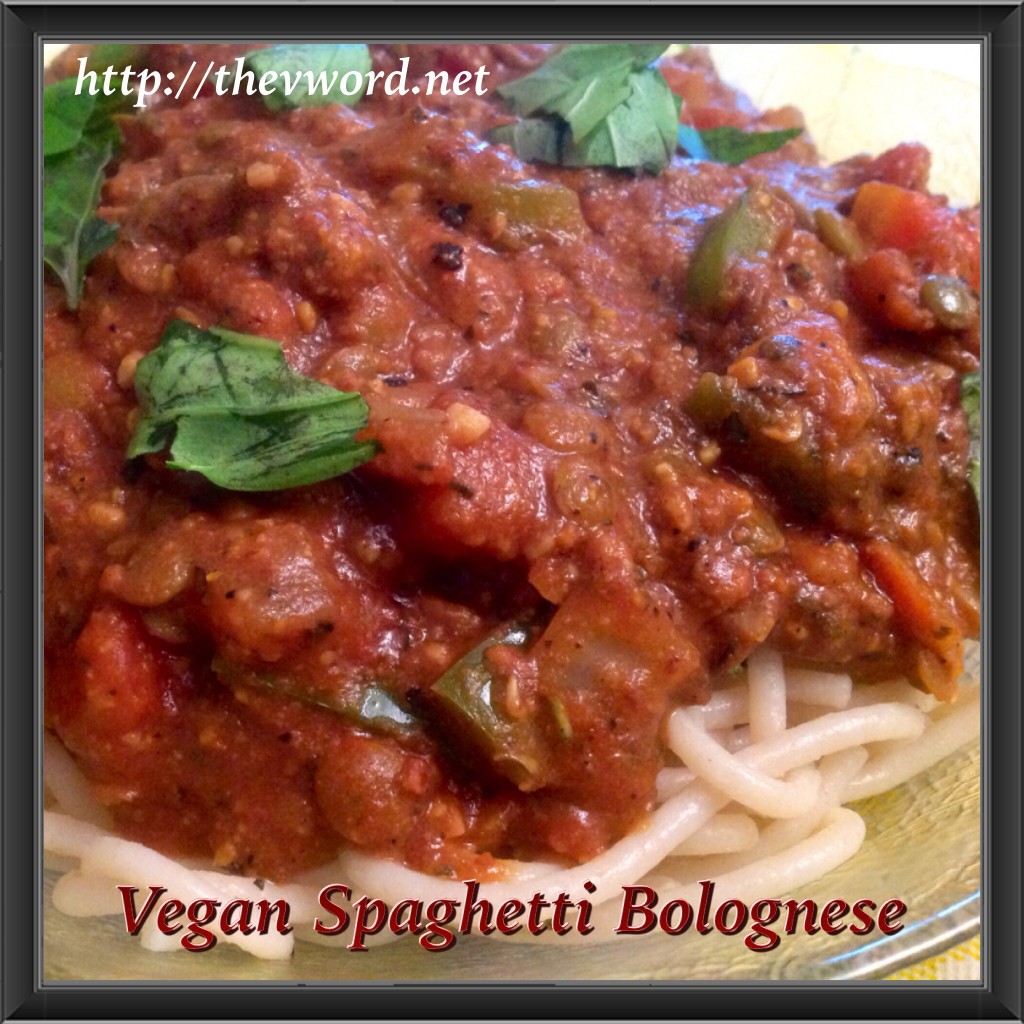 I have reviewed Explore Asian and their gluten-free pastas before in this post. In that review, I wrote "The pastas are amazing. There are Japanese-style wheat noodles like udon and soba but if you're gluten-free, the choices become very exotic. You can really impress your guests with the Soybean or Black Bean Spaghetti. They are made with nothing but organic beans and water. My favorite is the Mung Bean Fettuccine. They taste like pasta with a nice al dente texture but I know I'm getting just beans and not a bunch of flour so it's healthier and has a lot less calories."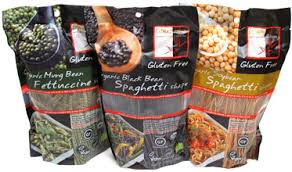 Since I wrote that review, they have added adzuki bean pasta, Jasmine red rice, Jasmine brown rice and Jasmine multi-color rice in many different shapes. I need to try those!!!
With the ones I did try, I made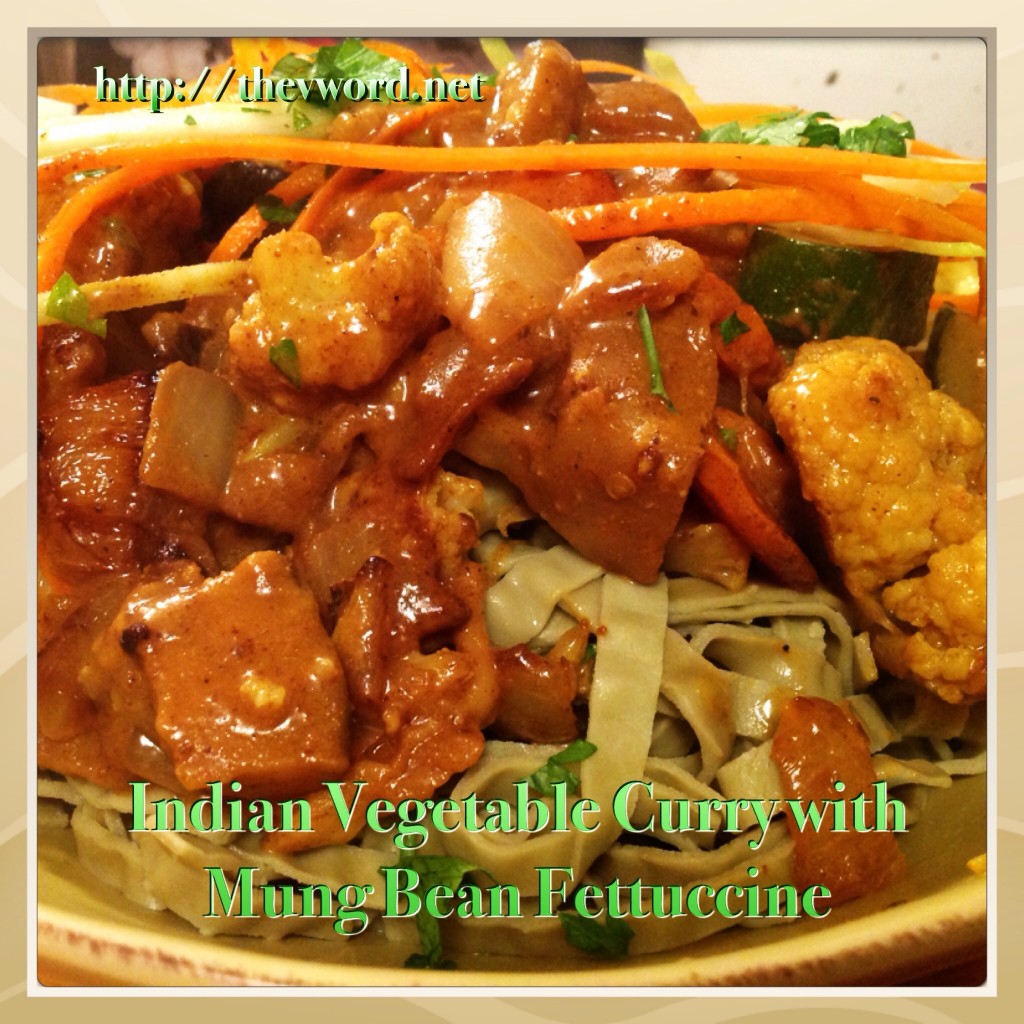 These are 5 brands of gluten-free pasta worth writing about, reading about, buying, trying and spreading the word about. If I missed a brand you love, let me know in the comments.
The "V" Word: Say it. Eat it. Live it. 
(Visited 2,122 times, 1 visits today)