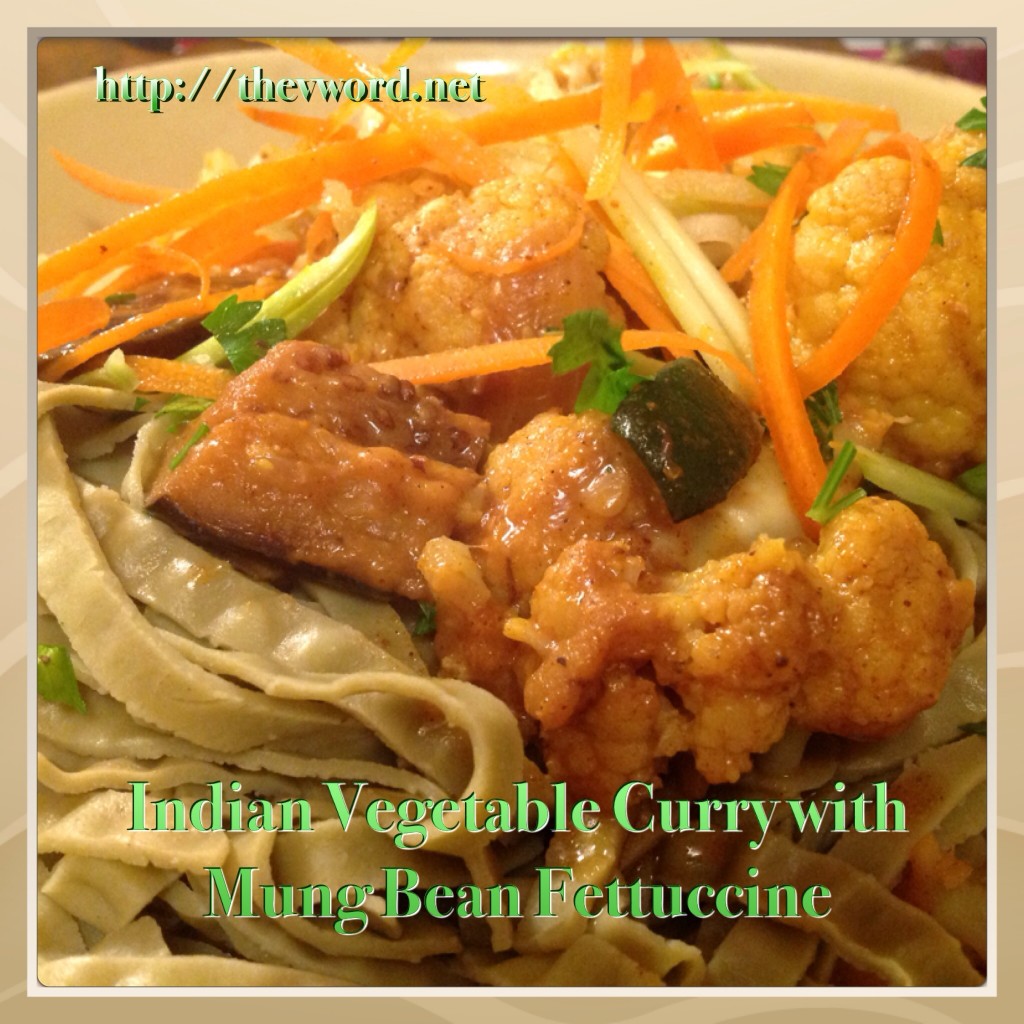 It used to feel that the only options one had when it came to pasta was which shape to buy – spaghetti, ziti, bowties, elbows, etc. Then when I began eating gluten-free, the number of choices I had dropped significantly – spaghetti, rotini and maybe fettuccine. But then I discovered eating other types of pasta – noodles that weren't necessarily made with brown rice but with corn, spinach, quinoa and other ingredients.
Then I found Explore Asian products. Explore Asian creates organic noodles and bean pastas in a very unique line of products. These products are made using pure spring water and organically grown grains free of synthetic fertilizers, herbicides and pesticides. Many of the products are gluten-free.
Explore Asian Soybean Noodle Soup is so delicious and convenient. These instant soups are quick and easy to prepare with all natural ingredients. They are high in protein, iron and fiber but low in carbs. The soups come in vegetarian "chicken" or "beef" flavor as well as vegetable flavor.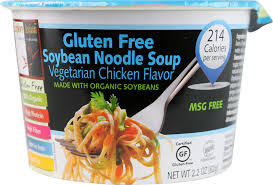 Even Benny loves these soups…well, he loves the noodles. 🙂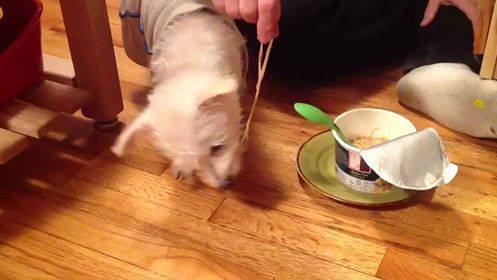 The pastas are amazing. There are Japanese-style wheat noodles like udon and soba but if you're gluten-free, the choices become very exotic. You can really impress your guests with the Soybean or Black Bean Spaghetti. They are made with nothing but organic beans and water. My favorite is the Mung Bean Fettuccine. They taste like pasta with a nice al dente texture but I know I'm getting just beans and not a bunch of flour so it's healthier and has a lot less calories.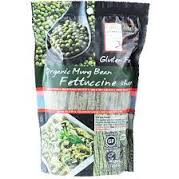 I used the Mung Bean Fettuccine to make my Indian Vegetable Curry recipe below.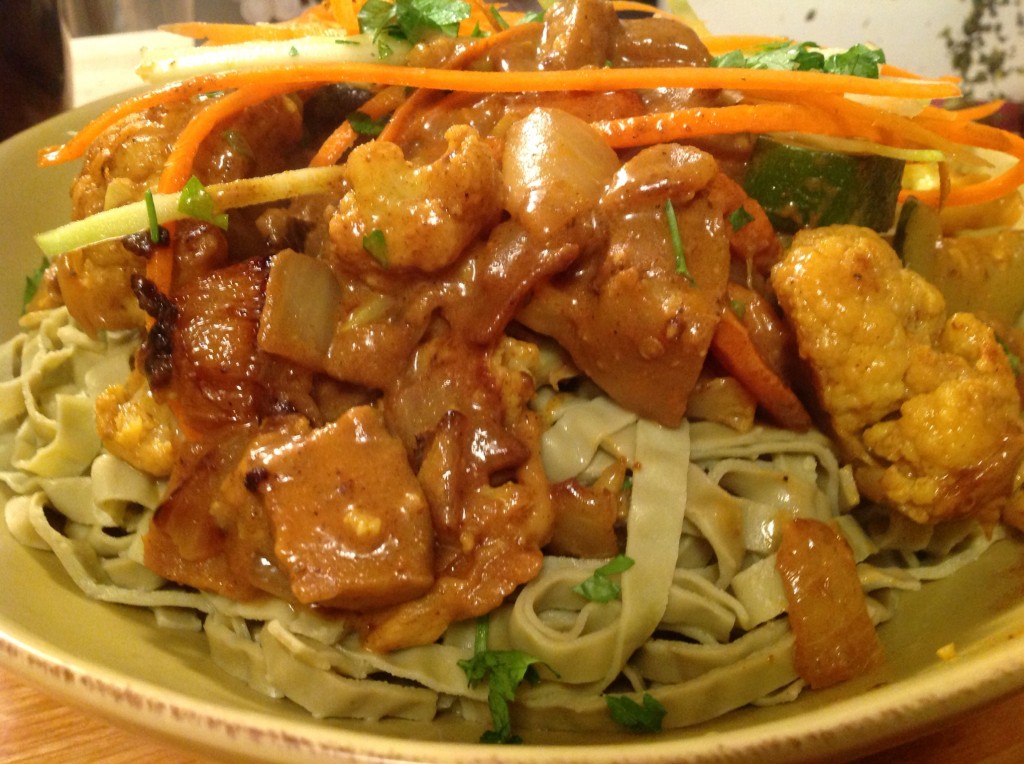 Explore Asian is definitely something you'll want to try. You can purchase Explore Asian products in stores. Check out the store locator to see where you can buy Explore Asian near you. You can also purchase their products from online retailers found here or from Amazon.com.
There is also something exciting happening! On Tuesday, February 18, 2014, Explore Asian will be partnering with the Sampler app to give away 3,000 $1 coupons in the
Explore Asian Share the Love Event! 
For those of you who have never participated in a Sampler event, here's how it works. You are NOT signing up to receive a coupon for yourself. Nope, here it's better to give than to receive. You will pick someone from your Facebook friends list to "gift" with a coupon. That's right, you are giving someone you love a coupon!
"But what's in it for me?" you ask. For every coupon you send to a friend, you will be entered to win one of 3 grand prizes:
1st Prize: $100 worth of Explore Asian product & a $100 Whole Foods Gift Card
2nd Prize: $50 worth of Explore Asian product & a $50 Whole Foods Gift Card
3rd Prize: $25 worth of Explore Asian product & a $25 Whole Foods Gift Card
Just remember: you must be on the Explore Asian Facebook Page at EXACTLY 1 PM EST on Tuesday, 2/18 because these samples will go really fast! Enjoy!
Indian Vegetable Curry with Mung Bean Fettuccine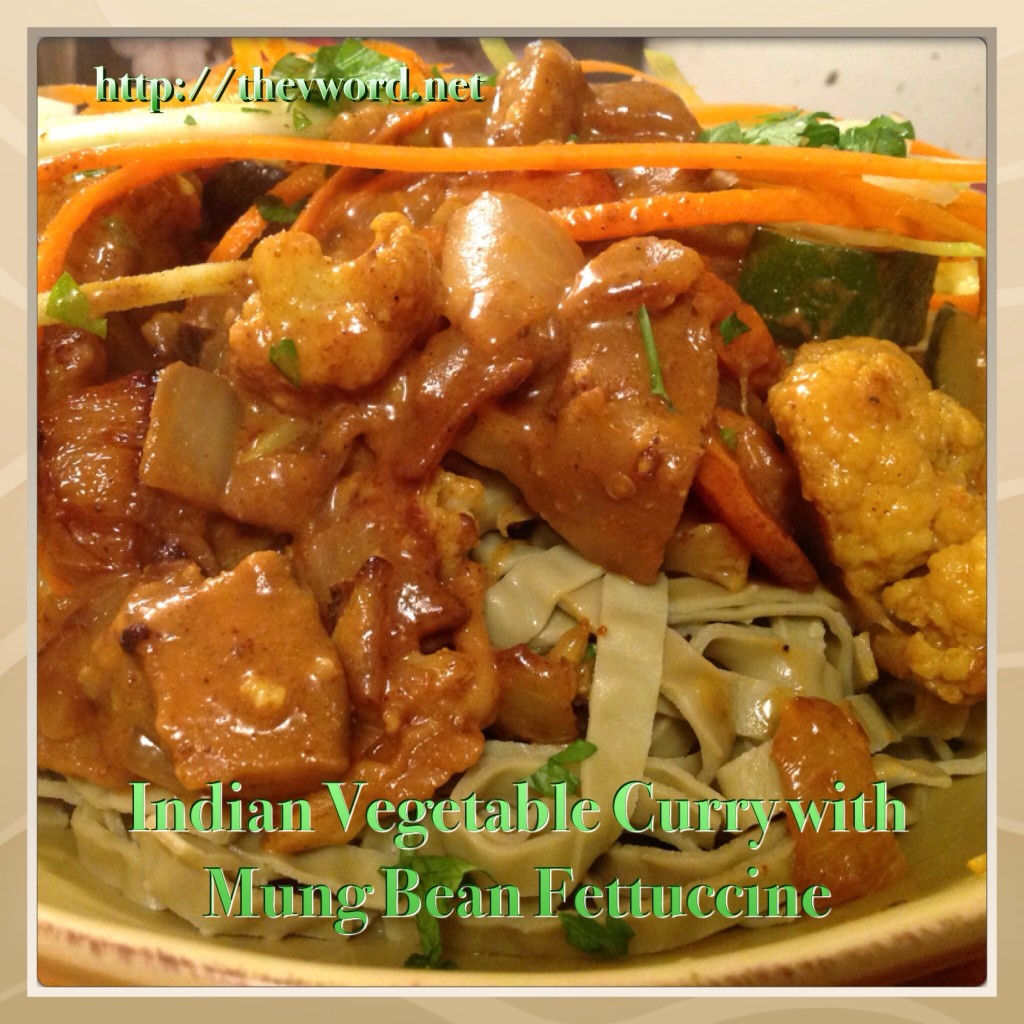 GF, SF
2 Tbs. canola oil, divided
1 large onion, chopped
1 Tbs. fresh ginger, minced or 1 tsp. ground ginger
4 cloves garlic, minced
1 Tbs. mustard seeds or 1 tsp. mustard powder
1-2 Tbs. curry powder
1 tsp. chile powder
1 tsp. turmeric
1 large eggplant, cut into chunks
1 head cauliflower, cut into florets
1 large zucchini, cut into chunks
2 large tomatoes, chopped
1 ½ cup coconut milk
¼ – ½ cup water
Kosher salt to taste
Shredded carrot and broccoli stems, for garnish
1 package Explore Asian Mung Bean Fettuccine
2 Tbs. fresh cilantro, chopped
Heat the oil in a large skillet or saucepan over medium-high heat and saute the onion for 5 minutes or until softened. Add the ginger, garlic, mustard, curry, chile powder and turmeric to the pan. Stir well so that the onion is fully coated in the spices. Let cook 2 minutes until fragrant.
Add the eggplant and toss to coat in the spices. Cook for 4 minutes until the eggplant softens. Add the cauliflower and the zucchini to the pan and mix. Add the tomatoes, the coconut milk and ¼ cup water. Stir to combine. Add salt to taste. Cover the pan and let cook on medium heat for 10 – 15 minutes or until the vegetable are tender but still have some crunch. If the sauce cooks down too much, add more water.
While the vegetables are cooking, prepare the fettuccine. Bring a large pot of water to a boil, add salt and boil the noodles until they are al dente. Drain and set aside. Prepare the raw carrots and broccoli stems for garnish by shredding them with a vegetable peeler.
Divide the mung bean fettuccine into bowls. Top with the vegetable curry. Garnish with the carrots, broccoli stems and cilantro. Serve hot.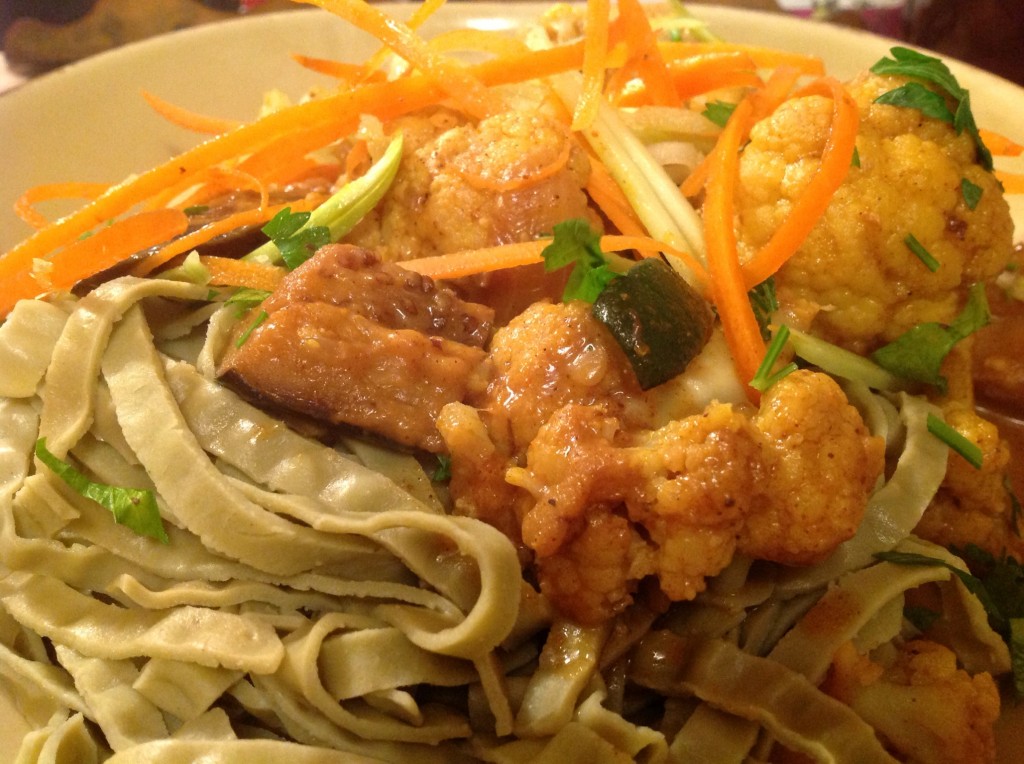 The "V" Word: Say it. Eat it. Live it.
[amd-zlrecipe-recipe:35]
(Visited 4,299 times, 1 visits today)