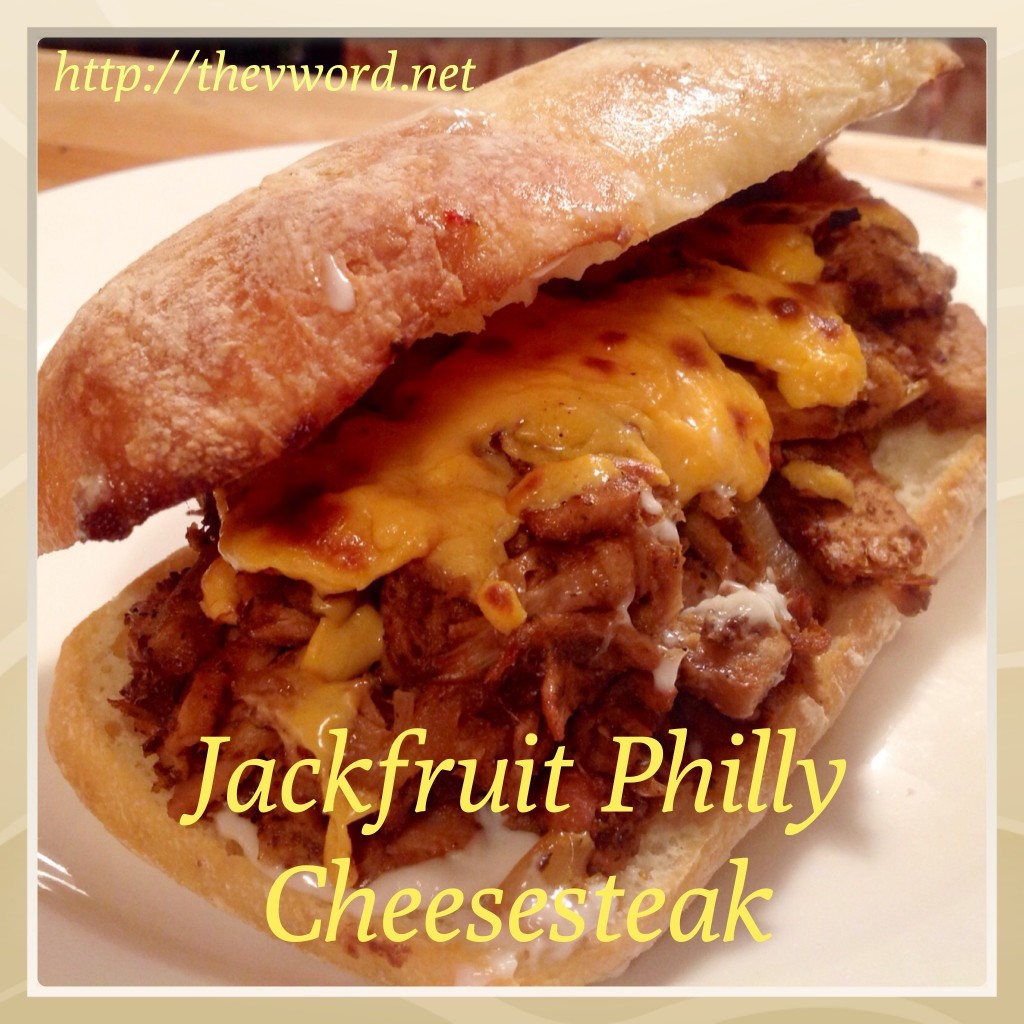 Welcome to another edition of VeganMofo 2013, where hundreds and hundreds of bloggers spend a month committed to everything vegan food.

One of the problems with living in the middle of nowhere is that I often don't have access to all the amazing new products that everyone seems to be raving about. We have one small natural foods store in town and while I'm very grateful they carry a lot of vegan items (and refuse to sell anything but organic and non-GMO products), they don't get many of the products I keep seeing and reading about on Facebook.  Those things I have to hope I can order online.
The other day I got a wonderful surprise: someone sent me a care package and in the box were a few cans of jackfruit in brine. Jackfruit was one of those foods that I read a lot about and kept hearing about but had never gotten to taste. It seems like ever since the Seabirds Vegan Food Truck made BBQ jackfruit tacos on The Great Food Truck Race on Food Network, everyone was eating jackfruit but me 🙁 but now I have some too 🙂
If you haven't heard of jackfruit, it's a tropical fruit. You can buy it whole and break it down yourself or you can get it in cans with all the work done for you. When jackfruit is ripe, it is sweet and used in desserts but when it's unripe, it can be used in savory dishes. It may be kind of new to a lot of us but jackfruit has been called "vegetarian meat" for centuries. It's also super-healthy. Jackfruit is packed with vitamins, minerals and antioxidants. It has cancer-fighting properties and can improve blood pressure, eye and bone health, digestion and more.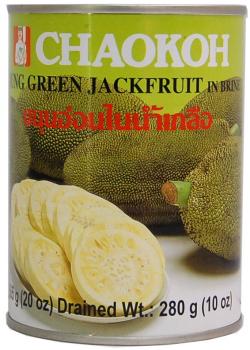 So now I had cans of jackfruit. The question was what should I make with them. It seemed like everyone was making BBQ tacos or curry with them but I wanted to make something different. Why not make one of my favorite sandwiches? The Philly Cheesesteak. Yes!!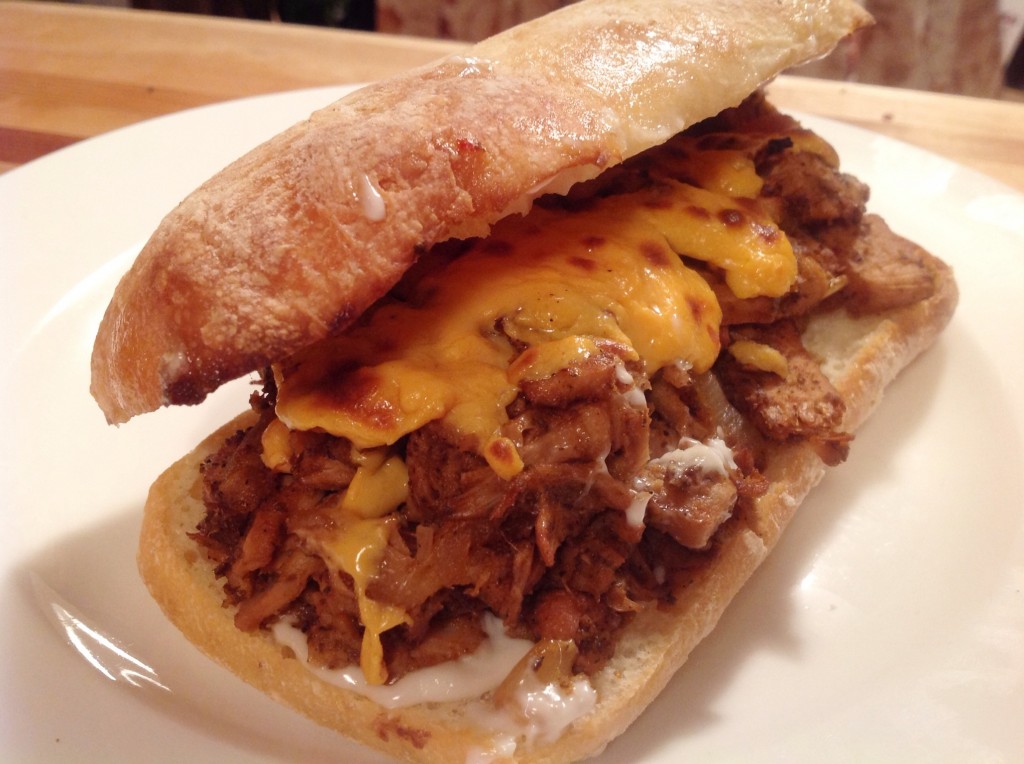 I've never had an authentic Philly Cheesesteak but it was my sandwich of choice whenever I could have one. That or some version of it. There was a diner Tom and I used to go to and I would always order "The Balboa" which was like a Philly Cheesesteak but Italian. When Tom and I were new vegetarians, we had Portobello mushroom hoagies at Mellow Mushroom on our drive back from North Carolina. It tasted just like a Philly. I so wish we had a Mellow Mushroom up here; they have lots of vegan options. Anyway, I made my own version after that which was delicious. That's when I was still misspelling words to make them vegan. I got over that. See that recipe here.
Since I was making 4 big sandwiches, I used 2 cans of jackfruit. If you are making smaller sandwiches, one can would be enough. Rinse the jackfruit well because it's been sitting in brine and it will be too salty otherwise. Some people throw away the cores when they prepare the jackfruit but that's throwing away more than half the contents of the can. I sliced them up finely and they are perfectly edible. I read a lot of recipes for tips on how to prepare and cook jackfruit. The most useful site I found was Clean Green Simple. It's a great site so check it out. Thank you Jessica 🙂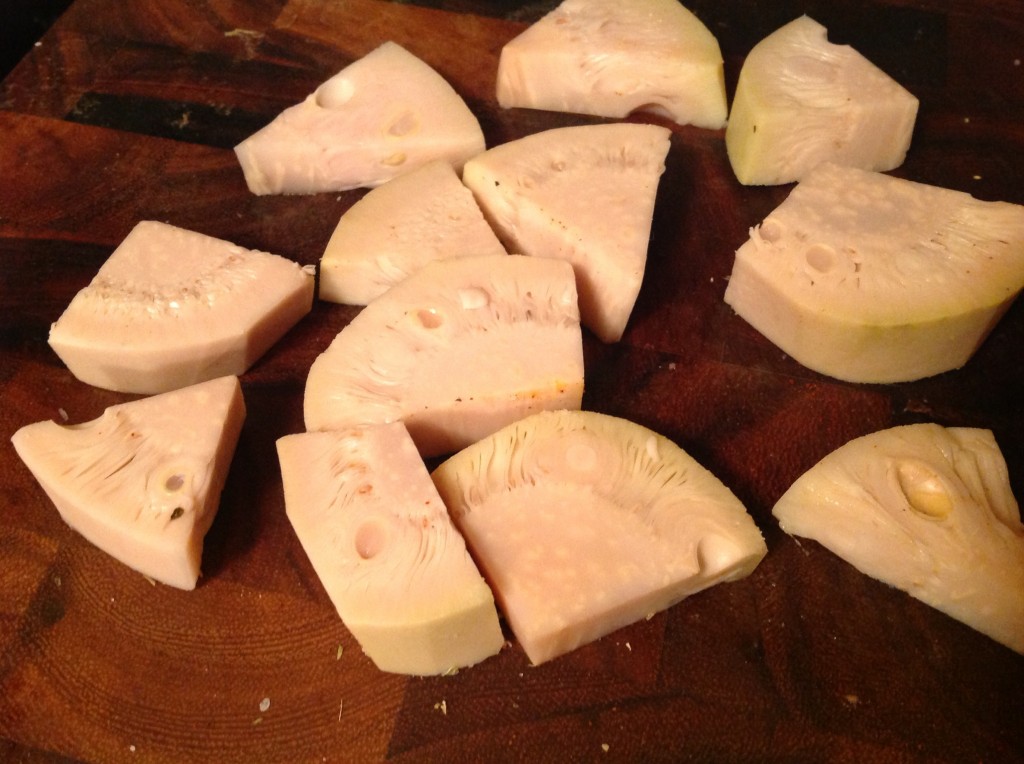 I covered the jackfruit with a spice rub and toasted it in a pan for a few minutes before adding some oil to cook them in. Then I added in some caramelized onions and made a gravy for the jackfruit to simmer in. That made it soft and tender and easily pulled apart. I wanted my jackfruit to be chewy and meaty though so I put it on a baking sheet and roasted it for 15 minutes. Then I piled it high on heroes, topped it with vegan cheddar and broiled the heroes just long enough to melt the cheese.
The heroes were so delicious. It's amazing how meaty this tropical fruit is. Other than a slight sweet taste, almost like pineapple, the jackfruit is pretty much a blank canvas so you can use whatever spice and flavor panels you like best – Indian, Mexican, Chinese, whatever.
The true test was when we gave a hero to our friend who became vegan over the summer. He had never had vegan food or even given it a second thought but after sharing lots of delicious vegan food with him, he was won over to the compassionate side. We gave him a hero but didn't tell him what it was other than "a Philly Cheesesteak." He said it was the "best sandwich he ever had." He thought it was seitan or some other vegan meat. When we told him it was a tropical fruit, he couldn't believe it. It's really that good!!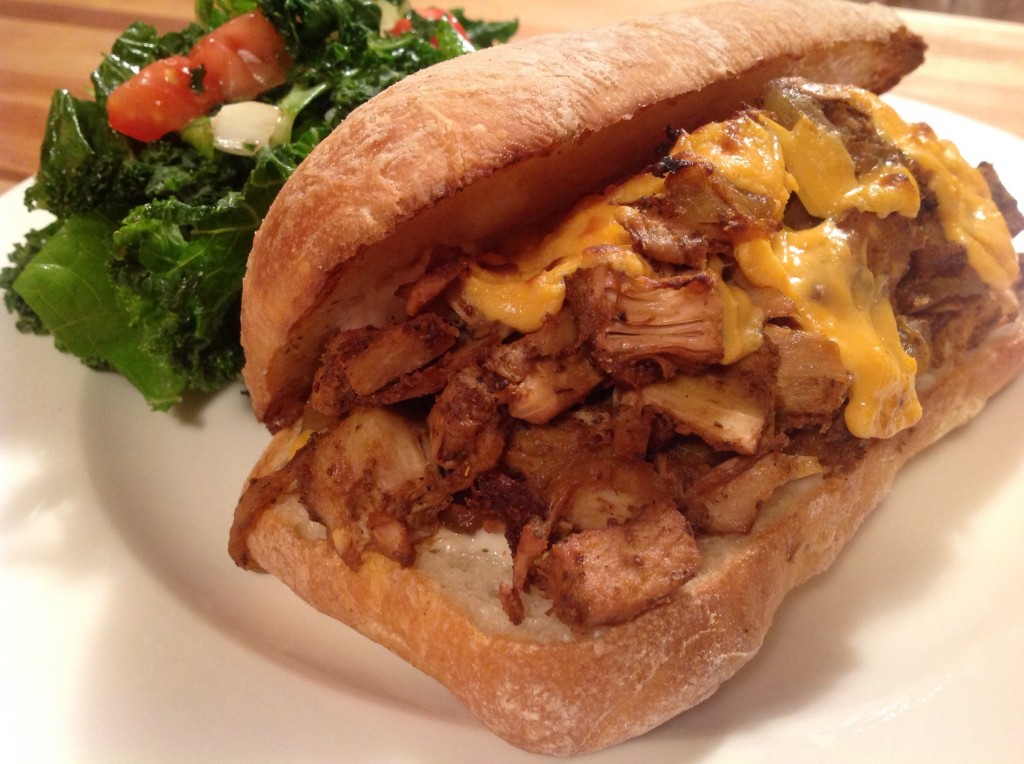 I can't wait to try more recipes with jackfruit. I already have lot of ideas. In the meantime, I'm so happy I have another way to eat my all-time favorite sandwich. I hope you love my Jackfruit Philly Cheesesteak too. Enjoy!
Jackfruit Philly Cheesesteak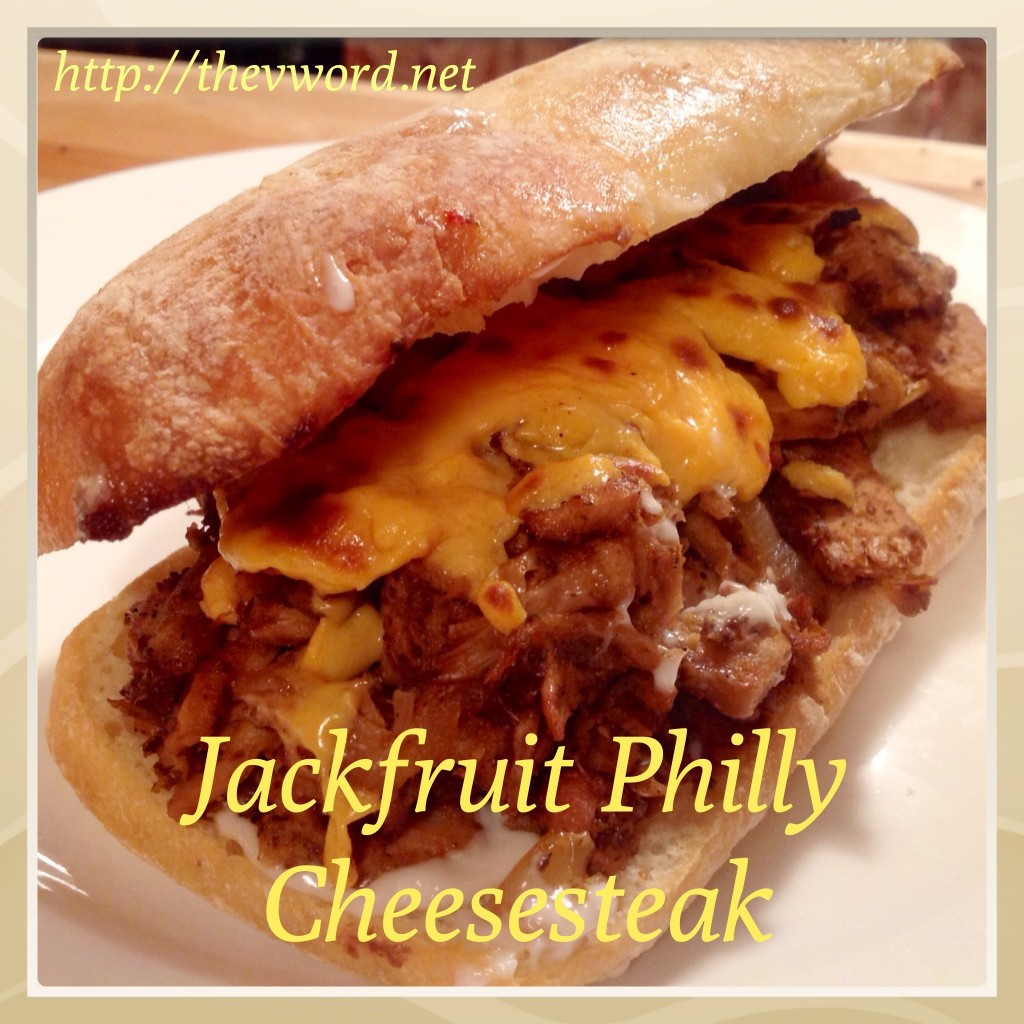 GF if using gluten-free bread
Makes 4 large sandwiches
2 Tbs. extra-virgin olive oil, divided
1 large onion, sliced
2-20 oz. cans of jackfruit in brine, drained and rinsed
½ tsp. garlic powder plus extra for sprinkling
½ tsp. onion powder
½ tsp. paprika
½ tsp. celery seed
½ tsp. kosher salt
¼ tsp. black pepper
A pinch of cayenne pepper
1 Tbs. chickpea flour
¼ cup low-sodium vegetable broth
2 Tbs. gluten-free, vegan Worcestershire sauce
1 Tbs. balsamic vinegar
4 gluten-free rolls
¼ cup vegan mayo
1 cup vegan cheddar cheese
Preheat the oven to 400 degrees. In a skillet that has a lid, heat 1 Tbs. of oil over medium heat. Add the sliced onions and cook for 3 minutes until they start to soften. Lower the heat to medium-low and let the onions cook, stirring often, until they are browned and caramelized. This should take about 20 minutes. Transfer to a plate and set aside.
While the onion is cooking, prepare the jackfruit. After rinsing them in water to get rid of the salty brine, dry the jackfruit pieces in a clean towel. Using a paring knife, cut the triangular core out of each piece of jackfruit. Slice the cores into small pieces. Place the jackfruit into a bowl. Add the garlic powder, onion powder, paprika, celery seed, salt, black pepper and cayenne pepper to the bowl. Mix well so that the jackfruit is completely coated with the spices. Put the jackfruit into the dry skillet and toast them over medium-high heat for about 5 minutes. This will lock in the spices.
Add the remaining Tbs. of oil to the skillet. Stir the jackfruit so that it gets coated with some oil. Add the caramelized onions to the pan and mix it with the jackfruit. Add the flour and mix it well into the oil, onions and jackfruit. This will help make the gravy.  Add the vegetable broth, Worcestershire sauce and balsamic vinegar. Mix well. Lower the heat to medium, cover the skillet and let the jackfruit and onions simmer for about 15 minutes, until it is soft and tender.
When the jackfruit is soft, use two forks to pull the pieces apart and shred them. Transfer the shredded jackfruit to a large baking sheet. Arrange it in a single layer and bake for 15 minutes. This will make the jackfruit chewier.
Set the oven to broil. Slice open the rolls and spread a thin layer of mayo on each bottom piece. Sprinkle with some garlic powder. Mound the jackfruit on 4 bottoms of the rolls. Top with the shredded cheese. Place the rolls on the baking sheet, all face up. Broil for 2-3 minutes. Be sure to watch it so it doesn't burn. Remove from the oven and place the tops of the rolls over the jackfruit. Serve while hot.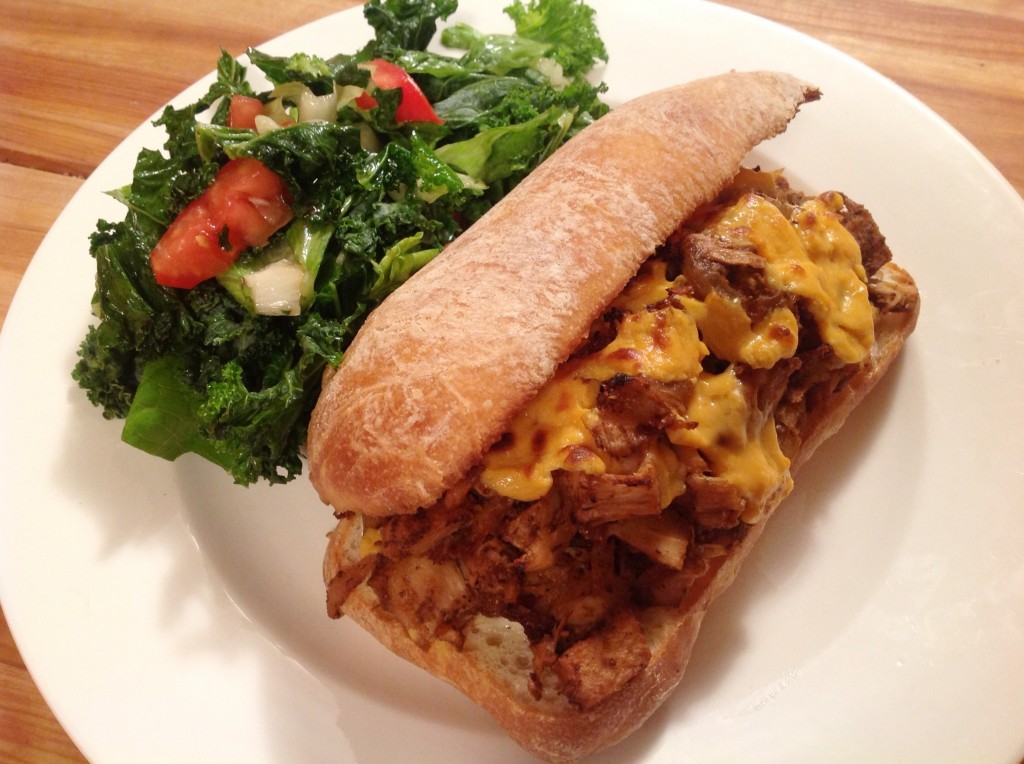 The "V" Word: Say it. Eat it. Live it.
(Visited 15,279 times, 1 visits today)