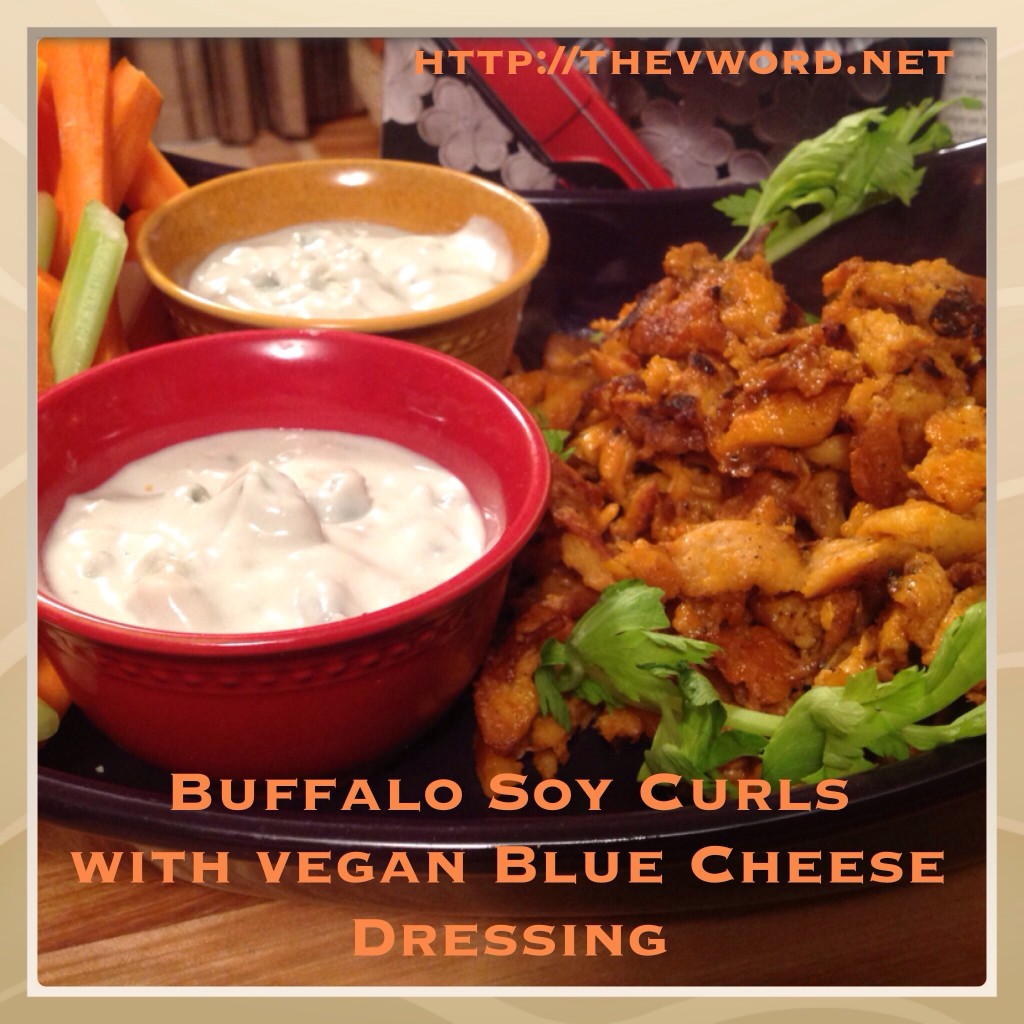 As my followers know, the food I thought I "couldn't live without" was chicken. My father used to say I ate so much chicken that one day I would sprout feathers. When I gave up meat, I wasn't sure how I was going to survive without chicken. Over the years, however, I have learned to make all my favorite chicken dishes without chicken. At first I ate prepared chicken-like products but when I began eating gluten-free, those were out too.
So I turned to tofu. I love tofu. Any chicken dish I ever loved, I can make with tofu. It's not the same as chicken but it's still delicious. Then a friend of mine on Facebook was talking about something called Butler Soy Curls. I hadn't heard of them before. She said they were dehydrated soy pieces that when you rehydrated them and cooked them, tasted a lot like chicken.
I asked the next logical question: were they processed junk filled with GMOs and other unhealthy stuff? No, she replied, they are just soy. Non-GMO soy. So I ordered some from Pangea, my favorite online vegan store. I got the soy curls, cooked up a bag of them and Tom and I ate the whole bag!!! We were hooked!!
Now Butler Soy Curls are one of those products I always want to have at home, sitting on the shelf waiting for me to do something scrumptious with them. They are so convenient, so fast to prepare and easy to cook up a million ways. While they feel like a decadent indulgence, there is nothing bad in them to feel guilty about. It's a win-win situation.
Butler Soy Curls are shaped in strips, making them perfect for fajitas, wraps, salads and sandwiches. Soy Curls are made from select, certified non-GMO, whole soybeans (Soy), grown in the USA without chemical pesticides. Once you cook them up, they have a texture similar to chicken and they take on the flavors of whatever you use to prepare them.
Butler Soy Curls aren't the easiest to find. They don't sell them anywhere near me though they are available in stores throughout the U.S. Europe, Canada and the Caribbean. Check out their store locator to see if Butler Soy Curls are sold at a store near you. But if they aren't, fear not. You can order soy curls online at vegan stores as well as order directly from Butler.
I have used Butler Soy Curls for more dishes than I can remember. I have shared the recipes of a few of favorites that stand out to me: my Yum-O Stoup and my Jamaican Jerk Soy Curls which is featured on the Ziggy Marley Organics web site.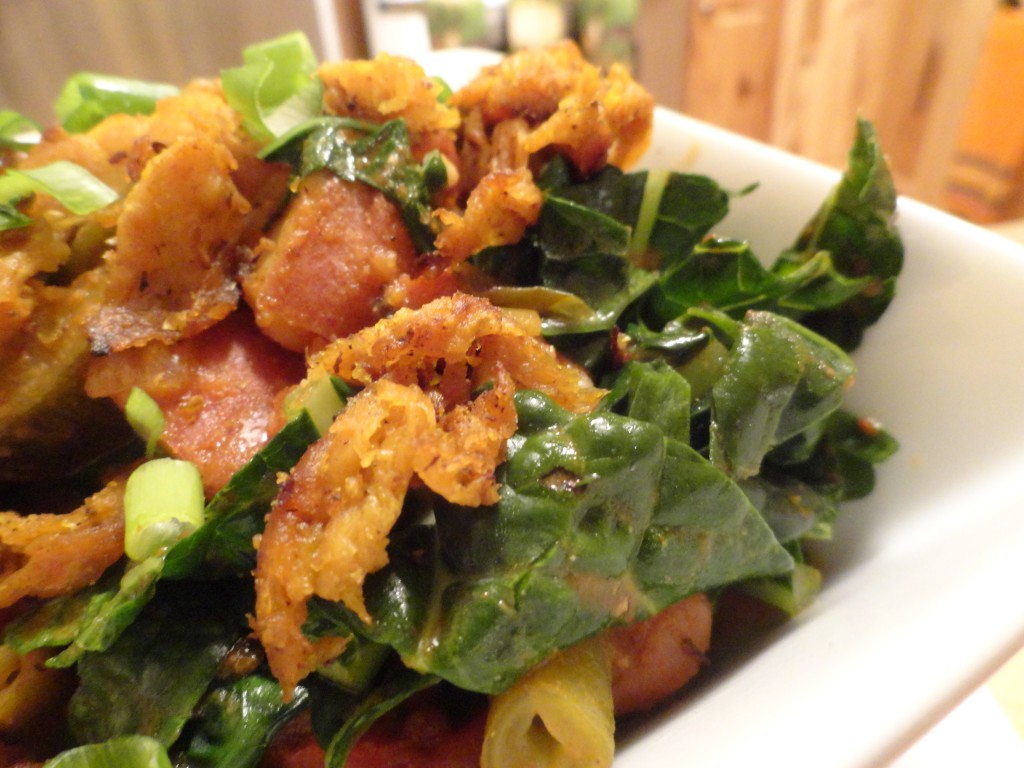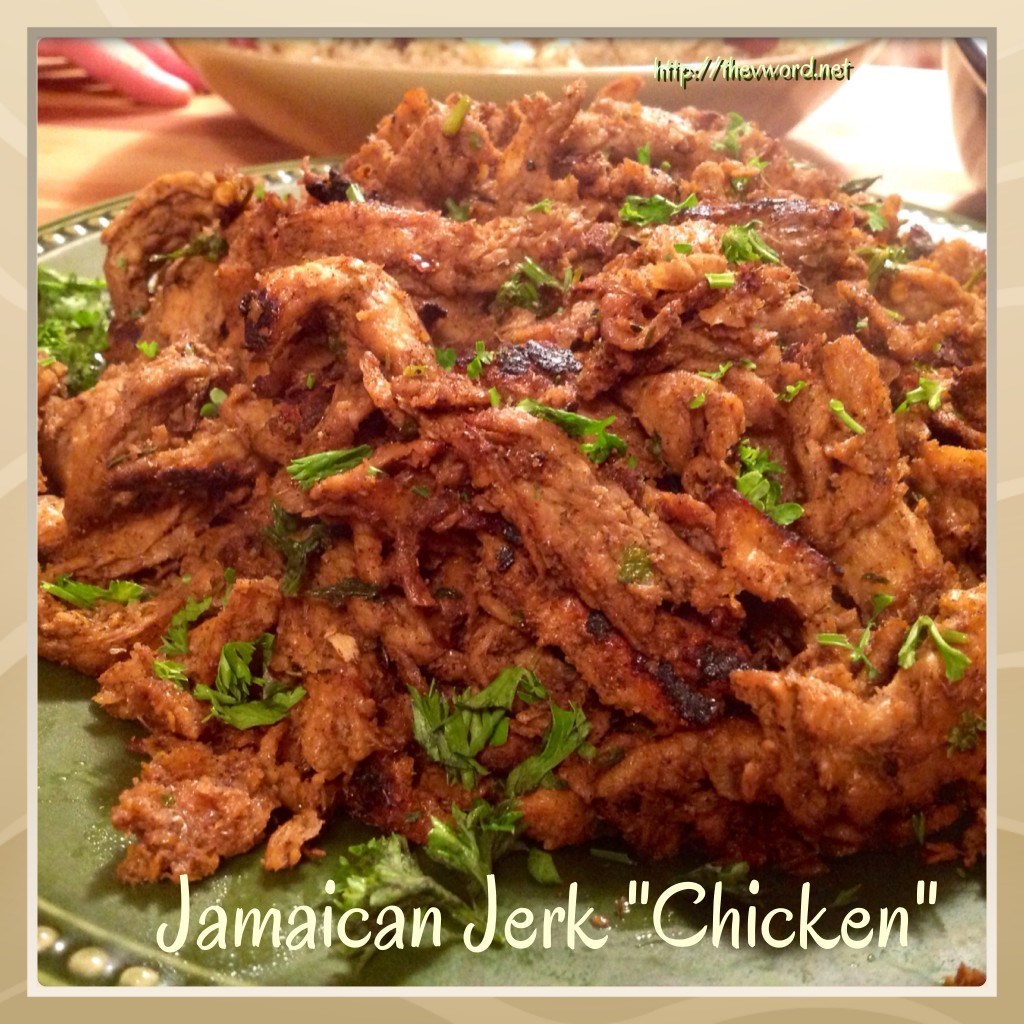 Most recently, I used Butler Soy Curls to make Buffalo Soy Curls because you can never have enough Buffalo recipes. I cooked the soy curls until they were crispy and then tossed them in a delicious, hot Buffalo sauce. I served them with carrot and celery sticks and a vegan blue cheese dressing. They were incredible – a perfect dish for an appetizer, snack or a party. Super Bowl anyone? The recipe for my Buffalo Soy Curls is below.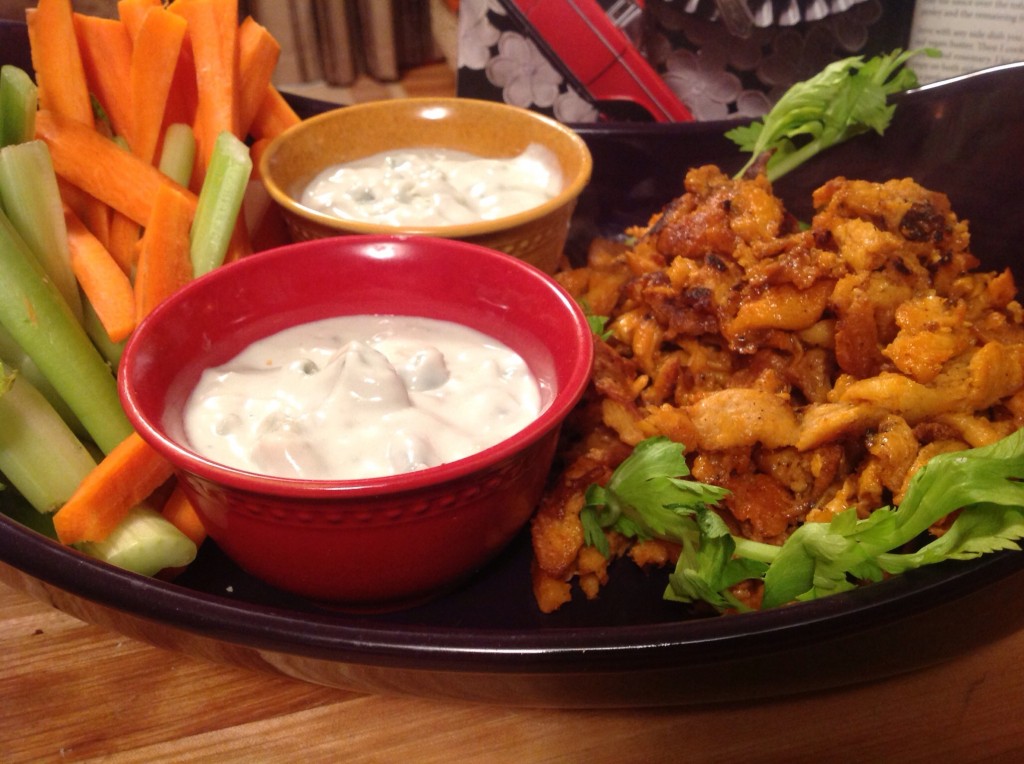 Butler Soy Curls are one of my favorite products ever! I really wish they sold them near me because I would buy them all the time. By the case. Seriously. Visit Butler's web site for more info and recipes, "like" them on their Facebook page and follow them on Twitter at @butlerfoods.
Buffalo Soy Curls
GF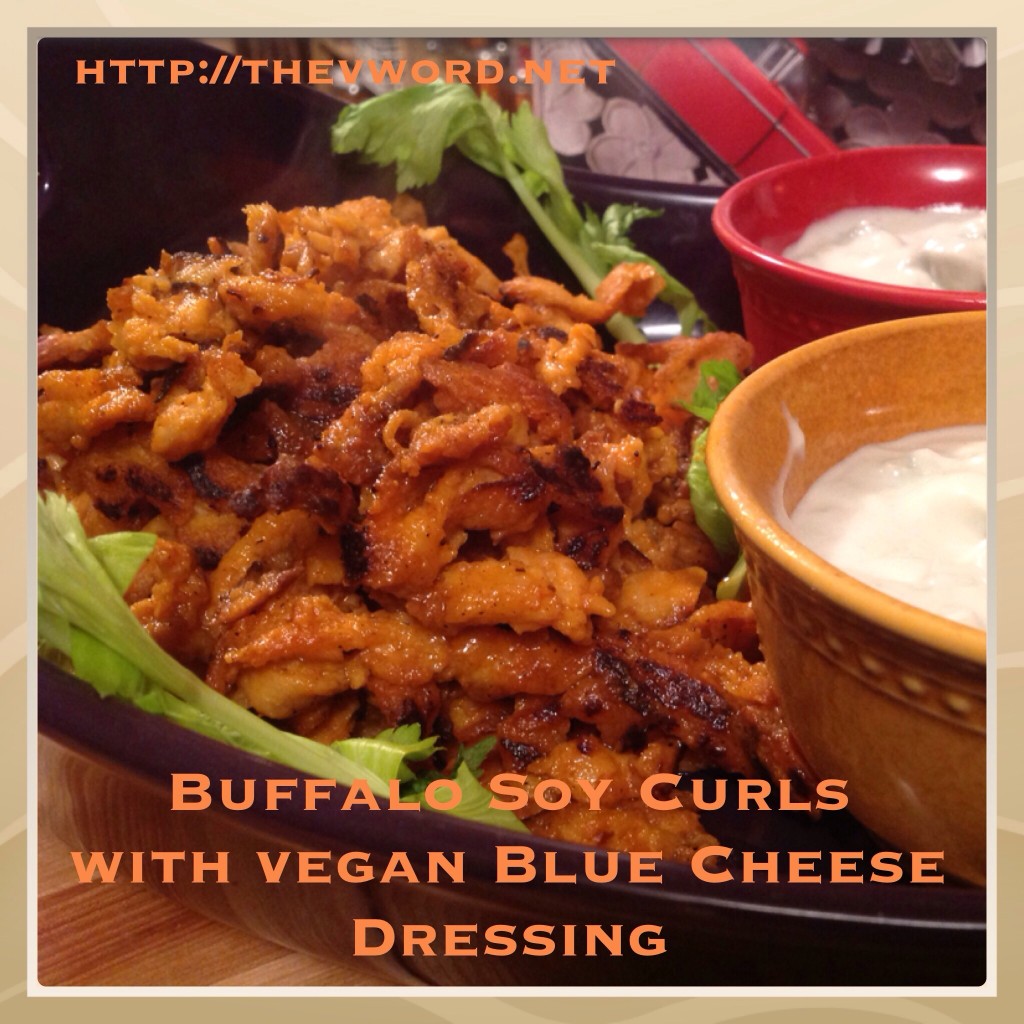 1 package Butler Soy Curls
Hot water
1 tsp. garlic powder
1 tsp. onion powder
1 tsp. kosher salt
½ tsp. black pepper
A pinch of cayenne pepper
2 Tbs. vegetable oil
2 Tbs. V-Butter or vegan butter
¾ cup hot sauce
Celery stalks
Carrot sticks
Vegan blue cheese or ranch dressing
Place the soy curls in a bowl and cover with hot water. Let sit for 10 minutes or until the soy curls are softened. Drain any excess water and gently squeeze the soy curls to remove any water. Toss with the garlic powder, onion powder, salt, pepper, and cayenne.
Heat the oil in a large skillet over medium-high heat. Add the soy curls to the skillet and cook until they are browned and crisp on both sides. Be patient; this will take a while, about 10-15 minutes or more. You want the soy curls to be extra crispy because you'll be tossing them in a heated sauce.
While the soy curls are cooking, melt the butter in a small saucepan. Add the hot sauce, mix well and heat through. When the soy curls are ready, transfer them to a large bowl, add the Buffalo sauce and toss to coat.
Cut the celery and carrots into sticks.  Serve the Buffalo soy curls with the celery and carrot sticks and blue cheese or ranch dressing for dipping.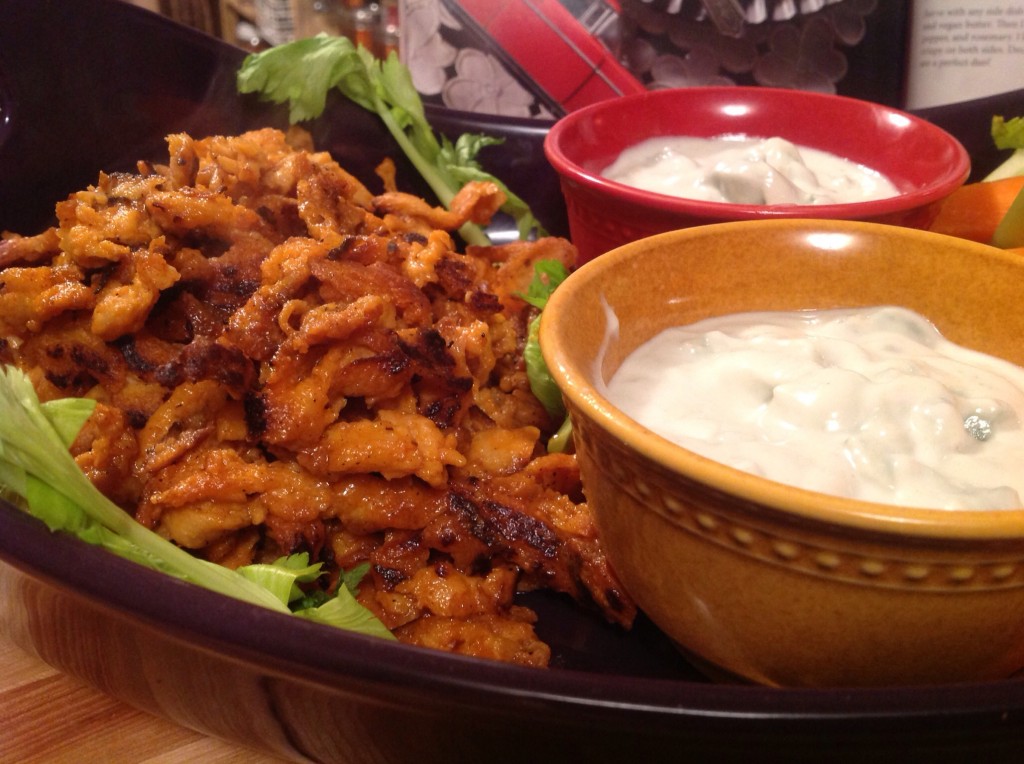 The "V" Word: Say it. Eat it. Live it.
[amd-zlrecipe-recipe:32]
(Visited 14,401 times, 1 visits today)