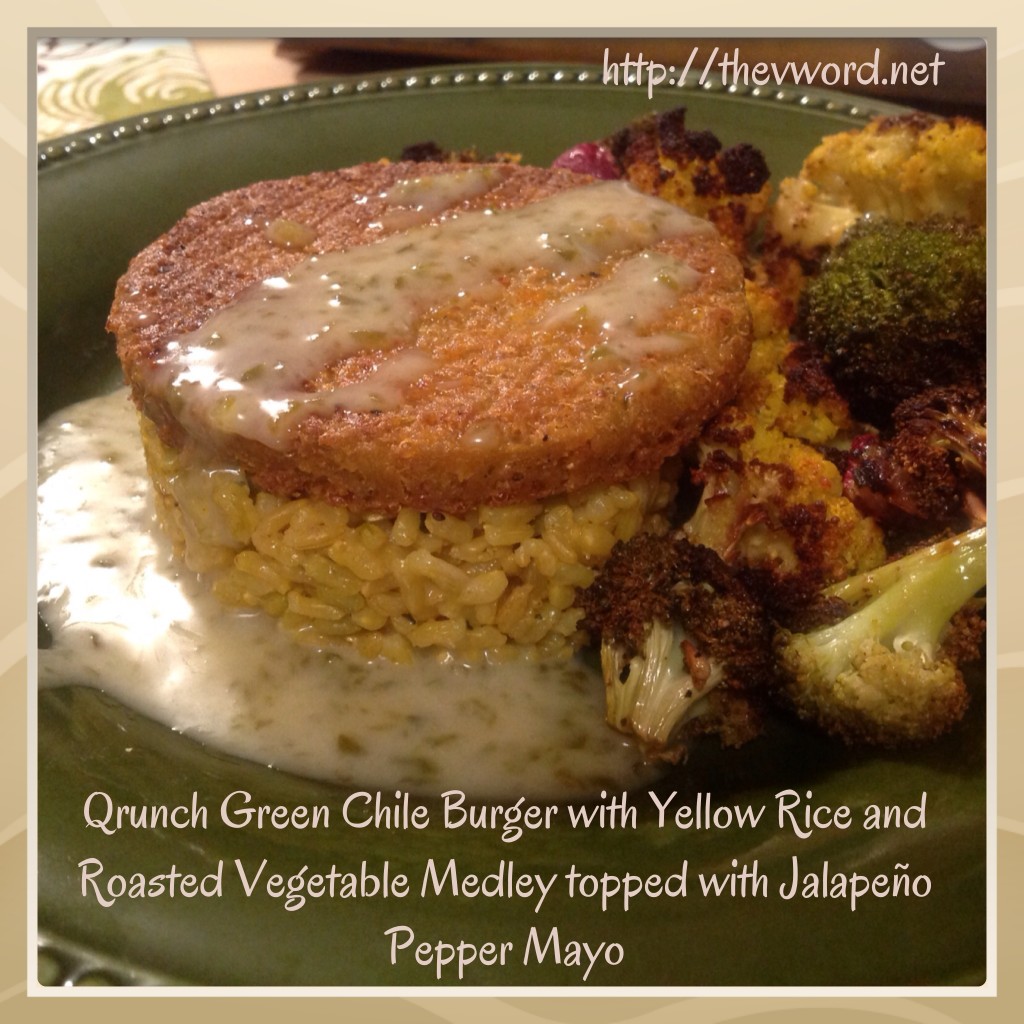 Over the years I have developed about a dozen vegan burger recipes – partly because I love burgers and partly because there aren't many prepared vegan burgers that I like enough to buy. To me, most of them don't have a lot of flavor and the texture leaves a lot to be desired. And finding a delicious gluten-free vegan burger is even tougher. They tend to me made from soy and/or seeds. I don't know about you but when I want a burger, I really don't want a mold of seeds.
But now I found a prepared vegan burger that is also gluten-free that I love – QRUNCH Quinoa Burgers. QRUNCH Quinoa Burgers are made with quinoa, millet, coconut oil and other organic ingredients such as broccoli, spinach, carrots, and lentils. They have a mild nutty flavor and lots of crunchy texture. QRUNCH Burgers are vegan, organic, gluten-free and non-GMO. They are also free of corn, soy, nuts and MSG. Healthy and delicious.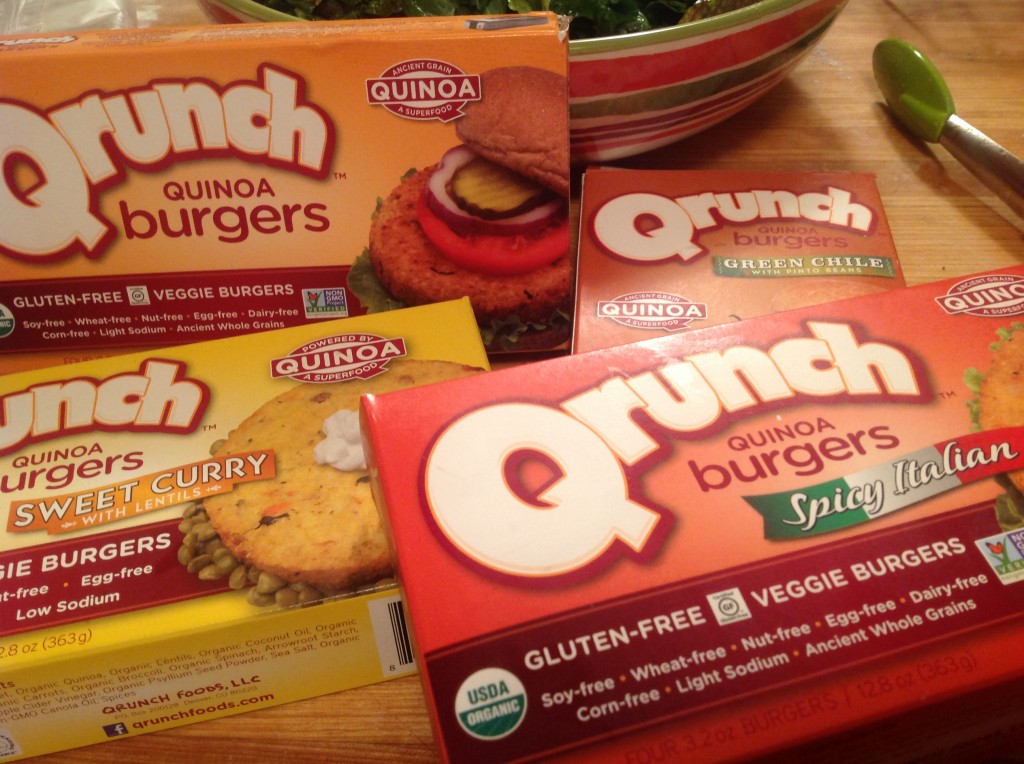 QRUNCH Burgers were developed by Jim Adams, formerly Chipotle's marketing director, and Chef Brad Holley who both have gluten-intolerant relatives. They banded together to create a burger that would not only be free of common allergens but taste great too. In 2010 they launched QRUNCH Foods (quinoa + crunch = QRUNCH).  QRUNCH Burgers are available at stores like Wegmans, Whole Foods, Target and Kroger as well as natural foods markets across the country.
QRUNCH Burgers are available in four flavors: Original, Spicy Italian, Sweet Curry with Lentils and Green Chile with Pinto Beans. The burgers are already cooked and simply need to be reheated. They can be popped in the toaster, sautéed in a skillet, heated through in an oven or even fired up on the grill.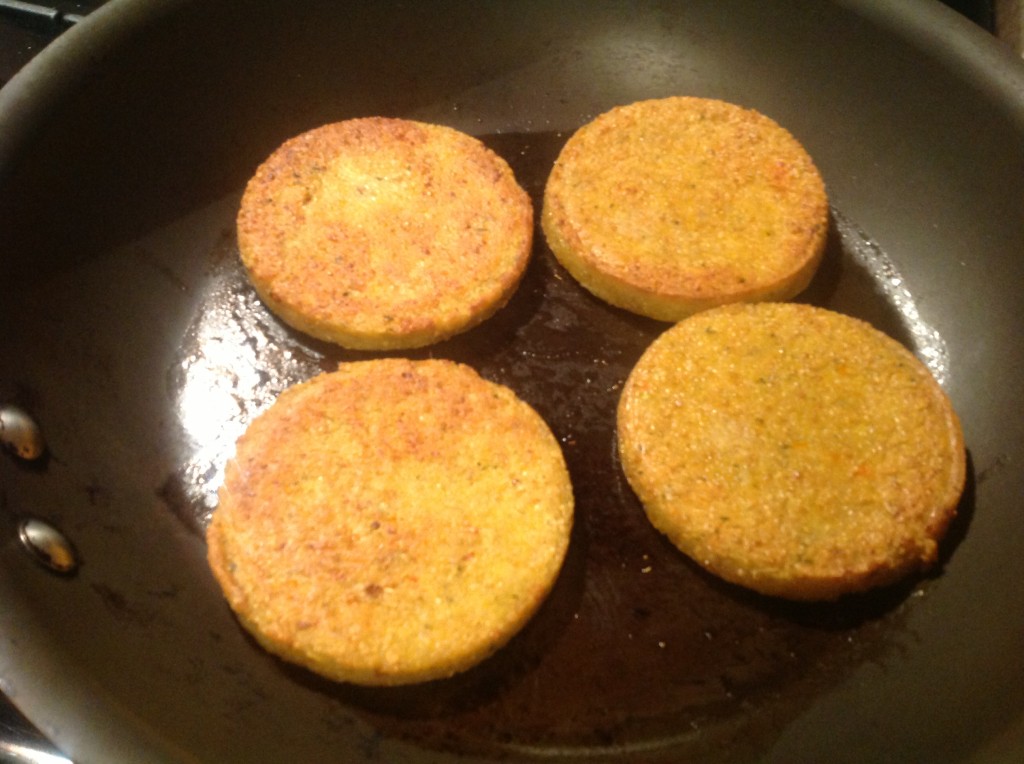 Since the flavor of the  burgers is mild, especially with the Original burgers, they work well with both sweet and savory recipes. The Spicy Italian QRUNCH burgers (my favorite) have red pepper flakes and fennel to give it heat and would make a excellent base for a vegan parmesan dish. We had these with some melted vegan mozzarella, tomatoes and kale on toasted bread.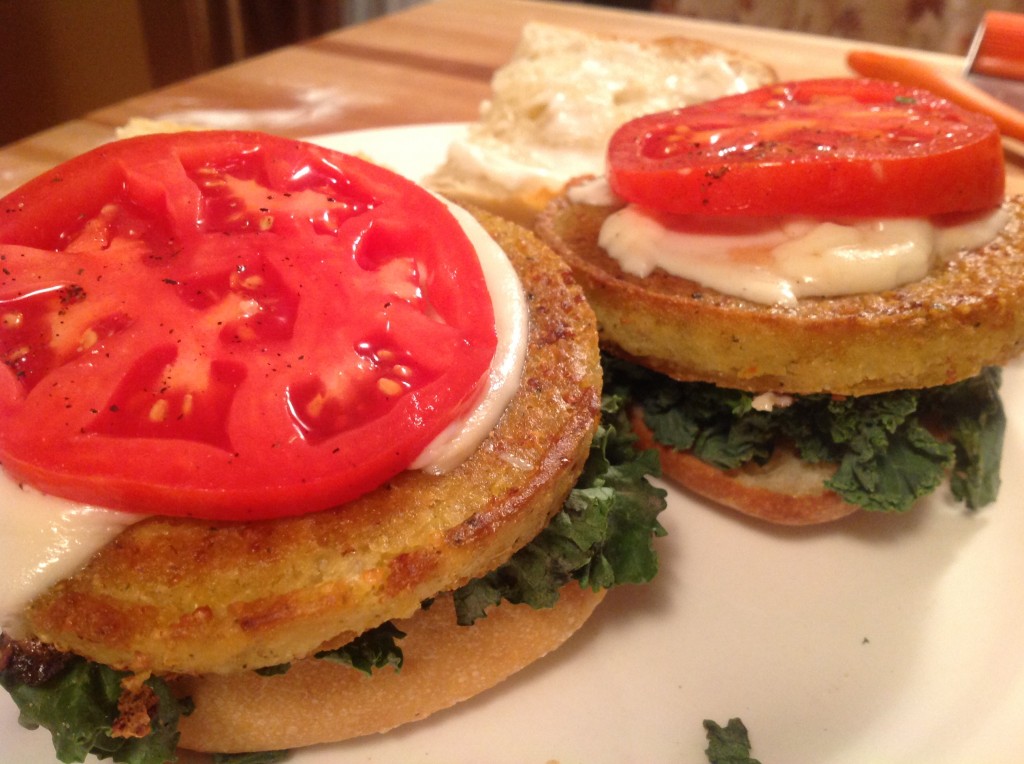 The Sweet Curry burgers have lentils and Indian seasoning for an earthier, exotic taste. The Green Chile burgers have pinto beans, cumin and green chiles for a warm Mexican flavor. These are the ones I used to develop a special recipe for QRUNCH Foods.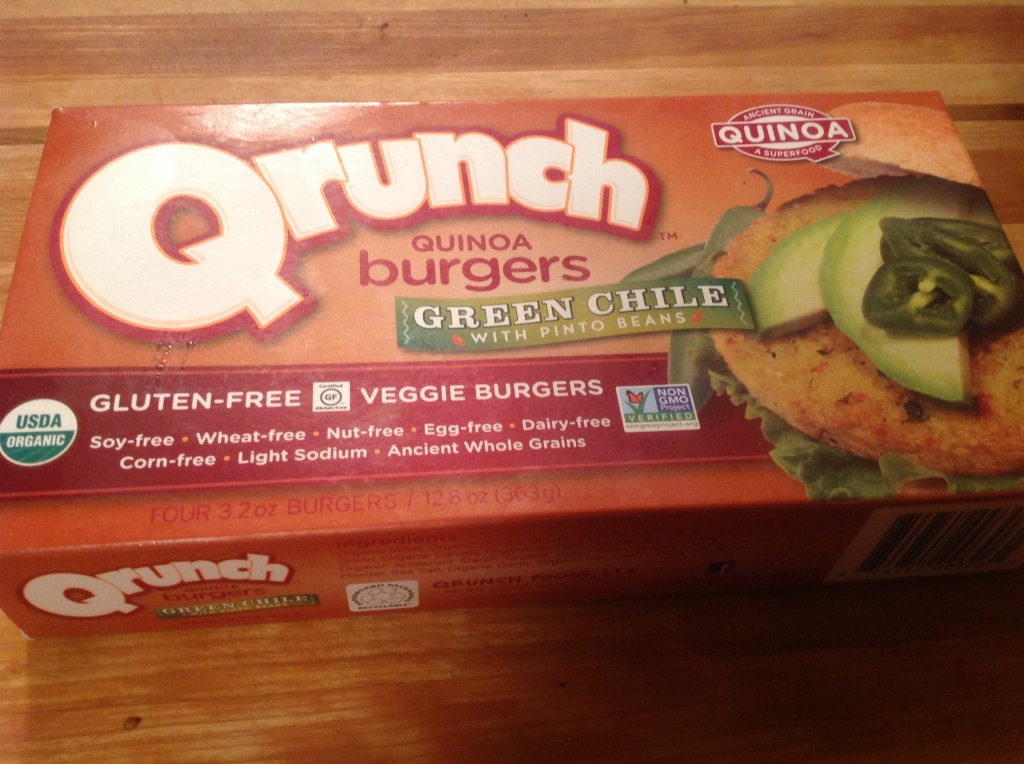 Instead of making a burger, I decided to make a savory entree that was a little elegant. So I put the burger on top of some yellow rice that I molded into a pretty tower. I had some jalapeno jelly and didn't know what to do with it. When I got the QRUNCH Green Chile Burgers, I thought it would be the perfect topping for them. I combined the jalapeno jelly with some mayo, heated it in a small saucepan and used it as a sauce that got drizzled over the burger and the rice. Then I served it with a side of roasted vegetables. Any veggies will do – I chose broccoli, cauliflower and radishes and seasoned them with some Spanish spices.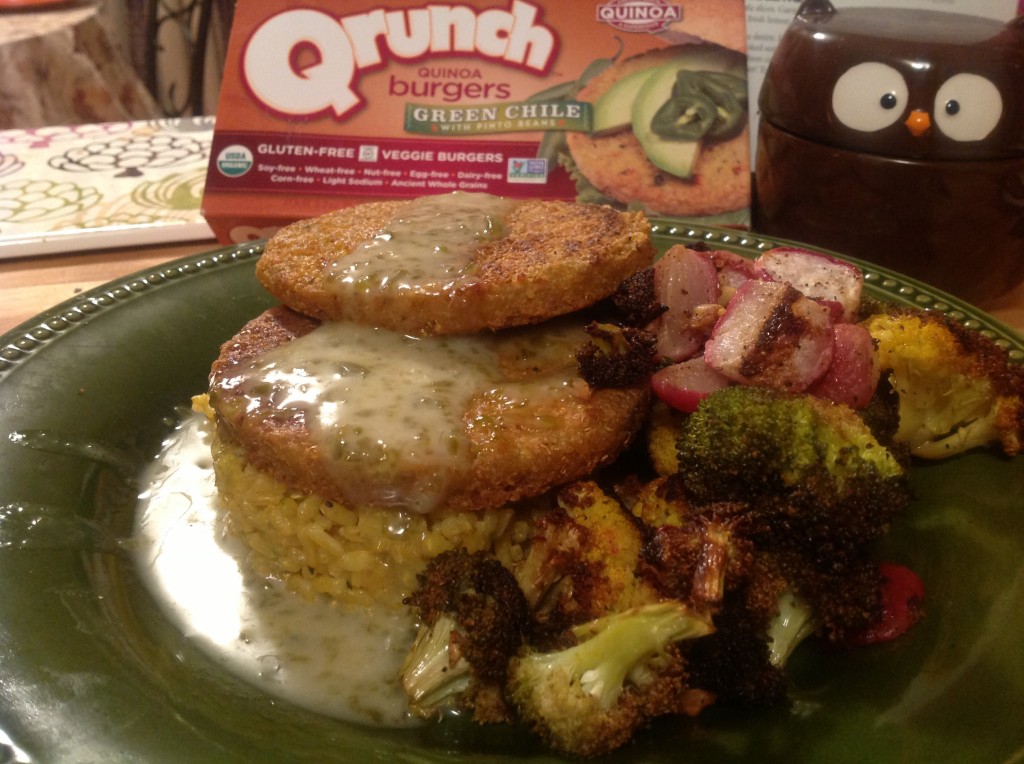 It was a delicious meal, very flavorful with lots of different textures. The crunch of the QRUNCH burgers held up well to the sauce.
I have a lot of fun coming up with new vegan, gluten-free burger recipes but I sure wouldn't mind having my freezer filled with lots of QRUNCH Quinoa Burgers too. The possibilities of how to use them are endless. Check out their web site and "like" them on their Facebook page. Then go buy a bunch of boxes of QRUNCH burgers and enjoy!
QRUNCH Green Chile Burger with Yellow Rice and Roasted Vegetable Medley Topped with Jalapeno Pepper Mayo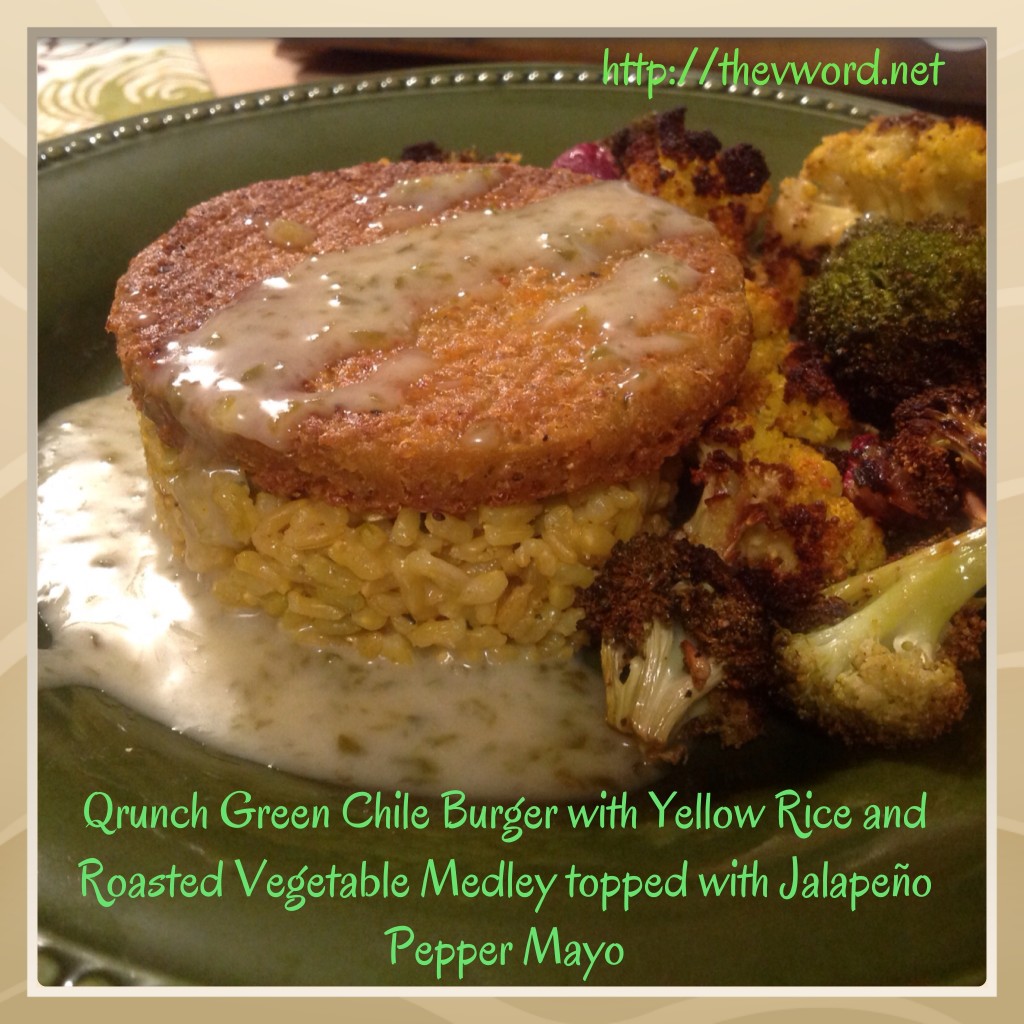 GF, SF if using soy-free mayo
2 tsp. vegetable oil
¼ cup onion, minced
1 clove garlic, minced
1 tsp. ground cumin
1 tsp. ground coriander
1 tsp. dried oregano
½ tsp. turmeric
1 ½ cup short-grain brown rice
3 cups water or low-sodium vegetable broth
Kosher salt to taste
For the Roasted Vegetable Medley­­­­­­­­­­­­­­­
1-2 lbs. of vegetables, cleaned, trimmed and cut into same size pieces
1-2 Tbs. of olive oil
1 tsp. ground cumin
1 tsp. ground coriander
Salt and pepper to taste
6 cloves of garlic, chopped
For the Jalapeno Pepper Mayo­­­­­­­­­­­­­­­
½ cup vegan mayonnaise
1/3 cup jalapeno pepper jelly
Kosher salt and pepper to taste
1 Tbs. vegetable oil
4 Qrunch Green Chile Burgers
To make the yellow rice: Heat the oil in a saucepan over medium heat. Sauté the onion, garlic and turmeric for about 2 minutes. Stir in the rice and cook for 1 minute until it gets a bit toasty. Stir in the spices. Add the water or broth and bring to a boil. Cover, reduce the heat to low, and simmer for 30 minutes until the rice is tender. Turn off the heat and let the rice sit for 10 minutes. Add salt to taste. Fluff with a fork.
To make the Roasted Vegetables: Preheat oven to 450 degrees. Place the vegetables on a large baking sheet. Drizzle with oil and season with salt, pepper, cumin and coriander. Add the chopped garlic. Toss the vegetables so that they are all covered with oil and the seasoning is distributed. Roast for 20 minutes, toss vegetables and continue cooking for about 20 more minutes or until they are tender.
To make the Jalapeno Pepper Mayo: In a small saucepan, mix the mayo with the jalapeno pepper jelly. Heat over low heat and stir to combine. Cook until warmed through. Add salt and pepper to taste.
To make the QRUNCH Burgers:  Heat the oil in a large skillet over medium-high heat. Add the QRUNCH burgers to the pan. Cook until browned and crisp, about 5 minutes. Flip and cook until the second side is browned, about 4 minutes.
Use a round mold to make the rice tower on each plate. Carefully place a QRUNCH burger on top of the rice. Drizzle with jalapeno pepper mayo. Serve with roasted vegetables on the side.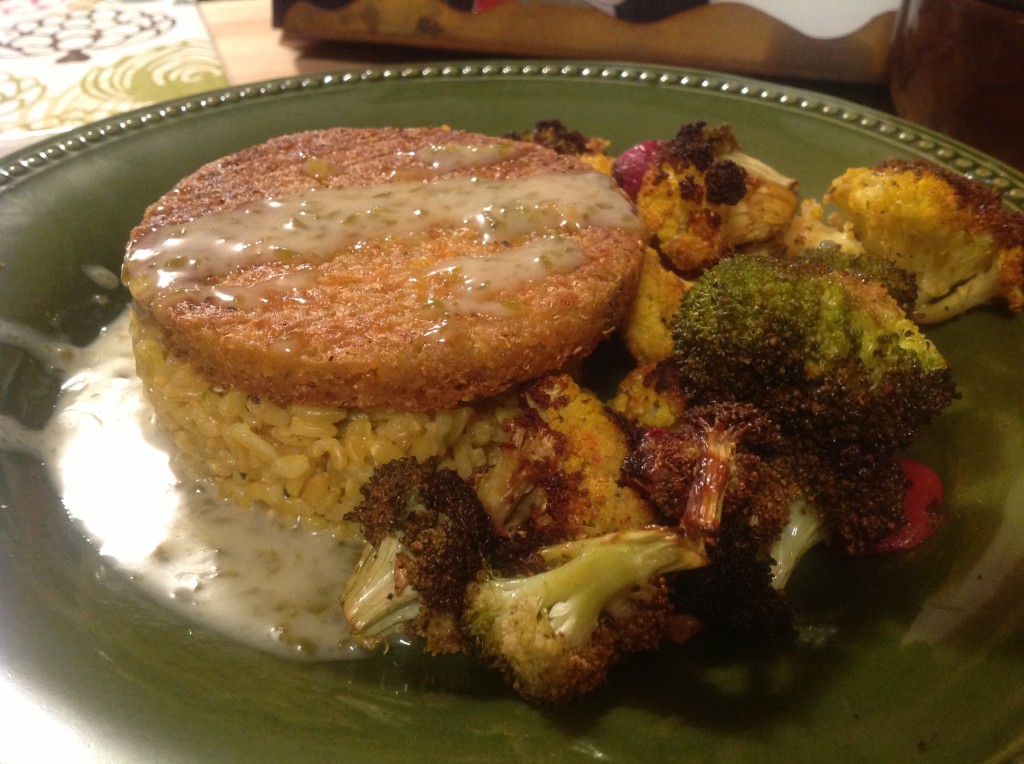 The "V" Word: Say it. Eat it. Live it.
[amd-zlrecipe-recipe:28]
(Visited 2,179 times, 1 visits today)